Jeff Brown is one of the more prolific investment newsletter writers we have seen. Having reviewed dozens of his investment pitches: Miracle Antibiotic Company Revealed and Tech Lag Stocks.
In one of his latest newsletters, Brown teases the opportunity to invest in certain companies before they file for an initial public offering (IPO), through Special Purpose Acquisition Company's (SPAC). His "Pre-IPO Code" is a financial webinar held in January 2021, in which he goes into detail about this new way to invest in company 's prior to their IPO date. If this all sounds confusing and you haven't heard of these acronyms before, keep reading to find out more.
The Teaser
Brown's main pitch is that you can be a part of a new wave of IPO's, investing in companies that allegedly will change the world: "In the Southwest, the world's first commercial spaceport is ready for launch. In Silicon Valley, a college dropout has all but won the self-driving car race. And in the rustbelt, GM has shipped thousands of jobs overseas…until the local plant was saved by an electric truck company."

Brown's presentation is structured more as a pseudo-interview with Chris Hurt, in which he promises to deliver incredible potential gains by telling you how to invest in a new type of IPO.
Jeff Brown is the founder and chief investment analyst for Brownstone Research and before that, he spent 25 years as a high-technology executive. He is a well-known and successful angel investor, having in invested in dozens of startups over the years. He has written about everything from semiconductors and 5G companies to automotive, consumer technologies, technology infrastructure, and even new video technology. 
According to Brown, the best new investment deals are being kept away from small investors until its too late, but "if you know this code, you can invest before the IPO day and take part in the potential millionaire-making names once only reserved for the wealthy".
The Sales Pitch
Brown starts out by pitching us his newsletter, Blank Check Speculator, which is currently going for the measly price of only $4,000 per year. This is a lot of money for a single newsletter, but the author mentions that it is designed for "a slightly more sophisticated investor ready to make significant money investing before companies are popular, well-known, or even publicly traded".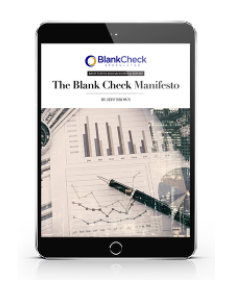 Those who register will receive "a confidential communication each month, with each briefing containing a new SPAC opportunity." Moreover, "the codes provided will allow you to get units in the respective SPAC, before the IPO day." 
Brown also mentions that none of the briefings will contain the names of companies after their IPO date or that are close to being publicly traded so that investors can have enough time to consider the opportunity and act upon it accordingly. However, he doesn't dole out too many details about any pre-IPO companies he has his eye on, which means he REALLY wants you to pay for the subscription in order to find more about this type of investment. 
What Are "Pre-IPO Codes"?
Before getting into details about Brown's pitch, we should mention that an IPO (Initial Public Offering) refers to the process of a private corporation offering stock to the public for the very first time. Most commonly, companies issue a limited number of shares at a pre-set valuation (price) to public investors in order to raise money to fund their growth, provide liquidity to founders and other pre-IPO investors or both.
IPO's are often initially left out of investment funds because many of them can be over-priced. Generally speaking, companies take years to grow and mature before they become suitable enough investments for large institutional funds. Some financial advisors go as far as saying that it is better to avoid investing in IPO's altogether and allow the price of the stock to stabilize after the initial hype passes, so can get more value for the price paid instead of just possible future growth.
According to Brown, "the pre-IPO code is a new innovation that will let you secure a stake in billion-dollar tech unicorns before their big IPO day. With the right codes, you don't need to be an accredited investor." He also says that "the moment you enter a Pre-IPO code and click buy, you're awarded units – not ordinary shares of stock, but units, contractual shares of the enterprise you're buying".
What he is pitching here are Special Purpose Acquisition Corporations (SPAC's), also known as "blank check" companies. SPAC's go public in a regular IPO, raising money from the public, and only offering a vague notion of what they will do with the raised funds, other than acquire a yet-to-be-named business in a yet-to-be-named industry.
The reason why SPAC's are not more popular is that besides the ambiguity, there is no way to evaluate what you are potentially investing in, besides trusting the management team behind the SPAC to allocate capital accordingly. So to lure people in, Brown only discusses the positive aspects of SPAC's – potential gains in the special units up to their time of conversion into common shares. In reality, trading SPAC's is a lot more complicated even for experienced investors and often enough, the results aren't as satisfying as portrayed.
Revealing the "Pre-IPO Codes"
As with many other similar teasers from Jeff Brown, you won't find too many details about the particular IPO codes he teases in this webinar. The goal is to give as little information as possible for free, enough to make potential investors interested and subscribe to his $4,000 per year newsletter, the Blank Check Speculator.
Since he doesn't provide enough clues to uncover any specific pre-IPO SPAC codes in the webinar, so here are some more details about the overall investment opportunity. 
Brown mentions 1,900% gains for companies like Shift and Akerna in a matter of months with his pre-IPO codes method, but these are the exceptions rather then the norm. Also, there is only a small window of opportunity to make your move before any company's IPO, which makes SPAC instruments more suitable for professional traders rather than your average index investor.
Brown makes SPAC's out to represent a compelling way for small investors to participate in new companies, before they become publicly traded entities. But they are still highly risky and rarely meet the expectations of investors. Even Brown himself only recommends investing in management teams with proven track records as opposed to the blank check companies themselves, which is one qualitative way to lower the inherent risk. 
Generally speaking, you can buy SPACs at under $10 per unit pre-IPO. The value may rise a little before the IPO, depending on the company's quality and the management team behind the SPAC. When the SPAC vehicle lists publicly, the stock will most likely surge, allowing you to leverage your units to get new common stock. If you're not satisfied with the result of the IPO or the direction the SPAC is headed in, you can always sell your units for their initial price, meaning you will only lose if the common share price dips below this floor post-IPO.
A 1,900% Gain?
As previously mentioned, we would be hesitant to recommend SPAC's to beginners or those who cannot afford to lose their initial investments. Even though Brown goes into some detail about the strategy behind trading SPAC's, your investment still carries a high risk. Even with a world class investment team behind the SPAC, which is exceedingly rare. No different than finding competent capital allocators among management teams at regular ol' public companies, which all SPAC's eventually become.
The potential 1,900% and more gains might sound tempting, but remember that unless you intimately understand how SPAC's work, and are prepared to put in the time and effort to become a specialist in such investments, we would stay away.
Quick Recap & Conclusion
In one of his latest financial webinars, "The Pre-IPO Code", angel investor Jeff Brown talks about a new way of profiting by investing in pre-IPO companies using certain codes. 

He gives little information about these codes and no info about any specific codes, but he does predictably pitch his investment newsletter, the

Blank Check Speculator

, for $4,000. Brown also informs that, unlike other similar investment advice he regularly doles out, this one is targeted to experienced traders and investors. 

Unless headed up by a proven investment team, with a long enough track record of success (which almost never happens), we would be hesitant to recommend rolling the dice with your hard earned funds on blank check companies.
What do you think about investing SPAC's? Are you an investor in new IPO's or investment focused holding companies in general? Let us know in the comment section below.