With close to 1 million subscribers worldwide, Jeff Brown is one of the better known financial advisors and investment newsletters writers in the world. In a recent newsletter, Jeff teases a "genetic therapy biotech company" that he thinks will secure FDA approval within the next couple of months and whose shares will skyrocket as a result. 
As with many of his other pitches, Brown begins by boldly claiming that you can make "800% gains in the near future", which even in today's ripshod market is still substantial.
So do such bold claims hold any water? Here is everything we were able to find out about the mysterious new stock Brown recommends.
The Teaser
Brown starts his teaser by claiming that "a controversial FDA move could soon unleash another $1.2 trillion from institutional investors into a handful of biotechnology stocks. Here's why one surprising company is at the center of this new round of wealth".

Jeff Brown is the founder and chief investment analyst for Brownstone Research. Prior to founding Brownstone Research, Jeff spent 25 years as a technology executive. Working for the likes of Qualcomm, NXP Semiconductors, and Juniper Networks. Given that he's been on the front lines and has a wide range of technology experience, this better positions him to impart expertise that helps everyday investors discover companies on the verge of exponential growth.
The author continues his pitch by saying that many biotech stocks have skyrocketed over the past year due to the Coronavirus pandemic, with Yahoo Finance calling the sector "one of the best performers of the US stock market". He claims that some of the biggest investors in the world "are going all-in on biotech", including the world's wealthiest man, Jeff Bezos, former PayPal co-founder, Peter Thiel, and others. This isn't new and in fact, we have covered several biotech teasers here in the past making similar claims, including Jeff Brown's #1 Biotech Stock and Jason Stutman's Senolytic Biotech Company. 
One of the reasons why investors are rushing to fund biotech companies is that over the past few years, the FDA has been looking into approving a new category of drugs, "creating an added incentive that makes creating these drugs the MOST profitable thing biotechnology companies can do".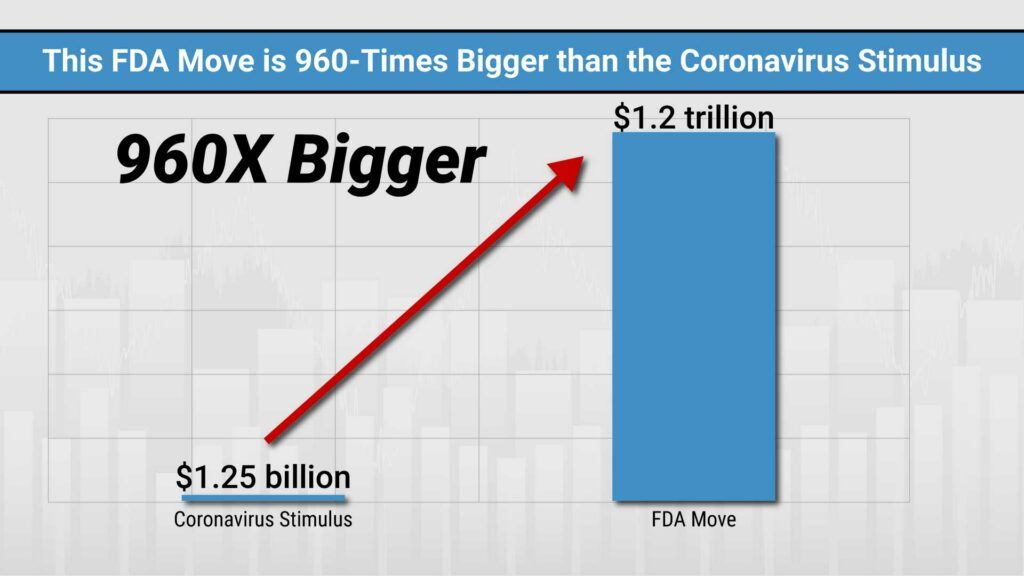 When a biotech company creates a special drug, the FDA can issue an "unusual guarantee" that ensures complete exclusivity on the market, meaning no other company can sell a similar drug. Theoretically, this could make a company's value skyrocket, providing enormous profits to early investors. Therefore, Brown is sure that "this FDA guarantee is going to be behind some of the biggest new fortunes made in biotech."
The Sales Pitch
 The author claims to have identified a specific biotech company that is about to boom and you can find out all about it, including its name and ticker symbol, in a special report called "The Next King of Biotech: Unlocking the Genetic Therapy Revolution". This is part of his popular investment newsletter, The Near Future Report. You can subscribe to the report for as little as $49 per year and included, you will get 12 monthly issues of the report, three special reports, and another surprise bonus report – "The #1 Biotech Stock of 2021".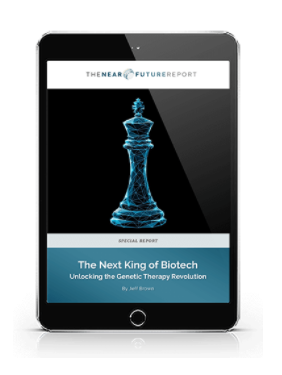 If you are not satisfied with your order, Brown also offers a 60-day money-back guarantee, meaning you can change your mind within the first two months of your purchase and receive a full reimbursement, no questions asked. 
For those who don't want to sign up or wait, here is what we uncovered for you, for free.
What Is This "Genetic Therapy"
According to Jeff Brown, five companies have sold over $110 billion worth of just nine "special" drugs. The author says "there are currently 147 drugs on the market with this FDA guarantee", which makes this the fastest-growing sector in medicine. Also, Brown firmly believes that "we've entered the decade of biotech, and FDA guaranteed biotechnology companies will mint more millionaires than anything else in financial history".
He refers to genetic therapy medicine as being "our nation's top priority", as well as "the holy grail of medicine". However, investing in biotech companies that produce drugs in the sector of genetic medicine is far from being a novelty for Brown.
For the past couple of years, the financial analyst has talked openly about the latest sectors in the market that are bound to create trillions of dollars in new wealth, and foremost among these has been biotech, in addition to cryptocurrencies, microcaps, and semiconductors. Those who are familiar with Brown and his pitches, already know that he regularly urges clients to invest in small companies that possess a unique technology that he believes is bound to turn into profits over the short/mid-term.
Coming back to genetic therapy, Brown says that "it is quietly dominating the $3.6 trillion healthcare market" and based on the author's predictions, it will continue to rise over the next decade, creating more wealth as well as experimental treatments to treat or cure over 3,000 different gene flaws.
The FDA guarantee Brown often mentions throughout his teaser is called the Orphan Drug Designation. It was created in 1983 "to incentivize companies to develop drugs for genetic mutations that cause orphan diseases" (incredibly rare diseases) which combined affect roughly 30 million Americans. With this guarantee, the American Food and Drug Administration offers seven years of exclusivity, allowing the drug developer to increase its market value and its stock price exponentially, depending on the ultimate success rate of the drug. 
However, the United States is not the only nation developing a new line of "super drugs" to cure some of the rarest conditions. According to a Harvard article, 26 other countries implemented similar rules to stimulate the research, development, and distribution of new drugs to fight gene flaws.
If at this point you're wondering what the rush is to cure rare conditions when modern medicine hasn't yet been able to cure many common diseases, the answer is quite simple. Health problems, such as diabetes, cancer, and others are caused by a series of factors, including age, lifestyle choices, prolonged exposure to certain chemicals and substances, as well as hormonal imbalances, which means it is more complicated to isolate all of these factors to create a universal cure.
On the other hand, orphan diseases are caused by one faulty gene which, with the right treatment or drugs, can be changed or replaced. And, since there are approximate "10,000 human disorders caused by gene mutations", Brown estimates that there are also "10,000 opportunities for investors to experience 800% gains in the very near future".
Revealing The Genetic Therapy Biotech Company
As with most of Brown's sales pitches, you won't find too much information about the stock being teased. But here is what we were able to flush out:
One of the first hints he drops is that "the FDA already green-lighted six of this company's cures" and could secure "a record-setting 7th FDA approval", which leads us to believe that he isn't talking about a startup or a small company. 
Also, the company has "developed, perfected, and filed patents for a new delivery method for these new drugs" and "they've just finished building one of the largest facilities of its kind to produce the delivery mechanism".
A third clue offered is that "this company has positioned itself to make the next generation of medicines… AND be the main supplier of the delivery mechanism needed to make these new drugs work."
Based on this extremely limited number of clues, it leads us directly to gene therapy life sciences company M6P Therapeutics. Among other things, the FDA granted it six rare pediatric disease designations for various programs within its development pipeline for LSDs. It also has a first-in-class bicistronic-S1S3 technology platform and holds several patents. Only issue is, the fact that it is still a privately-held company and Jeff Brown is teasing a publicly traded entity here.
In respect to a publicly traded company that meets all of the above criteria, we came up blank unfortunately.
An 800% Opportunity?
Jeff Brown is positive the gene therapy sector is going to boom.
Given Brown's past performance or any investment newsletter writer for that matter, we are naturally skeptical. With the proliferation of entrants into the gene therapy space and into biotechnology in general, coupled with the fact that it is a highly specialized type of investment to analyze if you have no prior medical training, it is extremely difficult for even professional investors to single out and stake a position in just one or two such stocks.
The better alternative for most people who are absolutely convinced that this is the next big thing and want some form of exposure to it, is a biotech sector exchange traded fund (ETF), which will provide you with broad exposure to the life sciences industry and also limit your risk by spreading your bet across many different companies.
Quick Recap & Conclusions
In one of his latest newsletter teasers, angel investor and former tech executive Jeff Brown talks about a new FDA project to support a series of drugs that are supposed to treat or cure around 10,000 so-called orphan diseases. 

The FDA is willing to issue a unique kind of guarantee dubbed the

Orphan Drug Designation

that allows biotech companies who come up with treatments to benefit from seven years of complete exclusivity on the market, meaning no other company can come to market with a similar drug.

According to Brown, this equates to about 10,000 different opportunities for companies to take a chunk of a market that is estimated to be nearly$1 trillion and one which will continue to increase over the next few years.

Brown claims he has identified a company that already has six cures approved by the FDA and is on the verge of obtaining the seventh approval. You can find the name and ticker symbol of the stock by reading his report, "The Next King of Biotech: Unlocking the Genetic Therapy Revolution", part of the newsletter subscription program, The Near Future Report which you will get for $49 per year.
Unfortunately we were not able to pinpoint a publicly traded gene therapy company which aligned with the limited set of clues which were provided.
Do you own shares in any biotech stocks? What are your thoughts on gene therapy treatments? Let us know what you think in the comment section below.