"Every year billions of dollars are made in one often overlooked corner of the stock market". This is how the latest pitch Hidden Wealth: An Investigation Into "The Holy Grail of Investing from The National Institute for Cannabis Investors (NICI) begins. According to our host Don Yocham, over the past 80 years only major institutions and high net-worth investors have had access to such "Venture Trusts" investment opportunities, as he calls them. But that all changed in 2020.
This is when average investors, like you and me start being allowed to take part in these opportunities, which are "unlike anything you have ever seen".  Boldly going on to claim that "The first phase of this investment is designed so that the initial downside risk is strictly limited, but the upside – almost unbelievable".
Let's see if these claims stand up under scrutiny and what these "Venture Trusts" are all about.
The Teaser
How would you like to see returns of "304%… 444%… even 1,115%" in just a matter of a few months? This is what our host claims the first few investors who got in on these extraordinary opportunities were rewarded with.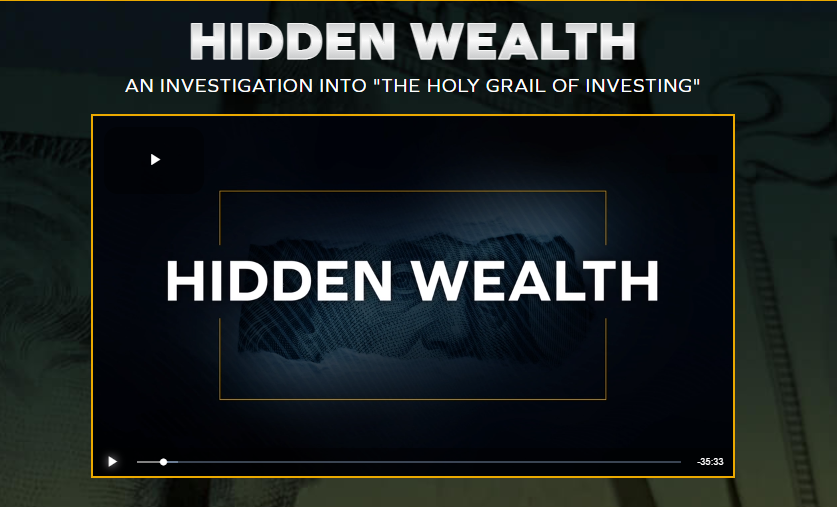 Don Yocham is a Chartered Financial Analyst (CFA) and Executive Director of the National Institute for Cannabis Investors (NICI). Which is aiming to become the authoritative source of information on Cannabis Investing and produces four unique newsletters that anchor its service: Cannabis Profits Daily, NICI Membership, Danny Brody's Cannabis Inner Circle, and the Cannabis Venture Syndicate. Don has spent the last few years managing investors' money at firms with assets under management ranging between $250 million up to $16 billion and he's now brought his experience and expertise to NICI's members.
In case you haven't heard about SPAC's, they were 2020's most popular way of going public. So popular in fact, that over 180 small companies, early-stage startups, and mature companies all used it as a method to go public.  That's up more than 200% from the 59 SPAC IPO's in 2019.
Josh Sanderlin from Sanderlin Strategies chimes in next to better describe SPAC's/blank check firms for us, saying they are "kind of like a private equity firm, with a twist". Josh says that they are better than private equity investments because:
They are open to the public
You can invest in them for as little as $10 per share or less
The funds raised are then invested in a great business with a good management team
That company then becomes publicly listed once owned by the SPAC, without the need for a traditional IPO
As you can now see, "Venture Trusts" or SPAC's are nothing more than companies formed for the specific purpose of acquiring another company. The only real distinguishing feature of a SPAC, is that you can choose to hold on to your shares through the acquisition of an operating business and hope that business increases in value over the long-term or cash out for the preset pro rata price, which is $10 per share.
A little later we learn that "A few years ago, new federal rules actually made blank check firms (SPAC's) more popular than ever. So instead of being pure investment companies, blank check firms became trusts…trusts that are invested in hard cash or U.S. Treasuries". Meaning that today's SPAC's are more like secure trusts that invest private equity like deals. Hence the term "Venture Trust".
The best part about these opportunities is that you as an investor remain in control of the level of risk you are taking on at all times. What does this mean?  Allegedly, there are federal regulations in place which mandate the buyback of "venture trust" shares in case you get skittish and decide to bail. At this point, even Yocham has to admit that some of these claims are "a little unbelievable", but that they are "absolutely real" and that we are going to see definitive proof that there are three such investment opportunities that you can take advantage of today.
This is the part where we tell you that we have covered other NICI teasers in the past, including Con Yocham's Cannaboid Company and the closely related Marijuana Millionaire Playbook. So we think we have any idea where this is headed.
Right on cue Warren Buffett's name is invoked next, like the ghost of great investor's past, trotted out invoke reverence. This is how we know the claims are about to get even more extravagant. Before these get a chance to fully get underway, we learn that "venture trusts" are the concoction of a group investment bankers in the 1990's "who created a new way to make money" by way of blank check firms or Special Purpose Acquisition Companies (SPAC's).
At this point, you may be asking yourself "what the heck does all this have to do with cannabis?" That is exactly what we are going to find out next.
The Sales Pitch
It is Danny Brody's Cannabis Inner Circle subscription for an annual cost of $1,950, that will get you the name of this "Cannabis Venture Trust" opportunity. The catch (apart from the price) is that they are only admitting a limited number of new members into the "inner circle" so you have to act now!
But before you do that, wouldn't you like to know the name of this "hidden wealth" opportunity for free? Of course you would, so keep reading as this is exactly what we are going to do.
Cannabis Venture Trusts?
Since The National Institute of Cannabis Investors (NICI) advises members about you know…cannabis. It naturally follows that Michael Robinson joins in on the action to say that SPAC's, especially those that invest in private cannabis companies are booming.
He states that it all boils down to two factors:
Large institutional investors are chasing after yield in the current ultra-low interest rate environment
Venture capitalists and angel investors are always looking for their next big win
And with more institutional money ($88.5 Trillion to be exact) chasing fewer publicly traded companies (over the past two decades the number of US public companies has gone down by half), it creates a real dilemma for capital allocators. These are the reasons why money is starting to flow into "Cannabis Venture Trusts" or SPAC's that invest in cannabis companies.
Danny Brody from RADD Capital says there are there four factors to look for when it comes to investing in "Cannabis Venture Trusts":
Prior experience in the cannabis industry from SPAC management team members
A good track record in the industry from the same
Prior public company experience
Connections to institutional investors
He also says that they (NICI) have identified one such "Cannabis Venture Trust" that meets all these criteria and has the potential to go up by "3,700%, 15,200%, even 32,000%", as other similar Cannabis Trusts have in the past.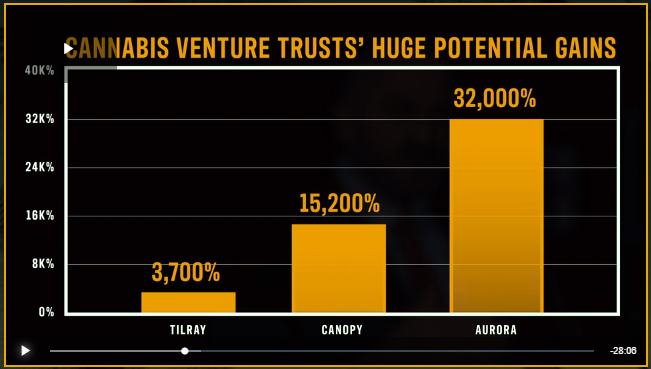 Lets find out what this Cannabis Venture Trust is and if it is worth a penny of our money.
Revealing the "Hidden Wealth" Cannabis Venture Trust
Lucky for us, there are a few clues provided about what this pot play:
One of the experts that is part of the SPAC team has two decades of experience in the cannabis industry and founded the very first cannabis distributor in California
Together the team has taken part in over 100 M&A deals totaling over $1 billion (the most collective experience for any Cannabis Venture Trust ever)
The same team has also been early investors in over 18 Cannabis Venture Trusts that have gone public and whose stocks subsequently appreciated. Including, Kushco Holdings and GrowGeneration, which returned 154% and 2,050%, respectively.
 The acquisition target of this Cannabis Venture Trust is a vertically integrated cannabis firm, along the lines of Hexo Corp. and Cresco Labs.
This SPAC has already raised $120 million in cash when it completed it's initial public offering this past November.
Given the absolute dearth of Cannabis SPAC's hitting the market right now, it seems like there is at least a couple every single month, it was more difficult than usual to pinpoint this one. But we think what the guys are talking about here is Merida Merger Corp. I (NASDAQ: MCMJ). Here is why:
The big giveaway is that Merida raised $120 million in early November of 2020.
Merida Merger's parent company (Merida Capital) has a management team which is comprised of cannabis industry veterans with several decades of combined experience in the space.
This same team also has over 95 years of combined experience making direct investments and have been a part of well over 100 M&A deals.
So, as our our old friend Danny Brody says "this is the team to get behind, if you want to get in on the next Tilray or Aurora early". Is he right?
Is This Cannabis Venture Trust "The One"
The truth is, it's a little too early to tell. Since Merida has 24 months to consummate an initial business combination and it has not done so as yet, the jury is still out on whether its eventual target and acquisition will be a successful one over the long-term.
This will primarily come down to two factors: One, the price it pays for the cannabis venture it ultimately acquires and two, the value it will get in return for that price.
Quick Recap & Conclusion
Don Yocham from the National Institute for Cannabis Investors (NICI) and a few of his friends tease "an almost unbelievable" investment opportunity with limited downside risk and almost unlimited upside.
This "almost unbelievable" investment is a "Cannabis Venture Trust" or a Special Purpose Acquisition Corp. (SPAC) that acquires a privately-held business (in the cannabis space) and takes it public.
We're told that this Cannabis Venture Trust has the most experienced management team ever assembled for a cannabis SPAC ever! And whatever company it ends up acquiring has the potential to surge 32,000% or more.
To find out the name of this Cannabis Venture Trust, you have to cough up $1,950 to join Danny Brody's Cannabis Inner Circle for an annual subscription.
Given the clues left for us, we were able to put them together to determine that Merida Merger Corp. I (NASDAQ: MCMG) is the SPAC in question for free and they still have 20 months from the time of this article to consummate an acquisition.
Have you ever heard of or invested in a SPAC before? What about a business in the cannabis space? Tell us your experience in the comments section below.