Just when you thought this year couldn't get any more surreal, millionaire supply-chain insider Dave Forest is warning about an upcoming "$393 Billion Supply Shock".
This is going to massively disrupt the tech sector, but if we act quickly, we can position ourselves for a potential 10x gain with a couple of "Tech Metal" companies.
The Teaser
Right now, we are entering the early stages of a new crisis says Dave. One that the U.S. Commerce Department has warned it will cause "significant shocks" to U.S. supply chains. However, it will also lead to one of the biggest bull markets in human history — in one tiny subsector of the tech market.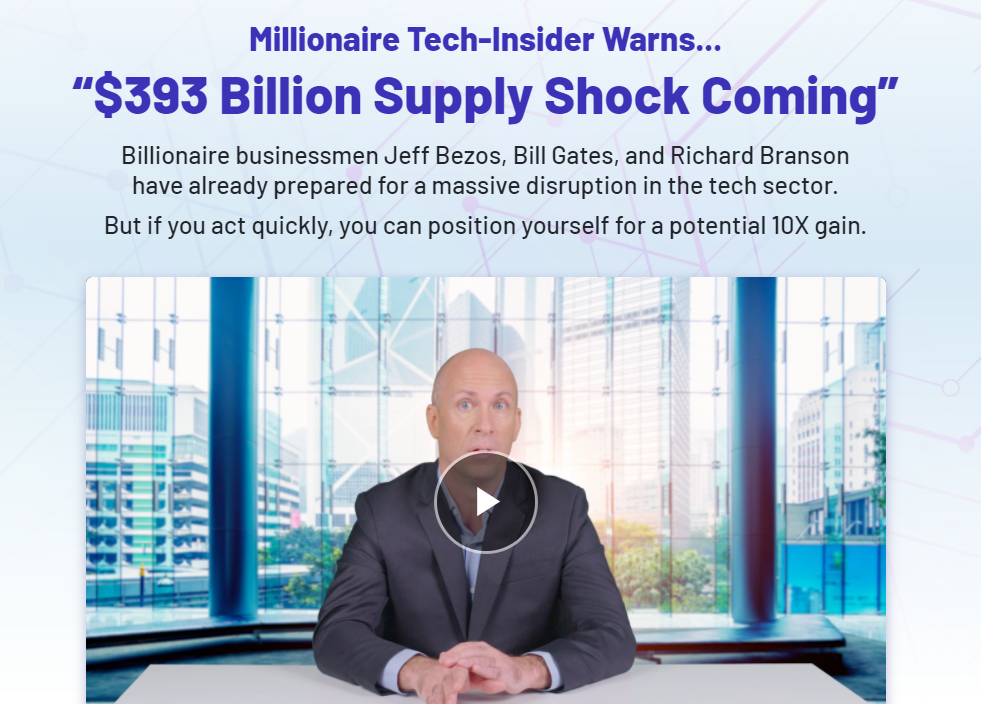 Dave Forest knows about supply chains as well as anyone. He is a geologist by training, who has worked professionally in mining and petroleum for over 20 years. Dave is also the senior analyst for the International Speculator newsletter and has been with Casey Research since 2004. He has produced similar presentations in the past, which we have covered here. Including his Copper Royalty Company and "5G Keystone" Neodymium Company, among others.
This next phase of the supply chain disruption could potentially return 10x or even 50x or more over the coming weeks, if we take action today. Fortunately, that is what this presentation is all about – finding out exactly what's happening and how to position ourselves to profit.
Dave witnessed his first supply shock back in 2007 and the result for clued-in investors were windfalls like 875% on a single stock: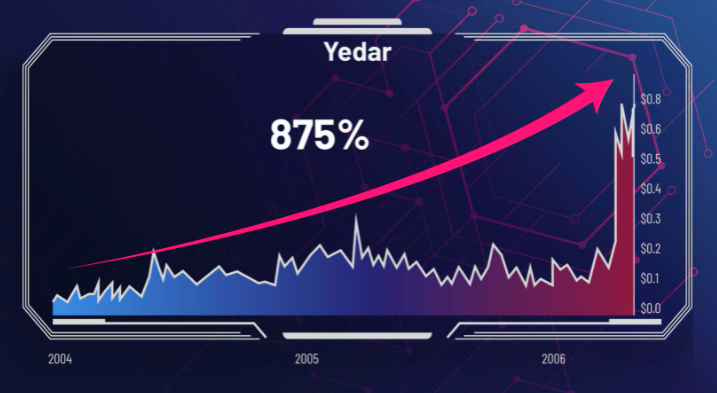 Then he saw it happen again in 2010, this time around the gains were even bigger. As much as 44,636%:
That's enough to turn $1,000 into $447,636.
Of course, these are some of the best examples of the impact of past supply crunches, but Dave's research shows they're going to be even BIGGER this time around. While there's no delighting in a crisis, we can complain about it or we can connect the dots and potentially profit from it.
Dave claims some of his readers are already seeing peak gains as high as 252%, 825%, even 1,019%, in just a matter of months. This is why he's urging us to pay close attention to what he is about to tell us, because billions of dollars in global capital are about to flow into a tech sub-sector that the vast majority of Americans don't even realize exists.
So what is Dave talking about? It's something the Japanese call the "seeds of technology" and the best way to profit from it is by staking a claim in two "Tech Metal" mining firms whose stocks are NOT traded on either the New York Stock Exchange or the Nasdaq. But all we need is a regular old brokerage account and to follow the trail of money along with Dave.
The Pitch
The trail led us to the Tech Metal Fortunes: Two Top Plays for the Rare Earth Supercycle special briefing, which provides us with all the details we need on these explosive Tech Metal miners.
To get our hands on it we will need a subscription to Casey Research's high-end research service called International Speculator. A subscription is not cheap, usually retailing for $3,500 per year. But for a limited time we can get in for only $1,750 (still not cheap) and receive three special report, including the one highlighted in this presentation, 12 monthly issues, and VIP customer support.
What the Heck is "Tech Metal"?
Dave mentions these two words no less than 68 times during his presentation, so it must be something really serious.
What he keeps referencing is a group of 17 extremely rare substances that the Department of Energy calls "Tech Metals".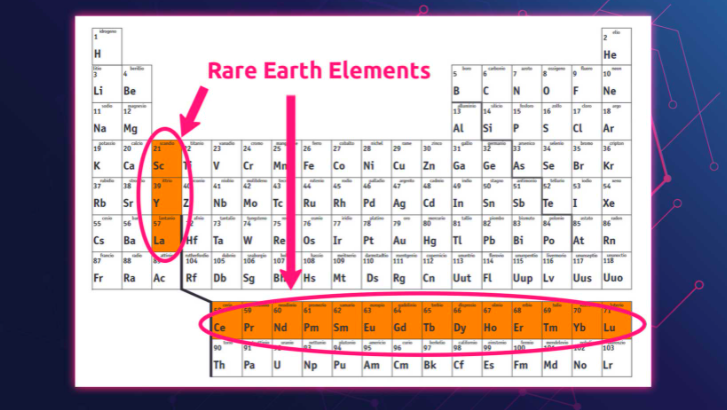 Commonly known as Rare Earth metals, these are absolutely crucial for high-tech production, to the point that companies like Tesla, Google, Apple, and Microsoft could not survive without them.
Ever since these compounds were first discovered in 1787, scientists have been amazed at the unique capabilities they have. There's one critical component in particular, that is at the heart of the electric vehicle industry…the rare "Tech Metal" called Neodymium.
According to industry analysts Adamas Intelligence, Tesla will gobble up 40% of the global Neodymium output to hit their annual vehicle production goals. This is just one company. Every major automobile producer from Volkswagen to Ford and General Motors are all betting big on electric vehicles. Indeed, demand is skyrocketing as entire nations are transitioning from gas-powered to electric car fleets.
The thing is, global demand for Neodymium already outstrips supply by some 3,300 tons. Every single year. So it's no surprise the price has more than doubled recently. This is how we are going to bag the mega-gains Dave mentions earlier, by betting on a pair of tiny rare earth producers. Let's find out what these are.
Revealing the Two Top Tech Metal Stock Picks
Tech Metal Stock #1
Dave tells that his research has locked onto a tiny company that sits on one of the top rare earth deposits in the world, including europium and dysprosium. It also owns one out of only two deposits worldwide being developed that contain xenotime yttrium.
Another thing Dave loves about this company is their five-star leadership, as one of their directors was a driving force behind Paladin Energy. As a testament to this, the firm recently received funding from the Japanese government for its project. The last time the Japanese Government backed a similar firm, its market cap grew by $4 billion.
Based on this description, the miner is Namibia Critical Metals Inc. (TSX.V: NMI.V) It's Lofdal heavy rare earth deposit is one of only two primary xenotime projects under development in the world and the project is being developed in joint venture with the Japan Oil, Gas and Metals National Corporation (JOGMEC).
Tech Metal Stock #2
Dave's second recommendation is a "spin off" from one of the most successful firms this industry has ever seen and now its 5-star team has launched a new venture 100% dedicated to Tech Metals.
It controls one of the few remaining Dysprosiums projects outside of China, is in the process of building its own processing plant for Tech Metals, and when you consider that the Pentagon has proposed to spend up to $1.75 billion to build an independent Tech Metal supply chain, the profit opportunity is huge.
Forest could be speaking about Northern Minerals Limited (ASX: NTU), whose Browns Range Project is set to become the only dysprosium and terbium producing operation outside of China.
Potential
5,346% Windfall?
Both stock recommendations are small cap stocks by definition, with market caps of under $300 million apiece. Combine this with the speculative nature of the mineral exploration sector and the stage is set for either stock to soar on any type of positive news.
This also firmly puts each company in the speculative growth stock category, with no earnings, dividends or major institutional backing…yet. A small stake in each as part of a larger speculative basket presents more upside than downside risk at this point.
Quick Recap & Conclusion
Dave Forest warns us about an upcoming "$393 Billion Supply Shock" and says we can position ourselves for potential 10x gains with a couple of "Tech Metal" companies.
"Tech Metal", as we come to learn is a pseudonym for rare earth metals and Dave has a pair of tiny rare earth producers we need to buy for above-average profits.
To obtain this info, we will need a subscription to Casey Research's high-end research service called International Speculator for $1,750 for a full year. This will net us the Tech Metal Fortunes: Two Top Plays for the Rare Earth Supercycle special briefing, which provides us with all the details we need.
Fortunately, there's no need to go into your wallet, as we were able to reveal both of Dave's picks right here for free as: Namibia Critical Metals Inc. (TSX.V: NMI.V) and Northern Minerals Limited (ASX: NTU).
Both picks are small cap stocks in the mineral exploration space, so if you do put some money into these, strap yourself in for a wild ride and whatever you do, don't bet the house.
Are rare earth metals the best commodities to buy right now? Let us know your thoughts in the comment section down below.