Crypto has been making headlines lately and Weiss Ratings is known as one of the most trustworthy newsletter advisories when it comes to cryptocurrencies. It began operations four decades ago and identifies itself as "the only financial rating agency in the world that provides a combination of five critical advantages for readers".
It reviews over 53,000 institutions and investments, including U.S.-listed stocks, mutual funds, ETFs, and over 100 cryptocurrencies. In one of the latest issues of the newsletter titled The Greatest Money Revolution of All Time. Weiss talks about "the money revolution" going on and teases four crypto investment opportunities, three out of which they call "supercryptos". Here is what we were able to uncover for you.
The Teaser
Weiss teases not one but four different cryptocurrencies, being convinced that early investors will receive 29x their initial investment if they move fast enough and put their hard-earned money in this volatile market.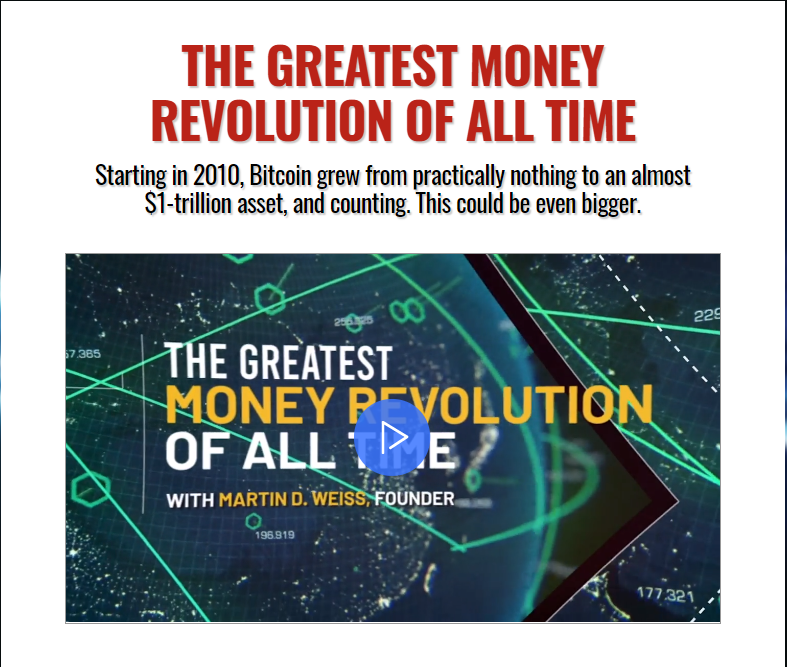 Martin Weiss began his career in 1971 when he founded Weiss Research. The firm is dedicated to economic research and evaluating the safety of financial institutions, namely crypto coins. It counts over 500,000 active readers, making it one of the most widely read investment newsletters currently available.
Martin Weiss starts by saying that he's "talking about the greatest money revolution – and the single greatest investment opportunity". "I'll name a core investment that has already doubled in value just in the last six months and is likely to double again over the next six months".
The author continues "I will tell also you about three other (crypto coins) that are surging up to 29x faster", leading readers to believe that they can acquire fast profits by simply investing in these coins at the right time. We have covered several crypto teasers here in the past, including "Tech Royalty" Crypto Picks and Legit Crypto IRA's? But this one is more direct, by teasing direct investments into individual coins.
Although the potential returns shouldn't be neglected, it's safe to say that the cryptocurrency market is the most volatile in the world, and the recent events have proved once again how easily prices can be influenced without any regulations.
Weiss goes on to talk about "a new financial marketplace that will challenge, that will transform – or even replace – a growing share of the existing global financial markets", without going into too much details. However, he claims that there is a way to "borrow and lend money, buy and sell stocks without a bank, without a broker…", which comes with a series of obvious benefits, including:
No usual middleman fees

No confiscation

No fear of bank failures

No money printed by governments that can debase the currency your assets are denominated in.
In other words, Weiss is referring to a perfect blockchain technology that is fueling a new generation of "supercryptos" which can potentially bring profits of over 2,900% in just a few months time.
The Sales Pitch
Like most other teasers, it is only meant to make you curious enough to subscribe to the newsletter: Weiss Crypto Investor, for only $59 per year. Included in the price you will find a special report for each one of the three cryptos Weiss talks about, alerts, 12 issues of the report, as well as other bonuses.
Subscribers will also get direct access to $655 in free gifts and discounts, all told.
What Are "Super cryptos"?
When describing the financial marketplace he's referring to, Weiss says that "we're talking about a new global financial structure that's starting to challenge the entire $200 trillion global financial marketplace".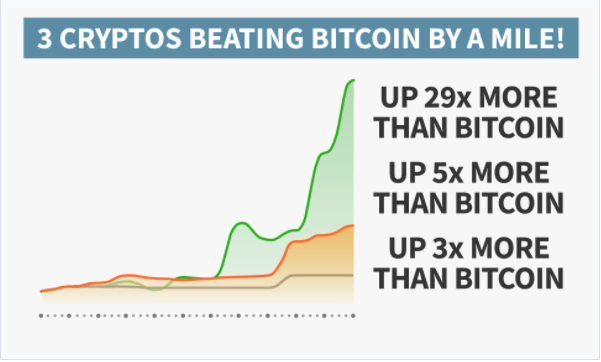 It is called Decentralized Finance (DeFi) and it has grown by more than 1,800% in the last eight months. With the help of this new system, certain altcoins have risen by 500% or up to 2,900% more than Bitcoin, which Weiss sees as the perfect opportunity to invest in cryptocurrencies.
For those not familiar, the world of crypto counts over 4,000 individual digital currencies and specialists estimate that the market still has plenty of room to grow. That being said, finding the perfect coin to invest in might seem like a gamble, even assuming you have knowledge of how the blockchain technology that is powering them all works.
On the other hand, Weiss claims there are certain steps anyone can take to find the best coins to invest in:
Avoiding low-rated coins

. Out of the thousands of cryptos existing, it is estimated that nearly 90% are junk and will never bring you profits. The author advises you to stay away from these and especially currencies like Bitcoin SV, DigiByte, Verge, Wanchain, Skycoin, Nano, or Electroneum.
Invest not only in Bitcoin

but in three other "super cryptos" he teases.
But, in the light of the latest events, does Bitcoin remain a good investment?
The coins that have been the most profitable to date, the aforementioned Bitcoin (BTC) and Ethereum (ETH), have recently shown signs of weakness, reaching recent lows after a series of tweets from Tesla owner and CEO, Elon Musk.
Since hitting a record high of over $64,000 in mid-April 2021, BTC plunged by 30% in May, reaching $30,000. ETH suffered similar faith, dropping almost 40% in value in less than 48 hours. Under such circumstances, it's hard to predict where the crypto market is headed next, especially since these discrepancies were nudged along by just one person, influential enough to affect a $200 trillion market.
Hence why it may be high time to look beyond the "usual suspects" to other "super crypto" coins.
Revealing the "Supercryptos"
#1 Super crypto
Weiss talks about four different coins which he considers to be capable of delivering up to 2,900% profits in just a few months. The first so-called "super crypto" mentioned as an essential building block of DeFi. Weiss mentions that, after the Bitcoin halving in 2016, this particular crypto surged three times more than BTC.

"Its network is the paramount world computer that circles the globe and is shared by millions of users on earth".
This crypto's global network is where millions of users can also share thousands of computer programs – called decentralized apps or DApps. "These DApps include the programs that let you borrow and lend or trade stocks directly with your peers anywhere in the world, that are giving birth to the great money revolution".
#2 Super crypto
"This is the coin that's growing five times faster than Bitcoin, and should continue to do so for years to come".
#3 Super crypto
You'll find more about it in a special report named

"The DeFi Leader That's Making Investors 29 Times More Than Bitcoin".

According to Weiss, "it's the provider of the highest safe yields in the world today".
"Some people say it's like a virtual bank. Others say it's like a virtual hedge fund".
Unfortunately, these were the only details provided by the author throughout the presentation, which aren't nearly enough to identify the three individual coins being teased. If we speculate, we know that the coins with the highest market caps after BTC and ETH are Tether, Binance Coin, and Cardano, respectively. With the universally beloved Dogecoin not far behind.
Opportunity to Make 28x Your Money in a Few Months?
Crypto coins are amongst the most volatile financial assets in the world and knowing exactly when to time the market and buy/sell your coins is a fool's errand and definitely not something you can learn from a newsletter subscription.
Although we don't deny that some coins may ultimately end up being more profitable than Bitcoin, due to a better, more stable blockchain network, greater institutional use as a result, and so forth. It is still a speculation rather than an investment at the end of the day. As with all speculations, diversification is prudent and a small basket of several coins is the safe play to limit downside while still maintaining upside exposure.
Quick Recap & Conclusion
In a teaser from Martin Weiss of the

Weiss Crypto Investor

, he talks about three "super cryptos" that will potentially bring profits of up to 2,900%. Those who want to learn more about these coins must subscribe to the aforementioned newsletter for $59 per year.

Included in the admission price is access to 12 issues of the report, investment alerts, as well as four special reports, each of them detailing one of the cryptos Weiss teases.

Unfortunately, there wasn't enough information in the teaser for us to identify any of the "super cryptos" Weiss proposes, but we did speculate about a few up-and-coming coins which may fit the bill in Tether, Cardano, and Binance Coin.

Given the volatile nature and largely unknown future of the crypto market, diversification is ideal and a small basket of coins makes a great of sense if you want to get exposure to the crypto market.
What do you think about the crypto market? Do you directly own any coins or have other exposure to it? What does the future hold for crypto coins? Let us know your opinion in the comment section below.