November 19, 2021: R.I.P. Tesla. This is the first thing we read when pulling up a version of Jeff Brown's latest teaser – "The iCar: How to Profit From Apple's Next Breakthrough".
Jeff is absolutely convinced that "a tiny California electric car company will eventually emerge as Apple's top partner on the Apple car", which the tech giant has been secretly working on and is hellbent on crushing Tesla and every other major carmaker in its way.
The Teaser
When it comes to the development of major, new technological breakthroughs, Apple has undeniably been at the forefront for the better part of three decades…from the iMac in the late 90's to the iPod and iTunes in the early 2000's to the first version of the iPhone in 2007 and now the Silicon Valley company is looking do it again.
There are a couple of versions of this teaser floating around. Here's one…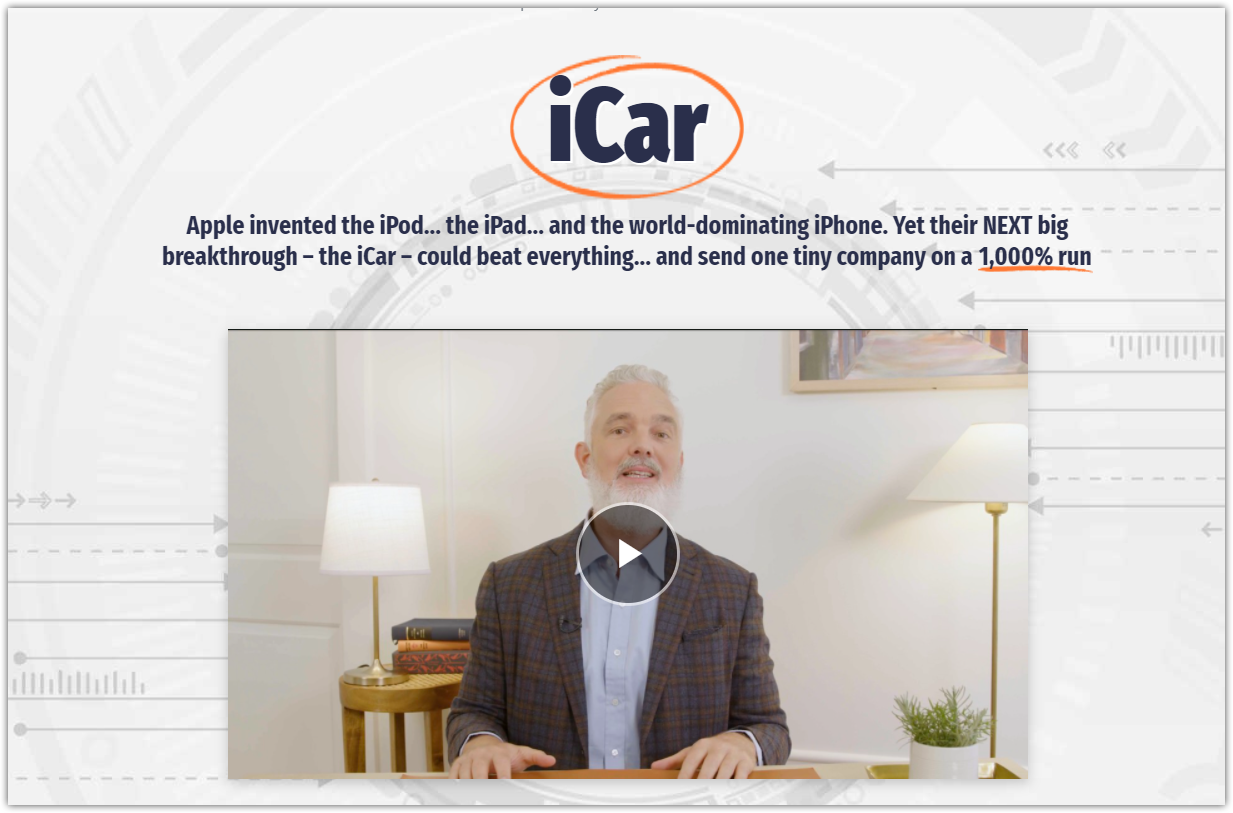 And then here's another I found…
Jeff Brown is the founder and chief investment analyst for Brownstone Research. Before founding Brownstone Research, Jeff spent 25 years as a high-technology executive for the likes of Qualcomm, NXP Semiconductors and others. His wide range of technology industry experience gives him a unique global perspective on business, investing, and analysis. Jeff has also presented countless opportunities, many of which we have covered here, including his Blockchain Stocks and "Stock Market Glitch" to make 30x your money.
To date Apple has been outspending Tesla by a factor of 12-to-1, in its concerted effort to build an advanced electric vehicle and reap truly massive gains in the process. To put things in perspective, CNBC says the Apple car has the potential to dwarf the iPhone, Apple Watch, and any revolutionary product Apple has ever made.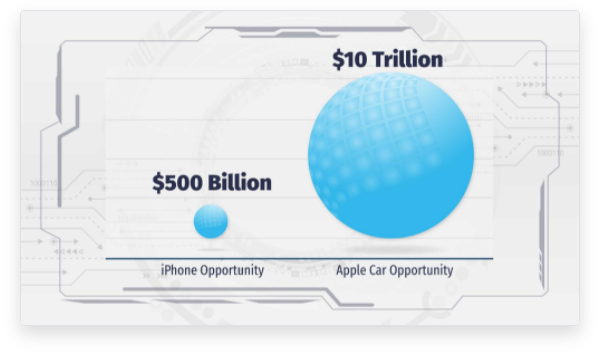 Morgan Stanley pegs the market opportunity at a staggering $10 trillion and according to Jeff's research, one small company that will set it all off could explode on November 19, which is just days from now.
While Apple is an incredible innovator, because of its gargantuan size, it simply can't grow as fast as it used to. For truly explosive returns, like 5x, 10x gains or even much higher, we have to target technology stocks that are much, much smaller.
Given Apple's notoriously secretive nature about their new potential breakthroughs, nothing has been formally announced by the company yet. But Jeff's findings point to the biggest winner in all this being a tiny technology company out of California, located just 350 miles away from Apple headquarters. This is because its technology is so revolutionary, Wall Street and Silicon Valley are scrambling to buy every available share. 
The Pitch
To find out the name and ticker symbol of this tiny technology concern before the milestone date of November 19, we will need to buy a subscription to Jeff's Exponential Tech Investor newsletter. This will cost $2,000 (ouch) and include several bonuses.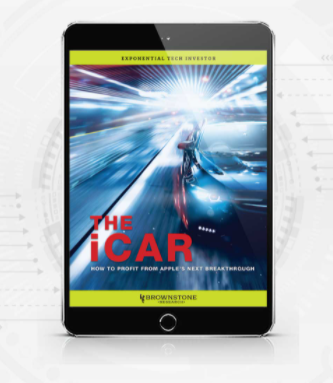 Tops among these bonuses is The iCar: How to Profit From Apple's Next Breakthrough special report containing the name and ticker of the "electric car pioneer" being teased, as well as a separate report called The iPhone Profits Blueprint: 5G Edition and a list of Jeff's top recommendations in the Exponential Tech Investor model portfolio right now entitled: Seven Exponential Tech Stocks to Buy Today.
The Apple Effect & The Technology Behind The iCar
While no longer a secret, as technology insiders have been using it for decades to pinpoint top-performing stocks well in advance, the "Apple Effect" refers to smaller technology companies that have become suppliers for the world's most valuable technology company and reaped billion-dollar windfalls by doing so, with the process repeating itself several times now.
Take the iPhone for example, Apple teamed up with a company called Infineon (XETRA: IFX.DE). This German tech firm provides wireless data chips for the iPhone. Infineon stock is up more than 8,100% since 2009.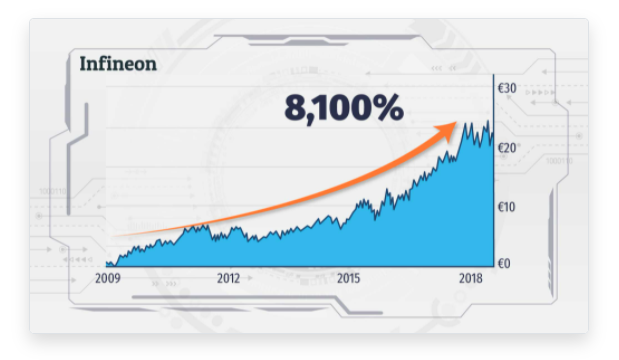 Another instance of this effect in action has been with Ams (Swiss Six Exchange: AMS), the Swiss optical sensor maker that go into various Apple products. Its shares soared to peak gains of 9,090%, in large part, thanks to its partnership with Apple.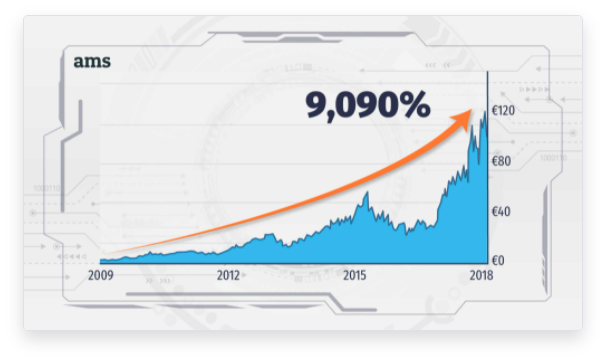 We could keep going, but you get the picture. The Apple effect has been a powerful market force. With the company pushing its way into the automobile market, Jeff believes the Apple effect is about to hit one tiny electric car company, even before the so-called "iCar" is officially announced. What's more, Jeff says "the big move for this tiny company could begin on November 19" and this is without even counting on any kind of official announcement from Apple.
With that said, Jeff thinks "a major announcement that could set things in motion is due on November 19" regardless and he's willing to guarantee that we've never heard this company's name before. Given Apple's "asset-light" business model, insofar as they don't manufacture any of their products themselves, but rather outsourced and contract-out such labor-intensive functions to other companies. This points to the tiny company in question already having an assembly line and strong manufacturing capabilities in place. Let's try and find out the name of it.
Revealing The iCar Supplier
Jeff is convinced a tiny California electric car company will eventually emerge as Apple's top partner on its as-yet un-announced Apple car. Here are a few clues he leaves us about what it could be:
The company is more than 500 times smaller than Apple. Too small to even register on most people's radars according to Jeff.
At the helm of this company is a man known in tech circles as the "Steve Jobs of cars".
It's one of the hottest electric vehicle stocks on Wall Street right now.
Based on some sleuthing, the company in question appears to be Canoo Inc. (Nasdaq: GOEV), here's what gave it away:
Based on its current market capitalization of just over $2 billion, the company is almost exactly 500x smaller than Apple.
While we have never heard of anyone referring to Canoo Executive Chairman Tony Aquila as the "Steve Jobs of cars", he is an automotive industry veteran, having previously founded Solera Holdings, a technology company that provides risk and asset management software and services to the automotive industry.
Canoo was originally based in Los Angeles when it went public through the backdoor via a SPAC, but it has received plenty of attention since listing in the summer of 2020.
Does Canoo have the latest, bleeding-edge technology that Apple covets?
UPDATE: Recently we've stumbled across a subscriber comment stating that Brown's pick is actually Fisker (FSR) here. FSR currently trades for more than was mentioned in the presentation, but nonetheless did match the description when the teaser presentation originally came out.
You can ignore the following section as it relates to Canoo, which must be incorrect in light of the new information found.
Opportunity to Make Over 10,000% on an Apple Supplier Stock?
Canoo is an electric vehicle designer and manufacturer with a reputation for producing cars with a unique aesthetic. This ticks one major box, as Apple is notoriously design conscious. One glance at Canoo's website and it quickly becomes apparent that the start-up aims to marry lifestyle vehicles with advanced technology to create a new standard for function and versatility, which is decidedly Apple-esque.
Despite shares of the EV maker being down more than 50% since the start of the year, at least one industry analyst now believes that the stock offers a "favorable entry point" into the EV market. What do we think? Its delivery timeline is late 2022 for its initial slate of models, its R&D, software development and other facets are heavily state subsidized to the tune of $300 million in incentives from Oklahoma taxpayers, and it also aims to offer an option to lease its electric vehicles alongside a purchase option, making its model more like Netflix, where you pay an all-inclusive monthly fee for access to a vehicle (including charging and maintenance).
All this to say, it's a very speculative play with almost as much (if not more) downside than upside, at least for the time being. The whole Apple supplier angle makes it even more so, as without this there is no visible reason for the stock to pop over the short-term.
Quick Recap & Conclusion
Prolific pitchman and investor Jeff Brown is here to tell us about "a tiny California electric car company that will eventually emerge as Apple's top partner on the Apple car".
Given Apple's lack of manufacturing capabilities, as it has always outsourced its assembly line out to third-party contractors, it will do the same with the production of its iCar, while it engineers and designs the models.
In order to find out the name and ticker symbol of this prospective technology and assembly partner, we will need to buy a subscription to Jeff's Exponential Tech Investor newsletter at a cost of $2,000. This will give us access to The iCar: How to Profit From Apple's Next Breakthrough special report containing the name and ticker of the "electric car pioneer" being teased.
Based on the limited clues Jeff provided, we were able to reveal what is likely the company in question as Canoo Inc. (Nasdaq: GOEV) for free.

UPDATE: It's Fisker (FSR), according to a comment from a subscriber to Brown's services.

The current outlook doesn't call for Canoo to ship its first vehicles until sometime in late 2022, with production not ramping up until 2024-2025 at the earliest. Thus, barring a potential partnership with Apple, there is no reason to think that the stock will make any significant move over the short/mid-term.
Have you ever taken advantage of the "Apple Effect" before by investing in a supplier? What are some other likely candidates to partner with Apple on its electric vehicle project that are also publicly listed? Let us know in the comment section below.