According to Jeff Brown, his secret Project "Perceptron" could hand us substantial gains in the next 60 days.
To do this, Jeff is using a patent-pending technology that helps him see things in the markets that not even a team of the smartest scientists can see. He just discovered a pattern that only happens in the crypto market. Let's find out what it is.
The Teaser
After more than 5 years of intensive research, Jeff is ready to finally go public with what he says is "the most important project of his life".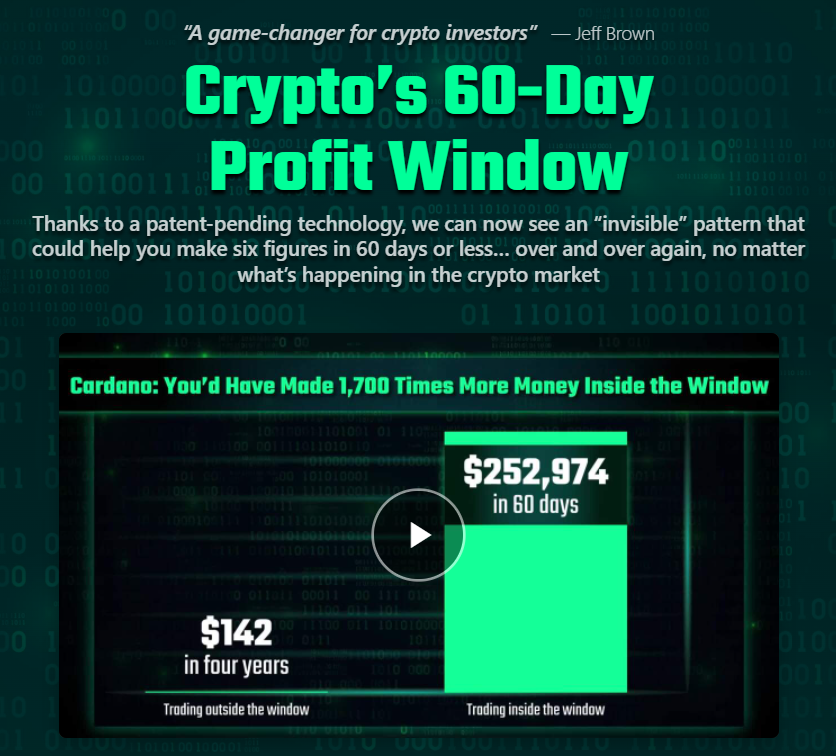 Jeff Brown is the founder and chief investment analyst of Brownstone Research. Before jumping into the financial research fray, he previously spent 25 years as a high-technology executive. Working at the executive level for some of the biggest technology companies in the world at the time, like Qualcomm, NXP Semiconductors, and Juniper Networks. He has covered a lot of ground with his presentations, from a Fintech Play for the Digital Dollar Revolution to an NFT Moment.
A project that is powered by a bleeding-edge technology that has already won the industry's equivalent of the Nobel Prize, in the Turing Award. He says Google, Amazon, Apple, Microsoft, the Department of Defense, NASA, and even Elon Musk are all using this underlying technology in their industries to gain an unfair advantage over their competitors.
Now Jeff is using an iteration of the same technology to find hidden patterns in the explosive crypto market and give US an unfair advantage. After more than 5 years of research and testing, investing more than half a million dollars into its development, and even filing a patent to protect his project, Jeff is going to be sharing the details on this pattern that could help us make six figures in 60 days or less, over and over again.
It's aptly termed the 60-day profit window because no matter what's happening in the crypto space, up, down or sideways, when you find this pattern, you could walk away with six figures in 60 days or less.
This is possible because its been discovered that most of the gains in the crypto space actually happen in a 60-day cycle. With this tech, you can cash out your profits in 60 days or less and avoid all those periods where the coin isn't doing much, which admittedly sounds a whole lot better than waiting around for years for some big move to the upside.
The Pitch
The only way to get the inside scoop on the "Perceptron" and put its proprietary technology to work on your own behalf, is with a subscription to Jeff Brown's Neural Net Profits. This typically retails for $5,000, but we can become "charter members" today for only $3,000.
Included in this offer is the special report 3 Coins Set to Explode in the Next 60 Days, a full year of Neural Net Profits, a Crypto Trading Starter's Guide, an exclusive members-only website, and more.
What in the World is The "Perceptron"?
Perceptron is actually the name of an algorithm invented in 1958 at the Cornell Aeronautical Laboratory. It was the first machine ever designed to recognize patterns like humans.
See, the power of the tech lies in its ability to process data, some 4 terabytes worth every single day. That's enough to fill up the memory of 32 iPhones. With this bleeding edge technology, patterns that are invisible to the human eye, become as visible as your nose.
So, while the original Perceptron project didn't go anywhere. Its vision has now come to life because in the last five years we've seen exponential growth in computer processing power. In fact, tech titans like Google, Apple, Microsoft, and Amazon are investing nearly $20 billion into this tech, every single year.
The underlying tech is a kind of artificial intelligence called a neural network. It's essentially an algorithm that mimics the human brain by analyzing vast amounts of data and actually using that data to train itself and improve over time, just like humans do. The only difference is that humans cannot analyze a lot of data. But these neural networks can.
Jeff says it all comes down to pattern recognition, the Perceptron tracks about 200 different factors to analyze crypto patterns, how coins behave over time, and what causes them to go parabolic during those crazy moves that usually last 60 days.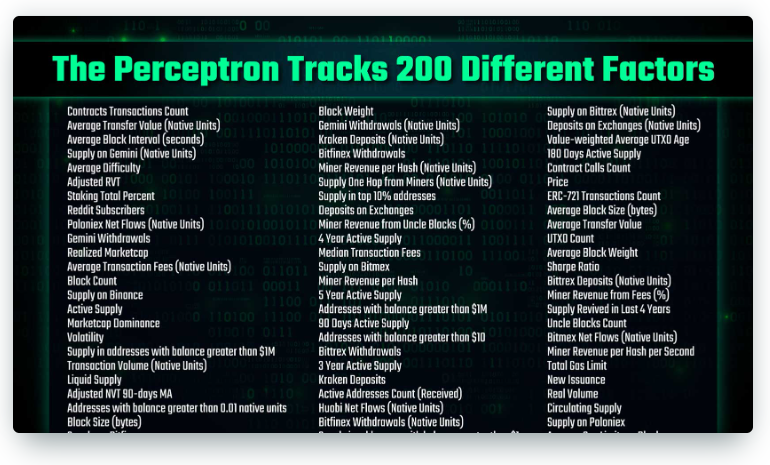 These factors include everything that could possibly move the market, from price and volume, to liquidity, concentration risk, and even social media activity. We're talking about 200 different factors for 6,800 cryptocurrencies, equaling 4 terabytes of data. The crypto Perceptron analyses all this data in just a matter of seconds.
According to Jeff, this system produces a daily report and it has just identified three opportunities now that are giving off some of the strongest signals he's ever seen.
Legit Opportunity to Make 6 Figures in 60 Days or Less?
In classic Jeff Brown fashion, next to no clues are offered up as to what the "3 coins that are set to explode in the next 60 days" could be, just some previous trades of Solana, Polygon, and Dash are held up as examples of successful past trades. So instead, we'll explore neural networks and what the potential of these machine-learned systems really is as it applies to making money in the market.
We already know that artificial intelligence (AI) is sweeping the computing landscape and neural networks also known as artificial neural networks (ANNs) are at the heart of deep learning algorithms, such as the Perceptron.
Neural networks can be applied to many different fields, but they are primarily applied to data mining and forecasting., which lends itself well to the financial market and short-term trading in particular. However, if neural networks are based on biological (human) neurons and can simply process more inputs (data) faster than any human, then the fact remains that even the most advanced deep learning algorithm cannot consistently make better financial decisions than we can over the long-term – outputs after all, are only as good the inputs.
Without significant back test data we cannot unbiasedly judge the Perceptron system, but we can say that the claim of making "6 figures in 60 days or less" is exaggerated at best.
Quick Recap & Conclusion
Jeff Brown teases a secret Project "Perceptron" that he says could hand us substantial gains in the next 60 days.
"Perceptron" is a neural network based artificial intelligence crypto trading algorithm that tracks about 200 different factors to analyze patterns and generate buy signals.
If we want to learn the name and trading symbols of a few crypto coins that the "Perceptron" recommends, then we will need a subscription to Jeff Brown's newly launched research service Neural Net Profits. A one year subscription costs a hefty $3,000, but it will get us the special report 3 Coins Set to Explode in the

Next 60 Days

, containing the info we are after.

Jeff doesn't come close to revealing any of the 3 coins the Perceptron algorithm recommends, these are reserved exclusively for subscribers.
Given the decided lack of clues, we took a closer look at artificial neural networks, which are at the heart of the Perceptron and how successful or not, they can be at predicting financial markets. The conclusion? They are only as good as their inputs, which are based on human neurons, so knowing what we know about the vast majority of traders losing money in the market, a neural network based algorithm isn't likely to do much better over the long-term.
Have you ever used an artificial intelligence-based trading algorithm before? Tell us your personal experience in the comment section below.