By now, you are probably familiar with the claim "one tiny stock will bring you massive earnings" and variations of this same theme. Dozens of financial analysts, money gurus, and investment consultants claim they have the "next best thing" that will help you attain incredible returns with just a small initial investment. Enter Jason Simpkins, and his latest pitch, the Invisible Detection tech stock. We have covered Jason's teasers in the past – Simpkin's Laser Defense Firm Exposed!
This initial teaser of Simpkins' dates back more than a year but he periodically changes it to make sure it perfectly fits the current economic environment. His "Invisible Detection" tech stock is no different since he has been talking about it for over a year only to "re-polish" a few times.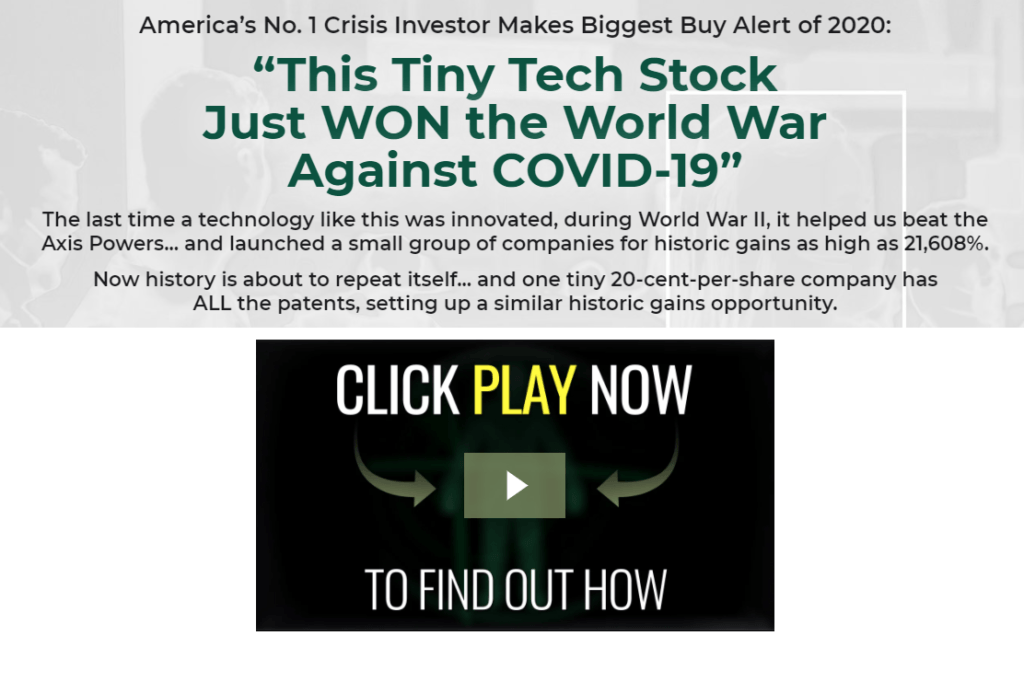 In his latest marketing gimmick, Simpkins talks about potential 21,608% gains from a "tiny tech stock that just won the World War against COVID-19." This is a bit of stretch to say the least, as the U.S. is still struggling with over 4.5 million cases as of this writing, as well as social distancing, and other measures meant to contain the virus.
Either way, he promises to reveal the company's name and ticker symbol if you subscribe to his marketing newsletter, The Wealth Warrior, for $99 per year. For this deal, the author throws in one Special report – Invisible Detection: 2,500% Gains on the Coronavirus Tech Boom, as well as two other Bonus Reports – The 5th Branch of Military: Profit From the $232 Billion Cyber War and The 5G Mega-War: Profit From the $12 Trillion Race for Wireless Dominance. On top of these, you will also get 12 monthly issues of the newsletter, buy and sell alerts, and other "insider" investment opportunities.
For those of you who don't want to break the piggy bank just yet, we will reveal the name of the company and its ticker symbol a little later in this article to let you decide for yourself whether or not it is a good investment. 
Who is Jason Simpkins?
With a vast experience of over 10 years as a financial reporter and analyst, Jason Simpkins currently serves as the Investment Director of The Wealth Warrior, the newsletter program he's pitching in the teaser we're discussing. 
He's written more than 1,000 articles in the fields of macroeconomics and finance and even launched his own energy-based investment newsletter, teaching people how to smartly invest their money and what stocks to buy. Of course, you will find exaggerations similar to the "21,608% gains" mentioned here as he is urging people to subscribe to his service and such hype sometimes works to lure people in that are in search of fast returns.
A Real 21,608% Opportunity?
Simpkins talks about a small tech company currently active in the field of AI and virtual reality (VR), which will potentially bring you $1 million dollars for a small initial investment of just $5,000. We're not shocked as we have covered teasers with similar lofty claims here in the past – Project Xi Tech Stocks – Breakthrough of the Century?
He goes on to talk about the technology that the company has already implemented in schools, airports, and governmental buildings, claiming that it "stopped mass shootings in schools…prevented terror attacks in public arenas…and it made companies billions in sales". 
You don't have to be a financial genius to know that Simpkins is hyping up the opportunity to justify his newsletter's $99 yearly subscription fee. After all, who wouldn't want to retire with a few million dollars from just one successful stock investment? 
However, the market for VR and AI powered retail signage respectively, is already extremely competitive, with new technologies being developed and implemented on a monthly basis. Thus, there are plenty of investment opportunities, some of them with potential big returns over the short to mid-term. But, is Simpkins' chosen company one of them? Let's take a closer look at it and what he promises.
The Company Being Teased
Michael claims that a tiny "20-cent-per share company has all the patents" for a new technology and that investing in it, could potentially bring you "1,500% gains that is only the beginning."
One of the first clues he throws in is "a new device – greenlighted by Trump Executive Order 13769 – combining AI and Machine Vision". He goes on to say that, "On February 10, 2017, Trump issued Executive Order 13769 which greenlighted 'Stealth ID' technology to be deployed at airports and border…"
He continues by mentioning that among its customers "are big Fortune 100 companies and governments" and this tech can be used in a variety of fields, including identifying potentially terrorist threats as well as new cases of

COVID-19

through thermal scanning. 

Another clue is that this specific company has already struck a deal with Intel but, according to Simpkins, "when its name becomes known, it won't trade for under $1 for long. Or even $10 or $25." Also, according to the author, "the company is already in talks with major U.S. cities to deploy on their citywide security camera networks and with major oil companies for pipeline monitoring."
So, who is this company Simpkins is teasing? We put all the clues together and we think he's talking about VSBLTY (OTC: VSBGF)
In its own words, VSBLTY, Inc. is a software company in the business of commercializing digital display and intelligent analytics. By combining interactive touch-screens and data-capture cameras, with cloud-based and edge-based facial analytics, VSBLTY, Inc. provides solutions for retailers and out of home digital signage networks.
The company does have some interesting technology, blending marketing tech with machine learning. But given the very early stage of development that the company is still at, it will be some time before their reality catches up to their potential…if it ever does. We would recommend keeping expectations in check and looking at the company as the speculative wager that it is.
Is It a Good Opportunity?
Truth be told, VSBLTY is a small company, with no real financials and little to no trading volume, which means investing in it at this stage is still very much a speculative trade. Since we're also talking about a AI and VR market that is extremely volatile, its a double whammy here.
The company itself has only been around for five years and had low albeit growing revenue in 2016 and 2017 until it dropped off a cliff in 2018. The company is now back trying to transition pilot projects with customers to actual ongoing working relationships. 
As we mentioned earlier, we're talking about a highly competitive digital signage field and things can dramatically change overnight. Currently, VSBLTY trades for around $0.11 per share, so Jason's $25 per share target over the short-term seems like a stretch. In fact, we highly doubt it, given various other companies are currently developing very similar technology and they are further along at this stage.
Quick Recap & Conclusion
In his latest marketing campaign, financial advisor Jason Simpkins pitches us his newsletter program,

The Wealth Warrior

, that sells for $99 per year. Once you subscribe, you receive three special reports, investment opportunities, full access to The Wealth Warrior website, as well as other bonuses to help you invest your money. However, if you don't want to spend that cash, we revealed the company he teased and its ticker symbol for free.

The AI/VR company Simpkins teased was,

VSBLTY, Inc. (OTC: VSBGF)

, a software company based in Canada founded back in 2015. It pushes its main product, a tech that combines AI and Virtual Reality (VR) to deliver a platform designed to invisibly detect potential threats. 

The company may have developed a technology "that might soon be a larger part of all our lives" according to Jason. However, we're still skeptical when it comes to down to the actual financial performance, especially since it has only been publicly listed for about a year. As we already mentioned, it currently sells for around $0.11 per share and we have our doubts about Simpkins' enthusiastic reviews that investing in it might bring you "1,500% gains." 
What do you think about the AI/VR retail signage market? Do you know other companies better than VSBLTY in the same field? Do you think thermal scanning can help put an end to the COVID-19 pandemic? Let us know in the comments below.