Angel Publishing's Jason Simpkins is going off the beaten path, claiming to have found the exact site used for the most secretive weapons test in the world.
This is where a new type of "smart missile" which has been developed that is so deadly, it can strike targets as far as 1,242 miles away faster than a speeding bullet. It's a new superweapon that is only made possible by propulsion technology and one small company that specializes in it.
The Teaser
The site of that secret weapons test is a nondescript island off the south coast of China and what has come from it is the sum of the defense community's greatest fears.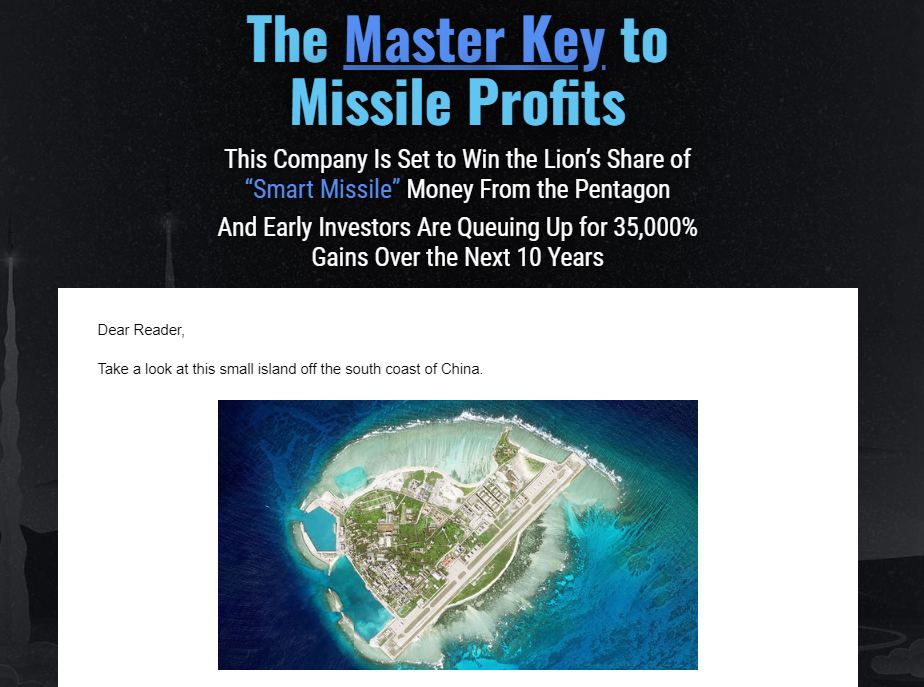 Jason Simpkins has penned more than 1,000 articles pertaining to personal finance and macroeconomics over the past 10 years. During this time he's witnessed the 2008 financial collapse, subsequent sovereign debt crises, a major pandemic, and more. Throughout it all he's maintained a focus on companies with assets and products that can hold and appreciate in value. We have reviewed a few of his presentations here in the past, like his Invisible Detection Tech Stock and expose' of "Beijing's Death Star" Laser Defense Firm.
What has American forces in the Pacific, Army outposts in the Middle East, Marine Corps bases in Japan, and allies like South Korea so concerned, is that this new "smart missile" can travel at more than five times the speed of sound. Rendering missile defense systems completely obsolete.
Up until now, there was no defensive technology that could keep up with this new breed of superweapon. Thankfully, a solution has been found and it comes from a small California-based company that is working on a "counter-missile" that can track, chase, and intercept these new types of enemy missiles before they become a threat.
This can't come soon enough, with deadly "smart missiles" proliferating, as Russia just launched its very own version of this superweapon in Ukraine. Becoming the first to use this new breed of missile in a live conflict in the process.
The time sensitive nature of these happenings is why Jason is bringing us this report today, as the Pentagon recognizes this threat and is about to pump billions of dollars into the development of these counter-missiles. Creating a catalyst for the technology and the company that is developing it.
The Pitch
Jason has pinpointed the one company that stands to benefit from this development more than any other and he's put together a special report to outline the opportunity called "Missile Millionaire: How to Position Yourself
for the 'Smart Missile' Funding Boom."
The report is thrown in for free when you subscribe to the Wall Street's Proving Ground investment research service for $99 for the first year. This will get you three free bonus reports including the one above, full access to Jason's buy and sell recommendations, monthly investment opportunities, flash email and text alerts, as well as a 100% money-back guarantee.
The Technology Behind "Smart Missiles"
Defense is BIG business. How big? According to ExecutiveGov, the proposed U.S. Department of Defense budget for 2022 is $778 billion. Looking at a full breakdown of the DoD budget, the number two item that funds are earmarked for stands out:
Nuclear modernization – $28 billion
Missile defense – $20 billion
For lack of a better term, the future appears to be now when it comes to missile defense. Given the state of current affairs, with the Ukraine conflict and China setting the stage for an attempt at re-patriotizing Taiwan. It comes as little surprise.
What is surprising, is that out of the hundreds of defense contractors on U.S. soil. Only one small company is capable of equipping the federal government with the counter-missile it needs to stay afloat in the global arms race. This is due to the company specializing in making rocket and "smart missile" propulsion technology.
See, this is how a "smart missile" moves.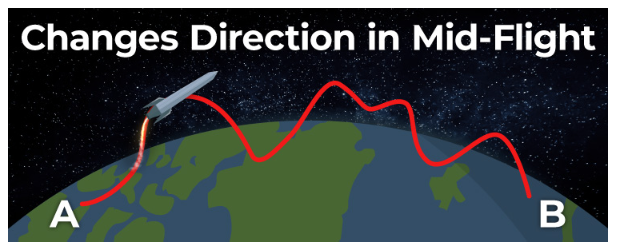 Its trajectory means our enemies can keep their target concealed until the last few seconds of the missile's flight. These missiles cannot be stopped by any of the technology currently in the hands of our armed forces.
What today's company has achieved looks a little something like this: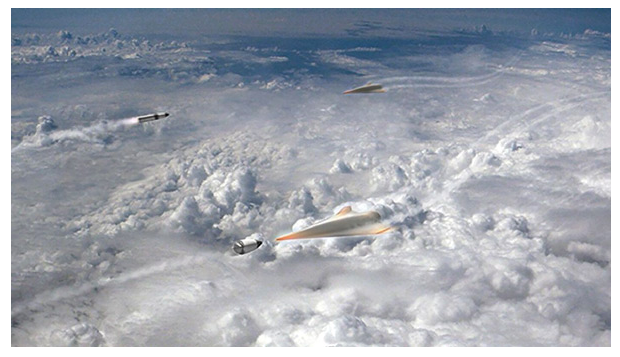 The big missile you see on the right, imagine that's an enemy missile, barreling through the atmosphere and toward U.S. soil at blistering speeds. Those small objects beelining toward the big missile on the left, that's the defensive technology that this company is building.
In short, these counter-missiles have the speed and maneuverability to track and take out enemy "smart missiles" before they become a threat. This pits the maker in prime position to grab a chokehold on the American "smart missile" funding boom now underway. Let's find out what it is.
Revealing the "Smart Missile" Company
Jason is adamant that this is a no-lose situation for investors. Here are a few reasons why his pick makes for a good investment even if we weren't locked in a global arms race:
It already makes the rockets for Boeing, the Defense Advanced Research Projects Agency (DARPA), as well as the RS-25 engines that are going to be used in NASA's next mission to the moon. So it's already essential to U.S. national security.
It's a trusted supplier, having powered almost every U.S. government space mission in one form or another since Apollo.
Vanguard and BlackRock are large shareholders, owning nearly 10% and 14% of this company's outstanding shares, respectively.
Based on this info, the company being teased here is Aerojet Rocketdyne Holdings, Inc. (NYSE: AJRD). This is why we're so sure:
Aerojet is the primary supplier of modernized RS-25 engines to NASA.
The company by its own admission has powered more than 1,600 rocket launches since the inception of the U.S. space program.
The two largest holders of Aerojet stock are BlackRock and Vanguard, with a 16% and 10% stake, respectively.
Legit Opportunity to Make 35,000%?
There is some precedent for the type of play Jason promotes here – defense contractor about to receive large new orders, sending its shares to the moon.
One such example is from the nineties, when the Pentagon outfitted a branch of the military with a whole new arsenal of missiles. General Dynamics (NYSE: GD) was the Tomahawk cruise missile supplier, which are still used by the U.S. Navy today.
Had we been fortunate enough to own General Dynamics stock before the Tomahawks were released, we could have made as much as 9,000% on our money.
Of course, there is no assurance that history repeats itself. But Aerojet Rocketdyne is a reasonably priced stock at a trailing P/E of 20x, with relatively stable earnings owing to its long-term government contracts.
Quick Recap & Conclusion
Angel Publishing's Jason Simpkins says there's a new, deadly type of "smart missile" which has been developed and only one company's technology is capable of countering it.
What he's talking about here is "smart missile" propulsion technology and the U.S. government is dedicating as much as $20 billion dollars this year to missile defense systems to counter it.
Jason has identified one company that stands to benefit the most from this development and he's put together a special report to outline the opportunity called "Missile Millionaire: How to Position Yourself
for the 'Smart Missile' Funding Boom." This report is ours when we subscribe to the Wall Street's Proving Ground investment research service for $99 for the first year.
Thankfully, you can skip this step as we were able to ID the company for free as Aerojet Rocketdyne Holdings, Inc. (NYSE: AJRD).
Aerojet Rocketdyne is an established government contractor, regardless of the "smart missile" defense catalyst, that is currently available at a fair price.
Is there any other new defense tech on the horizon that we should be looking out for? Let us know in the comment section down below.