Losses, bankruptcies, the crypto market is at one of, if not its lowest point right now.
But being greedy when others are fearful can pay off big and Ian King has "7 crypto trades that he says will make us 7-figure profits."
The Teaser
The elephant in the room is obviously the major crash we've just seen in crypto. However, there is a case to be made that this correction is a vital part of crypto's growth process that could lead the asset class to more than 100-fold growth within the next decade.
Ian King is a self-proclaimed crypto expert, having developed the first crypto-investing multimedia product of its kind for Investopedia Academy. We have reviewed some of his past crypto picks here, including his "Next Gen Coin" and Crypto's Third Wave presentation teasing "Three Top Crypto Picks."
There are three key reasons for this and this presentation is going to take us through them.
It's also promising the chance to capture the next million, so to speak with "seven crypto powerhouses that will supercharge a million-dollar windfall."
To prove these claims are just a bunch of hot air, Ian pulls up his last seven crypto trades: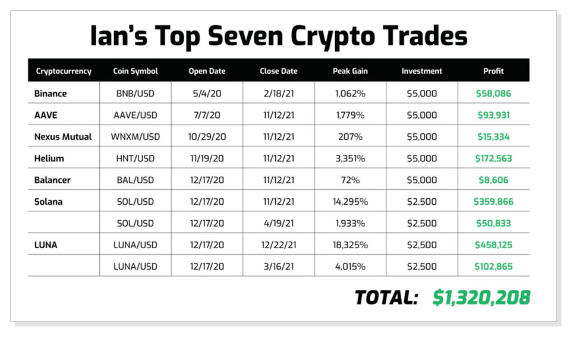 Had we bought in, we'd have peaked at $1.3 million in just 18 months. Not a bad payday.
Now, keep in mind. This was during an exceptional time in the crypto market. With the present correction, it may take more time before we see such gains again.
Overall though, if we take a step back and assess things. We'll see that the big picture for blockchain technology and cryptocurrency hasn't changed. It may have even gotten better, as crypto is just now starting to disrupt everything.
From how we store our medical records to how we use the internet. How we invest. How we bank, the list goes on and on. The seven cryptos in this report are poised to lead the next bull market.
So what are these crypto coins and the market forces converging to make this happen?
The Pitch
Ian has compiled a special report called: The Next Million, outlining the seven most important coins to buy right now.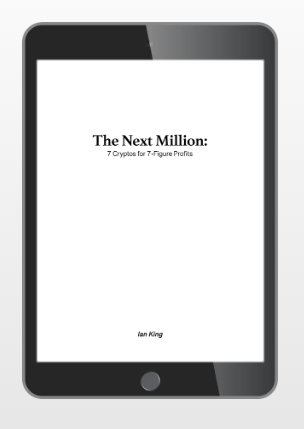 It's ours if we sign up for the Next Wave Crypto Fortunes newsletter at a $995 "founding-members rate." The offer includes six to twelve new trade alerts per year, weekly portfolio updates, a model portfolio, and more.
The Three Forces set to Drive the Crypto Market Higher
The First Force: A market crash
Ian says to hear him out on this one…
The idea of a forest fire is terrifying, just like the idea of a market crash. It seems totally out of control. Well, extreme volatility, turbulent markets, and crashes are like forest fires. They cause bad, weak stuff to burn up, while funneling the "healthy" capital into the most worthwhile assets.
This is what's happening in the crypto markets right now. The market is down nearly 70% over the last year, but the disruptive power of blockchain technology hasn't changed. The fundamentals remain intact.
The Second Force: Money
Starting in 2020, institutional money began to take crypto seriously.
According to a recent Business Insider article, 55 of the world's top 100 banks have crypto exposure and the top 13 have over a billion dollars invested.
Not only this, but venture capital funding raised by blockchain startups over the last six years has soared by more than 4,000%. Even long-time veteran venture capital firms like Bain Capital and Sequoia Capital are in.
This leads us directly to the third market force…
The Third Force: Government
All these institutions aren't investing because they expect to lose money.
They're doing so because back in May 2020 a change to the Financial Instruments and Exchange Act took effect. This amendment replaced the term "virtual currency" with "crypto asset." It eased regulation on crypto derivatives while creating regulations on how to manage digital money.
This move essentially legitimized crypto and let it become categorized as an asset on balance sheets. Making institutions comfortable enough to start investing.
Crypto jumped almost 2,000% after the government's official acknowledgment and something similar is happening today.
It started two months ago when the White House issued an executive order on "Ensuring Responsible Development of Digital Assets."
This EO enlisted the Secretary of Treasury, the Secretary of State, the Attorney General, and the heads of other relevant agencies to submit to the President a report on the future of money. He gave them 180 days, which is just four months from now.
Ian believes the new regulation coming down the pipeline is going to further increase institutional allocation into crypto and be a major catalyst for his next seven crypto trades.
Revealing Ian's 7 Cryptos for 7-Figure Profits
All of Ian's picks possess three important qualities:
Real-world demand
Supported by a team of experienced and trustworthy investors
Fundamentally sound coin protocol
Unfortunately, no further details are furnished on any of these, apart from the conjecture that "the model portfolio reflects the potential to make $100,000 over the next 12 months."
Some of his recent picks have included The Graph (GRT), Ethereum (ETH), and Filecoin (FIL), but there's simply no way to tell if any of these are repeated here.
Given this lack of verifiable info and crypto's recent woes, I'll look at some ways we can minimize our crypto losses rather than just focusing on the potential upside instead.
How Not to Lose Big with Crypto
If the FTX fallout and other recent blowups have taught me anything, it's that crypto was created and meant to be de-centralized.
This includes the way we hold and store our coins.
One of the best ways to do so is in a cold storage wallet. This is hardware that stores your cryptocurrency offline, thereby greatly reducing the risk of theft, hacks, and other shenanigans.
After this, the next box to check is remembering to only speculate with funds that we can afford to lose. It's easy to lose sight of this with all the hype surrounding the latest and greatest coin, but if the upside is really all that great, then even a small initial investment will yield well-above-average returns.
Finally, keep in mind that a token is only as valuable as the utility it creates and the number of applications that can be run on its protocol. This is the equivalent of not paying too high of a multiple for a stock. Do your due diligence and deal only with facts rather than whimsical projections pulled out of thin air.
Quick Recap & Conclusion
Crypto expert Ian King says crypto as an asset class could be worth $200 trillion one day and he has 7 crypto trades that he says will make us 7-figure profits.
He believes three forces will take crypto to new heights: The current market crash, institutional money, and government regulation. The seven cryptos he teases will lead this next bull market.
A special report called: The Next Million, outlines the names of the seven most important coins to buy right now. We can get our hands on it with a $995 subscription to the Next Wave Crypto Fortunes newsletter.
Ian fails to provide any clues on what these coins may be. So instead, some general downside protection was offered given the general state of crypto. This includes storing your coins in a cold storage wallet, only speculating with funds that you can afford to lose, and doing your due diligence prior to speculating on a coin or token.
What coins do you believe will be at the forefront of Crypto 2.0? Tell us in the comments below.