Nomi Prins' has made a career out of exposing the difference between what Wall Street says on the one hand and what it actually does on the other.
While mainstream financial media like CNBC may say everything is "rosy" at Amazon, the numbers tell a different story due to the soaring price of energy. The truth is, a fuel crisis at Amazon could soon force shares of a tiny firm into the stratosphere.
The Teaser
Public SEC filings show Amazon has lost over $132 billion this year alone due to the soaring price of fuel and the higher cost of transporting goods. It's likely to cost them more than $264 billion over the next year.
We're very familiar with investment banker, turned author, and independent financial journalist Nomi Prins. We've revealed her latest stock picks and exposed her #1 Stock for America's New Era.
Despite having $37 billion left in cash on its balance sheet, that's not enough cash to cover this quarter's bills. Never mind the coming months.
This has the potential to take the entire market down and brings us to the story we're covering today.
Not too long ago, it used to cost Amazon $3.70 to deliver an average-sized box. But today, it costs them nearly 83% more, or $6.71 to deliver the same package.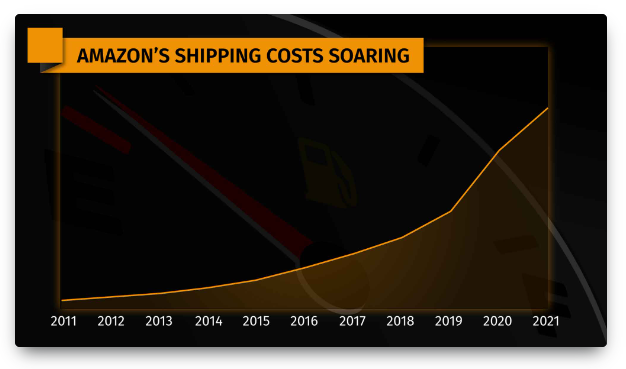 When you are delivering about 4.2 billion boxes a year, this really adds up!
It's a huge reason why the e-commerce giant just laid off 10,000 workers and why are they closing dozens of warehouses across the country.
From all this, one thing is clear. The company is in a race against time and it needs to cut costs right now. Nomi says her new team recently exposed an urgent plan put forth by Amazon. One that aims to cut their gas costs close to near-ZERO.
Amazon's Biggest Secret
Looking back, Amazon's history is littered with significant challenges like this, and each time they've survived and come away stronger and more profitable than ever before. Usually by partnering with a much smaller company.
But this isn't about that small firm, Nomi admits that she actually isn't talking about any stock at all. Rather a new way you can profit right alongside them without touching stocks, bonds, or even options.
The Pitch
Nomi is promoting her recently launched advisory service called Rogue Strategic Trader, with new subscribers getting access to The Tiny Firm Saving Amazon special report.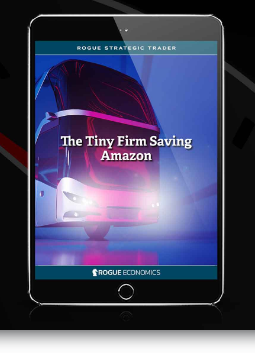 For a limited time, this can be ours for $1,750. The offer includes two additional special reports, trading alerts, educational videos, and "a whole lot more."
The Obscure Investment Creating Massive Wealth
Most of the deals Amazon makes are private, so they escape media scrutiny.
There's no way you or I or anyone watching mainstream television could profit from them. But, every once in a while, these deals become public and anyone with a brokerage account could get in and potentially make a fortune.
On just one of these deals, a profit of 8,410% would have been possible (with perfect timing). The bottom line is: These opportunities are so potentially lucrative that we can't afford to ignore them.
The story we're tracking today begins inside a snow-covered manufacturing plant, hidden away from prying eyes.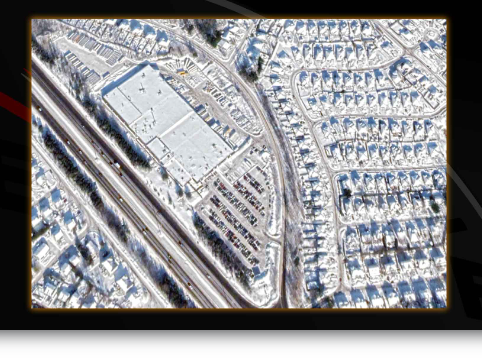 The groundbreaking technology behind the doors of that manufacturing plant is Amazon's way out of its current predicament.
In fact, the technology could bring global fuel prices at Amazon, and everywhere on earth for that matter to zero. So what is this tech?
Nomi thinks it's Electric Vehicles.
A New Type of EV
Apparently, these are no regular electric vehicles.
In 2008, a man with no background in engineering, science, or even the auto industry, who spent much of his career working in the wood industry of all places said, "I'm going to start selling electric vehicles."
His strategy is simple: Get something on the road that works.
This is radically different from say, Rivian. Amazon placed a huge EV order with them in the past and they put big touchscreens in their EV delivery vans, heated and cooled seats, AI navigation systems, and basically all the bells, and whistles. Well, according to The New York Times, "Amazon has said it doesn't expect Rivian trucks to be delivered until the end of the decade."
The problem is, what Amazon needs right now aren't fancy features or "big touchscreens." They just need to get out from under gas prices as quickly as possible.
For this reason, Amazon is about to pour $1.1 billion into this small firm's trucks that it also owns "special shares" in.
These special shares are called Warrants and the best part is, they're publicly traded. Meaning we can buy them directly from our brokerage accounts. Let's find out what this warrant play is and the EV company behind it.
Revealing the Tiny Firm Saving Amazon
We have quite a few clues about this company to work with.
It currently generates about $30 million in revenue each quarter.
Besides Amazon, Transdev Canada just placed a massive order for its vehicles.
They are building a new, 900,000 square-feet manufacturing facility in the midwest.
Based on these, the company in question is none other than The Lion Electric Company (NYSE: LEV). Here's why:
Lion Electric generated $116 million in revenue this fiscal year, which is right on pace with a $30 million per quarter rate.
Both Amazon and Transdev Canada have placed orders for electric trucks with Lion Electric.
The automaker just announced a new 900,000 sq. ft. manufacturing facility in Illinois, the largest of its kind in the country.
Real Opportunity to make 50x Our Money?
Amazon has done pretty well on its warrant investments.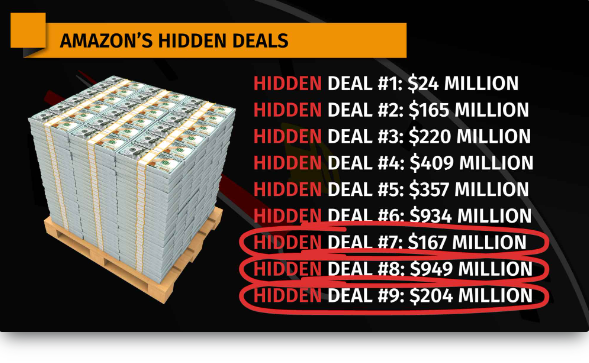 Keep in mind, most of these are privately negotiated deals backed by Amazon's purchasing power (bulk discount).
With that said, Lion Electric warrants can only be a good investment if the business itself is a good investment. So is it?
To its credit, Lion is profitable on a going-concern basis and revenue has been growing by about 50% annually over the past three years. Most importantly, its purpose-built all-electric vehicles are already on the road. Accumulating more than ten million miles driven by more than 800 vehicles to date.
If it remains on its current growth trajectory, Lion Electric will be a far more valuable company in a few years' time than it is today. Its current valuation of only 10x earnings doesn't reflect this.
Quick Recap & Conclusion
Former investment banker turned investigative journalist Nomi Prins is touting a fuel crisis at Amazon, that could soon force shares of a tiny firm into the stratosphere.
We learn that Amazon is losing a whopping $66 billion per quarter on delivery charges due to the cost of fuel. The only way out seems to be with a new type of electric truck manufactured by a tiny firm that could save the e-commerce leader.
A subscription to Nomi's newly launched advisory service Rogue Strategic Trader will get us access to The Tiny Firm Saving Amazon special report. The subscription costs $1,750 and contains both the name of the firm and the ticker symbol of its "special shares."
So-called "special shares" are just a code name for warrants and they belong to The Lion Electric Company (NYSE: LEV).
Lion Electric is a profitable business with solid growth over the past few years. This is about as good as it gets for a small-cap EV manufacturer.
Are there better electric truck plays out there? Let us know your thoughts in the comment section below.