If the first crypto wave came in 2016, when the entire crypto universe was just $7 billion and we are in the second wave now, with the crypto universe exploding to an all-time high market cap of $2.4 trillion, then how massive will the third wave be?
According to Ian King "crypto's third wave" is a staggering "$9 Trillion mega-boom in the making" and it is about get started in a little-known corner of the cryptocurrency market.
The Teaser
Host David Zide welcomes us to this Banyan Hill special event, where what we are about to learn today is "going to be different from anything we may have seen or heard about cryptocurrencies before".
David assures us that he will NOT be telling us to buy some hot, new crypto or some branded crypto token or some kind of "micro cryptos" no one's ever heard of. Instead we're going to learn about a revolutionary new development within the cryptocurrency market itself. We have written about blockchain-based pitches extensively here in the past, including Jeff Brown's Blockchain Stocks and Teeka Tiwari's "1170" Account, among others.
At this juncture Banyan Hill's own resident crypto expert Ian King is introduced. Ian got his start on Wall Street while he was still in college, spending a summer interning for Merrill Lynch in the middle of the '90s bull market. He joined Banyan Hill Publishing in 2017 to put his more than two decades of experience to work helping readers get ahead of the burgeoning crypto market.
Ian says he's been watching a little-known corner of the crypto market for the past 18 months, which is growing explosively – yet few people are even aware what's really going on. Incredibly, in March 2020 this sector of the crypto market was valued at about $1.6 billion. By April 2021, it grew to over $128 billion. An 80 times return in just the past 13 months!
Ian is convinced this could prove to be one of the greatest transfers of wealth in history, ending in a $9 trillion segment of the crypto market.
If such claims are to be believed, then this third wave will be "the greatest single source of crypto profits" for years to come, which will be accompanied by a third wave of cryptocurrency opportunities, including Ian's three picks directly from his personal "hot list".
The Pitch
Ian also says that the absolute only way to get access to his picks, is by becoming a member of Next Wave Crypto Fortunes. This will run you "only" $1,995 for one full year.
This hefty price includes the special report Cryptocurrency's Third Wave — 3 Trades to Multiply Your Money 12 Times in the Next 12 Months, access to a "new wave" crypto portfolio, another report entitled Next Wave Crypto Fortunes: Trading Manual 101, and other perks.
What Exactly is The Third Crypto Wave?
Ian believes the impact of this so-called third wave will be so profound and so widespread, across virtually every sector of the economy, that it will make this once little-known niche within the crypto universe 70 times bigger than it is today, within the next 10 years.
Apparently, there are four major catalysts that are changing the crypto market forever, that weren't there just three years ago. They are as follows:
The first is Venture Capital Firms. VC is the fuel that drives the engine of innovation and now they are pouring into the crypto market, with 2021 being the biggest year ever for VC investment into cryptos.
The second is the impact of Institutional Money. The list of big institutions getting involved in crypto is growing by the day, with the likes of Goldman Sachs, UBS, Bank of New York Mellon, Barclays, Credit Suisse, and State Street Bank and Trust, all starting their own cryptocurrency divisions. The New York Stock Exchange or rather its parent company – the Intercontinental Exchange, has even introduced a system called Bakkt, which is a platform for trading Bitcoin and other digital asset futures.
The third catalyst is Ease of Use. Back when bitcoin first came on the scene in 2010, there was only one exchange to buy it on, called BitcoinMarket. Today, it's estimated that there are over 1,100 different crypto exchanges to choose from, it truly has never been easier to buy, sell and use cryptocurrencies.
The final catalyst is Blockchain 2.0. Blockchains, as they exist now, are incredibly slow. When compared to credit cards or electronic payments, it takes forever for transactions to clear. This makes blockchain payments wildly inefficient and impossible to scale. Ian says all this changing, thanks to Blockchain 2.0.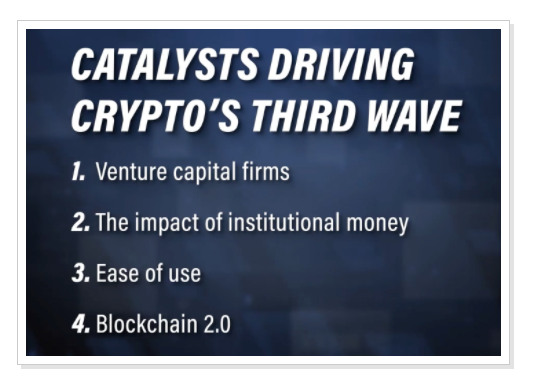 The reason Blockchain 2.0 will have such a huge impact, is because of what it can do. Picture this, you pay for something routine in a store by swiping your credit card or tapping your phone and your payment is registered instantly. Compare this to trying to pay for something with Bitcoin and you could be standing around for 10 to 20 minutes, waiting for your transaction to clear.
Blockchain 2.0 aims to solve the slow transaction time of existing blockchains, through its processing capability – 100,000 transactions per second, which is 20x faster than Blockchain 1.0. According to Ian, "this is the point of no return for cryptocurrencies". Blockchain 2.0 is bringing crypto into the mainstream, making it faster and easier to use, paving the way to crypto's universal adoption.
This includes disrupting the $90 trillion financial services sector, with something called DeFi. This stands for Decentralized Finance and it is the third crypto wave. By completely decentralizing all business transactions between borrowers and lenders, vendors and customers, market makers and investors and completely cutting out the middleman, it is making business on a local, national, and global scale, cheaper, faster and more secure.
This is at the heart of Ian's top three crypto wave picks, let's try and find out what these are.
Revealing the Third Wave Crypto Picks
Ian is confident that these three fast-moving opportunities hold the potential to multiply your money at least 12 times over the next 12 months and they are our best shot at carving off a piece of the potential $9 trillion DeFi pie.
Problem is, Ian did a superb of not only concealing the picks from us, but not dropping a single clue about them, which may be a first in all the presentations we have reviewed here. Simply urges readers to "take action now" by buying a membership to his New Wave Crypto Fortunes newsletter.
So, while we may not be able to reveal any "top picks", we can take a closer look at Decentralized Finance (DeFi), to determine if this pie really is as big as Ian says it is.
DeFi – A $9 Trillion Opportunity?
The banking industry has not changed all that much since the days of the Medici's in Florence, despite all the technological advances over the past couple of decades.
You work hard, get paid, take your hard-earned money, put it in a bank, and the bank takes your money and loans it out to others. Everything you do goes through a financial institution before it happens – paying for something with your debit/credit card, writing a check, getting a loan, all of it goes through a financial institution (middleman).
The blockchain is indeed beginning to change this, as its distributed ledger technology makes it possible to lend or borrow funds directly from others, speculate on price movements on a range of assets using derivatives, trade cryptocurrencies, insure against risks, and earn interest in savings-like accounts by utilizing smart contracts.
DeFi platforms or DApps (Decentralized Applications) that perform such financial functions on distributed ledgers have begun springing up to meet the demand for such services, with approximately $20.5 billion already invested in DeFi projects as of the start of this year. A figure which should only continue to rise as awareness and adoption grow, making $9 trillion entirely within the realm of possibility. Only question is, over what timeframe?
Quick Recap & Conclusion
Host David Zide and investor Ian King predict a "crypto third wave", which is a "$9 Trillion mega-boom in the making".
We are given assurance that this is NOT about some hot, new crypto coin, branded crypto token or some kind of "micro cryptos" no one's ever heard of. Instead we're going to learn about a revolutionary new development within the cryptocurrency market itself, along with "three top crypto picks" to profit from this development.
As it turns out, the absolute only way to get access to his picks, is by becoming a member of the Next Wave Crypto Fortunes newsletter, for the "low price" of only $1,995 for the first year.
Unfortunately, we didn't learn a single thing about Ian's top crypto picks in his presentation, as absolutely no clues were provided. However, we do know that they have something to do with Decentralize Finance (DeFi).
Decentralized Finance is one of, if not the fastest growing segment of the blockchain universe, with the total value locked in DeFi projects now eclipsing $40 billion. Up from $40 million as recently as 2019. This is an early indicator of how fast the sector is growing.
Is DeFi the future of finance? Does it have a place in your portfolio or is it still too early at this juncture? Let us know your thoughts in the comment section below.