Ian King's latest is on "the technology of the decade", which stands to reward early investors with a massive windfall as the electric vehicle industry is poised to surge more than 1,000% by 2030.
There's one Nevada-based company that holds the key to the electric vehicle revolution and we're going to learn what it is today.
The Teaser
As electric vehicles (EV) have become more efficient and less expensive, EV stocks have soared, with the like of Tesla, lithium mining company Albemarle, and others all up triple digits or more over the past year.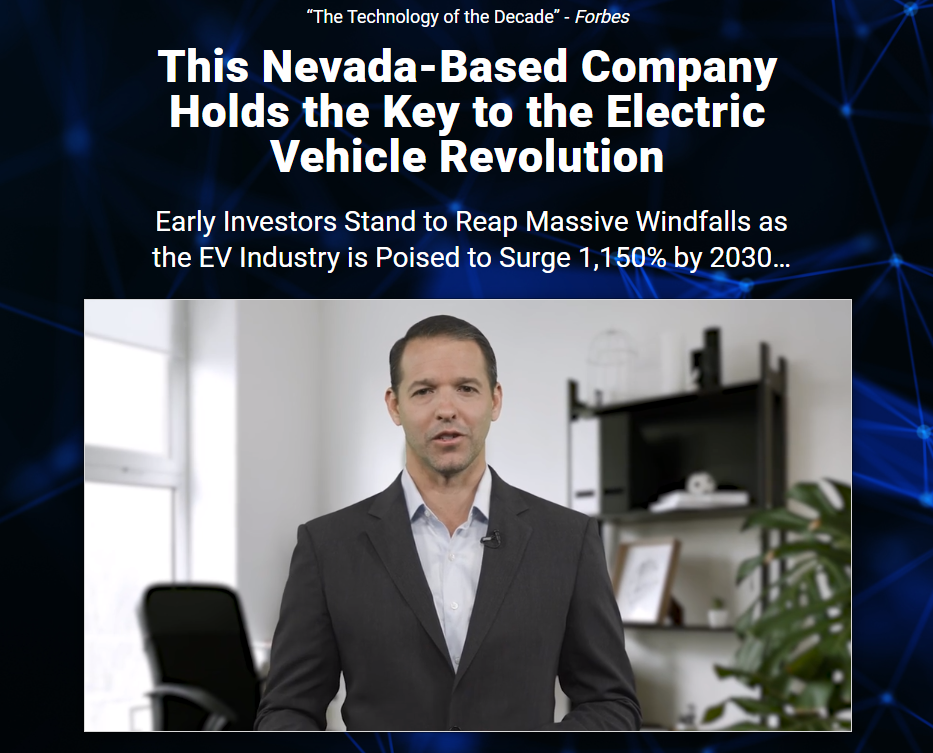 UPDATE: This EV stock teaser is continuing to get updated. More recently I found this variation floating around online, which teases the same neodymium stock and is titled "This Little-Known Company is at the Center of the EV Revolution"…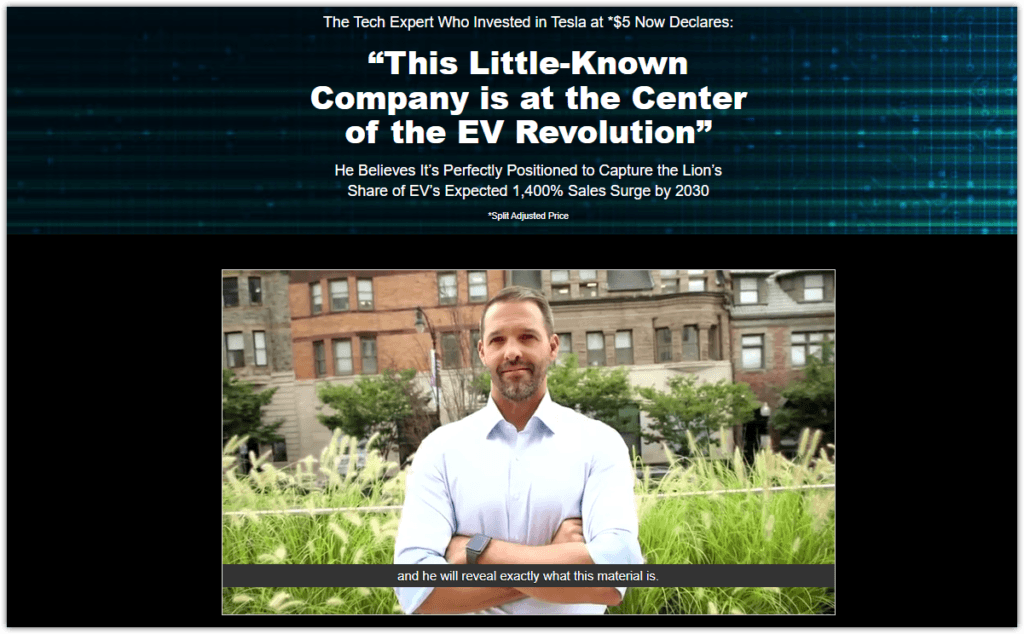 Ian King is a professional trader and former hedge fund manager, with over two decades of experience trading and analyzing the financial markets. He has also been the Editor of Banyan Hill's Strategic Fortunes, New Era Fortunes and Next Wave Crypto Fortunes newsletters since 2017. We're familiar with Ian's work, having previously covered several of his presentations, including his Top Three Crypto Picks and MaaS Stock, among others.
Despite this growth, the EV industry is still very much in its infancy. As of today, less than 4% of new cars sold are EVs. Compare this to some predictions that the EV market share will increase from 4% to 50% by 2030 and it becomes clearer that despite the growth we have already seen, EV's are still very much in their infancy. Couple this with major car companies rapidly rolling out new EVs:
• Jaguar will only make EVs starting in 2025
• Volkswagen will only make EVs starting in 2027
• Volvo will only make EVs starting in 2030
Add state governments from coast to coast heavily incentivizing the sale of EVs, not to mention the federal government also planning to offer as much as $12,500 in tax credits for new EVs and the "Golden Age" of EVs as USA Today puts it, could very well be upon us.
Ian says that what's inside the vial in the picture below is critical to the future success of EVs
Without it:
Most EVs won't be able to roll off the assembly line
America will lose the global EV race
And the industry's 12X growth won't happen
Ian continues by stating that "the Nevada-based company he's found is the LARGEST producer in the ENTIRE Western Hemisphere of this". This is why investing in this company now could 10x our money over the next decade.
The Pitch
The name and ticker of the company behind "the technology of the decade" will only be revealed to those with a subscription to Banyan Hill's Strategic Futures newsletter. The cost is a very reasonable $47 and includes plenty of extras.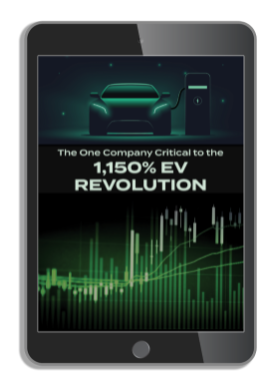 Including The One Company Critical to the 1,150% EV Revolution special report, containing the name and an in-depth analysis of the company being pitched, two additional special reports, access to the Strategic Fortunes Portfolio, weekly alerts, updates, and more.
What is "The Technology of the Decade"?
According to Ian, every innovative technology follows what he calls the Innovation Breakout Curve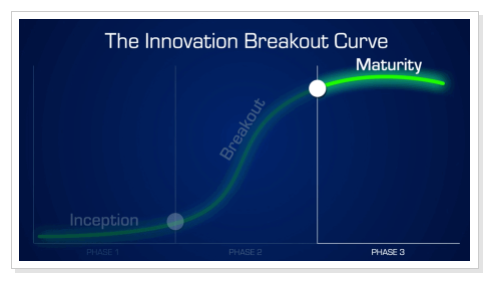 The image is pretty self-explanatory, but Ian says Phase 2 is where investors can make a killing. "Find a technology that's on the cusp of entering the Breakout Phase and generational wealth can be made". Just like the Nevada company that's essential to the future of EVs. This innovative company is at Phase 2 right now, ready to take off, as the EV market surges 12x over the span of this decade.
We learn that it supplies a critical material needed for almost every EV. What is it? Inside of every EV motor are special magnets, when these magnets start spinning, the motor rotates and the car starts moving. These magnets are made of the strongest permanent magnet material ever discovered and there's only one company in the entire Western Hemisphere which supplies them on a grand scale.
Thus, the "technology of the decade" is Neodymium magnets, which are also known as NdFeB magnets. They are the most powerful type of permanent magnets available today and the overwhelmingly clear choice for car manufacturers. Ian says the time to invest in this company is now, before the EV market skyrockets, as some of the biggest gains in stock market history have been made by getting into a stock before it enters Phase 2 of the Innovation Breakout Curve.
According to our host, this company is also incredibly well-positioned, with virtually no real competition in the US market. Let's try and find out what it is.
Revealing the Nevada-Based Company Behind the "Technology of the Decade"
Ian drops several hints as to what the company may be, see if you can identify it.
It's the "only company in the Western Hemisphere that supplies- Neodymium"
Company revenue growth is surging. It has had quarterly revenue growth of 100% year over year. Ian expects revenue to grow 10x from now until 2030, in line with EV market growth.
It is sitting on more than $1 billion in cash, which it can use to invest heavily in new ventures to grow its business.
Bank of New York Mellon owns 2 million shares, billionaire Leon Cooperman is currently holding more than 2.4 million shares and Morgan Stanley owns 4.5 million shares right now.
The success of this firm is so vital to the American EV industry that it just signed a massive deal with the Department of Defense.
If you said MP Materials Corp. (NYSE: MP), then you would be right. Here is how we know:
10x your Money over the Next Decade?
MP Materials Corp. is the largest rare earth materials producer in the U.S. and a $7.9 billion dollar company, so it is far from an "up and coming" business.
Historically speaking, commodity-based producers have not made the best long-term investments, but MP may be an exception to the rule as it owns the only operating rare earth mine and processing facility in the United States. Its underlying economics speak to this:
40% profit margin
8% Return on Assets (ROA)
23% Return on Equity (ROE)
This kind of showing is unheard of for asset heavy businesses and it may be an indication of a competitive advantage. Government mandates incentivizing EVs and their growth also act as investment catalysts. Unfortunately, many analysts and investors agree also with this assessment, as MP is currently valued at more than 50x their current earnings, which is a lot even in today's propped up market.
I agree that MP should continue to grow going forward given its superior fundamentals, but paying the current asking price may mean that you will just have to hold on to the stock longer in order to be fully rewarded.
Quick Recap & Conclusion
Former hedge fund manager Ian King is here to talk to us about "the technology of the decade", which he says holds the key to the electric vehicle revolution.
Despite its rapid growth, the EV industry is still very much in its infancy, with some experts predicting 12x growth over the next decade and one Nevada-based company is positioned to be one of the primary beneficiaries of this.
Ian will only reveal the name and ticker symbol of this company to subscribers of his Strategic Futures newsletter. This would cost us a modest $47 for the first year and include The One Company Critical to the 1,150% EV Revolution special report, containing both the name and an in-depth analysis of the company being pitched.
Fortunately, you can skip the purchase as we were able to uncover the company right here for free as MP Materials Corp. (NYSE: MP).
MP is a fast growing business with sound operating economics and a few major catalysts behind it. It is also priced accordingly with a sky high valuation. This shouldn't exclude it from investment consideration, but just know that it could very well take some time to 10x your money on this one.
Are you invested in the electric vehicle industry? Are Neodymium magnets the future as well as the present? Or is there something better on the horizon? Let us know in the comment section below.