If you thought the computer revolution changed the world, then "the next 45 seconds will blow our minds".
Michael Robinson thinks a "quantum infinity chamber" could unleash up to a staggering $8 trillion in new wealth and it all starts with a tiny device that measures just two inches wide by one inch tall. Could this actually be legit?
The Teaser
Our host and the executive publisher for Money Morning says the next few minutes him and Michael will be sharing the fascinating story behind the Infinity Chamber and all its implications, including how "investors can grab a unique ground-floor stake in this game-changing technology".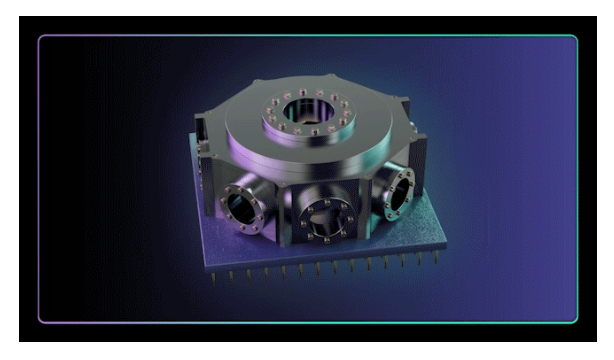 Michael Robinson has been a technology investor for more than 30 years and a leading analyst and tech journalist who's been at the forefront of just about every major emerging technology story of the last decade. Michael is also the editor of Money Map Press' Strategic Tech Investor newsletter, through which he reports on remarkable breakthroughs like… 3D Printing, the mobile wave, and shale energy technologies, among others well before anyone else.
Back in 2012, Michael published an article about the technology hidden inside a "Infinity Chamber". Now, the rest of the world is finally catching up to him. This technology is so radically different from computers, smartphones, and lasers that it could create over $8 trillion in new wealth and disrupt every industry on the planet. Picture this:
Electric vehicles that can run seven years on a single charge, super fertilizers could help end world hunger without damaging the environment, and more. In short, the power inside this tiny chamber promises to be a game-changer for mankind.
According to Michael, 15 countries have already implemented national initiatives to harness this breakthrough "quantum technology". In fact, the United States federal government has gone so far as to enact a law – bill number 6227, which has already unanimously passed and is dedicated to full-scale development of this breakthrough.
We'll be getting into the details of this tech in a moment. We're also going to talk about "the tiny company that is way out in front on this technology".
The Pitch
Before we can get any more details on the "first pure-play quantum opportunity in history", we are directed to "lock in our Nova-X research advisory service risk-free trial" which costs as little as $39 for the first year.
This will include the special investment briefing: The 100X Quantum Age: The Tiny Startup Launching a Revolution and direct access to other "Nova-X investment hubs", such as crypto, digitization, biotech, and quantum computing. All with their own stock picks for each field.
What is the Quantum Computing Age?
If you really dig in and look at the biggest catalyst behind the computer revolution of the past three decades, the reason it all happened comes down to quantum physics.
In short, the thing that makes all these devices do what they do is quantum physics. This is what allows control over the electron flow behind every electrical gadget on the planet.
We could go Bill Nye The Science Guy here and talk about atomic, subatomic levels, atoms, electrons, protons, neutrons, and even light waves, but we will spare everyone the minutiae technical details. What we do need to know is that despite the incredible things computers can do today, they are simply not capable of solving some of our biggest challenges due to binary limitations.
This means the more complex the problem, the longer it's going to take a computer to process it. When you start looking at society's most complex challenges, it could take even a supercomputer YEARS, even decades, to work through the various permutations. In order to begin solving some of these challenges, we need something with exponentially more power.
So, while the world focused on building faster supercomputers, two scientists – one from Harvard and one from MIT, started thinking outside the box. What these scientists ended up discovering is that quantum bits or qubits can defeat binary limitations. Naturally, instead of using bits like a traditional computer to carry out the calculations, they started using qubits and by doing so, they overcame the binary limitations that restrict classic computers.
This is essentially what the "Infinity Chamber" is – a quantum machine. A quantum machine so powerful that it can potentially analyze millions, billions, or even trillions of permutations all at the exact same time. Of the two scientists behind the Infinity Chamber, one picked up a Nobel Prize, while the second launched a new startup company and its that startup company that created the so-called "Infinity Chamber" that we're talking about today.
Revealing The Company Behind The Infinity Chamber
Inc. Magazine says quantum computing will be "one of the most radical shifts in the entire history of science", which makes this find really interesting. Here is what we know so far:
First, we know that one of IonQ's co-founders is a world-renowned pioneer in quantum physics and the original inventor of the ion trap quantum computer.
With 60 patents and applications protecting their competitive advantage, this startup is way out in front of the competition.
Their biggest competitors – including Google, IBM, Microsoft, and Amazon, have all formed alliances with this tiny startup. These global titans are now reselling this tiny startup's quantum technology through their own cloud services.
Michael says that Bill Gates is an investor, as is Michael Dell of Dell Computer, and Marc Benioff, the billionaire founder of Salesforce. They're also apparently being backing by Hyundai Motor Company, Kia Motors, Hewlett-Packard, and Lockheed Martin.
Based on the information at hand, we would venture to say that the quantum computing company in question is IonQ Inc. (NYSE: IONQ) Here is what led us to this conclusion:
Turn $10,000 into $13 million by the end of the decade?
With quantum still in its infancy, IonQ's current annual revenue amounts to around $5 million. However, the quantum market as a whole is expected to hit $65 billion by the end of the decade.
Meaning that even if IonQ's patented tech, which is supposed to be "16,000 times more powerful than the competition" in Michael's words, captures just a small percentage of this rapidly growing market, the returns would truly be once-in-a-lifetime.
More realistically, IonQ has projected they will hit revenue of $522 million by 2026, which would be about a 100-fold revenue surge. So it would not be surprising at all to see the stock jump by even more. If you have some funds set aside for long-term investment, it wouldn't be a bad idea to take a closer look at IonQ.
Quick Recap & Conclusion
Tech investor Michael Robinson teases a "quantum infinity chamber" that could unleash up to a staggering $8 trillion in new wealth.
This breakthrough is all about "quantum technology" which is receiving backing from federal governments as well as established tech monoliths and "one tiny company is way out in front on this technology".
Before any more details about this startup are revealed, we are directed to "lock in our Nova-X research advisory service risk-free trial" which currently goes for as little as $39 for the first year and includes the special investment briefing: The 100X Quantum Age: The Tiny Startup Launching a Revolution.
Fortunately, you can keep your money as we were able to reveal the "first pure-play quantum opportunity in history" as IonQ Inc. (NYSE: IONQ) for free.
Quantum computing is receiving a lot of attention and financial backing, which makes us think that it could very well be one of the next emerging sectors to take off.
Are you already invested in the quantum computing space? Is it on your list of most promising space to watch? Let us know what you think in the comment section below.