Ian King's "Infinergy" Solar Company is just one of the biggest teases in his latest reports. He states that this Infinergy tech is even the most significant interference in the energy field until Rockefeller and Standard Oil.
In addition, King also teases his readers to invest in the company behind this tech. After all, he claims, that its industry is expected to soar up to 1,800% over the next decade. 
With all the details above, it's no surprise why Ian King's Infinergy tech has been the talk of the town lately. 
And if you're curious to find out the Infinergy company and stock, we got you covered. Because in this article, we'll expose them for free.
But before anything else, let's go ahead and go over the details regarding Ian King's presentation. 
The teaser: 
So, we were told that "This Industry Soars 1,800% Over the Next Decade Into a $16 Trillion Behemoth…"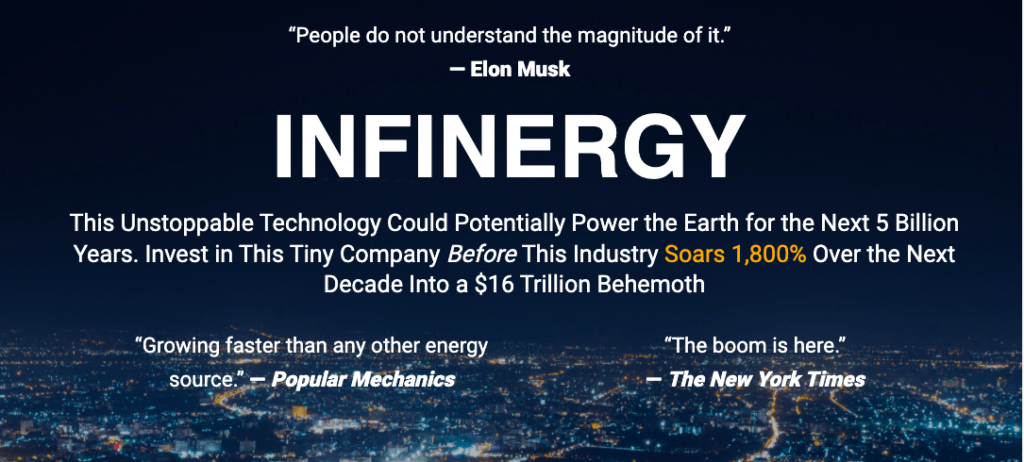 Ian King is an editor who owns the Strategic Fortunes newsletter service. This is just one of his three newsletter services where he provides his readers with all the juicy details regarding various investment opportunities that can significantly change the tech field. 
King was also a hedge fund manager prior to working with Banyan Hill Publishing and has more than twenty years of experience in the financial field. Overall, he has a pretty impressive background and is definitely a knowledgeable man.
Still, even though he knows his stuff, it's essential to take whatever he says with a grain of salt, which has become obvious after reviewing his Nevada-Based Electric Vehicle Company and Digitarium teasers.
Now, in his Infinergy presentation, King presents what seems to be an ordinary white crystal in his presentation.
They look like ordinary, useless crystals.

But thanks to a Nobel Prize-winning discovery, these crystals can produce enough energy to potentially power the entire planet for the next 5 billion years.

That's right. Five. Billion. Years.

Meaning the energy is virtually infinite.

That's why I call it Infinergy.
However, he claims that with the aid of a Nobel prize-winning finding, this plain-looking white crystal can actually provide sufficient energy to our planet for the next five billion years. He then further elaborates that an inventive company based in Silicon Valley is the one pioneering this Infinergy tech.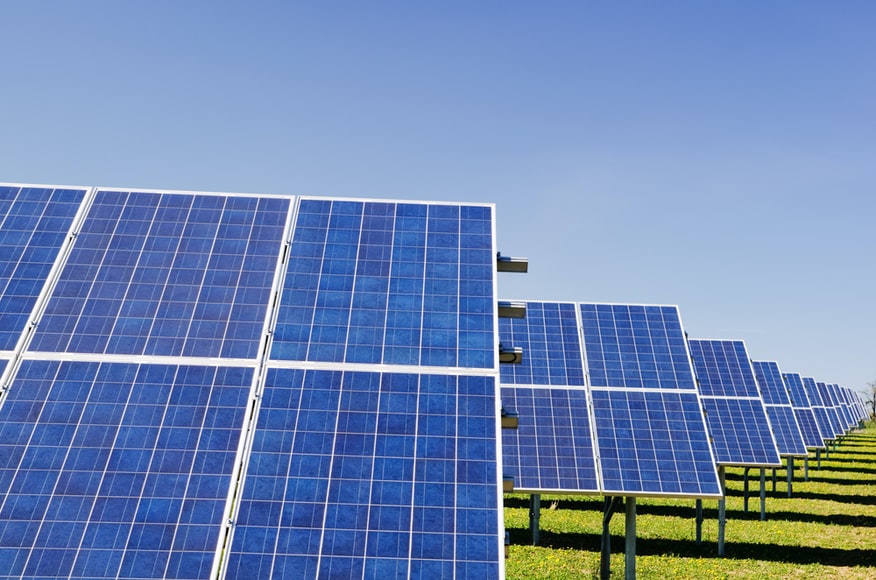 Furthermore, here are some hyped-up claims in the presentation: 
A PhD physicist from an Ivy League university describes Infinergy as unstoppable and transformative. 
Huge companies such as Chevron, BP, and Shell are investing millions in this company, stating that Infinergy is possibly the future. 
Due to all these claims, King emphasizes how Infinergy is the future and is a game-changer towards the energy sector. But should you shell out your money for this investment opportunity? Let's find out below. 
The sale's pitch:  
Again, King says that you can receive this report for free, but we already know where this leads to. Of course, you'd have to subscribe to Ian King's Strategic Fortunes newsletter service to find out the full details about the company. All details regarding the Infinergy company are hidden in his report entitled "Infinergy: Ride the $16 Trillion Revolution."
Getting access to his newsletter service will provide you with monthly reports, weekly announcements, access to a private members' only website, and more. But you don't have to bother subscribing to his investment newsletters anymore. After all, you can simply find out about the Infinergy stock here for free. 
What is "Infinergy" All About, Anyway? 
Let's now dive deep into the clues included in Ian King's "Infinergy" Solar Company presentation. So, what's the deal about Infinergy, anyway? What is it all about? 
As previously mentioned, Ian King presented a white crystal capable of providing infinite energy and can be used for just about anything. So, whether you want to power up your home, car, or huge factories, this Infinergy power source can provide universal and infinite energy for all. Basically, infinite plus energy resulted in the term "Infinergy."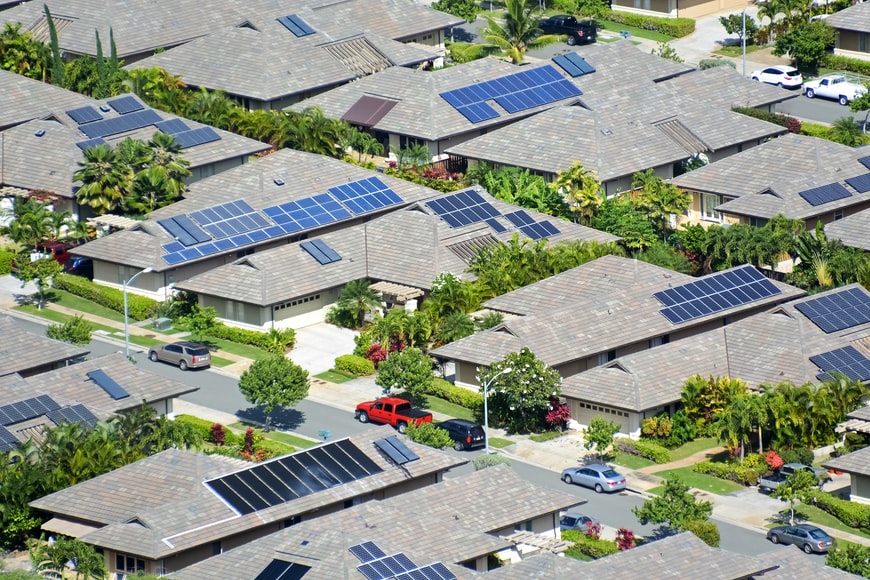 Moreover, there's more to this crystal than simply providing infinite and universal energy. After all, we're also told that this single energy source alone has the ability to generate 10,000 times of our globe's energy usage. Therefore, in just a single month, Infinergy can already generate energy that we can use for up to 562 years. 
And other than providing infinite and universal energy, King also states that this white crystal can provide our planet with clean energy for usage. Eventually, we realize that King is actually referring to solar power technology in his presentation. He also mentions that these white crystals are the key to converting sunlight into much more efficient and usable energy. 
Infinergy = Solar Power 
Hans Bethe is the Nobel Prize winner who created the first solar panel, which is also the Nobel prize-winning discovery discussed in this presentation. As expected, he was also the person who made it possible to convert sunlight into usable energy. And the same company in question also creates and sells solar panels for universal, infinite, and cleaner energy for consumption. 
However, what makes these solar panels from this Silicon Valley Company special? This is where the white crystals come into place. After all, these white crystals are called 9N or 9 Nines Silicon and are 99.9999999% pure silicon, hence its derived name. With that being said, the purity of this silicon is the ultimate game-changer for these solar panels.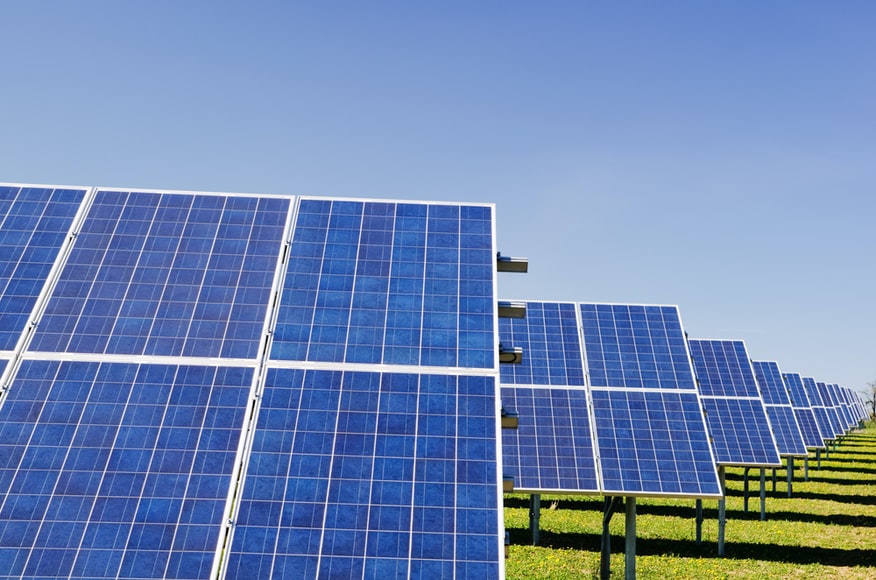 After all, the purity of this silicon will allow solar panels to function 400% better than the first-ever created ones. Combining this with the mystery company's excellent solutions will allow these panels to utilize the sun's 173,000 terawatts of power as it shines down every second. And using this technology, we can now accumulate the equivalent energy necessary to power up the earth for a good five billion years. 
Connecting the Dots: Who is the Company Behind the Infinergy Stock?
Let's now connect the dots with the more prominent clues in Ian King's "Infinergy" Solar Company to expose the Infinergy stock: 
King mentions that many countries have already invested the following amounts below: 
The US: $55 billion
China: $83 billion
Japan: $16 billion
India: $9 billion
Various companies have shelled out over millions for this stock
Vanguard Group: $278 million
BlackRock: $200 million
Invesco: $150 million
·Other companies such as BlackRock, JPMorgan, Nuveen Asset Management, and Goldman Sachs have also increased their stakes for the Infinergy stock.
The company behind the Infinergy source also provides various homeowners with helpful solar energy solutions. 
This stock has a market cap of just 1/25th of BP, 1/50th of Shell, and only 1/100th of Exxon.
Do you have any more guesses before we officially reveal Ian King's "Infinergy" Solar Company and its corresponding stock?
Alright then, it's time to expose the company and its stock below.  
The company's name is SunPower Corporation, and its stock is (
SPWR
). This company is headquartered in San Jose, California is in charge of selling, installing, and financing many solar-powered items. SunPower was established in 1985 and has patented over a thousand solar innovations as of writing. Here are reasons backing up SPWR being the mystery stock: 
The teaser claims to mention that the stock is from a US Silicon Valley company that creates and sells solar products. And based on the information stated on their official website, SunPower Corporation happens to match the company clues dropped in Ian King's presentation. 
According to Fintel, Vanguard Group Inc. managed to secure 9,672,499 shares of SPWR on February 10, 2021. This amounts to 5.68% of their ownership of SunPower Corporation.
Furthermore, Fintel also states that other companies such as Blackrock Inc. have an identical position to Vanguard's position. In the teaser, Ian King also mentions that Blackrock Inc. also happens to be one of the investors who have raised their stakes for the stock. 
To date, SunPower Corporation has a market cap of $3.49 billion. And upon comparing it to 1/50th of Shell's market cap value, it just happens to be over $9 billion higher than the said amount from when Ian King released the teaser for this stock. 
Moreover, Sunpower's product website states that their solar panel products can easily generate the same amount of energy in their initial 17 years, which is 8 years faster compared to standard panels that can produce the same amount of energy in 25 years.
Finally, we now deal with the ultimate question: is it worth the investment? 
Is it Worth the Investment?
So, will you really be getting rich over a decade if you invest in this stock? For now, it's recommended that you tread things with caution. As of now, the SPWR stock is currently trading at $20.16. With this price, Zacks.com's analysis is that the best strategy is to sell the stock right now. Still, it is worth noting that SunPower has ranked number one in the United States in the commercial solar industry since 2017. 
Additionally, it is also worth noting that many states nowadays in the US, such as California, require new homes to utilize solar power. With solar home installations expected to rise even more in the next few years, solar tech companies such as SunPower might finally get the recognition it deserves.
And with the promising solar power technologies that SunPower has to offer, it's safe to say that we can definitely expect more from this company in the future. 
Quick Recap and Conclusion
Ian King's investment opportunity revealed how this particular Silicon Valley-based company would significantly transform the energy sector with a universal, infinite, and clean energy source using this mysterious white crystal.  
The presentation later revealed that this white crystal is silicon that is 99.9999999% pure, and the mystery company creates solar panels with this material. Due to that, they are able to create solar panels that are 400% much more efficient. 
As always, further details regarding this report are locked behind a paywall. 
Luckily, you managed to find out the company and its stock free of charge. The company that King is teasing is the SunPower Corporation (SPWR). 
So, do you think that solar energy is the future? Do you have a great interest in the field of solar power? Or do you think other companies can provide better solutions for the energy sector? Let's find out and expose that stock picks that he thinks are going to make us all rich!