The past decade has seen some of the highest technological jumps in history, with people investing more than ever into smart devices and new technology designed to make the world better, faster, and simpler. From smartphones and tablets that replaced a series of antiqued gadgets like hand-held cameras, alarm clocks, and pin up calendars, to the Internet that seems to control most of our lives – none of this would have been possible without a single decision, made back in 1985. Later in this article we're going to be revealing several "Spectrum Millionaire Makers stocks" which the author tells us are in some way connected to "Docket 18-295" and "WiFi 6E".
In his latest teaser video, George Gilder talks about a decision made by the US government all the way back in May 1985, known as the Docket 81-413, that opened up some of the communication spectrum that was previously exclusively held by the government to private enterprises, creating the biggest investment opportunity in history in the process. Without this decision, he claims, we would have never experienced the tech wonders subsequently introduced by the likes of IBM, Microsoft, Apple, Google,  and others which have forever fundamentally changed the way we live our lives.
Gilder says that a similar event occurred on July 27th, 2020, when "the Federal Communications Commission (FCC) opened up new bands of unlicensed spectrum. One that's four times bigger than the spectrum liberated back in 1985" and that will potentially bring forth to the world a whole new era of technological wonders and possibilities. Gilder even names three stocks & ticker symbols of companies that will allegedly play a large part in this transition, saying that they can be extremely profitable, as long as you act now. He gave all the details about these companies in a special report titled Three Spectrum Millionaire Makers, part of the investment newsletter program he runs, The George Gilder Report, for $79 per year. For those who prefer to keep a little extra money in their pocket, here is what we were able to uncover for you, for free.
Gilder is an American investor, writer, economist, and co-founder of the Discovery Institute. He is one of the great-grandsons of designer Louis Comfort Tiffany, who established the eponymous luxury jeweler, Tiffany & Co. He graduated from Harvard University back in 1962 and has had a fulminant career as an investor and economist. 
George Gilder is also the author of various investment newsletters, including The George Gilder Report, and he claims to have predicted the death of cable TV back in 1994. He is an avid advocate of new technology and the implementation of 5G technology.
The Opportunity
Gilder teases a document released on July 27th, 2020, named the Docket 18-295 that opens up new space of unlicensed spectrum, to allow new companies to share in the 6 GHz part of the spectrum for the very first time.
The author refers to this new technology as the Wifi 6E, and says that, without the original Docket 18-413, "the modern technology industry simply wouldn't exist". He claims that the original 1985 document "allowed new technology firms to innovate across the wireless communication spectrum. In that instant, the modern world was born".  This has of course led to thousands of new companies being started and massive profits reaped by existing ones. Gilder claims that a similar investment opportunity is now possible thanks to a new document signed by the FCC, on July 27th, 2020, that "opened up new bands of unlicensed spectrum." He also says that this new technology is leading the way for routers that are "WiFi 6E enabled", a connection that could prove "significantly faster than even the best that 5G has to offer". 
Another point that Gilder makes in his presentation is the so-called "spectrum sharing". According to him, regular devices cannot tune into the newly-opened spectrum without a special technology and that "the companies that make spectrum sharing possibly are effectively the gatekeepers of the industry."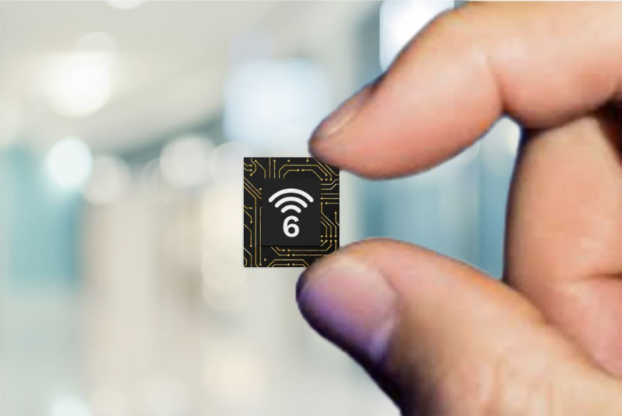 Ultimately, the point is to deploy this new WiFi 6E spectrum into various aspects of today's society, including in releasing a biometrical system that allows contactless payments, the rise of the smart home industry, telemedicine, and more – all sectors in which we have reviewed teasers: The 4th Shock – Going Cashless and Bill Gates' Next Big Bet among others. In Gilder's opinion, all these new emerging sectors will potentially create $15 trillion "in new wealth" and thousands of new jobs around the world, including in the United States. 
It is also worth mentioning that some of this new tech we are already experiencing with standard 4G and new 5G technology, as more and more appliances around the house are connected to a WiFi device and can be activated remotely, such as smart home assistants (like Siri, OK Google, and Alexa) which have already made their way into many homes The future definitely looks bright for new tech companies that can capitalize from the new opportunities being provided by the 18-295 Docket.
The Emerging Tech Companies Being Teased
In his video ad, Gilder teases three investment opportunities, without giving too many details about any of the companies. However, based on the minimal clues he offers, we were thankfully able to identify these stocks below:
Stock #1
The author talks about a company that is producing "the computer chips required to tap into the new 6 GHz band". They're made by a company that already supplies high-end computer chips to the likes of Apple, Comcast, Google, Microsoft, and even Tesla".
Gilder also says about it that "it's easily the world's number one spectrum sharing technology firm" and that "the last time he recommended this stock, it soared more than 20X in the next four years – and now it's a must-own once again".

This is a no-brainer as the author is talking about

Qualcomm (NASDAQ: QCOM)

. The company has been a leader in the chip industry for decades now and also has a dividend rate of around 2% per year.
Stock #2
The clues provided about the second stock are even fewer. He mentions that "it already supplies close to 58 million homes and businesses across America" and that "its network is already growing at an exponential rate – doubling roughly every 18-24 months."

"This company could be installing its technology in your neighborhood" so, based on this tip, we assume Gilder is boasting about

Comcast (NASDAQ: CMCSA)

. 

It does currently reach about 58 million homes and businesses by providing high-speed cable broadband and its trajectory has generally implied it doubling its network capacity every 24 months, so we are almost certain the author's second pick.
Stock #3
About the third company, Gilder mentions that it "just made one of the smartest acquisitions in history. It now supplies nine of the world's top ten global internet networks and the top six internet content providers."

He also talks about his personal ties to this company – "I've known one of the founders of this company for more than two decades". 

If we were to take a guess, we would say the author is referring to

Infinera (NASDAQ: INFN).

Infinera company

perfectly matches the "nine of the top ten Internet networks supplied" clue as well as the one mentioning his ties to one of the founders, as

Gilder has been in contact with at least one of Infinera's founders, having met him at several conferences. One of the founders, David Welch, even spoke at Gilder's Telecosm conferences in the past.
Are These Still Good Opportunities?
The stocks Gilder teases in his report "Three Spectrum Millionaire Makers" are already well established, well-known businesses. Unfortunately, for those looking for rapid, short-term profits, investing in any of these blue-chip stocks won't likely bring you much of any quick gains.
All the three stocks Gilder talks about sound a lot more like long-term investment opportunities that can possibly beat the market index in any given year (maybe). However, with the new 6E internet technology available, who can say for certain what new firms will emerge and ultimately be the winners many years from now?
Quick Recap & Conclusion
Investor and economist George Gilder mentions the opening of new unlicensed spectrum, which he calls the perfect instrument for the new Internet 6E. 

He claims that through this new technology, a $15 trillion market opportunity could be developing rapidly in the next few years, and urges you to follow the opportunity and invest in his three stock picks.

He mentions the stocks and their ticker symbols in a special report

Three Spectrum Millionaire Makers

, part of an investment newsletter he runs,

The George Gilder Report

, which he is selling a subscription to for $79 per year. 

Together with the report, subscribers can find 5 additional bonus reports, daily e-letters, and access to both the digital and printed issues of the newsletter, as well as a six-month money-back guarantee if its contents don't suite you.
Have you ever owned any of these stocks? What are your thoughts on this new 6E Internet and the opportunities it may create? Looking forward to reading your thoughts in the comments below.