It's a new year and the U.S. military has a whole new set of problems.
After losing to China in 18 simulated "War Games", it's stepping up and spending billions on a new "living missile" made by a small defense contractor.
The Teaser
In 2017, the U.S. military began running highly classified war games that simulated a potential conflict with China. Dozens of simulations were run and the result was always the same: we lose.

Dylan Jovine is the founder and CEO of Behind the Markets, a company serving up investment research aimed at self-directed individual investors. We've reviewed some of this here in the past, including Jovine's "5G Arrow Company" and "Living Software" Company.
How is this possible you may ask?
While the US military has spent the last 20 years fighting wars in the Middle East, China has spent the last 20 years studying all of its moves. In doing so, they've created a new generation of weapons to counter and exploit its weaknesses.
The good news is that's about to change.
Back in 2018, the then Secretary of Defense drafted a top-secret plan called "Project Overmatch." It stated that in order to "Overmatch" enemies in the 21st Century, we're going to need 21st-century weapons.
What most people don't know is that "Project Overmatch" received final approval to be implemented this past March. This gives the Pentagon an extra $37.2 billion to spend on adding next-generation weapons over the next 12 months.
Major money has already been doled out: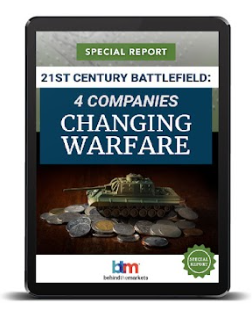 It contains the name of the company, the stock symbol, and three additional 21st Century defense contractors are named as well. To get the report, we'll need to become members of Behind the Markets. This costs $39 for new members and comes with "life-changing" stock recommendations every month and a 30-day money-back guarantee.