Wall Street veteran Marc Chaikin is pounding the drum about a historic reset of the U.S. financial system, that's set to happen on January 2nd.
The only way to avoid it? Move your money into a vehicle 50 years in the making that could reap huge profits as the whole thing unfolds.
The Teaser
What Marc is getting at here is an imminent shift in our financial system that could lead to nothing short of a run on the banks in 2023.

Marc Chaikin spent much of his 50-year career on Wall Street as a broker, trader, and developer of computerized stock selection models for money managers. We have done a deep-dive review of Marc and what he's selling, with our Chaikin Analytics review.
The forebearer of a 2023 downturn came back in April, when Marc warned a bear market was coming, just before the S&P 500 plummeted some 20%.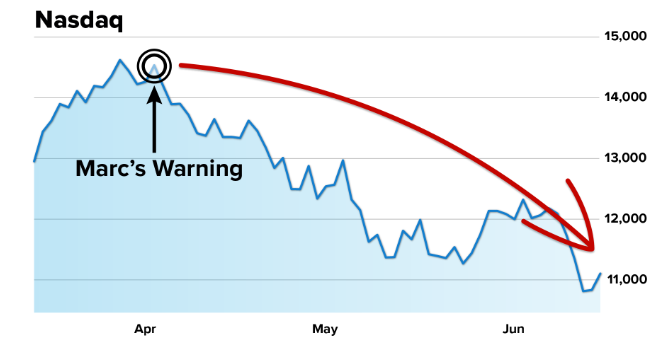 Many people have seen big losses in the stock market this year and Marc believes it's only going to get worse in 2023.
This is because we are going to want to get our U.S. dollars out of cash and popular stock as quickly as we can.
As Dr. Steve Sjuggerud likes to say, "money flows where it's treated best."
For most of us, our money hasn't been treated very well by the stock market lately. This is why cash is currently at its highest level since April 2020.
But moving entirely to cash isn't the move either, as holding it is equivalent to holding a stock that has fallen by 20% since 2018. So what's the solution you may be wondering?
The Secret of Money Flow
Marc's "Chaikin Money Flow" indicator appears in every Bloomberg and Reuters terminal in the world and is used by hundreds of banks, hedge funds, and every major brokerage site.
It's become the gold standard on Wall Street for determining whether a stock is bullish or bearish.
Now as we're heading into 2023, his new system called Power Guage is pointing to an entirely new kind of vehicle most people won't ever consider until it's too late.
By using the Power Gauge in a secretive new way Marc's never shared in public before, we can uncover this trade that only emerges as a buy in the wake of sell-offs.
The Pitch
Exactly how the system works and what it's saying for 2023 is revealed inside a special report called Chaikin PowerTactics: A New Way to Multiply Your Money Over the Next 12 Months.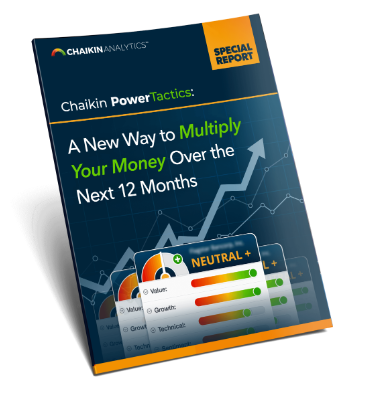 It comes included in a charter membership to Chaikin PowerTactics, which can be had right now for "just" $2,500. This includes direct access to the Power Gauge system, two additional special reports, a model portfolio, an investment discovery engine, and more.
What in the World is the Power Guage System
In short, the Power Gauge system measures the strength of a business's cash flow against 20 proprietary factors developed by Marc.
These are both fundamental and technical factors that anticipate profit potential and it's all calculated by an algorithm Marc has devoted his career to refining.
For more than 5,000 stocks in 21 sectors, it spits out a rating of either Bullish, Neutral, or Bearish based on these factors. You can consult our complete guide to the Power Gauge system for more on it.
To try to prove its mettle, Marc also shows us some real-life examples that could have made us 8x our money within 12 months back in 2020.
The power gauge is predicting something similar for 2023, which is the biggest reason for the recommendation to get in before January 2nd.
This is the date when the market is anticipated to experience a massive "personality change" in Marc's words.
A Shift Away from Neutral
People love to talk about the market in broad, simplistic terms…
Like, we're in a BULL market.
Or, now we're in a BEAR market.
But the market's not so simple, many times it's somewhere between the two. This is why many stocks are rated neutral on the Power Gauge.
So to determine the overall direction of the market, the gauge looks for something called "personality changes" or any shift away from neutral.
It does so by determining where the cash is moving next and changing stock ratings from neutral to neutral+ or neutral- accordingly, depending on cash either flowing in or out.
Surprisingly, this indicator is predicting a massive bull market for 2023, and on January 2 – the first trading day of the new year, it's going to accelerate.
The important thing is to isolate which stocks will see the biggest moves and to get in before the market-wide shift is complete. That's what the Power Gauge allows us to do. It all boils down to finding the best Neutral+ stocks. So what neutral+ stocks does it say we should be buying right now?
Revealing the Power Gauge Stocks
Right off the bat, Marc reveals the system's #1 bullish recommendation: Allegro MicroSystems (Nasdaq: ALGM).
Unfortunately, this is all we get. As not a word is spoken about the other five neutral+ stocks being advertised as buys.
Since we already have a complete Power Gauge guide for your reading pleasure, I'll instead look at the likelihood of a 2023 bull market, which the system is predicting.
Once-in-a-Decade Buying Opportunity?
Analysts seem to be split on whether the new year will bring a massive bull market or a crash.
According to one of the broadest market measures out there, the Wilshire Total Market Cap to GDP. The market remains significantly overvalued.
In light of this, the only reasonable reason to expect a broad bull market would be a Fed shift away from quantitative tightening to easing once more. The odds of this happening, at least in the first half of the year are next to none if you ask me.
Regardless of what ends up happening, at the end of the day, there will always be pockets of undervaluation in individual names and some overlooked corners of the market.
The best thing to do, in my own experience, is to focus on finding the best businesses possible, at the lowest possible price. Do this just a few times and there's no need to worry about calling market tops or bottoms accurately.
Quick Recap & Conclusion
Wall Street pro Marc Chaikin believes the market is about to go on another massive bull run and he has a vehicle that's been 50 years in the making that will profit as it does.
This "vehicle" is called Power Guage, which is a proprietary stock-picking system that measures the strength of a business's cash flow against 20 factors. It's identified six stocks to buy before January 2nd.
These along with how the system works are revealed in a special report called Chaikin PowerTactics: A New Way to Multiply Your Money Over the Next 12 Months. Getting our hands on it requires a charter membership to Chaikin PowerTactics, which goes for a not-so-low $2,500.
Marc only reveals the system's #1 bullish recommendation: Allegro MicroSystems (Nasdaq: ALGM) and makes no further mention of the remaining five picks.
I don't have my hopes up for a broad bull market in 2023. But irrespective of what the market does or doesn't do, individual bargains will always abound if you look hard enough and turn over enough rocks, so to speak.
Give me your 2023 market predictions in the comment section down below.