By now unless you've been living under a rock, you must have heard about how 5G is poised for explosive growth. 5G is the new wireless network being built out across America and other developed countries right now.
Some are even calling 5G a historic event, "that will dwarf the economic impact of the internet" according to Matt McCall. Matt is the author of Matt McCall's Investment Opportunities newsletter and he is the Chief Technology Analyst of InvestorPlace, which is the financial research firm that says they recommended "literally dozens of world-changing businesses — before they became household names. "
We're given huge names such as Amazon, eBay and Google as examples that were picked during the internet revolution in the late 90's and early 2000's.
Today we're going to be revealing 2 of the 3 5G highway stocks teased in their video.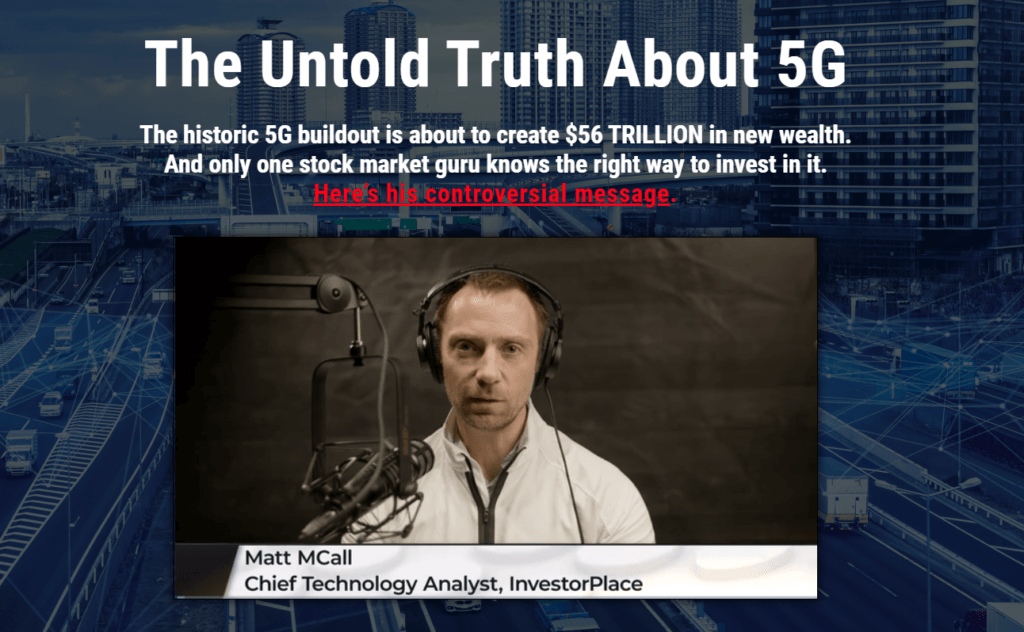 The Opportunity
Matt McCall has an extensive investing background, from starting out as a stockbroker at Charles Schwab, to authoring two investing books, to founding and presiding over Penn Financial Group, an investment advisory firm.
He's also extremely bullish about the prospects of 5G, even saying that "it's going to be bigger than anything we've seen before." We have covered the 5G opportunity in depth in the past, see here
In short, once 5G networks are broadly implemented we will all be more connected. From connected roads, to driver less cars, to the promise of tele-medicine. All due to a 5G network being able to carry thousands of times more data than our current 4G networks.
So entire new industries and opportunities will be created.
The First Teaser
Matt is promising to reveal to us not 1, not 2, but 3 stocks that will benefit the most from the "more than $56 TRILLION" in upcoming 5G breakthroughs.
First we have the "Microsoft of driver less cars." which is building the software and computing platforms that the major car companies will need to make their vehicles driver less.
"It's already signing deals with several of the world's top automakers."
"This company was able to complete the longest automated vehicle drive ever — traveling nearly 3,400 miles from San Francisco to New York City."
From these clues we were able to find a company that:
It's software has already completed a critical pilot program in a 5G-connected city.
Already has deals in place with the likes of General Motors and Daimler.
Delphi Technologies PLC (NYSE: DLPH) is the first stock he is talking about.
Delphi Technologies was spun out of Delphi Automotive (now Aptiv) in December 2017, retaining its power train and aftermarket related businesses. Today it specializes in the design, development, and manufacture of integrated power train technologies worldwide.
The tech that we are talking here is what powers hybrid electric vehicles through variable valve trains, smart remote actuators, power train sensors, and fuel handling products.
Matt tells us that this company is "incredibly cheap" and recommends "you buy shares today." Should you?
It won't stay this cheap for very long?
In this instance the hype may actually be right…but not for the reasons stated in Matt's report. It turns out that Delphi is about to get acquired as Michigan based BorgWarner Inc., a large supplier of automotive power train parts itself, has agreed to buy Delphi Technologies PLC for $3.3 billion to expand its own ability to supply hybrid and electric vehicles.
That $3.3 billion figure actually still represents a bit of a premium over DLPH's stock price today and equals about $17.39 per share. So a small merger arbitrage opportunity still exists here.
The deal was announced at the end of January and is expected to close in the second half of 2020.
The Second Teaser
The "Netflix of 5G." Mystery stock number two on which the least amount of info is given, promises to transform our home viewing experience and make us "feel totally immersed like a live crowd" using VR/AR technology.
"It's building the critical platform that will help deliver our favorite content inside our homes in a way like never before."
"This company is small, unknown — and poised to transform the entertainment world."
Gotta be honest, this one largely left us stumped (it happens to the best of us) as there's very little info to go on and a case can be made for multiple companies that loosely fit this description. Rather than throw darts in the dark which we don't ever recommend, we skipped ahead to the third stock being teased which is revealed below.
The Third Teaser
Last but not least, we are told about "a virtually unknown company that already has over 4,400 robotics systems installed, including 100% of the top hospitals for cancer, gynecology, gastroenterology, and urology."
It's technology enabled a cardiologist in Massachusetts to recently complete 36 simulated surgeries from as far as 3,000-miles away
"It has trained 43,000 surgeons to use its surgical robots."
What is this "virtually unknown company leading the remote and robotic surgery revolution?"
We were able to pinpoint one company that employs a "razor-and-blade" business model, with da Vinci systems acting as razors and the disposable instruments they hold as blades. This company also has:
Over 4,400 of these razors currently installed in hospitals worldwide.
Has over 43,000 trained surgeons serving over 5 million patients to date
Is at the forefront of the emerging surgical robotics market, which is forecast to reach $100 Billion by 2024.
All signs point to Intuitive Surgical (Nasdaq: ISRG) as the stock being teased.
Intuitive Surgical (Nasdaq: ISRG) is an American corporation that develops, manufactures, and markets robotic products for minimally invasive surgery, most notably with the da Vinci Surgical System.
The initial development of this da Vinci Surgical System dates back to the late 1980's by the non-profit research institute SRI International. Intuitive's founder John Freund negotiated an option to acquire SRI's intellectual property in the mid-90's, incorporated the company, and the rest as they say is history.
The new face of health care in America?
Some think sooner or later it will be hard to find a reputable hospital without one of Intuitive's da Vinci surgical systems installed in it. So is Intuitive Surgical "going to completely change the face of health care?"
There are several factors working in Intuitive's favor in this regard: First, rapid growth across all four of its operating segments without over-reliance on any single one – for example its gynecologic products segment has risen steadily in recent years, but it fell from 60% in 2012 to just 39% of total procedures performed last year.
Second, while plenty of competitors exist, Intuitive's system has inherently high switching costs as an increasing number of surgeons are trained to use them and hospitals continue to invest in them for the very same reason like a self-reinforcing loop.
Third, Intuitive is the holder of over 5 million patients which act as another moat around its business given that many of it's highly specialized devices cannot simply be replicated.
Now, one major factor going against it and by it I really mean us as investors – the stock price. Its rapid growth has made people pay ever greater premiums for its stock, as the company's P/E ratio stands at a stratospheric 73 times its current earnings as I write this.
Recap & Conclusion
Matt McCall teased 3 5G highway stocks that he thinks are going to be the biggest, most important, most lucrative new "highway" stocks in our lifetimes.
Two of the companies were called the "Microsoft of driver less cars" and "Netflix of 5G" respectively.
All the details on the companies are revealed if you sign up and pay for Matt McCall's Investment Opportunities newsletter.
We revealed 2 of the 3 stocks being touted: Delphi Technologies (DLPH) and Intuitive Surgical (ISRG).
Leave your comments below. What do you think of the stock picks? Do you own shares in any? And what are your best guesses for the mysterious VR/AR stock even we weren't able to uncover?