Alpha Investor's Charles Mizrahi is back teasing a stock in a booming new industry that is expected to reach $2.7 trillion over the next decade and could be your ticket to life-changing gains.
He calls this industry "SoE" which is short form for "Subscription of Everything" and the opportunity is to invest in a company that provides a suite of software which businesses need to run their subscription services. This is a space that has been rapidly growing by more than than 350% over the past 7 years, as consumers increasingly demand access to convenient, digital services and he claims one stock could bring in 1,000% gains over just the next 5 years. But will the industry be able to sustain and perhaps even exceed this breakneck pace of growth? Let's find out.
The Teaser
Mizrahi starts the teaser by telling us that he has stone cold "evidence" that will prove the SoE inudstry will continue to be a money machine over the next decade. He says that "in just a few minutes, he's going to use the evidence in a credit card statement (of all things) to reveal exactly what the trend is" and how its transforming human behavior, from the "way we shop, travel, work and even drive.

For over 40 years Charles Mizrahi has been putting his specialized expertise and experience in finance to work, identifying the best money making opportunities in the stock market. Unlike his more more privileged counterparts, Charles grew up on a blue-collar street in Brooklyn, New York and started trading on the floor of the New York Futures Exchange at the age of 20, which is why he aims to make Wall Street's best profit opportunities simple and clear cut for everyday investors.
Charles points out that massive changes are accelerating this new industry's growth at a breakneck speed, something which we largely already know thanks to the data we have available. The author continues, saying "over HALF the things more than 7 billion people are using right now…things you use every single day to live your life…could be radically transformed by SoE". This is a partially valid point, which we address a little bit later. Mizrahi has teased similar sounding stocks in the past, which we have covered here: Charles Mizrahi's IoMT Stock and his AI Company Stock Pick.
But if you still aren't convinced that the subscription economy is the future, we're told some of the country's richest investors are, people like Warren Buffett have apparently invested $250 million in SoE, "Bill Gates has injected $644 million into a company that branched out into SoE just a couple of years ago", and that's all small potatoes compared to what Jeff Bezos has done, by pouring $842 million into SoE.
He closes by adding that "the window of opportunity here is still open…but that it's closing fast".
The Sales Pitch
In the end what Charles is really pitching us is an annual subscription to his Alpha Investor newsletter for just $47 for a full year. That's $150 off the regular $199 subscription price and he reveals the name of the company in this How to Profit From the $2.7 Trillion SoE Industry teaser plus there's also a 100% satisfaction guarantee, which states that you can receive a refund at any time during your one year subscription, if you are not completely satisfied with your purchase.
With this subscription you also receive twelve full months of Charles' insights on the market, 12 separate stock recommendations, access to his model portfolio, and more.
What is the Subscription of Everything?
Charles is not just talking about software giants that have switched to subscription-based models and are now raking in big bucks as a result. He says "it doesn't matter what the industry is…or the company, for the most part. Just about every business on the planet can find a way to leverage the subscription model". He mentions businesses such as Workday, a creator of finance, HR and planning apps for businesses
Customer service app creator Zendesk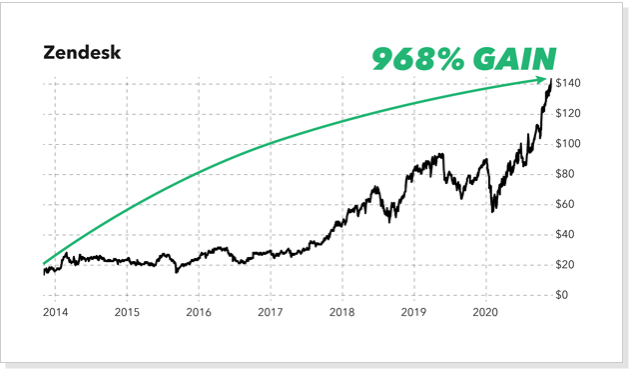 And Shopify, with its subscription service for online stores as prime examples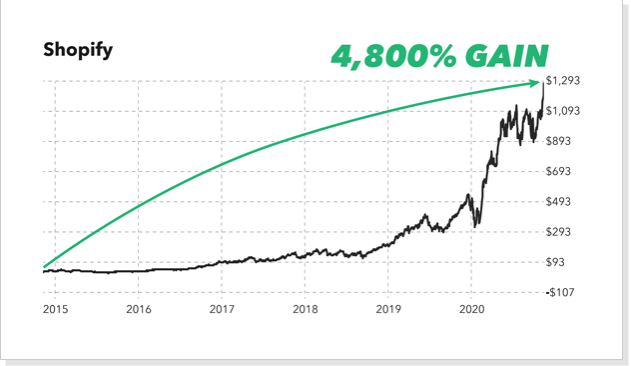 While scores of companies, big and small alike, all around the world are now operating on a subscription model, Mizrahi thinks that his "top SoE stock pick is leading the pack". With the pandemic response "making America switch to a subscription model virtually overnight", SoE has also shifted into high gear and its growth is only going to accelerate.
But new consumer subscribers are just one income stream, with many non-hospitality-based businesses also finding themselves being labeled "non-essential" according to local and federal governments. SoE has provided them with everything they need, from "human resources to accounting, customer service, sales management, and even security and performance monitoring" to operate their businesses directly from within the cloud. "All a business owner had to do was set up a subscription and they were back in business in no time".
SoE checks many boxes, its now an essential software which powers more businesses than ever, it allows workers to perform tasks remotely, provides a steady revenue and profit stream in the form of monthly subscription fees, and "if SoE grows like Charles predicts it will and becomes a $2.7 trillion industry by 2030, his top stock pick is positioned to make a killing". Enough waiting, let's find out what this SoE stock is.
What is the "Subscription of Everything" Stock?
Before we reveal the name, here are a few important clues which lead us to our conclusion:
We are told to "think of it as the "Amazon" of SoE". This stock pick does something similar for SoE companies. It provides these businesses with a suite of software systems they need to function. So a B2B supplier.
Its proprietary systems for billing, collections, revenue management, and analytics are specifically created to work with the subscription model.
"More than 1,000 of the biggest SoE companies in the world are current customers", including ZenDesk, DocuSign, Caterpillar, Schneider Electric, and many others.
This business currently has "10 patents and 23 additional patents pending" for its proprietary systems and processes.
If we put these together, we come up with Zuora Inc. (Nasdaq: ZUO). Here are a few reasons why we believe this to be the SoE stock:
Zuora is a SaaS company whose mission is to help facilitate subscription management for other SaaS businesses. A B2B supplier.
Zuora holds a number of U.S. patents related to innovative technology to power the subscription economy.
The company mentions on its website that "1,000+ companies trust Zuora to power their subscription business". Including Caterpillar and Schneider Electric among others.
Now that we have our SoE stock, is it the "revolutionary" business Charles says it is?
Is the SoE Stock a Buy?
Thanks to our friends over at Value Spreadsheet, we can quickly see exactly how Zuora stacks up on a number of key valuation metrics by using their Premium Value Spreadsheet:
While the business is reasonably profitable, thought not "making a killing" as Mizrahi would have had us believe, it is presently valued like a mega-growth stock, which it clearly is not. Not only this, but it lacks the free cash flow generation to indicate that there is any sort of competitive advantage it holds over others who provide the exact same services to enterprises. A sophisticated commodity business, but a commodity business nonetheless.
We would not back up the Brinks truck and load up on Zuora stock at its currently prevailing price.
Quick Recap & Conclusion
We were teased a stock in a booming new "Subscription of Everything" (SoE) industry that is expected to reach $2.7 trillion over the next decade and that it could be our ticket to life-changing gains.
SoE is just a term used to describe the growing subscription-based service industry, which has extended to just about everything imaginable from enterprise services to meal kit delivery.
We are told about a company that is "the Amazon of SoE" and that its stock is set to soar to the currently prevailing business climate and the overall trend of remote work.
In order to get the name of this company, it is only fitting that we must sign up for a subscription ourselves. This is in the form of an annual subscription to Charles Mizrahi's Alpha Investor newsletter for just $47, by way of a limited time discount from the regular $199 stick price.
Fortunately for loyal and faithful readers which read all the way to the end, we were able to uncover the SoE stock in question for free, as Zuora Inc. (Nasdaq: ZUO).
Are subscription-based services still the way of the future or a passing fad? How many monthly subscription services are you currently signed up for? Let us know in the comments section below.