Amazon is one of, if not THE most frequent name brought up these days whenever a new company is marketed as being the next big thing, with hyped claims of incredible profits and an outstanding opportunity for investors if they "get in now".
In one of his latest marketing pitches, author Nick Hodge sticks to this script by teasing a company that is supposed to pave the way to being able to purchase energy directly via a decentralized platform. In his own words, Hodge believes this company has the potential of becoming the "Amazon of energy", let's see if the hype really is real this time around.
The Teaser
Hodge starts his pitch by saying that "every dollar of the $110 trillion 'New Energy' revolution will flow through this one website… and you can buy the company behind it for 1/100th the price of Amazon".
Nick Hodge is a publisher and author, having authored Energy Investing For Dummies and co-authored the bestselling title: Investing in Renewable Energy: Making Money on Green Chip Stocks. In addition to the Foundational Profits newsletter, Nick is also the co-owner of the Resource Stock Digest.
What Nick is talking about is a new type of technology that allows energy to become a tradeable commodity – "through this technology energy becomes a tradeable good like any other and you could perform energy transactions as simply buying or selling a product on Amazon". Furthermore, "it's powered by a technology called 'MEMS' that's used to direct virtual power plants" and then refers to this tech as "a total digitization of energy".
In other words, this new stock the author is teasing will likely change the way energy is traded and allow individuals and small suppliers to enter a market that has been long ruled by the biggest financial institutions in the world. His perspective is that any energy producer, no matter if it's a battery maker, a household, or a small business will be able to sell its energy surplus on a free market with the help of a revolutionary technology that can be adopted around the world.
According to the author, "it's the biggest growth of new energy use in history…even bigger than the invention of the light bulb". Moreover, "The Amazon of Energy virtual power plant that I'm showing you today is the future of decentralized and cheap electricity". We have covered some of Nick's work here in the past, such as his #1 Gold Stock and Crypto 66 teaser. This one is a bit different and hones in on his bread and butter, which is energy investing, so lets see what he is serving up.
The Sales Pitch
The hype Nick Hodge creates around this particular company is only an elaborate way to get you to subscribe to one of his more affordable investment newsletters, Foundational Profits, for $99 per year.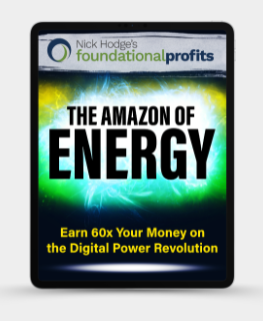 Apart from the regular reports and that come with the subscription, the author also claims that he will mention the name and the ticker symbol of this energy company in a special report named "The Amazon of Energy: Earn 60X Your Money on the Digital Power Revolution".
What in the World is The "Amazon of Energy"?
The author hints at a revolutionary way of using energy that will allow everyone, both individual and corporate, to join a free-trading platform to buy and sell energy anytime, from anywhere.
The great advantage is that the customer will always find the cheapest prices and will not be legally bonded to any long-term contract and additional costs. Moreover, since most household owners can start using green energy, they will be able to stock their surplus and later trade it for the price they want, which means zero waste and cheaper costs.
According to Hodge, there are three primary drivers of this energy revolution:
Electrify Everything.

In this section of the teaser, the author talks about the electrification of a new series of products, including cars, window panes, and even full homes. And, since many people would like to switch from gas-operated appliances to those running on more efficient forms of energy due to the increase in sustainable, cheap energy sources, the US clean energy market will add millions of new customers over the next few years.

This means endless opportunities to exploit energy in alternative forms and open the market up to new investors and consumers alike.

$37 Trillion Emerging Technology Boom.

Hodge estimates that due to the development of the 5G Internet of Things and the connecting industries that benefit directly from this technology, the national U.S. electricity market will increase by up to $37 trillion.

We're also talking about a $15 trillion Artificial Intelligence market and the $3 trillion blockchain technology market, all requiring electricity to operate. Blockchain tech is supposed to be "recording and tracking energy transactions in real-time" and therefore will generate new customers and energy trading opportunities on the market.
Order 841: Government-approved Power to 500 Million American Homes.Finally, Hodge talks about "the single most important step toward a clean energy future". Government Order 841 allows virtual power plants to become major players on the grid, as it makes energy a tradable good by every distributor, both private and corporate. Before this order, "there were size restrictions that kept smaller players away, cementing the rule of large utilities". But FERC Order 841 changes that. This gives batteries the same access to wholesale energy as any gas, oil, or nuclear power plant. Moreover, "this will move clean energy storage from the sidelines… to the dominant form of power in America's grid".
Revealing The "Amazon of Energy" Stock
Throughout the presentation, the author has left enough details for us to formulate an educated guess on the stock he's teasing. Let's take a look at the hints provided.
Hodge says that "one company will be the biggest winner in the energy trading revolution". Because in 2020 it clinched its market dominance with a brilliant acquisition, that instantly doubled its market share.
Another detail offered is that this company "has already signing agreements with some of the largest utilities in the country" and already counts more than half a million customers.
The company "makes a third as much profit as Tesla…but it is only valued at 2% of Tesla's market cap."
Another clue is that "it already manages 400,000 home batteries, generating two gigawatts of power" and "it's connecting home batteries to make virtual power plants in New York, California, and Oregon".
The company's platform "is all run on

AI software

, tracking energy fluctuations in real-time, ensuring no loss of power".
Based on these details, we think the company Nick teases here is Sunrun (Nasdaq: RUN), which was originally founded in 2007 and is "an American provider of residential solar panels and home batteries" per its website. Here are some tells which match the points above:
Sunrun acquired Vivint Solar in October of 2020, creating a combined entity worth over $22 Billion on paper, doubling its previous size.
Sunrun is one of the largest providers of residential solar, battery storage and energy services today and it has signed virtual power plant agreements with a number of large utility providers. Including, Southern California Edison (SCE).

On the

company's website

, Sunrun mentions that it currently has "more than 500,000 customers" and has installed more than $3 Billion worth of solar panels across 22 states, Puerto Rico, and the District of Columbia.
Sunrun's market cap currently sits at just under $9 Billion or just under 2% of Tesla's monster market cap.
Real Opportunity to Make 60X Your Money?
Sunrun's creative "solar-as-a-service" business model that has unlocked access to clean, affordable energy directly from residential rooftops is gaining traction and with more and more countries, jurisdictions, and businesses looking to reduce their carbon footprints and jump on the ESG (environmental, social and governance) investing bandwagon, the trend is decidedly in its favor.
Given this momentum and strong support from analysts, one would think that its stock would be doing better than the near 40% drop it has seen since the start of the year. Unfortunately, its underlying business fundamentals do not look all that much better, as we can see thanks to Value Spreadsheet's Premium Stock Analysis Spreadsheet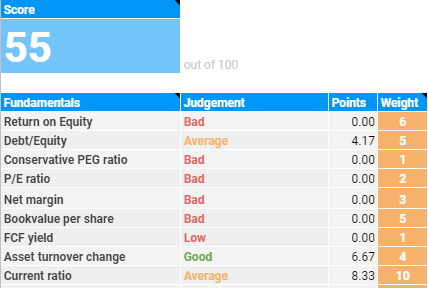 Since price is what you pay, but value is what you get. We can comfortably say that you wouldn't be getting much value from Sunrun at its currently prevailing market price. This could change if a MUCH lower entry point materializes, but wake us up when/if it does.
Quick Recap & Conclusion
In his investment newsletter Foundational Profits, author and investor Nick Hodge mentions a stock that is supposed to be the "Amazon of Energy".

It claims the company has developed a new technology that creates virtual power plants so that more people can have access to a free, platform-based energy market. The main advantage is that all customers who create green energy (via solar panels) can sell the surplus on a free market, without being conditioned by the size of their stock.

In order to learn the name of this company, we are told to sign up to the Foundational Profits newsletter at a cost of $99 per year, which will include this very report entitled

"

The Amazon of Energy: Earn 60X Your Money on the Digital Power Revolution

"

along with other features and perks.

Fortunately, we were able to follow the clues provided and uncover the stock here for free as

Sunrun (Nasdaq: RUN).
Sunrun doesn't provide much value to investors at its current valuation, despite its stock being down nearly 40% year-to-date. It's a pass for now, despite all the momentum being on its side.
What do you think about renewable energy companies like Sunrun? Do you think they are going to be profitable in the long run? Do you hold shares in any green energy company currently? Tell us in the comments section below.