After 6 previous deals that netted him up to $2.5 BILLION in profits, Jeff Bezos is back at it again with his "7th Billion Dollar Bet".
Casey Research's Dave Forest is going to show us how we can ride the coattails of the Amazon founder for a chance to see up to 49 years of profits, over the next 12 months.
The Teaser
There's absolutely no denying that Jeff Bezos is on a winning streak of epic proportions from a business standpoint. But has he truly discovered a way to literally force his investments to go up?
Dave Forest is a trained geologist who has worked professionally in mining and petroleum over a 20-year career before joining Casey Research in 2004 and founding the Casey Energy Speculator. Today, he has expanded his range, editing several newsletters including the Casey Daily Dispatch, International Speculator, Strategic Investor, and Strategic Trader. We have reviewed several of his past presentation here on GB, including his Best Ways to Protect Your Money in a "Crack-Up Boom" and "Liquid Electricity" Stock.
Our host for this presentation John Voth admits that while there was no way for regular, non-accredited investors to get into any of Bezos' previous deals, now we can join in on his seventh (and potentially most lucrative) deal for as little as only $3. How exactly do we do this?
We're told that this is possible by simply punching in an unusual 5-letter code into the ticker box in our online investment accounts – more on this a little later. But perhaps even more interestingly, how does Bezos force his investments to appreciate in value?
Dave says its pretty straightforward and goes a little something like this:
Bezos buys a huge stake in a company
Then, he sends lots of business to that firm through Amazon
Then, he sits back and waits for his investment to soar higher
Here's an example of this in action – back in 2016, Amazon was in a bit of a jam as they had just pledged to guarantee one and two day shipping to all of their prime customers. Needless to say, this was going to be a massive logistical undertaking.
So Bezos cut a deal with CargoJet, a tiny Canadian cargo airline at the time and proceeded to send them $400 million worth of business. In return, he received a huge stake in the business. Long story short, CargoJet's stock broke out and Bezos ended up netting more than $490 million in profits.
This is just one example and he's used this same time-tested playbook again and again, and right now Jeff Bezos is preparing his next billion-dollar deal.
The Pitch
To learn the five-letter ticker symbol and potentially 490X our money over the next 12 months with warrants, we will need access to Dave's brand-new research brief called: Bezos' 7th Deal: How to Bag Up to 49X as Amazon FORCES these Warrants Up.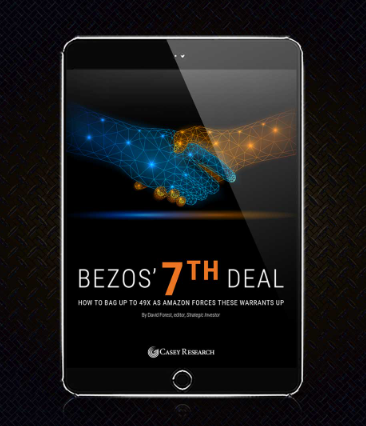 We can claim a copy by signing up for a membership to the Strategic Investor research service at a cost of $199 for a full year. This deal includes a 60 day money-back guarantee, three special research briefs, and monthly Strategic Investor issues with a new investment recommendation every single month.
The Obscure Security Billionaires Use to Get Rich
When investors like David Einhorn, Warren Buffett, and Jeff Bezos cut a deal, they always seem to demand that one security be part of the package.
That one security is Warrants. While Dave's assertion that "99% of Americans have never heard of them" may be an overestimation, the fact remains that they are not well understood and even less common. This is what Forest claims has handed his readers the chance to see gains as high as 1,276%, 2,805%, even 4,942%. To put that into context, it took the S&P 500 49 years from 1972 to 2021 to go up by that much.
A warrant is a derivative that confers the right on its owner, but not the obligation to buy or sell a security, like a stock at a certain price. Think of them like an option with an expiration date. Companies typically issue them directly to investors, which is exactly what happened in each of Bezos' first six deals.
He handed companies a lot of business and in return, received a bunch of warrants. While warrants are often issued privately, in certain cases like with Bezos seventh deal they end up in the public market. When this happens, it means we can easily buy them directly using our online investment account.
As an example, in 2020 Dave issued a buy alert on a company called Custom Truck One Source (NYSE: CTOS). Back then it was trading for $4 and as predicted, the firm took off, with its shares trading for as high as $11 in the past year. This makes for a tidy 190% gain.
But Dave didn't recommend the CTOS stock to his readers, instead he instructed them to buy CTOS.WS – the company's issued warrants. So instead of a 190% gain, you could have made as much as 1,900% in the same timespan.
Dave's pitch essentially boils down to: Warrants can make us a lot more money than regular stocks and it happens more often than we think, like this time around with Bezos' 7th deal. Let's find out what it is.
Bezos' 7th Billion Dollar Bet
Dave lists all of Jeff Bezos previous six deals in his presentation:
Startek
Spartan Nash
Clean Energy Fuels
Air Transport Services Group
Plug Power
CargoJet
What clues do we have about the seventh?
We know that Bezos wants to cut Amazon's carbon emissions down to zero by 2040, meaning the trillion dollar company's entire fleet has to go electric.
Dave's research indicates this huge transformation could be a massive profit opportunity for one tiny electric vehicle (EV) firm.
We're really talking tiny here, this firm is 600 times smaller than Tesla and in their last earnings report, they only claimed $22 million in sales.
This firm is currently building a 900,000 square feet EV manufacturing plant that will be the biggest of its kind in America, with the capacity of producing up to 20,000 zero-emission EVs per year. So it's already gearing up its production for a massive potential order from Amazon.
This info led us directly to The Lion Electric Company (NYSE: LEV). Here is what made it so obvious:
Lion has committed to making an initial investment of at least $70 million over a three-year period to construct the largest EV plant in the country in Illinois.
Given Lion's current market cap of around $1 billion, it is actually about 700x smaller than Tesla.
The company has already secured an electric truck contract with Amazon to deliver up to 2,500 vehicles to the e-commerce retailer over the next five years.
Legit Opportunity to Make 4,942% in the Next 12 Months?
Lion Electric does have redeemable warrants currently outstanding at the ticker symbol (LEV.WS). These entitle the holder to purchase one common share at a price of $11.50 per share.
Based on LEV's most recent closing price just above $5, these are out of the money by more than 50%. Overall, not a huge concern since they do not expire until June 2026. But the more important question is: Does Lion Electric's business merit an investment?
Lion currently has more than 600 of its purpose-built all-electric trucks and buses on the road today, multiple top-tier clients like Amazon for its trucks and First Student, National Express for electric buses, with a total of seven truck and school bus models available for purchase today. This is a good start, but is it enough to double Lion's market cap and make its warrants be in the money?
One sign of sustained growth is its order book of 2,422 all-electric medium and heavy-duty urban vehicles (286 trucks and 2,136 buses), worth approximately $600 million. If it continues to execute its strategic plan and consistently make delivery of its EVs, its warrants should end up in the money long before their expiration date. As far as making 49x your money in the next 12 months with these, that seems like a pipe dream to us.
Quick Recap & Conclusion
Casey Research's Dave Forest says there's a way to play Jeff Bezos' "7th Billion Dollar Bet" for more profits in the next 12 months than we would see in half a century in the stock market.
Only this investment doesn't entail simply purchasing common stock, but a more obscure derivative security with a five digit ticker symbol – Warrants.
To learn about the company behind the warrants and their ticker symbol, we will need a copy of Dave's brand-new research brief called: Bezos' 7th Deal: How to Bag Up to 49X as Amazon FORCES these

Warrants Up.

We can claim it by signing up for a membership to the Strategic Investor research service at a cost of $199 for a full year.
You wouldn't be faulted for skipping this though, as we were able to reveal the company in question as The Lion Electric Company (NYSE: LEV) and the ticker symbol of its outstanding warrants: (LEV.WS).
The warrants have a strike price of $11.50 per share, which is more than 50% out of the money based on Lion's most recent closing price just above $5. However, the company is on the right track so to speak and its shares should appreciate above the strike price before the warrant's June 2026 expiry date. Just don't count on making 49x your money with these.
Do Warrants have a place in your portfolio? Let us know in the comment section down below.