He's been called one of America's top tech futurists, even a stock picking prodigy, and now Luke Lango is forecasting the rise of SSBT, a radical new technology that he calls "The Biggest Battery Breakthrough in a Century".
Besides taking electric vehicles mainstream, insiders around the country are already using words like "Holy Grail", "revolution", and "paradigm shift" to describe the impact it's going to have. Let's see if they are right.
The Teaser
Right off the bat Luke doesn't mince any words and tells us that he wants to introduce us to an innovation so profound, so transformative, that he believes it will change our daily lives.
It all begins with the tiny device you see here:
Luke Lango is a senior investment analyst for InvestorPlace. His 'premier' newsletter is the Innovation Investor, where he has identified many up-and-coming growth stocks well before they were household names, like Advanced Micro Devices (1000%-plus returns), Shopify (1,000%-plus returns), and even Tesla (1,000%-plus returns). We reviewed plenty of presentations claiming to reveal brand new technologies, most recently with Ray Blanco's BESS Company and Jason William's Electric Glass Company, among others.
Apparently, the photo above is not of a computer chip or a microprocessor, but a groundbreaking new type of battery. Luke calls it a "forever battery" that will usher in the next great energy revolution. This is due to both its speed – imagine being able to fully charge your smartphone in the same time it takes to flip on a light switch—just a fraction of a second and its strength – now imagine a charge that lasts not for just a few hours, but for nearly two whole weeks.
Its official name is the Solid-State Battery Technology or SSBT for short and right now, some of the world's leading automotive companies, from Toyota to BMW and Honda are all quietly launching groundbreaking initiatives to get this technology inside their vehicles. We are told that even the Nobel Prize-winning inventor of the lithium-ion battery himself, Dr. John Goodenough, is throwing his full endorsement behind the solid-state battery.
This technology is so disruptive to the $2 trillion automotive industry and the multi-trillion oil and gas industry that the U.S. federal government has gone so far as to classify the Solid-State Battery as a "critical need" technology, essential to the mass adoption of electric vehicles and something that could finally limit dependence on foreign oil.
In short, this could be it. The technology that is going to thrust electric and autonomous vehicles from a fledgling industry into a global $3 trillion mainstream one and make one little-known company is at the center of it all, designing a Solid-State Battery specifically to facilitate the micro-communications between the 12 billion devices estimated to be connected to IoT technology a sure bet.
The Pitch
Luke says if we want to learn the full details and make a fortune as the Solid-State Battery ignites the global electric car revolution, then we must sign up to his early-stage investment research advisory – Innovation Investor. Included in the subscription is the special report: The Biggest Battery Breakthrough in a Century: How to Cash In on the $3 TRILLION Electric Car Revolution, which will provide step-by-step instructions on how to take advantage of this situation.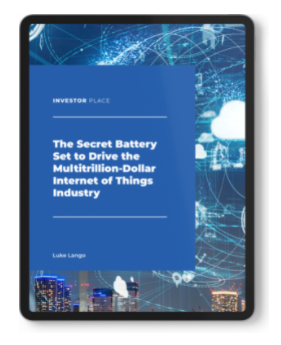 Included in the no-risk, trial membership is 12 monthly issues of the Innovation Investor, two special reports, including the one above, and urgent portfolio position updates.
What in the World is The Solid-State Battery?
The secret apparently lies in a newly discovered super-material, called "Quantum Ion" polymer. This new battery replaces the liquid electrolyte normally found in lithium-ion batteries with a special polymer to create a completely SOLID battery, hence the name Solid-State Battery.
Unlike the liquid electrolyte found in lithium batteries, Quantum Ion polymer is not flammable, so there's far less danger of explosion, making them far safer than lithium-ion batteries. Lastly, because the Quantum Ion polymer doesn't degrade like today's liquid electrolyte does, it can be recharged over and over again without losing energy density. All of this equates to a breakthrough battery being called "an energy revolution" that stores more energy in less space.
Luke says that for the first time in history we have a technology that finally overcomes all the obstacles keeping electric and driverless vehicles from mass adoption – from less charging time, to more range, and a longer battery life, with the Solid-State Battery going hundreds of thousands of charge cycles before beginning to lose energy capacity, solid-state batteries break down all the barriers.
Last and perhaps most importantly of all, solid-state batteries also come at a lower cost. For example, when the first electric vehicles were introduced in 2010, lithium battery packs cost an average of $1,000 per kilowatt-hour (kWh) to produce. This is the metric manufacturers use to determine the cost to make an electric car and by 2017, improvements had been made to lithium batteries that pushed costs down to around $200 per kWh. Enter the solid-state battery, whose tech is profoundly inexpensive to produce and could cost carmakers as little as $30 per kilowatt-hour as the technology continues to develop.
This is even 50% cheaper than the average gas-powered car today, making the switch to electric vehicles a matter of economic sense. Luke tells us that he knows the name and ticker symbol of an incredibly profitable company, which is head and shoulders above all others in this quantum-ion polymer technology race. Let's find out what it is.
Revealing the Solid-State Battery Stock
At the beginning of the presentation, Luke told us that he would give us the name and ticker symbol of a terrific Solid-State Battery company we could buy right away. Well, it turns out that he has two recommendations for us and the first company he's talking about is the auto pioneer Toyota Motor Corp. (NYSE: TM).
Engineers at the company have already built a working prototype solid-state battery and have begun mounting them to fully operational concept vehicles.
As for recommendation number two, here are some hints:
This company is about 1/557th the size of Toyota and owns the critical patents to this technology.
It currently trades for less than $3 per share and it is the firm that Toyota is doing business with to help take this solid-state battery technology mainstream.
Luke does caution that this is a speculative investment which carries more risk than other recommendations. But he think the risk is worth taking, because the rewards could be considerable, though he doesn't recommend making this a major part of your portfolio.
Wall Street doesn't follow this tiny company widely and neither does the mainstream news.
The only company that is both publicly traded and even remotely matches this description is Ilika Plc (OTC: ILIKF), here are a few reasons why:
Ilika engages in the design, development, and production of solid-state batteries under the Stereax name on a global basis and its stock currently trades for less than $2 per share, with a market cap of under $300 million as of press time.
Ilika counts Toyota Motor Corp. as a technology program partner, among others.
Given its over-the-counter market (OTC) listing, it's not surprising that analysts and larger investors would completely overlook it.
The #1 EV Stock of The Decade?
Ilika describes itself as a pioneer in solid state battery technology, enabling solutions for applications across Industrial IoT, MedTech, Electric Vehicles, and Consumer Electronics. Its patented Stereax® customizable solid state batteries can be miniaturized at mm-scale for powering next-generation sensors, basically delivering faster charge rates, a longer lifecycle, increased safety – non-flammable, and all the benefits Luke emphasized in his presentation.
Does this make it a good investment today? With its negative earnings and £2.3m in annual revenue, No. However, it may make for a good speculation, as its patented product does address a large market that is in the early stages of its growth cycle. So like Luke already said, don't make it a pillar of your portfolio, but dipping a toe may not hurt either.
Quick Recap & Conclusion
Luke Lango is forecasting the rise of a radical new technology called SSBT, which he calls "The Biggest Battery Breakthrough in a Century".
We learn that SSBT stands for Solid-State Battery Technology and right now some of the world's leading automotive companies, from Toyota to BMW and Honda are all quietly launching groundbreaking initiatives to get this technology inside their vehicles.
Before Luke can share with us his two recommendations to capitalize on this emerging technology, we will need to subscribe to his Innovation Investor research advisory service. This will get us a special report entitled: The Biggest Battery Breakthrough in a Century: How to Cash In on the $3 TRILLION Electric Car Revolution, containing all the details on these investment opportunities.
We later come to learn that the first solid state battery company that we should buy into right now is Toyota Motor Corp. (NYSE: TM), which has already built a working prototype solid-state battery and begun mounting it to fully operational concept vehicles. The second recommendation revealed right here for free is Ilika Plc (OTC: ILIKF).
At this early stage, Ilika does not meet the standards of an investment. But it may make for a good speculation given its astronomical growth possibilities.
Are you already invested in any solid state battery companies? Is this the one technological development that will take electric vehicles mainstream? Let us know your thoughts in the comment section below.