The past twelve months have seen natural gas prices spike to 14-year highs and energy bills explode as a result.
Against this backdrop, the U.S. government has grown increasingly desperate to prevent an all-out catastrophe. One of its mandates has turned a "tiny California energy company" into one of America's fastest-growing companies.
The Teaser
People in some States are facing blackout conditions, which makes securing an independent energy source all the more critical. Fortunately, that's exactly what this mystery startup specializes in.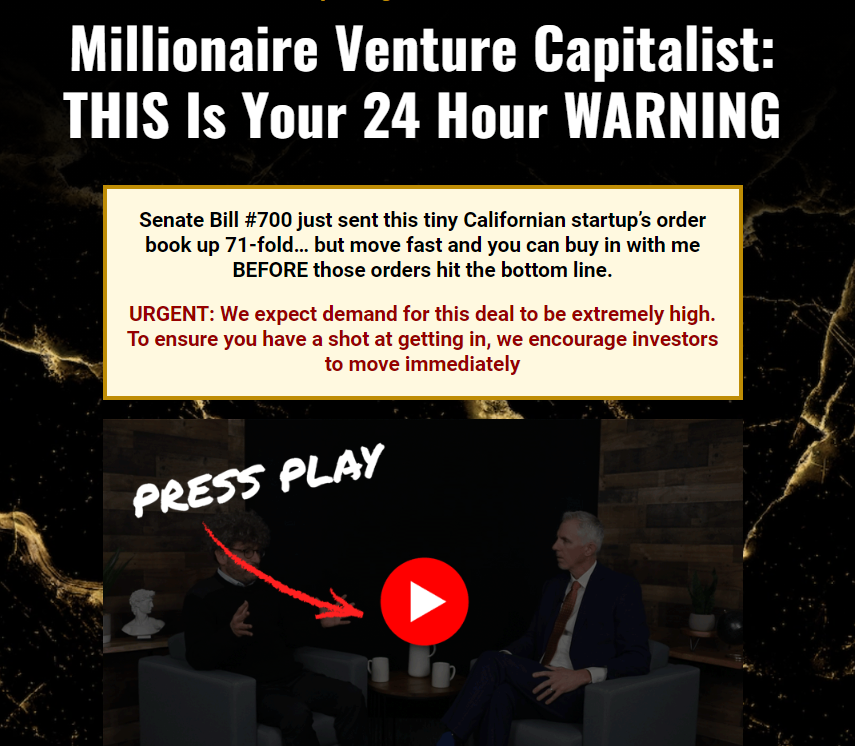 James Altucher is well-known in financial and tech circles as a hedge fund manager and author. Several of his newsletters and investment advisories are distributed by Paradigm Press, where he is listed as an editor. We've previously reviewed his Altucher Report and several presentations, like his "Carbon Web Company".
We're told that this product can power our home in any weather condition – even during a blackout. But unlike a generator, it doesn't rely on gasoline or propane to run.
Not only this, but all it takes is 45 minutes to install it and it's being rolled out as we speak.
This means we still have time to capitalize on the surge in sales it is getting from a recently passed legislative bill.
Senate Bill 700
On its face, SB 700, looks like a bill to incentivize behind-the-meter energy storage deployments in California.
In simple terms, what it's trying to create is a mainstream market for energy storage.
All told, it's directing about $1.2 billion in incentives by 2025 toward this end, and since funding is always a boon for an emerging technology like storage, an additional infusion of cash will boost the market.
After the 2019 blackout in California and 2021 power crisis in Texas, there is a huge need and market for off-grid energy solutions. 
Picture this, the energy grid is down, you don't have a backup generator, what do you do? The answer is, you need your own private way to power your home. That's what the company being teased today is doing, making it super easy to store energy in your own home.
But that's not all there is to this story. James says the federal government knows the current energy system is broken and resorting to desperate measures to keep what's left of it intact. If you're not convinced lawmakers have the answer, you're going to want to hear what could be.
The Pitch
James has packed all the info we need to know about this opportunity inside a special report called: The Tiny California Energy Startup Set to Grow 56x.
It's ours with a subscription to the Paradigm Venture Group, which serves up the best pre-IPO opportunities in the market. The cost? $4,995 per year. For this extravagant price, expect a minimum of four fully-vetted deals per year, a monthly-updated model portfolio, sell alerts, and more.
The New Rules of Energy
It seems as if all government programs are pulling in one direction – to reduce greenhouse gas emissions.
For better or as is often the case when the government gets involved, for worse. The programs created are causing distortions and opportunities in the energy market.
This includes a high-flying niche called behind-the-meter battery storage systems (BTMS).
The vast majority of this market is largely driven by Self-Generation Incentive Program (SGIP) support as it's still an expensive alternative to grid power. California, along with Hawaii, leads the country in behind-the-meter battery installations, which will continue through at least 2025, when this program is set to expire.
As a result of such tax breaks and rebates, the order book of the tiny startup James is teasing here, just ballooned 71-fold. But apart from such temporary short-term headwinds, may lie an even bigger permanent one.
On-Site Energy Storage is the Future?
A sustainable energy supply requires the ongoing expansion of power grids to keep up with demand.
Nearly everyone in the Western world has taken this privilege for granted. But there are several reasons why this may not be the case in the future.
The current, aging grid system is not compatible with increases in population and energy consumption.
Governments are hell-bent on introducing renewable energy sources, including solar and wind into the grid, at seemingly any cost. This will lead to manufactured shortages.
Energy prices have already doubled and they could go up much higher in the not-so-distant future.
For all these reasons, it's making more and more sense to have an independent power source in your home. If you can afford to do so. 
This is where the tiny California company with a growing order book comes in. As it has the lofty aim of democratizing energy.
Revealing James Altucher's Tiny California Energy Company
James drops a few brief hints about who this company could be:
The company enables anyone to store energy in their own home
Right now, it is valued at only $50 million dollars
Letters-of-Intent (LOIs) are in place for over $200 million in sales over the next two years
It is a private, pre-IPO business 
James is personally invested in this company
These clues leave us with not just one, but a few choices.
Like Electriq Power, which is a private, California-based company that designs, engineers, and assembles fully integrated energy management and storage solutions for homes and small businesses. Electriq is in the midst of going public via a reverse-merger, which is expected to close in the first half of this year.
It could also be Renewell Energy. The startup searches for abandoned oil wells to turn them into renewable energy storage and it received an undisclosed seed round of funding in November 2022.
Valuation and order book info aren't available for either company, but both are Cali-based, pre-IPO, energy storage startups that fit the description.
50x Your Money in Only a Few Years?
Startups are by nature, high-risk, high-reward propositions. So 50x isn't unusual in the angel and venture capital space.
This is why the most promising ones are seldom available to small investors like ourselves.
It's no different in this particular case, as James reveals towards the end of his lengthy video presentation that only accredited investors with an annual income of over $200,00 can invest in the startup he's teasing. This rules out many people reading this, but if we're right about Electriq Power being his pick. You will have the opportunity once it publicly lists later this year.
The multiple will likely be in the stratosphere, otherwise, the company wouldn't be going public. So we will sit this one out.
Quick Recap & Conclusion
Amidst the U.S.'s crumbling energy infrastructure, James Altucher teases a "tiny California energy company" that could become one of America's fastest-growing companies.
This is because it operates in a fast-growing renewable energy niche called behind-the-meter battery storage systems (BTMS). Such startups are building self-sufficient energy management and storage solutions for homes and small businesses.
James has packed all the info we need to know about this opportunity inside a special report called: The Tiny California Energy Startup Set to Grow 56x. The catch? It costs 4,995 per year to become part of his Paradigm Venture Group advisory service and get the report.
Only small hints were peppered in throughout the presentation, so we weren't able to get a full picture of the tiny California energy company being teased. But based on what we do know, it could be Electriq Power or Renewell Energy. Both of which are California-based, pre-IPO, energy storage startups.
We later learn that the investment being promoted is only available to accredited investors making more than $200,000 per year. However, if you absolutely want to get into one of these names. Electriq Power is going public by way of a reverse-merger later this year, which will give you the opportunity to invest.
What private energy storage company do you think could be James' pick? Let us know your thoughts in the comment section.