It's clear that China has one goal: To take control of Taiwan.
This makes a military showdown between China and the U.S. inevitable. An invasion could happen any day and there's one stock that could soar 2,476% in the next nine months.
The Teaser
The presentation is predicated on China getting closer to invading Taiwan every day. Something the host – Dylan Jovine thinks could happen as soon as March 16th.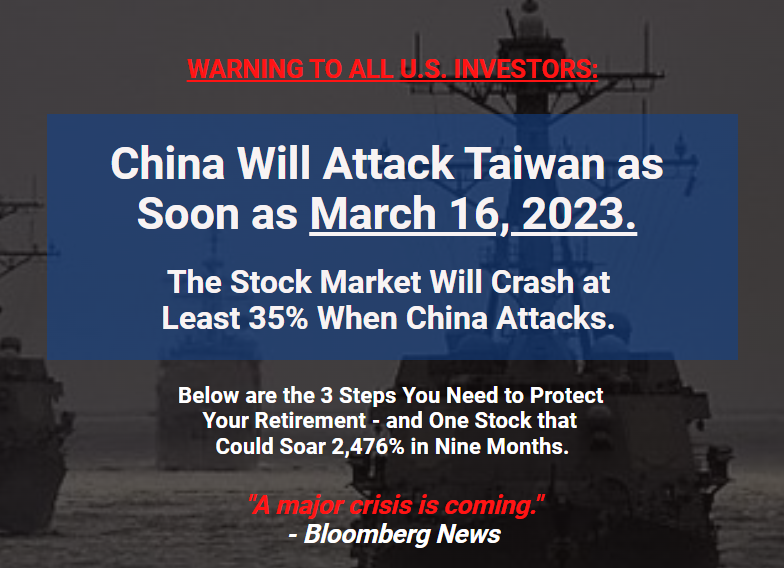 Dylan first made a name for himself as a regular contributor to the free investment newsletter, The Tycoon Report. Following this, he founded Behind the Markes to bring individual investors the same quality investment research institutional investors have access to. We have exposed his stock picks in the past and also reviewed some of his more important teasers, like the Rare Earth Metal Stock to Book a Quick 786% Gain.
If we take a step back, play a game of "what if" and ponder the potential consequences of an attack on Taiwan. The stakes couldn't be higher.
For starters, Taiwan manufactures roughly 66% of the semiconductors that power the world's computers, smartphones, and even the brake sensors in our cars. An attack would immediately cut off this critical supply.
There's also a very good chance the stock market would crater and mutual funds, 401K's, and pension plans would nosedive right along with it.
For some precedent, look no further than 2002. The US stock market dropped 28.5% as the U.S. prepared for war with Iraq.
Not a Question of "If" But "When"
Dylan doesn't expect China to make its move against Taiwan until after March 16.
We're told Chinese stocks won't be spared either. If China can no longer export products, they will suffer big time.
Dylan has come up with a "red flag list" and 43 investments are on it that we must get rid of. Among these are:
Fidelity China Region Fund
Templeton Dragon Fund
iShares MSCI Taiwan ETF
Franklin FTSE Taiwan ETF
And Taiwan Semiconductor
Step 2: Increase Exposure to Metals and Mining Stocks
You have undoubtedly heard about turning to "safe haven" assets such as precious metals in times of economic and political turmoil.
Well, this would definitely be one of those times and one way to gain exposure is by owning companies in the metals and mining industry, which are involved in the exploration, extraction, and sale of metals and other minerals.
Raw materials are used in a wide range of applications, such as technology, aviation, aerospace, and more. Usage will undoubtedly go up during a conflict and so will the stocks of producers.
Dylan has found three such opportunities to sock our money into when the crisis hits.
Step 3: Be Opportunistic
When war breaks out, the smart money will begin shifting into a few key asset classes.
In order to do this, we'll need some dry powder to invest in companies that are well-positioned when all this goes down.
One such opportunity is a defense contractor firm that makes laser missiles.
Revealing Dylan Jovine's "Little-Known" Laser Stock
Dylan believes this is a massive opportunity because laser weapons are needed by every branch of the military – Army, Navy, Marines, and Allies.
This is why the U.S. government has made it a top priority. They've already budgeted billions of dollars for these weapons and he says he knows the company they're spending it with.
Unfortunately, we get hardly many clues. Other than that the U.S. Navy has already installed these weapons on their ships.
Based on this sole tip, we can see that Lockheed Martin Corp. (NYSE: LMT) is the lead government contractor for these Layered Laser Defense weapon systems.
But after some more digging, we've come to find out that Aerojet Rocketdyne Holdings Inc. (NYSE: AJRD) directly assisted Lockheed with its laser missile project as a subcontractor. We would bet this is Dylan's pick over the much larger and well-known Lockheed Martin.