The vast oilfield known as Ghawar deep in the Saudi Arabian desert is arguably the greatest wealth-generating resource in the history of mankind…until now that is.
Money & Markets' Adam O'Dell says there is an untapped energy resource that's much larger. To be clear, this resource isn't oil. Or uranium, solar, wind, gas, hydropower, coal, fusion or anything like that. Rather its an "Infinite Energy" platform and its in the early stages of taking the world by storm.
The Teaser
Adam is convinced that we've never heard of this green energy resource before. An energy resources that provides five times the total power output of the entire Ghawar Field.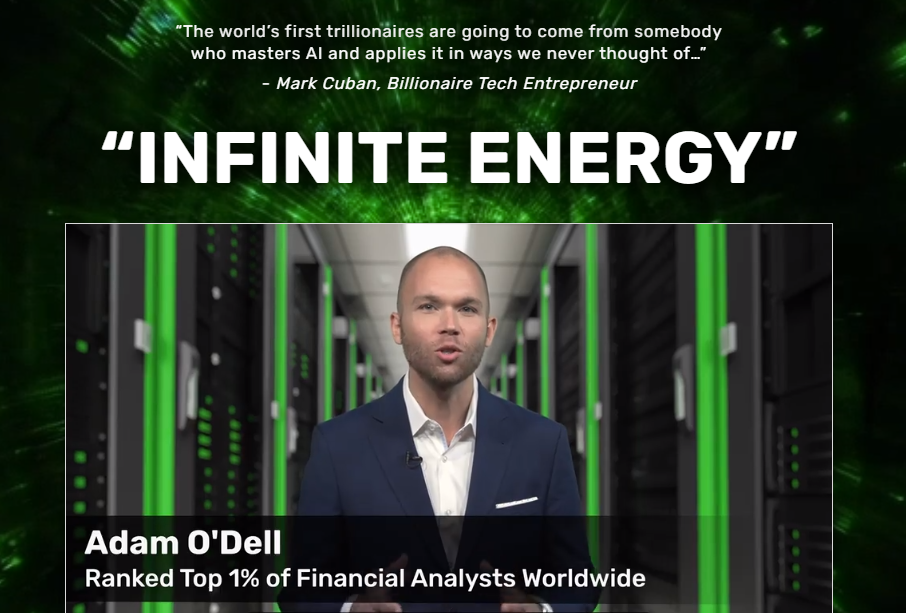 Adam O'Dell is yet another former hedge fund manager turned financial journalist, which is starting to make this trend endemic. He is the Chief Investment Strategist of Money & Markets and edits several regular newsletters, including Green Zone Fortunes. We have reviewed O'Dell's work here in the past, including his "x.AI" Stock and #1 DNA Stock, among others.
Despite the hype we've heard already, Adam insists that there's really no way to overstate just how BIG this is. As it means the companies tapping this resource are potentially sitting on a trillion-dollar treasure trove.
This is due to Infinite Energy software now being able to harness a never-ending stream of the most inexpensive energy the world has ever seen, meaning millions of homes are set to benefit from energy savings at a critical time, as this new energy technology spreads across the globe. On the last point, we're assured that this isn't something that's coming in a decade or two, this is starting to happen right now.
In fact, thanks to all the new energy software and tech, many Americans could soon reach a point where electricity costs them almost nothing. Wired magazine reports that Colorado resident "Katela" is currently paying as little as $12 a month for energy, which sounds like an absolute dream come true after the not-so small energy bills endured this past winter.
As it turns out, a tiny Silicon Valley company is central to this "Infinite Energy" breakthrough and we can invest in it for less than $15 today.
The Pitch
The name of this company is inside a report titled The Tiny Company Dominating Tesla in the Trillion-Dollar Green Energy Race.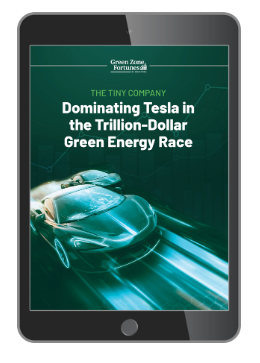 Its ours when we sign up for a risk-free trial subscription to Adam's newsletter – Green Zone Fortunes for just $47. A 75% discount off the retail price. For this price, we get two additional special reports, a Momentum Principle Millionaire Video Series, access to a proprietary, patent pending Green Zone Rating system, a monthly stock recommendation, and more.
How in the World Does "Infinite Energy" Work?
As something that is purporting to tap into the largest unused energy source on the planet –trapped energy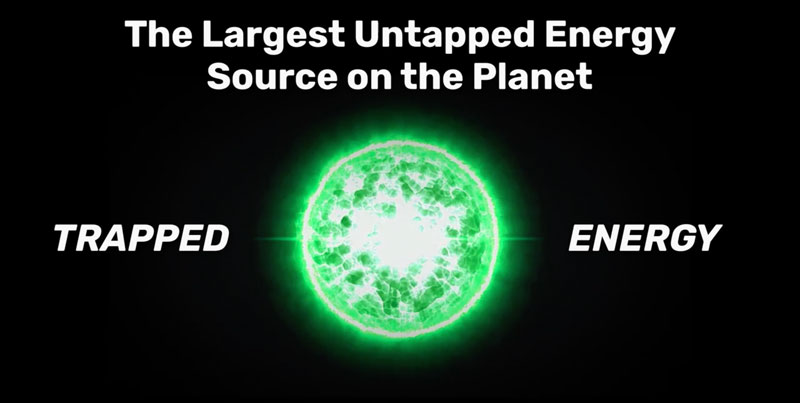 This is something that could disrupt the $7.6 trillion energy market, potentially making early investors a fortune in the process.
See, more than 60% of the energy we produce here in America is wasted every year. This means a ton of the power we generate is simply "trapped" in the grid. All told, there's something along the lines of 12 trillion kilowatt hours of trapped energy going to waste. This is precisely what's equivalent to five times the total output of the Ghawar Field in Saudi Arabia.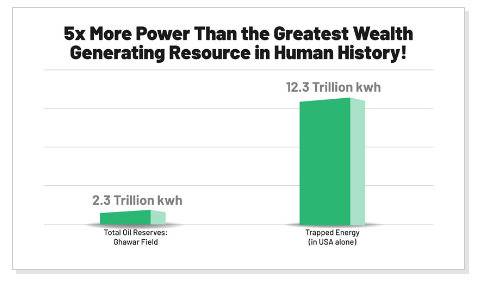 With our old legacy power grid, the power generated and the power consumed must balance each other perfectly. That means if more power is produced than needed, which happens every day all over America, it's simply trapped in the power grid with nowhere to go.
The current grid has systems for dumping this "trapped" energy by converting it into heat or even running it through a huge bank of light bulbs. But this is equivalent to growing an entire crop and then just when it's ready to eat, burning it before it can be consumed. Highly inefficient and wasteful to say the least.
This is where "Infinite Energy" software comes in, as with each passing day this breakthrough technology is turning more and more trapped energy into usable power. Meaning that trillions of extra kilowatts could potentially power American homes and businesses for the first time ever.
So in a nutshell, "Infinite Energy" taps this trillion-dollar reserve of "trapped" energy and turns it into power we can use, leading to potentially trillions of dollars of unrealized revenue just waiting to be unlocked. Question is, what is the artificial intelligence (AI) software that is enabling the harnessing of trapped energy and who is behind it?
The Company Disrupting the Entire Energy Industry
Adam reveals a bevy of clues for us about the company behind "Infinite Energy", here are some of the most obvious giveaways:
This company's "Infinite Energy" software is now in the process of deploying in more than 200 cities around the world, with more joining every single day. In fact, the software is in such demand, that the most recent numbers show they have $221 million in backlogged orders.
The company was recently valued at just $2.3 billion, meaning there's tremendous upside as the company scales up its operations. Software is also one of the best-performing market segments of the past 15 years, with the best software companies delivering approximately 5x the gains of the S&P 500 on average.
They're in prime position to receive a big chunk of the $65 billion the federal government is set to push into green energy initiatives.
Their management team has 150 years' combined experience in the energy markets.
Based on these revelations, the company Adam teases here is Stem Inc. (NYSE: STEM). This is what gave it away:
Stem's market cap is currently fluctuating around the $2.3 billion mark, with shares priced around $15.
When Stem announced its first quarter operating results for fiscal year 2021, they reported a contracted backlog of $221 million. This figure has since grown to $727 million, a 191% year over year increase from Q1 2021.
I wasn't able to track down anything about Stem and potential government funding, but this is likely due to it being speculation on the part of Adam.
Stem's management team has well over a century of combined experience.
Legit Opportunity to Make 20,000%?
Stem proudly calls itself "the first pure play smart energy storage company to go public in the US."
Its proprietary Athena software uses advanced artificial intelligence and machine learning to automatically switch between battery power, onsite generation, and grid power, translating into lower energy costs for customers, a more stable energy grid, and reduced carbon emissions all at the same time.
All told, the company addresses a rapidly growing energy market that is on pace to hit $1.2 trillion by 2050 according to some estimates, it is already leading this market as the largest smart storage network in the world, it is on stable financial footing with a current ratio of 2.5, and it carries a low absolute multiple of less than 12x current earnings.
Quick Recap & Conclusion
Adam O'Dell says he has something that's better than uranium, solar, wind, gas, hydropower, coal, fusion or any other form of energy. He calls it "Infinite Energy" and its in the early stages of taking the world by storm.
We come to learn that "Infinite Energy" is breakthrough technology that is unlocking trapped energy and turning it into usable power. There's one Silicon Valley firm that's at the forefront of this massive breakthrough and we can invest in it for less than $15 today.
Adam says the name and ticker symbol of this company can be found inside a report titled The Tiny Company Dominating Tesla in the Trillion-Dollar Green Energy Race. It is ours if we sign up for a risk-free trial subscription to Adam's newsletter – Green Zone Fortunes for just $47 today.
Based on the info provided throughout the presentation, we were able to reveal the company Adam teases for free as Stem Inc. (NYSE: STEM).
Stem is an energy storage company that uses AI and machine learning software to store and release unused energy when and where it is needed. Upon closer look, it is one of the better, more risk-averse picks I have seen made from an investment newsletter.
Is this the holy grail of energy? Let us know what you think in the comment section below.