Despite mainstream media headlines that inflation is cooling, if it was still calculated the way that it was back in 1980, the official rate would be above 15% right now.
This "Bidenflation" is the worst the nation has seen in over 40 years and Zach Scheidt says there are four steps we can take to both survive and thrive.
The Teaser
From the Afghanistan withdrawal to the current situation in Ukraine to the complete breakdown of the supply chain, and the stock market crash. It seems like things are only going from bad to worse.
Before this, I'd personally never heard of Zach Scheidt before. On his personal website, it states that he's been investing and trading for more than two decades and he only quit his cushy hedge fund job to "help people in his community make money from the market." I have reviewed several inflation-related presentations recently, including Tim Plaehn's Daily Dividends and Whitney Tilson's "$4 Inflation Stock", so we'll see how Zach's stacks up against these.
From the jump, Zach makes it crystal clear that he's no fan of President Biden. Saying that "he'll be rated among the worst presidents in history." Ouch!
This warranted criticism is both because what's already happened and what's coming next may be worse than the inflation of the 1970s.
If Led Zeppelin was your thing, perhaps you may remember just how bad things got back then. Well today, the exact same situation is playing out. In the coming months…
We could be paying $10 or more for a gallon of gas
$7 for a gallon of milk
And a carton of eggs could run us $8 or more (update: the price for a dozen eggs is now nearly $6 in some parts, so we're 80% of the way there).
Bottom line: Prices for nearly everything we need to live are about to go much higher than they are now.
Where Things Currently Stand
This harsh reality is now beginning to set in, with a new report based on U.S. Bureau of Labor Statistics data showing that inflation is costing the average American an extra $11,500 every year.
The worst part? The Biden administration seems completely unprepared to deal with it. They recently signed a massive new $740 billion bill into law, which they claim will somehow magically reduce inflation and bring prices down.
What's clear from all this is that none of us can rely on the government to help us. If we want to ensure that our family survives what comes next, we need to take matters into our own hands.
The Pitch
Zach has put together a comprehensive plan to help us do this and sidestep the coming inflation crisis.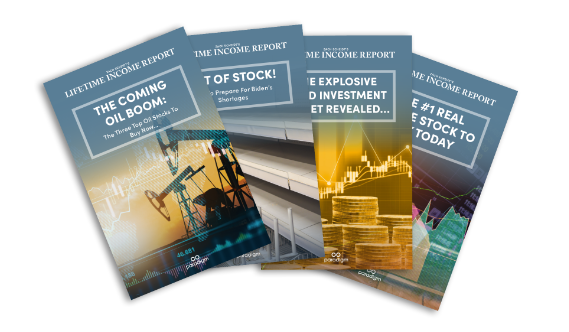 He has laid everything out in a series of special reports that we can get instant access to by agreeing to a risk-free trial of the Lifetime Income Report research advisory. Normally, a subscription costs $99 per year, but we can join now for just $49. This includes a six-month trial, four special reports, 12 regular Lifetime Income reports, and more.
4 Simple Steps to Beat Bidenflation
To understand just how dire the situation is, all we need to do is take a look at this chart: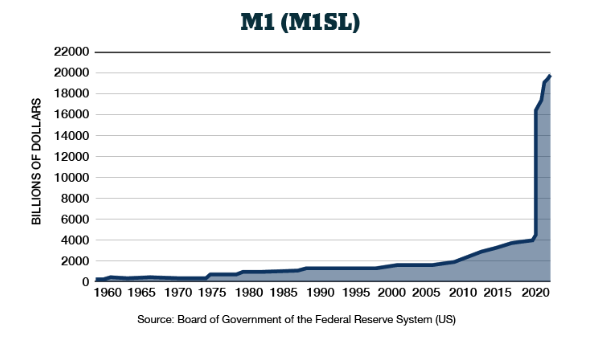 For some context, at the beginning of 2020, the money supply stood at about $4 trillion. By January 2021, it exploded to nearly $7 trillion, an 80% jump! 
But this was just the beginning, as by October 2021, just a few months later, the number of dollars in circulation soared to over $20 trillion. Currently, the M1 money supply stands at about $19.6 trillion. Down slightly due to higher interest rates. This is a positive development because this is exactly how the inflation genie was put back in the bottle in the 1970s.
The Fed now expects interest rates to reach 5.1% by the end of the year, which they say will be enough to start bringing down prices. But what if they don't? I mean it's not like the Fed has ever been wrong, have they…have they!
In 1980, for example, when inflation hit a high mark of 13.5%, rates had to go up to a whopping 20% before things got any better. If that were to happen today or if the central bank simply raised rates to where they need to be to fight off inflation – around 8% (or higher), the entire economy would be destroyed in the process.
The Fed Pivot
This is why many experts believe that what comes next will be a watershed event that will define America's monetary future for decades. This event is being called the "Fed Pivot."
Once it occurs, it could trigger the worst inflation shock in over 50 years, sending prices soaring practically overnight.
In short order, Zach and others are predicting that the Fed is going to completely reverse course. They're going to go from increasing rates and attempting to end inflation to cutting rates, in a desperate attempt to save the crashing economy.
The most recent Fed meeting on February 1st saw a small rate hike. But the pace of rate hikes has already declined, so a complete reversal may not be far behind. 
Since there's opportunity in every crisis, what should our next moves be? Zach has a series of four action steps to take immediately:
Collect passive income every quarter from his #1 Inflation-Proof Asset. Zach says he's analyzed dozens of different oil companies and narrowed down his list to the best three.

Tap into the Real Estate Market with as little as $50! He's talking about a small real estate stock that could explode in the coming years.

Buy units of a gold royalty company. For every 10% that gold goes up, we could make 100% or more with this secret investment. 

Make sure that we are ready for shortages and black markets. When inflation spirals out of control, price controls will follow and history has shown these lead to shortages of everything.
Revealing Zach Scheidt's Bidenflation Picks
The only pick Zach tells us anything of substance about is his real estate market play. This is what we know:
Its purchased thousands of single-family homes in the hottest markets all across the country, from Florida to Texas to California and everything in between.
Shares sell for less than $50 today and by owning the stock we're entitled to collect a share of the rental income they bring in every month.
While parsing through residential REIT lists, NexPoint Residential Trust Inc. (NYSE: NXRT) stood out.
The REIT owns and operates well-located multifamily properties in large cities and suburban submarkets throughout the U.S.
NexPoint's stock price comes in at just under the $50 dollar mark.
Sound Advice for Surviving Inflation?
Collecting passive income, owning hard assets, and having essential supplies on hand are all important.
It's advice we've heard before and I'm willing to bet that a majority of our readers have already checked off all or most of these boxes.
As for owning a diversified portfolio of residential real estate properties via a REIT, it definitely makes the list of "nice-to-haves." Provided of course that we don't overpay for the privilege. And even if we slightly do overpay, the pace of appreciation during a high inflationary period will likely make up for it.
Quick Recap & Conclusion
Zach Scheidt says there are four steps we should take to both survive and thrive during "Bidenflation."
America's worst inflation in 40 years is likely to get even worse, as the Fed pivots away from rate hikes and goes back to an "easy money" policy. But there are some things we can do to lessen the impact of this impending catastrophe.
Zach has put together a comprehensive plan and it's ours with a risk-free trial subscription to the Lifetime Income Report research advisory service for only $49.
He calls for us to invest in the inflation-proof oil industry. Tap into the real estate market with a $50 REIT – NexPoint Residential Trust Inc. (NYSE: NXRT). Buy units in a gold royalty company (no additional info provided), and stock up on essential goods and supplies like food, water, and ammo.
This isn't bad advice and most of you have probably already taken several of these steps. If the Fed does a 180 and begins to lower interest rates this year, that will be the first sign that much higher inflation is on the way.
How do you see "Bidenflation" playing out? Let us know your thoughts in the comment section below.