What we're seeing in the markets this year is unprecedented.
But Empire Financial Research's Market Reversal Summit is here to be a beacon during dark times, as it foresees a major market reversal opportunity and even has one "reversal trade" recommendation for us.
The Teaser
Historically speaking, when a market downturn occurs, like the ones we saw in 2008, 2020, and now in 2022. A massive reversal follows and Empire Financial Founder Whitney Tilson has harnessed the power of this rare phenomenon by inventing a strategy he calls his "reversal trade."
Many readers will be familiar with Whitney Tilson, the former hedge fund manager was seemingly everywhere the previous decade, from TV to Berkshire Hathaway annual meetings. After shutting down his fund in 2017, he began teaching the in's and out's of the investment management business, which is what eventually led to the founding of Empire Financial Research in 2019. We've taken an in-depth look at his investment advice – Is Whitney Tilson Legit? And reviewed some of Empire's previous presentations as well, see The $4 Inflation Stock.
When this strategy is executed correctly, massive gains tend to follow.
We are given a few examples of these and the kind of gains it can produce. Fairfax Financial is one: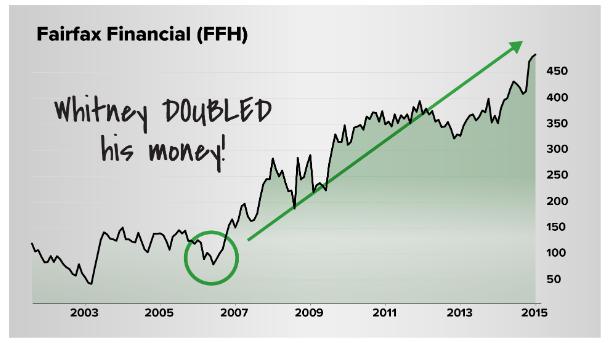 During the same time period, Whitney did it again and made 30 times his money in less than a year: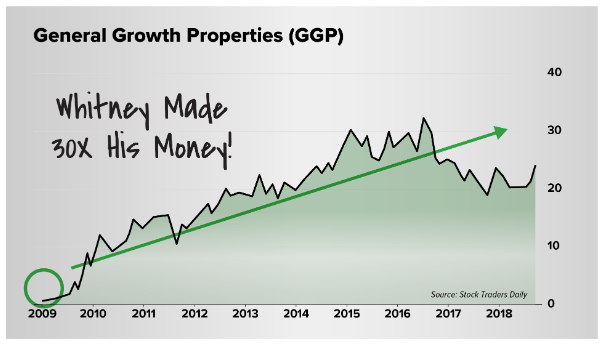 But the reversal he's seeing in the markets right now could top all of his past ones.
In fact, he predicts the next reversal could be one of the biggest opportunities he's ever witnessed in his 20-plus years in the markets. What's more, it could help early investors cash in big as demand for one red-hot commodity grows nearly 30% a year.
The next reversal is here, as we're in the middle of a downturn and a specific sector is facing headwinds causing stocks to drop within it. What is this sector and "reversal trade" stock?
The Pitch
This is what Whitney reveals in his new special report: "My Next Reversal Trade Could Be the Biggest Windfall of my Entire 25-Year Career."
In order to access it, we need a subscription to the Empire Investment Report. This would set us back $2,000 and includes the stock, ticker symbol, and buy-up-to price of the recommendation in this presentation, a full year of Empire research and recommendations, a bonus special report, and one full year of Enrique Abeyta's Empire Elite Trader (Value: $828) as well.
The 5 Reverse Trade Catalysts
Whitney has used a set criteria of 5 things to identify potential reversal trades and gouge their strength.
We're told that every time he's executed this strategy. He's made incredible money, including a double, triple, 30-bagger, and even a 90-bagger!
1. Visionary Management
Much like when he sat down with Netflix CEO Reed Hastings back on Super Bowl Sunday in February 2011 and realized he wasn't seeing the full picture on the company.
So too is the CEO of his next reversal trade opportunity a "visionary" and doing something just as daring. He's leveraging a decade plus of knowledge and putting it to work in a red-hot commodity sector that's expected to grow nearly 30% year over year.
2. Real Profits with Rising Margins
In this particular case, our entire mystery sector has been pummeled so much that prices are back to where they were at the bottom of the COVID crash, so Whitney believes we're now at a bottom and when things turn, he thinks there could be multi-bagger returns, especially for one favorite stock he's identified.
3. Hidden Asset
A hidden asset can be described as something whose value isn't reflected or sometimes doesn't even appear in a company's financial statements, so it isn't appreciated by investors. But it can pay off big time, pushing the stock price higher quickly.
Whitney's latest reversal stock has a huge hidden asset, one that could turn his favorite stock into the world's largest company in this booming sector. But the most exciting part is…this company's hidden asset could become tangible later this year, which could in turn push its stock much higher.
4. Industry Insight
Tilson has discovered that another successful billionaire hedge fund manager is buying up shares of his latest reversal opportunity like crazy.
This hedge fund manager says: "This sector is one of the next great growth industries. The stocks within it are greatly mispriced, because there are a lot of big institutions that are not yet comfortable buying into these stocks."
So not only are big hedge fund billionaires snatching up shares, but so are the company's executives too. A great sign.
5. Federal Subsidy
Apparently, there's all sorts of legislation in the works that could soon help this industry's demand surge.
The "red-hot commodity" is Cannabis and Whitney is smelling the green on one pot stock in particular.
Revealing Whitney Tilson's "Reversal" Cannabis Stock
This is what we know about one cannabis stock that could be the biggest reversal of them all:
It has all five of the reversal catalysts we highlighted above – visionary management, real profits, hidden asset, industry insight (institutional investors), and a federal subsidy.
It has strong revenue growth as well as positive operating cash flow too. This cannabis company's operating income turned positive in 2021.
Hedge fund billionaire Ricky Sandler is long on this reversal play as well.
This isn't a gold mine of info by any stretch, but it was enough to hone in on one stock: Cresco Labs Inc. (OTC: CRLBF).
For starters, I could not find anything about Cresco directly receiving any federal or state government subsidies, but Whitney is likely talking about the push for federal cannabis legalization here. However, I was able to find that the company is seeking significant tax breaks for its latest production facility.
Cresco's revenue has indeed grown substantially in each of the past five years, operating income was positive in fiscal year 2021, as was operating cash flow.
While at Benzinga's Cannabis Capital Conference in Miami Beach earlier this year, Ricky Sandler admitted that his Eminence Capital fund is currently invested in four cannabis stocks, one of which is Cresco Labs.
Is Now the Time to Cash in Big on Cannabis?
Anticipation of impending legalization sent cannabis stocks soaring after the 2020 elections.
Of course, legalization didn't happen. Which made every stock in the sector slump. Now, I'm hearing that the chances of federal legalization are getting "sweeter by the day."
So, should this "hidden asset" be relied upon as a catalyst? Governments are notoriously slow when it comes to these kinds of things, so absolutely not! With that said, marijuana has been fully legalized in 18 states, plus Washington, D.C. and Guam. Just a decade ago, no state had legalized cannabis.
It has also been decriminalized and/or permitted for medical use only in an additional 21 states. So this is a positive in terms of institutional investor sentiment.
Cannabis stocks have been in a boom and contraction cycle ever since 2018, with many individual companies – like Cresco Labs mirroring this. As they are profitable one quarter and then not the next. Such high volatility suggests that a basket approach, by way of a low expense ETF may be the way to play the sector at this still early stage.
Several exist, like the AdvisorShares Pure Cannabis ETF (NYSE: YOLO) and ETFMG Alternative Harvest ETF (NYSE: MJ), which are both down over 60%, respectively this year.
Quick Recap & Conclusion
Empire Financial Founder Whitney Tilson has utilized a proprietary strategy he calls his "reversal trade" with great success in the past and he's here to share his latest "reversal trade" recommendation with us.
He has a set of five reversal catalysts – visionary management, real profits, hidden asset, industry insight (institutional investors piling in), and federal subsidies. All of which are now present in the cannabis sector and in one pot stock in particular.
Whitney reveals the name and ticker symbol of this stock in his new special report: "My Next Reversal Trade Could Be the Biggest Windfall of my Entire 25-Year Career." Which we can get our hands on with a subscription to the Empire Investment Report. Costing a tidy $2,000.
While clues were kept general in nature, they were enough to lead us to Cresco Labs Inc. (OTC: CRLBF) as Tilson's favorite cannabis stock.
The cannabis sector is down big this year (like many others) and has been volatile for years. It may not be ready to break out just yet and a basket approach could capture some nice gains when it does.
Do you think the cannabis sector is ready to reverse course and grow? Let us know in the comment section down below.