Empire Financial Research's Enrique Abeyta says that the auto industry is going through a "Master Reset" and it could be the most lucrative economic sea change in over a century.
This has prompted one automaker (not Tesla) to launch a vehicle that could go down in history as the best selling electric vehicle (EV) of all time. If we start riding its coattails early, we can turn a small stake into a MASSIVE return.
The Teaser
'Resets' have a penchant for providing investors with incredible opportunities and the coming "Master Reset" promises to be the biggest one to date. With one $3.8 trillion market being virtually rebuilt from scratch.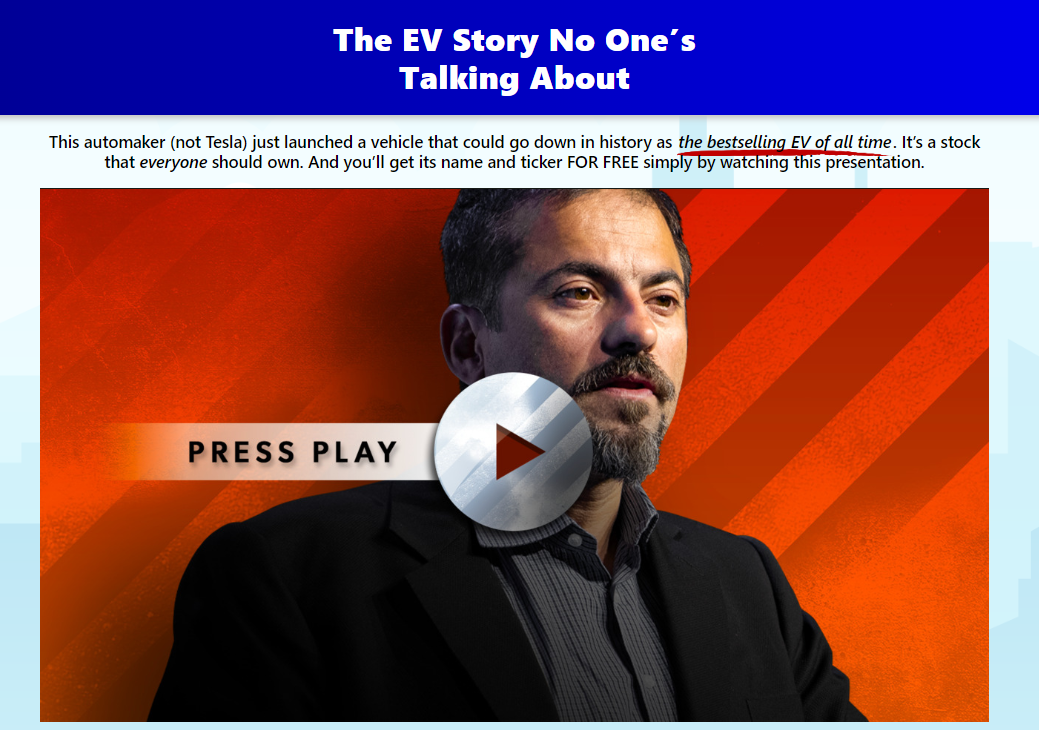 Enrique Abeyta has over 25 years of Wall Street experience, managing hedge funds and raising investment capital. Today, he's the editor of several Empire Financial Research newsletters and putting his over two decades of experience to work discovering multibaggers that the rest of the market may be missing. We have reviewed an Enrique Abeyta presentation here before, see his "Robinhood of Crypto" Stock and also looked at whether Empire Financial Research as a service was worth the hype.
What Enrique is talking about here is the industry-wide move to EVs and its growth is set to be faster than crypto, artificial intelligence, and cloud computing COMBINED.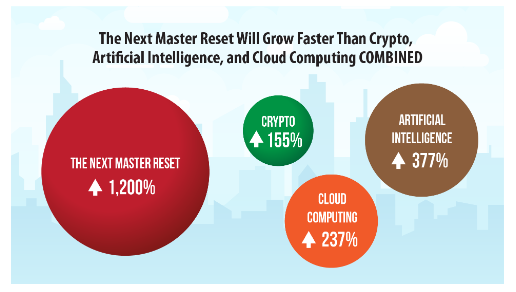 Some auto industry insiders concur with this sentiment, saying that this change is like "moving from the horse to the car", its that seismic. The timing for this couldn't be better:
Soaring gas prices
A steep markdown in EV prices
And tech that's set to make charging an electric car as quick and convenient as filling up a gas tank…
Are all contributing factors to EV adoption being far faster than most people expect.
If you listen to the mainstream press, you'd think Tesla, Rivian, or some other "breakthrough" battery maker will dominate this market. But Enrique predicts that one unexpected automaker will outsell all of them. Its his #1 EV stock for 2022 and it just launched a new vehicle that's up to 50% cheaper than the competition.
The Pitch
Just as important as knowing what to buy, is knowing what not to buy and Abeyta has put together a list of companies that should be avoided at all costs. He calls them the "Seven EV Deathtraps" and its part of a new research dossier titled, "The No. 1 Way to Profit on the EV Boom".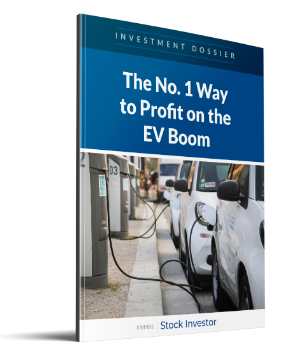 It is ours when we sign up to the Empire Stock Investor newsletter for just $49 for the first year. In addition to the 75% savings off the regular rate, we will receive the two research dossiers highlighted above, as well as two more in addition to 12 months of the newsletter and full access to all of Empire's archived research reports and recommendations.
The 4 Steps to Profiting from The "Master Reset"
Major publications like The Guardian are reporting that "electric vehicles are close to the 'tipping point' of rapid mass adoption" and all told, automakers are investing $575 billion to make sure they don't get left behind by this Master Reset. So how do we reap the rewards from this movement?
Step #1: Buy Ford!?
This is no typo and its because of their perceived advantage in electric trucks. A market that's projected to grow by 1,594% by 2026.
We know about Rivian Automotive (Nasdaq: RIVN), which is more popular right now, especially since it had the biggest IPO of 2021. But Enrique believes one company will outsell them all: Ford (NYSE: F). There is some data to back this claim up.
The recent launch of the F-150 Lightning, has electrified the F-Series and received nearly 200,000 reservations, forcing Ford to quadruple its production just to meet demand. This likely has something to do with the truck being as much as 50% cheaper than the other electric trucks on the market: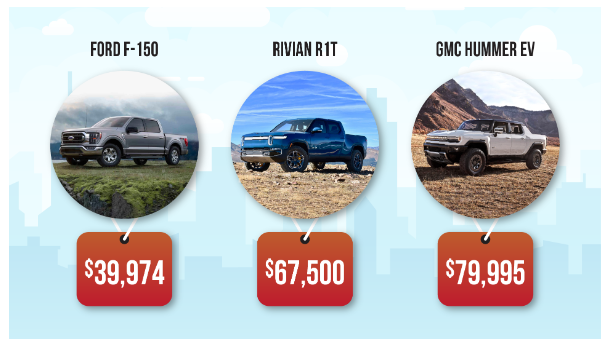 It is also worth noting that Ford's F-150 has been America's best-selling vehicle for 40 straight years!
Bottom line: Buying Ford right now is a low-risk way to invest in the auto industry's Master Reset and Enrique recommends paying no more than $20 per share (it is currently selling for far less).
Step #2: Read the EV Investment Bible
What is this you ask? To put it simply, its what Abeyta is calling a "high-level overview of the Master Reset shift".
It promises to go over all the different types of EV stocks, from battery makers to charging station manufacturers, and more. As well as break down the pros and cons of each category. It will also go over why Tesla's 50% U.S. market share could be cut in half, as competition in the EV space heats up.
Most importantly, you'll also get Enrique's "EV Watchlist," which is a basket of four supposed must-buy companies on the frontlines of the auto industry's Master Reset.
This research dossier is included in your subscription to the Empire Stock Investor newsletter. Moving on…
Step #3: Sell These Stocks
For every stock that's a buy, there are at least a hundred others that aren't. This is why Enrique put together a list of companies that should be avoided at all costs, calling it the "Seven EV Deathtraps".
Included among these names is a popular Chinese EV maker that faces a serious risk of getting shut out from the New York Stock Exchange. The SEC recently put out a list of companies that could get delisted if they fail to turn over audit results and this company is on it.
Step #4: Invest in "White Gold"
Perhaps the most interesting of all the steps. If you know anything about EVs, then you know they're powered by lithium, which is sometimes called the EV market's "white gold".
The two are closely intertwined, with the EV market making up almost 80% of lithium-ion battery demand. According to the International Energy Agency, the number of EVs on the road will hit 145 million by 2030. Not only is this figure up 21-fold from today, but these vehicles will require nearly 1.6 MILLION tons of lithium. Thus as a simple matter of supply and demand, the price of lithium is going to keep going up.
Enrique has zeroed in on an easy-to-follow way to play this surge in lithium demand, that is essentially a way to own the entire lithium market with one trade. He's put this info into another dossier titled, "The No. 1 Way to Profit on the EV Boom".
Four steps, four research dossiers, well played Enrique. Since no clues are given about any of the stocks found in these dossiers, we'll go ahead and take a closer assessment of the basic premise behind this presentation – the Master Reset of the auto industry.
Is The Auto Industry's Master Reset Real?
Some industry analysts believe that major auto brands like Audi, Mercedes, and others will soon be 100% electric.
As recently as even a few years ago this statement seemed far-fetched. But the incentives of owning an EV are getting harder and harder to ignore, with record-high gas prices, maintenance and repair costs, and the cost of EVs getting cheaper, the tide is definitely shifting.
Car and Driver even reports that falling battery prices "could make an EV car cheaper than a gas car to buy" by 2023.
More so than any 'positive environmental impact' being touted by the media, the practicality of EVs is growing and as battery charge times decrease and run times increase, we will see the "reset" talked about in this presentation.
Quick Recap & Conclusion
Empire Financial Research's Enrique Abeyta teases an auto industry "Master Reset" that could be the most lucrative economic sea change in over a century.
What Enrique is talking about here is the rapid growth of Electric Vehicles (EVs) and he has come up with a series of 4 steps from profit from this "Master Reset".
These steps come in the form of four separate research dossiers titled Why Ford Will Trigger the Auto Industry's Master Reset, The EV Investment Bible, Seven EV Deathtraps, and The No. 1 Way to Profit on the Electric Vehicle Boom, respectively. They are ours with a subscription to the Empire Stock Investor newsletter for $49 for the first year.
Since Enrique doesn't mention any stock by name besides Ford (NYSE: F), we took a closer look at the "Master Reset" of the auto industry itself and concluded that…
The every day practicality of EVs is on the rise, with some calling for them to be cheaper than gas powered cars by the end of next year. Regardless of the timeline, when this happens, those invested accordingly will reap the rewards.
How many EV-related investments do you own – 1, 2, more or none? Let us know in the comment section below.