Brad Thomas says he has found the closest thing to "autopilot" investing there is.
It's all about avoiding 99% of stocks and investing in something called "SWAN Stocks" to collect thousands of dollars every month, no matter what's happening in the world.
The Teaser
The market pain is only going to continue for most people. Because they're following the kind of playbook that only works during a boom.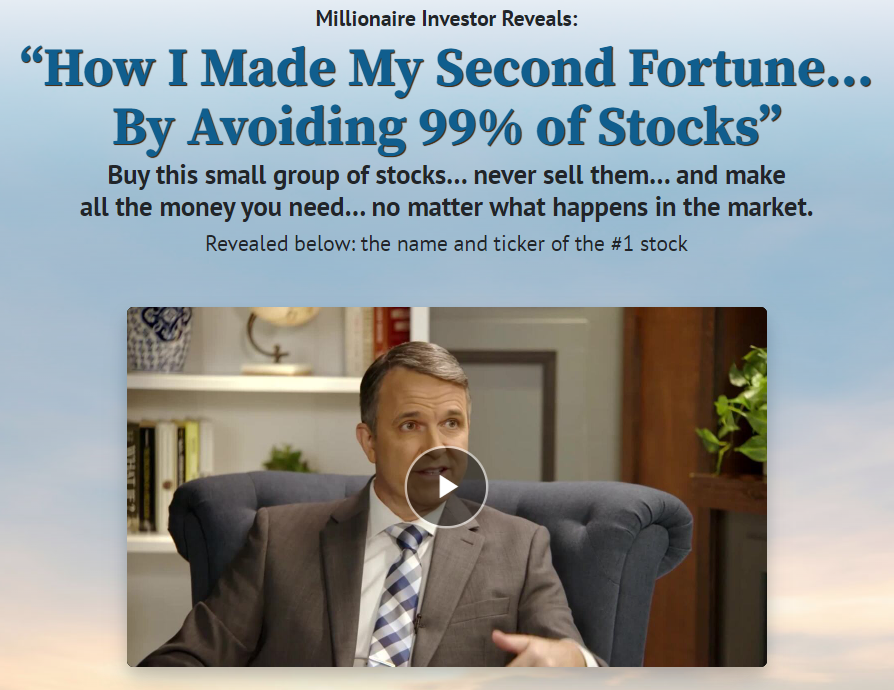 Brad Thomas has taken an unconventional path to becoming a stock picker and the CEO of Wide Moat Research. An investment advisory dedicated to a range of strategies including dividend investing, value investing, fixed income, and income-generating options trading services. We've looked at Automating Your Income and "Super Options" trading strategies extensively here in the past.
Brad focuses solely on SWAN stocks, which are a group of equities that rarely get mentioned on the "money channels" as he calls the mainstream financial press.
In fact, very few investors have ever heard of some of them. Even fewer own them. Something Brad is aiming to change today. As someone whose favorite investments are often smaller, lesser-known names, I like where this is going.
What's more, we're told anybody can invest in SWAN stocks through their regular old brokerage account. You don't need a background on Wall Street or decades of experience. It's as close to an automated strategy as there is.
There's only one catch…
You'll want to move fast according to Brad because something big is happening in the market today. A major shift. Something we haven't seen in decades.
The Next Big Market Shift
For over a decade now, Brad says we've been in what he calls a "dartboard" market.
From 2009 to the start of 2022, picking stocks was as easy as throwing darts. Virtually every stock you bought was a winner. Unfortunately, those days are now over.
This is due to inflation hitting 40-year highs and the Fed finally starting to raise rates. Thus, we could see hundreds of popular stocks fall, perhaps even further than they already have.
We need something flying completely under the radar to avoid these falling knives and this is where SWAN stocks come in, including Brad's #1 stock.
The Pitch
Brad has put all the details on these stocks and his top pick in a brand-new report, The SWAN Portfolio.
We can get our hands on it by subscribing to Brad's new research service called: The Intelligent Income Investor. The retail price for a 12-month membership is just $49 for a limited time and includes three special reports, Brad's latest research as well as recommendations, and more.
What in the World Are SWAN Stocks?
SWAN is short for "Sleep Well at Night" and they're the only kind of stocks we want to own, period.
Brad sounds like an old-school value investor when he says "there's a small group of stocks we can buy today, forget about, and grow wealthy from year after year."
Value vs. Growth is a never-ending debate. Whatever side you fall on, something we can all agree on is that an active strategy has been proven to trail the indexes over the long term.
So the question is, can the SWAN stocks be one of the few active strategies that consistently beat the S&P 500?
Brad believes there are three main things that make this possibility:
They're anti-fragile. This means their income and profits are rock-solid. In some cases, these companies have contracts in place that ensure the checks keep rolling in.
Income. Every one of these companies has implemented a "Payout Increase Program." This is probably dividends and one of these firms pays out every month. It's been doing that for nearly 29 years.
Reinvested payouts. Brad says we can reinvest these payments back into the companies.
During the first half of 2022, Brad's ten-stock SWAN portfolio allegedly crushed the market. Beating it nearly 2-to-1.
Brad's #1 Stock
To his credit, Brad does reveal his top pick as Mid-America Apartment Communities (NYSE: MAA).
Mid-America is a REIT with a 3% annual dividend yield that is focused on owning and developing quality apartment communities in the Southeast, Southwest, and Mid-Atlantic regions of the United States.
But remember, this is just one of Brad's picks. He's got nine more and he believes they all have just as much potential. Let's try and find out what they are.
Revealing the SWAN Stocks
There's quite a bit to cover here, so let's get right down to it.
Four of Brad's ten SWAN stocks are REITS. We know this because he says "they're required by law to pay out 90% of their taxable income to shareholders."
Unfortunately, nothing more is mentioned about them in the presentation. Moving on.
The fifth pick we learn is a favorite of the world's wealthiest investors. It counts more than 60 members of Congress, and dozens of billionaires, among its shareholders. This sounds like it could be Apple Inc. (Nasdaq: AAPL), which is a favorite of US lawmakers.
Finally, nothing at all is said about pick number six, eight, or nine. But SWAN stocks seven and ten have reportedly each been raising their respective dividends since 1962. One of these "dividend aristocrats" I'm certain is Dover Corp. (NYSE: DOV), which has been incredibly increasing its dividend for 66 straight years now!
As for the other, it is almost certainly The Coca-Cola Company (NYSE: KO), which has been paying higher dividends each year since 1962.
Sleeping Well at Night or the Stuff of Nightmares?
Without knowing all of Brad's picks and judging just off of the four or so that we were able to reveal, I can see that this is a quality defensive portfolio.
Make no mistake, with the sole exception of Apple these aren't explosive growth stocks by any means. But if steady appreciation and income are what you are after, then the SWAN stocks are for you.
In terms of "market crash protection", I wouldn't count on any of these stocks not to depreciate during a prolonged market downturn. But dollar-cost averaging down in such an event would likely pay off over the long term.
As Ben Graham once said, "an investment operation is one which, upon thorough analysis, promises safety of principal and an adequate return." The SWAN stocks offer this to a degree.
Quick Recap & Conclusion
Wide Moat Research's Brad Thomas is promoting an "autopilot" investment strategy that consists of investing exclusively in "SWAN Stocks."
SWAN is short for "Sleep Well at Night" and Brad has a portfolio of ten SWAN stocks, including his #1 pick.
All of these stocks are revealed in a brand-new report, The SWAN Portfolio. We can get our hands on it by subscribing to Brad's new research service: The Intelligent Income Investor, for only $49.
Brad only discloses a limited amount of info about his SWAN portfolio and keeps the rest a secret. Nevertheless, he does reveal his top pick: Mid-America Apartment Communities (NYSE: MAA) and we were able to dig up three of his remaining picks. They are Apple Inc. (Nasdaq: AAPL), Dover Corp. (NYSE: DOV), and The Coca-Cola Company (NYSE: KO).
This is what you might call a defensive stock portfolio, with limited downside and consistent income. Considering the market we're in, this isn't a bad thing, and what is sacrificed in short-term growth, is made up by safety of principle.
Any ideas about what the rest of Brad's picks could be? Share them with readers in the comment section below.