Bitcoin is down more than 70% since its November 2021 high.
But trading expert Jeff Clark has uncovered a "Boomer" crypto hack that works whether Bitcoin goes up or down, which he calls "Bitcoin's 3 Second Challenge." The best part is, you don't even need to own any crypto to profit from it.
The Teaser
The presentation starts with Jeff patting himself on the back about some of his past winning trades, so we skipped to the good part. The part where he states that he's going to reveal his most controversial investment method yet and it involves Bitcoin.

Jeff Clark is the editor of several investment advisories and newsletters which focus on profiting from options in any market environment. We've previously reviewed his namesake Jeff Clark Trader service and past presentations, like his "One Stock Retirement" Strategy.
Jeff continues by saying his method takes only 3 seconds to execute and it could "generate gains as high as 660%, 810%, even 1,925% from Bitcoin within days." All from our regular brokerage account.
No crypto wallets. No crypto exchange, no previous experience needed. A whole new way to make money from Bitcoin? Or just hot air?
What is true, is that in these volatile markets, with the Nasdaq, Dow, and S&P up or down 3% on any given day. Having a "Plan B" to fortify our portfolio is more important than ever.
So, if you've already made your move into Bitcoin or are just thinking about getting in now with the price drop. This could be the way to play it. Here's an example…
Back in January, Bitcoin nosedived more than 30%. However, had we used Jeff's crypto move and played Bitcoin that way, we'd have made 333%. That's enough to turn every $1K into $4,333.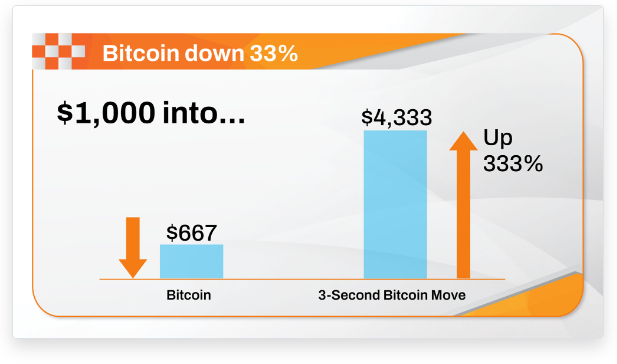 Options as a hedge
As you might already be able to guess, Jeff's preferred strategy involves options.
As I've stated here before, with options all it takes is a move of a few dollars up or down, for the options to be "in the money." Of course, this works the other way too. All it takes is a move of a couple dollars to lose money.
Jeff assures us that options are easy, even his teenage son knows how to trade them in just a few mouse clicks. And the gain he showed us, it wasn't pulled from the Bitcoin bull market back in 2017. It just happened.
The Pitch
This is why Jeff has put together all the details about how his Bitcoin options technique works and made it available as a special report called: Bitcoin's 3-Second Challenge: How to Make 10x More Gains From a Regular Brokerage Account.
It's ours if we agree to try out Jeff's premium research service – The Jeff Clark Trader. This would cost just $19 for the first year, for a limited time. And it nets us two special reports, an options trading masterclass, and regular trading recommendations.
Can Bitcoin really be traded with options?
In one word: Yes.
Today, just about anything you can think of, from the weather, to specific political or sporting events to stocks, can be waged on via derivatives.
Options are one category of derivates that give holders the right, but not the obligation, to buy or sell an underlying asset at an agreed-upon price and date in the future. So in other words, options enable traders to bet on the price of Bitcoin with leverage.
In Jeff's own words: "for every one-point move in a stock, an options play could make you 5 to 10x more money."
Typically, options add a layer of complexity that simply isn't necessary most of the time. However, in these uncertain times, options on stocks or other assets as a 'hedge' to the rest of our portfolio can give us the opportunity to profit when stocks are falling.
Jeff argues that most sophisticated investors that own Bitcoin, like institutions which hold some $70 billion worth of Bitcoin today. Use options to hedge their exposure on most of their holdings. He would be right.
His proprietary options technique gives us the chance to start profiting from the most prominent crypto coin of the last decade, without having to wait months and months while Bitcoin goes through one of its upswings. As an example, on one occasion Jeff shows that we could have made 660% in 4 days. But had we bought Bitcoin outright we would have made only $140 (14%).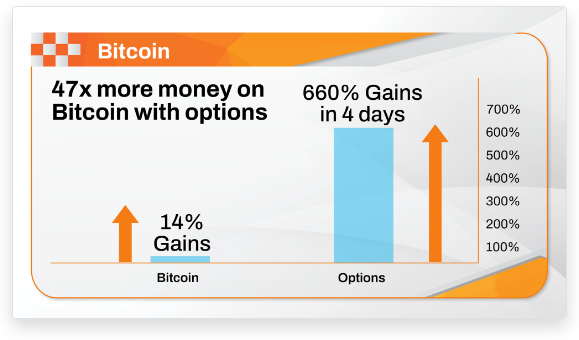 Jeff goes on to state that after we see how simple his strategy is, we'll understand why it's his favorite way to invest in Bitcoin. Let's see if this is true.
The 3-Second Bitcoin Strategy Revealed
Here is everything we know about the options trading strategy thus far:
It involves Bitcoin
It takes 3 seconds to execute
Jeff calls it the 3-second Bitcoin "Flip Trade"
That's it, no other details are provided in Jeff's lengthy presentation.
I can only assume that it works like any other call or put option strategy. That is, if you think the price of Bitcoin will go up over the short-term. Then you purchase a Bitcoin call option. If you believe its going to go down, then a put option is the way to go.
Where do we get these options from and what is the stock ticker we are buying options on? I can only guess, but there are a number of publicly-listed Bitcoin ETFs, like the ProShares Bitcoin Strategy ETF (NYSE: BITO) and the Valkyrie Bitcoin Strategy ETF (Nasdaq: BTF). That options can readily be purchased from within your brokerage account.
Question is, do we want to do this?
Legit way to double your money in just a few days?
Both the ProShares and Valkyrie ETFs are down over 58% for the year.
This means if we would have purchased call options on these back in January, we would be looking at a nearly 100% loss. Had we done the reverse and gotten a put option, then we'd be staring at a less sizeable loss if we already own Bitcoin or even a gain if we don't.
To me, this strategy makes some sense if you already have long exposure to Bitcoin, as hedge against that. But as a standalone trading strategy, betting on the volatile price of the crypto would be far from my preferred way to attempt to double my money.
Quick Recap & Conclusion
Jeff Clark says he has uncovered a hack that enables us to make money on Bitcoin whether its price goes up or down. He calls it: "Bitcoin's 3 Second Challenge."
We quickly learn that this strategy entails options trading through our regular brokerage account.
Jeff cobbled together all the details on how his proprietary Bitcoin options technique works and he's put it in a special report called: Bitcoin's 3-Second Challenge: How to Make 10x More Gains From a Regular Brokerage Account. Its ours with a subscription to The Jeff Clark Trader research service, which costs $19 for the first year.
No other details were forthcoming about the specific options technique Jeff employs other than that its a "Flip Trade." Something that entails buying put options to generate positive returns.
If you own Bitcoin, some hedging of your exposure via options wouldn't be the worst thing. But if you don't, speculating on its future price with leverage is a quick way to lose your money.
Am I missing something about Jeff's options trading technique? Drop any insider details in the comments below for readers.