Paul Mampilly believes we are on the brink of the biggest literal power shift in more than a century.
"iPower" he says, is officially here and one tiny California-based company holds the key to the entire $50 trillion new energy revolution.
The Teaser
Paul starts the presentation standing next to a Tesla battery for his home. He explains that it keeps the power running for everything 24/7 – kitchen, heat pump, gadgets, you name it. However, this battery is not the REAL breakthrough here.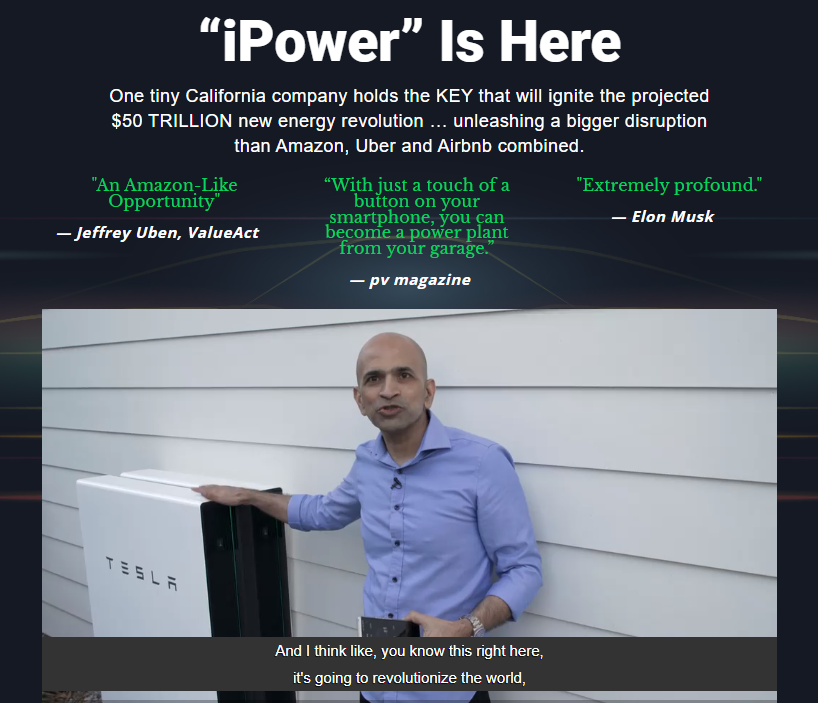 Paul Mampilly is an investor and former hedge fund manager who worked on Wall Street for almost 30 years. He began writing Profits Unlimited in 2016 shortly after retiring at the age of 42 to help Main Street Americans do the same. We've reviewed several of his presentations here in the past, including his EV Stock for 300% Returns and 3D Printing Stock.
The real story and innovation at play, is right here in his left hand…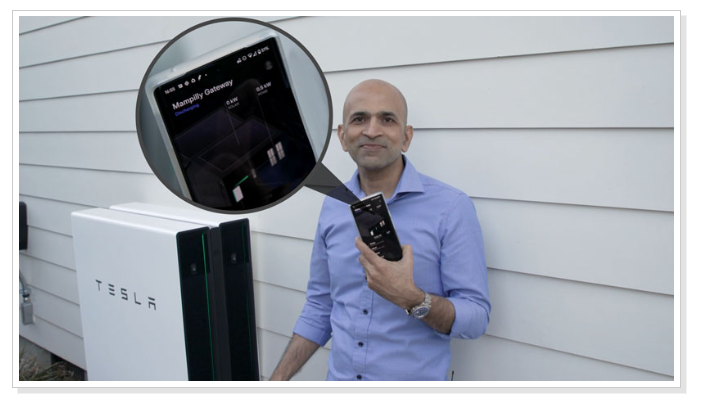 Mampilly calls the technology behind this app "iPower" and it's promising to change everything about energy as we know it.
The comparison is made to the kind of disruption we have seen hit other industries hard like:
Airbnb shaking up the $8 trillion hospitality industry, without directly owning any real estate
Uber taking over the projected $344 billion ride sharing space, again without owning a single vehicle
Now there's a new innovation that is going to disrupt the nearly trillion dollar renewable energy industry, without owning a single solar panel.
But think about this. There are now over 5 million American homes generating electricity from solar panels. With as much as 77,000 more coming "online" every month. Many of these will generate more power than they use. So what if you could match them with other consumers who need to use more power?
Well a few guys put together an app and now we can. This is why the "iPower technology" they're using has been called "The Uber of Energy".
Paul does some major pie in the sky projections when he says that "this disruption is bigger than the market opportunity for Uber, Airbnb and Amazon combined. Over 300% bigger".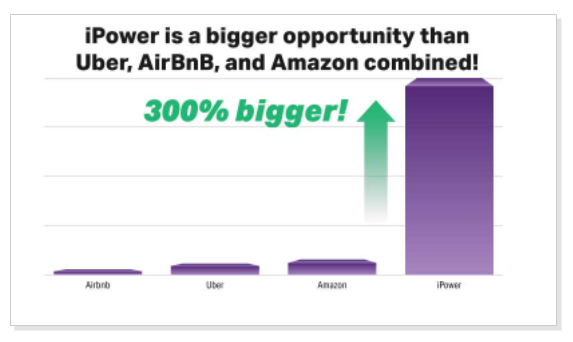 And the little-known company, which he will share with us today, is at the absolute forefront.
The Pitch
To be positioned to capitalize on the "iPower" trend and learn the name and of the company powering this trend, we will need to get our hands on the iPower: The Tiny Company Launching a $50 Trillion Energy Disruption briefing.
We do this with a one-year membership to Paul's investment research service, Profits Unlimited for a special price of only $47. This includes the special report highlighted above, a second special report called The No. 1 Tech Stock for America's Industrial Revolution, a third special report, and the standard stuff like regular monthly issues, a portfolio tracker, and so on.
What in the World is "iPower" Technology?
When Paul talks about "iPower" he's actually talking about virtual power plants. How do these work exactly?
It starts with millions of small energy devices in the U.S. including some 2 million homes with solar panels, 67,000 wind turbines, and approximately 1.8 million electric vehicles (EVs) on the road. Combined, these can generate enough power for nearly every American home and at a cheaper cost than fossil fuels.
The only problem is, all these devices are decentralized. They're either in homes or remote in areas with lots of sun and wind. This is where virtual power plants come in and more specifically the company at the forefront of this technology.
As per cNET: Virtual power plants or VPPs, group together smart thermostats, air conditioners, batteries and other home devices to supply energy to the grid and reduce the electricity needed. So instead of one single power plant supplying a whole town or city, thousands of different power sources act as the equivalent and create a new grid that delivers the SAME amount of power, while cutting power bills down to virtually nothing.
No more carbon emissions, power stations or lines and most importantly, no more blackouts. The best part is, this isn't a big hypothetical maybe. It's happening.
This is due to landmark Order 2222, a ruling from the Federal Energy Regulatory Commission (FERC), a little-known agency that oversees the wholesale market for electricity. Whereas this agency previously prevented any competition and acted to keep the incumbent power monopolies in control, this recently changed.
With Order 2222, any one of us can become a virtual power plant with just our home battery, electric car, even our heating pump. The growth is set to be breathtaking, with Paul calling it "the biggest grid overhaul in history" and it will all be powered by an app on our phone.
Revealing the iPower Stock
Now that we've explained how iPower works – by tapping into spare energy if you have a solar panel or battery. Let's reveal the iPower company set to become THE global app for almost every kind of energy device.
This technology uses AI that automatically scans 10 million bits of data in seconds, looking not just at the supply, but the demand as well.
Its algorithm analyzes all of this and can predictably send the precise amount of energy at the precise time. The end result is that your power bill can be up to 70% cheaper.
Recently this iPower company partnered with one of America's biggest energy cooperatives. One that provides power to some 800 electric companies, 700 phone utilities, and 50 million people in 48 states.
Its biggest disruption thus far is happening in Oakland, California, where the school district is upgrading its entire 10,000 bus fleet to go entirely electric and they're using this company's iPower technology to make it happen.
This company has not started trading publicly…yet.
Based on these substantive clues, we would venture to say that the company in question is AutoGrid Systems Inc. Here is what led us to this conclusion:
Legit Opportunity to Make Massive Gains on this "New Energy" Company?
First, we should get the news out of the way that AutoGrid is being acquired by Schneider Electric SE (Euronext: SU), which is a $71 billion, French multinational providing energy and digital automation solutions for efficiency and sustainability. This is how we can in-directly invest in AutoGrid come Q3 2022 when the transaction is due to close. Question is, do we really want to?
Since it is not a standalone, pure play virtual power plant provider any longer, it kind of diminishes the appeal. Schneider Electric is already a Global Fortune 500 company with over €28 billion in annual revenue last year, so we're no longer talking about a business with the majority of its growth ahead of it.
Can AutoGrid have an outsized impact on Schneider? Over the short-term, this won't move the needle much for the CAC 40 Component. Long-term, as its global reach accelerates and product adoption hastens, there is a distinct possibility that AutoGrid's results could become material.
Quick Recap & Conclusion
Paul Mampilly is teasing an "iPower" company that he says holds the key to the entire $50 trillion new energy revolution.
When Paul says iPower, he actually means virtual power plants and there is one California-based company that is ahead of all others when it comes to this technology.
In order to learn the name of this company, we will need a copy of Paul's special briefing: iPower: The Tiny Company Launching a $50 Trillion Energy Disruption. It is ours with a one-year subscription to the Profits Unlimited investment research service for a special price of only $47.
We were able to reveal the private company being teased as AutoGrid Systems Inc. Which is currently in the midst of being acquired by French multinational company Schneider Electric SE (Euronext: SU).
Schneider Electric is already a massive company and AutoGrid won't have an immediate impact on its financial results. But long-term this could change, as it will benefit from having access to Schneider's resources.
Are virtual power plants the next trillion dollar innovation? Let us know your thoughts in the comment section below.