So-called modern-day Nostradamus Luke Lango claims to have predicted the biggest tech trends of the past decade with stunning accuracy and now he's back with the biggest and possibly most controversial forecast of his career!
It's predicated on a new breakthrough innovation known as "G.C.T." Technology and there's a $3 stock at the center of it.
The Teaser
Technology insiders are calling it "a new technological paradigm", "a new frontier", and a "revolution". With many well-known companies being forced into bankruptcy as "G.C.T." goes mainstream in the months ahead.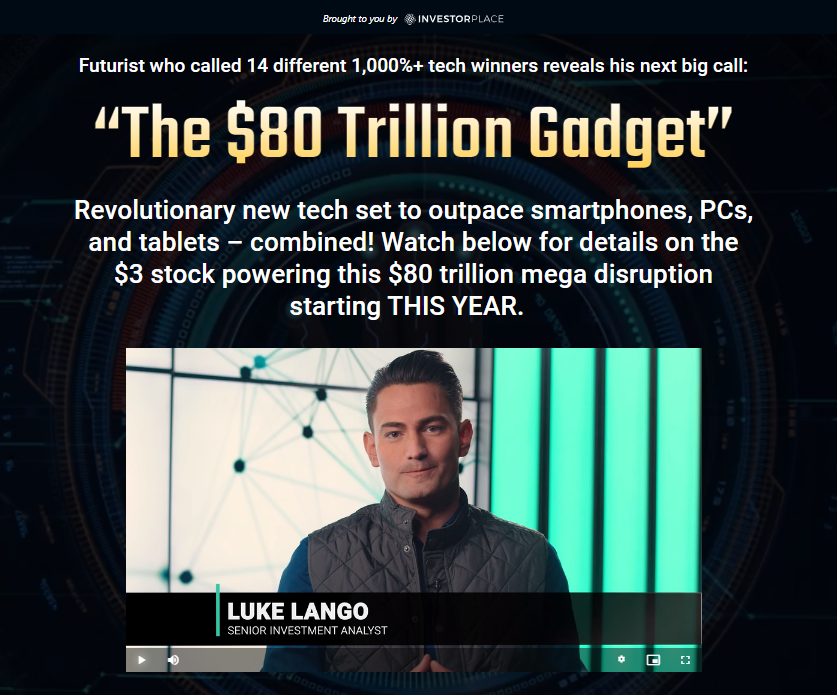 Luke Lango has frequently been rated one of the top stock-pickers in the world by numerous outlets and over the past few years, he has identified many up-and-coming growth stocks well before they were household names, like Advanced Micro Devices (1000%-plus returns), Shopify (1,000%-plus returns), and Tesla (1,000%-plus returns) among others. The Innovation Investor is his premiere newsletter, where he uncovers ground-floor opportunities and explosive new megatrends. We are familiar with Luke and have covered several of his presentations here in the past, including his "Hyperscale" Stocks and an in-depth review of his Innovation Investor research service.
A big reason why Luke is stepping forward to release details on his #1 G.C.T. investment is because many of the companies that will be negatively impacted by this incredible innovation are cornerstones of retirement accounts, IRAs and 401(k)s. So if you have money in the markets and are wondering what to do next, you don't want to miss this new tech megatrend.
The New York Times says this gadget could be the most important innovation of the 21st century: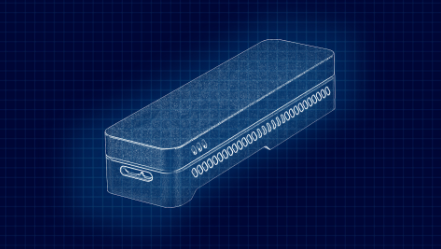 Those "in the know" simply call this breakthrough "G.C.T.", not many people know about it yet. But Luke guarantees it's only a matter of time before we see it featured on every news outlet.
Experts say up to two billion people will be using G.C.T. within the next 4 years, with folks who get in on the ground floor having a chance to see historic returns as G.C.T. skyrockets 6,566%. This is an oddly specific number and one that stacks up well even against some of the biggest winners of the past 30 years, like the FAANG stocks – Facebook, Amazon, Apple, Netflix, and Google.
Some of Wall Street's biggest funds have taken notice and are already shifting billions to get in front of G.C.T.'s fast-moving growth. For example, Vanguard, one of the largest investment funds in the world, has already invested $11.4 billion into this trend. J.P. Morgan Chase has invested $1.3 billion, and BlackRock has put up $9.8 billion.
Luke calls it "a mad dash like he's never seen before" and there's one little-known company that sits dead center of this new tech revolution.
The Pitch
Luke has put all the details about his #1 pick in a special briefing called: "The Next Microsoft: The Software Company Powering the $80 Trillion DNA Revolution".
This special briefing is ours as part of a low-priced trial offer to Luke's premier research service called…Innovation Investor. Normally a one-year subscription costs $199. But for a limited time, Luke is offering three special reports, including the one highlighted above containing the name and ticker symbol of the #1 G.C.T. stock, 12 monthly issues, access to a model portfolio, and a members-only web portal for only $99.
What in the World is G.C.T. Technology?
G.C.T. stands for "Genetic Coding Technologies" and the gadget we showed you earlier, is a DNA sequencer that can read your DNA and store, display, and analyze it on a computer.
Each human being's DNA is made up of roughly 3 billion letters in a sequence, it looks like this: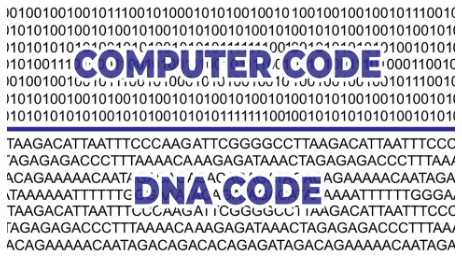 Our DNA determines everything about us, our hair, height, eye color, skin color, everything. But it's not just you and me, every living thing on Earth has a unique DNA sequence, be it animals, plants, even viruses.
Now this valuable information (a DNA sequence) is available to us cheaply and easily for the very first time. See, just like how the internet and PCs unlocked the "Information Revolution" of the '90s. DNA sequencing is unlocking the "Biological Revolution" of this decade.
This is all happening because the cost of this technology has plummeted over the past two decades. The first human genome cost nearly $1 billion to sequence. Today, it can be done for as little as $600 and some experts say it can be done for just $100.
Luke says every breakthrough technology we can think of, like the internet, personal computers, smartphones, even the automobile, always follows a predictable growth curve. It has two distinct phases:
The Gradual Phase. This is when a new technology moves through its initial phase of development until it is refined and becomes cheap enough for billions of people to adopt.
The Sudden Phase. This phase marks the point of mainstream adoption when the technology spreads around the world like wildfire and early investors can get incredibly wealthy in a short amount of time.
Just like we've seen with new technologies in the past, DNA sequencing is now cheap enough for the masses to adopt and has moved into the Sudden Phase.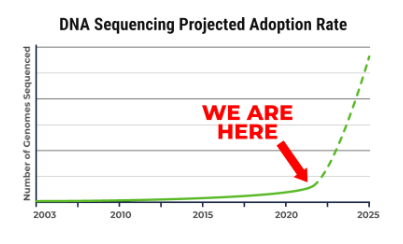 This means that the future is right now, with Genetic Coding Technologies already having a life-changing impact on the world around us. From the promise of ending rare diseases, which more than 475 million people that have been diagnosed with to bio-manufacturing, and more, with Luke's #1 GCT company playing a huge role in these massive disruptions.
Revealing the #1 G.C.T. Stock
Luke drops quite a few clues to help us decipher his pick, starting with the fact that…
The Genetic Coding Technologies stock is a software company. Luke says his research has led him to "what could be the software giant of the DNA era".
The company is headed by an MIT scientist who helped build ARPANET, the technology that laid the foundation for the internet.
We also know that it specializes in programming the DNA of microorganisms and then licensing out those programs to companies who use them to make physical materials, consumer products, and more.
Bill Gates has already publicly backed and invested his own money in this company and it has major partnerships with Quest Diagnostics, Cronos Group, and Bayer among others.
Based on these hints and some others, we think the company Luke is talking about here is Ginkgo Bioworks Holdings Inc. (NYSE: DNA). What gave it away?
First, Ginkgo Bioworks co-founder Tom Knight graduated from MIT with a PhD before joining the MIT faculty, where he worked on ARPANET – a very early version of the internet.
In their own words, Ginkgo's "cell programming platform enables the growth of biotechnology across diverse markets, from food to fragrance to pharmaceuticals".
Bill Gates via his Cascade Investment holding and investment company, invested in Ginkgo's $15 billion SPAC IPO.
Ginkgo has long had partnerships with the likes of Bayer, Quest Diagnostics, and others.
Is Ginkgo the crown jewel of the 4th industrial revolution?
Legitimate Opportunity to Make 6,566% or More?
Genetic Coding Technology is an innovation with a distinct dark side.
For example, the U.S. Supreme Court has greenlighted the ability to patent a type of DNA known as complementary DNA (cDNA). This essentially means that DNA manipulated in a lab is eligible to be patented. Up until very recently DNA sequences altered by humans were not found in nature, but now that patented mRNA genetic sequences (cDNA) can be found even in human genome sequences, we may have opened Pandora's box so to speak, insofar as living organisms being patentable and thus the intellectual property of someone else.
Companies like Ginkgo Bioworks are leading this charge, with co-founder Tom Knight even quoted as saying "The interesting thing to program in the 21st century isn't going to be computers — it's biology". From a purely financial standpoint, its easy to see the myriad uses and applications of bio-engineering…but at what ultimate cost?
Quick Recap & Conclusion
Luke Lango is back with his biggest and possibly most controversial forecast of his career. He's promoting a new groundbreaking innovation known as "G.C.T." Technology and one company pioneering its adoption.
We learn that "G.C.T." stands for "Genetic Coding Technologies" and his genetic programming stock pick is at the forefront of the "Biological Revolution" of this decade.
To get all the details about Luke's #1 pick, we will need to get our hands on a special briefing called: "The Next Microsoft: The Software Company Powering the $80 Trillion DNA Revolution". This is our with a subscription to his premier research service called Innovation Investor for $99 for the first year.
Luckily, you can hang on to your money. As we we're able to reveal the name of the stock right here for free as Ginkgo Bioworks Holdings Inc. (NYSE: DNA).
Genome engineering is definitely still at the Sudden Phase of adoption, meaning there is lot of opportunity to profit. Ginkgo describes itself as a bio-organism company, with an aim to transform all industries, which can be both good and bad.
What are your thoughts on Genetic Coding Technology? Will it lead us to a brighter or darker future? Let us know in the comment section down below.