Dylan Jovine is here to tease us with a cure that could spell "the end of Alzheimer's" and one that he also thinks "could be the biggest drug ever".
While this could mean a boon for humanity, which may potentially help up to 50 million people and of course, translate into massive financial benefits to investors, we should be skeptical. But Dylan says he has three words for us that will change our perspective. Lets find out how much truth (or not) there is to this.
The Teaser
These famous three words are the same ones that a scientist wrote down on a piece of paper in October 2013 and we're told they are "so simple that a five year old could say them". But these words also hold the key to a new breakthrough…
Dylan Jovine has been writing about the stock market since 2003 and he is the founder & Chairman of Behind the Markets, a company whose mission is to bring individual investors the same quality investment research institutional investors have access to. We have covered a couple of Jovine's pitches here in the past, including his CRISPR Stock and "5G Weapon" Company.
These infamous three words have garnered our scientist hundreds of millions in investment dollars, first in May 2015 from Fidelity Biosciences to the tune of $217 million and then in August 2016 from none other than Amazon founder Jeff Bezos himself, who cut him a check for $130 million. It also took his company just 390 days to reach a $1 billion dollar valuation, faster than any company in history, including Facebook. All because of these "three words".
Apart from treating a cruel disease, the author tells us that they could also "mint as many millionaires as other big winners started by visionary entrepreneurs". And he is going to "show us the three words…pictures, details and more…so we can see this breakthrough for ourselves", thus giving us the chance to get in for massive gains.
The Pitch
In order to get these three words and the name of the billion dollar company in question, we need to subscribe to the Behind the Markets investment advisory service. Normally $199 for a one year subscription, Dylan is offering the the first 1,000 people who respond to his teaser a deal, selling it for only $39.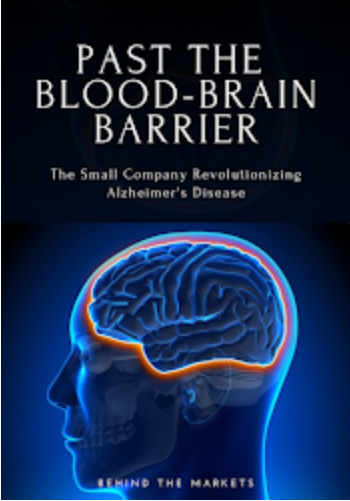 For this price you will receive direct access to a model portfolio, which typically recommends one new stock per month, 24/7 access to a "members only" website, and no less than 7 free bonus reports, including the one being teased here entitled: "Past the Blood-Brain-Barrier: The Small Company Revolutionizing Alzheimer's Disease".
The 3 Words Worth $20 Trillion
The title of this section stems from the author stating that "this breakthrough has the potential to save the United States $20 trillion over the next twenty years". This is owing to so-called "experts" saying that this treatment could help with "the biggest medical expense facing this country."
Besides this bold claim, Dylan also says that "there are 3 key ingredients to successful biotech investing":
Breakthrough Science…for which you need breakthrough scientists. Our mystery company is apparently "led by the former Head of Neuroscience at a Big Pharma giant".
A Massive Market. Since this company is working on a miracle treatment which could save the country up to $20 trillion, it pretty much takes care of itself.
Distribution Partner. This last ingredient is by far the rarest and most special according to Jovine and this company possesses it.
These have been the author's keys to previous biotech wins and he says "today's company has the potential to be bigger than all of them". This is because those three famous words we were teased earlier actually stand for "Blood-Brain-Barrier".
This is significant, because the challenge with Alzheimer's is getting treatments to reach the brain. This is due to the Blood-Brain-Barrier stopping 100% of large-molecule drugs from getting to the brain and 98% of small-molecule drugs as well.
This is the problem today's company solves. As it has allegedly developed a "Trojan Horse" that sends a signal directly to the Blood-Brain-Barrier to let it through. By actually making it to the brain, these drugs can begin the process of treating the disease itself, which differs from the Alzheimer's drugs currently on the market.
With the annual cost to treat just one Alzheimer's patient currently around $27,672, which comes out to a little over $2,300 per month. Multiply this by millions of people and The Alzheimer's Association estimates that, "caring for individuals with Alzheimer's will cost American society $20 trillion including $15 trillion to Medicare and Medicaid". While these estimates may be trumped up, it is still clearly a massive market.
But it could potentially be even more lucrative…because the challenge with treating any neurodegenerative disease is getting medicine through the Blood-Brain-Barrier (which this elixir does), it may be able to treat other neurodegenerative diseases also, such as Parkinson's, Dementia, and A.L.S. All told, this "technology platform" is expected to address a "$62.7 billion market". Lets find out the name of this breakthrough business.