How would you like to turn an initial investment of just $1,000 into a $461,800 profit or more? This is the claim made by Dylan Jovine in his latest marketing newsletter, where he teases a new type of weapon that is equipped with 5G tech and has the potential of changing the world of defense forever.
If you have been around for a while, you know not to take every financial investor-turned-author teasing the "next best thing" and promising huge gains with only a modest initial investment seriously. However, 5G tech is one of today's fastest growing sectors, expected to grow at a CAGR of about 77% in the years ahead. To identify the company teased by Jovine and its ticker symbol, you must subscribe to his newsletter program, Behind the Markets for $79 per year. Once you subscribe, you will receive monthly updates and new investment opportunities, as well as seven free bonus reports, including "World War 5G – The Small Company at the Forefront of the Military Revolution". But before you do, we are going to try and reveal it right here for you for free.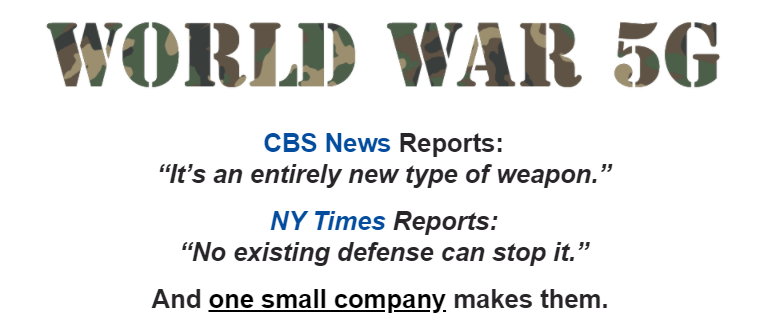 Dylan Jovine is an entrepreneur, investor, founder & Chairman of Behind the Markets, "a company whose mission it is to bring individual investors the same quality investment research institutional investors have."
In 1996 he founded the brokerage and investment bank Lexington Capital Partners (LCP) on Wall Street and was one of the youngest people to do so, as he was just in his early 20's at the time. Jovine is also known as a regular contributor to the investment letter The Tycoon Report and it is said he has predicted dozens of investment opportunities with returns of over 40-60%.
The Opportunity 
As for the company Jovine teases and the technology behind it, CBS News reports "it's an entirely new type of weapon" and "our research proves that anyone who gets in today could turn $1,000 into $461,800." According to the author, "it's the fastest weapon on Earth" and "can move as fast as 25 times the speed of sound". But what makes this 5G weapon impossible to defend against is that it can change direction in mid-flight, having the potential of winning a war. 
Although this stock has little to do with 5G and a lot more to do with national defense, you shouldn't automatically ditch it. We have covered several defense related teasers here in the past, see: Beijing's Death Star Teaser and Defense Supplier Stock.
According to Jovine, the Pentagon is rushing to create this new weapon and even mentions that "it's so urgent that they have 38 scientists working around the clock" at Sandia National Laboratories in Albuquerque, New Mexico. The breakthrough he talks about is the so-called Hypersonic Glide Missile that uses "new government-strength 5G communications technology. With the help of this new tech, missiles could potentially change their direction after being launched, making them impossible to track by enemies.
However, there are dozens of companies and microcaps alike all operating in the defense field, and this is why Jovine came up with a three-step strategy to identify the ones that are worth investing in. According to him, the following are three rules to earn massive profits in the defense sector:
Breakthrough science

Government contracts 

Government urgency 
The company teased by Jovine allegedly meets all these requirements – the Hypersonic technology, was awarded contracts with the state, and even benefits from the government's urgency as the Pentagon wants these missiles for all four branches of the military – the Army, Navy, Air Force, and Marines.
As we previously mentioned, the teaser title given here by Jovine is misleading, as no "World War 5G" company holds the solution to all of a country's defense problems. It may be beneficial for the military but the underlying technology is much more complicated than the one used for civilian 5G. With the help of the hyperspeed provided by 5G, the missile or weapon could theoretically reach its destination faster, but that's about as much as it has to do with this tech sector. 
Nonetheless, investing in a military defense contractor could broaden your portfolio, as long as you know how these companies work and what to expect from them.
The Defense Stock Being Teased
Throughout the pitch, we get plenty of hints that helped point us in the direction of the company Jovine teases. So, let's see what's out there and which conclusion we came up to. 
One of the first clues we were given is that "at the center of this massive market is a small company. It's only a fraction of the size of the biggest defense contractors like Lockheed Martin, Boeing, and Raytheon."
The second clue we're given is that "investors in this small company could make four times as much, or 35,960% on their money" because the Pentagon wants these weapons for all four branches of the military.
Next, Jovine mentions that "in the last year alone, the top defense firms in the world have all invested hundreds of millions in this technology as well: Lockheed Martin, Raytheon, Boeing, Aerojet Rocketdyne, and Spirit Aerosystems."
Given all the details we mentioned and others provided by the author, we believe that the company he pitches is Dynetics. However, things get a bit more interesting as the company has recently been acquired by Leidos (NYSE: LDOS).
Leidos is a major government contractor, and not a small hypersonic missile specialist like Jovine let slip in the marketing newsletter. Given this, Leidos may not skyrocket in the next months as predicted, especially with an uncertain future ahead with the upcoming U.S. Presidential election.
On their website, the recently-acquired Dynetics claims to provide "responsive, cost-effective, engineering, scientific, IT solutions to the national security, cybersecurity, space, and critical infrastructure sector". Its portfolio is diverse, including projects in advanced manufacturing, directed energy, intelligence, strike systems, weapons technology, space solutions, radars and hypersonics. It will be interesting to see how Leidos integrates this into their existing offering going forward.
Is This Still A Good Growth Opportunity?
Leidos' current market cap is just over $11.5 billion, while still large is a relatively small figure by comparison to other giants that receive government contracts for security worth north of even $40 billion in some cases. The new parent company – Leidos stock is relatively inexpensive too compared to some of its defense contractor peers that are more weapons-focused (GD, LMT, etc.). 
Unfortunately for investors, Dynetics doesn't own the idea of hypersonic travel or hypersonic missiles as Jovine teased, which means that it may have competition in the development of such weapons in the upcoming years, depending on the market's requirements and maturity. Leidos itself is currently working on a $3 billion contract to manage the nuclear research facility at Hanford and has been involved with other massive health system contracts for the military. 
Leidos even won a $2.9 billion IT services contract with NASA recently, which makes it far from being a small, innovative tech company that owns a 5G weapon as Jovine originally talked about. Ultimately, with Leidos you would be buying into a company that counts billions of dollars in government contracts, out of which only a small fraction goes to the development and implementation of the hypersonic weapon solutions. With that said, Leidos (and Dynetics) continue to focus on hypersonic systems and technologies, including the release of a Hypersonic Glide Missle that is said to be able to change its trajectory after it has been launched, with the help of 5G technology, so part of the growth story kind of remains intact.
To sum up, Leidos shares today aren't very expensive at a current P/E of 19, but we don't expect this stock to soar to the 34,000% potential Jovine promises.
Quick Recap & Conclusion
Dylan Jovine is a financial investor and author with almost three decades of Wall Street experience. In his latest marketing ad, he talks about a "5G weapon" company that is supposed to revolutionize the way war is fought and make the United States a technological military superpower again. 

The author pitches his own newsletter:

Behind the Markets

for $79 per year. Included, you will receive seven bonus reports, including the one that has the name and the ticker symbol of the company he teases here.

For those who aren't willing to pay up, we uncovered the name and ticker symbol of this company for you for free – we're talking about

Dynetics

, which was acquired, in January 2020 by a larger player in the national security field,

Leidos (NYSE: LDOS)

. 
Would you invest in Leidos or any other national security stock? Do you think defense contractors best days are behind them or lay just ahead? As always, we're happy to hear your thoughts.