Covid-19 changed the way companies do business and it's unlikely things will come back to the way they were, even after the pandemic is over. Some companies cashed in and even doubled their profits due to the Coronavirus spread, while others shut down for good. 
In one of his latest marketing ads, investment advisor Shah Gilani talks about this phenomenon in detail, calling it a new shift in the market. With big companies like Microsoft already announcing that employees will be allowed to work remotely over the long term, it's safe to say that remote working apps will continue to increase their profits over the next few years at the very least. This is what Gilani counts on when he teases five different "Hyperdrive Stocks", which he will reveal to subscribers of his investment newsletter Hyperdrive Portfolio. The goal is "to build a portfolio that triples in value over the next 18 months" with the claim that you can get a refund if it fails to live up to the hype. The subscription costs $1,750 per year and for everyone who would rather spend that money on just about anything else over the holidays, here is what we were able to uncover for free.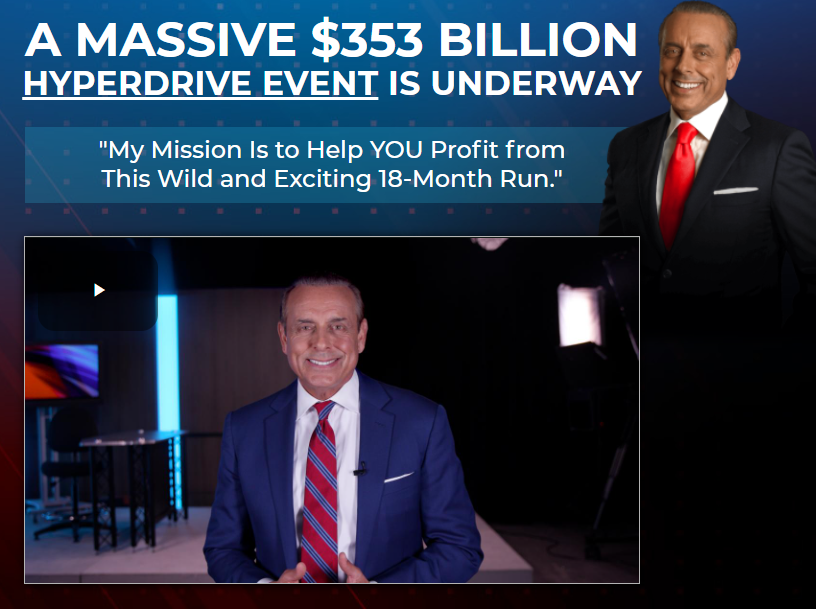 Shah Gilani is a hedge fund expert with deep connections on Wall Street. He founded his first hedge fund in 1983 and then another one in 1999, which he ran until 2003. He is the editor of Hyperdrive Portfolio and a regular guest on Forbes, CNBC, MarketWatch, and Fox Business. 
He has predicted numerous stocks which skyrocketed and thanks to his close contacts in the business world, is always looking for the next best stock to identify and reveal to his subscribers. Shah Gilani has also has an economics degree from UCLA.
The Opportunity 
In his latest marketing pitch, Gilani talks about investing in five companies that help you work from home. He compares the growth in this sector to the ones experienced by other companies like Netflix (video streaming), Amazon (e-commerce), and Apple (mobile). In his words, "now we're witnessing something different – the realization that work from home is not temporary but permanent. It's the new status quo."
He also claims that "the total transformation of the American workforce is here to stay" and that "it's going to be one of the biggest capital waves in history". And also one of the greatest buying opportunities you may ever see. If this sounds somewhat familiar, it should. As we hear it all the time in the teasers that we cover here: Hollywood Blockbuster Opportunity and Jeff Brown's Once In A Lifetime Opportunity, to name only a couple.
He goes on to pitch "five specific tech companies" that are set to skyrocket over the next 18 months. Shah also mentions that some of these Virtual Workforce stocks have large compound annual growth rates (CAGR). Saying that "in the fastest-moving hypergrowth situations 62%… 129%… 108..%… even 140% is a reality". We think we know exactly what companies Shah is leading us to, so without further ado here is what we were able to find out about the companies being teased by Shah Gilani.
The Five Companies Being Teased
As the title of  this section implies there is a lot to cover, so lets jump right in. Here is what we were able to find out for you, for free:
Company #1
The first stock he teases he claims to be "this tiny unified communications firm, which integrates a company's videoconferencing, phone system, email, chat, and presentations on a single platform."

The second clue we get is that

Wall Street

called this stock "a massive, multi-year catalyst" while mentioning that "as of 2019, revenues were more than $900 million."
Based on these and a few other clues, we are inclined to say that the company Gilani refers to here is RingCentral (NASDAQ: RNG). Early investors have already observed a meteoric rise in the company's shares.
Company #2
We receive a handful of useful details about this second stock too, the first one being that Gilani refers to it as the "

Anywhere Workplace"

.

Fujitsu has signed up its 140,000 employees… Nissan Motors its 136,000 employees, and other large companies have also signed contracts so that their global workforce can remain productive while having access to company files wherever they are.

Another clue that Gilani lets slip is that "this company just locked in an exclusive $1 billion cloud space contract with a very big player" and that the "company's subscription revenue is already up over 40% from a year ago."
We were able to identify this company as Citrix Systems (NASDAQ: CTXS), with subscription revenue up 45% year-over-year.
Company #3
Gilani mentions that this stock is "a Virtual Command Center company that uses groundbreaking Artificial Intelligence technology to keep hundreds, even thousands of remote employees working on the same network seamlessly. Even if they're no longer connected to a company's server".
The second clue we receive is that the firm is about "to release details of a partnership with the world's leading AI chipmaker that could send their valuation soaring by $129 billion."
Moreover, this platform uses AI to pinpoint the exact location of each remote employee and that "one client is one of America's largest banking institutions, with this technology helping cut its infrastructure costs by nearly 70%."
Based on the info we were able to gather, we think that the third company teased is VMWARE (NASDAQ: VMW), one of the innovators in the server virtualization field, which has been transitioning to a "cloud based company" over the past few years. They recently signed a partnership with NVIDIA earlier this year, but much like Citrix, it is already a very large company and achieving any level of growth at its large size takes a lot of effort.
Unfortunately, we didn't get much info about the last two companies being teased, so we weren't able to find out the names for you.
Are These Remote Working Companies A Good Opportunity?
As far as we can tell, all of the companies being teased by Gilani have been in business for years and are already mature companies. The author doesn't talk about micro or small-caps with a high-profit potential, as is usually the case with investment newsletter teasers. But instead, about large-caps that are already worth hundreds of millions and billions of dollars.
As someone that works entirely remotely and has done so for a few years now, I can tell you that I personally do not use any of the tools or software made by the companies being teased by Shah. Of course everyone's situation is different, but I like to keep it simple, sticking to an Internet connection, email, one or two chat apps, and that's it.
Typically investing in undervalued large-caps is usually far less risky and desirable for long-term profits, but the shares of these companies already sell for very high multiples, given that the general stock market is the most overvalued it's been by nearly every metric, in history. Needless to say, this may inhibit returns over the short/medium-term. Moreover, large companies rarely increase their annual profit margins by more than 10%, which means that you shouldn't expect to double your investment in 18 months as Gilani suggests in his teaser.
Quick Recap & Conclusion
In his latest marketing pitch, investment guru Shah Gilani talks about no less than five stocks that could bring you 100% or more in profits over the next 18 months. 

To find out the names and ticker symbols of these companies, you need to subscribe to his newsletter investment

Hyperdrive Portfolio

, for $1,750 per year with a refund policy in place however.

Based on the clues he gives throughout his presentation, we were able to identify three of these "hyperdrive stocks" for free as RingCentral (RNG), Citrix Systems (CTXS), and VMWare (VMW).

All of these companies are in one way or another benefitting from the remote working trend and have developed and implemented cloud technologies to ensure improved efficiency for remote workers around the world, during the current Coronavirus pandemic and before.

Shah Gilani believes that the "work from home" trend and telework will increase in popularity even after the pandemic is over, providing a shift in the workspace paradigm.

Given that Gilani's main recommendations are mature companies, whose shares already sell for sky-high valuations, we don't necessarily consider them good short-term investments at their currently prevailing price levels. Additionally, any returns given the multinational size of these companies likely won't be as large

as Gilani promises. 
What do you think about the remote working trend? Have you made the switch yourself? If so, what online tools do you like to use? Always appreciate your comments and feedback.