Short-term catalyst trader Ray Blanco says a "tiny sub-$5 ant-aging stock" has just been awarded a major patent that could turn out to be the most valuable in history.
This is because it claims to treat one of the biggest and most common ailments in America today, one that afflicts 54 million people – arthritis or simply joint pain.
The Teaser
More "urgent buy alert" than a full teaser, Ray thinks several factors are going to send shares of his tiny stock pick to the moon.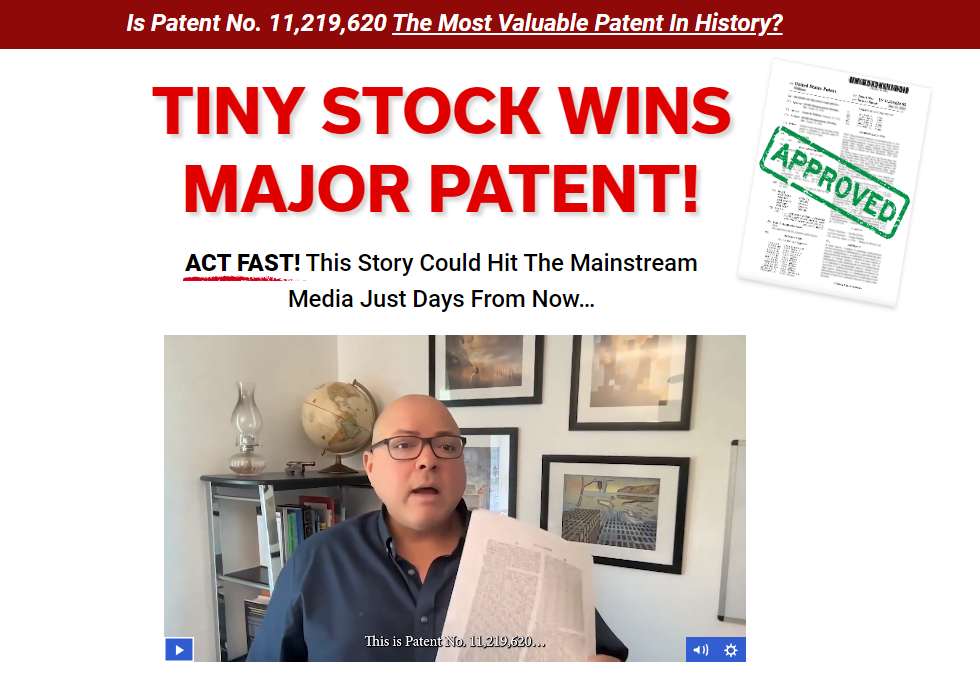 Paradigm Press, which is owned by the largest financial newsletter publisher in the country – Agora Financial, calls Ray Blanco its resident tech expert. He has a track record of identifying "the next big thing" and we have reviewed some of these next big things here on Green Bull, including Blanco's BESS Company Opportunity to Make a 122x Return and the much-promoted "Hypernet Company."
The reason given for this imminent bump is that Ray sat down with the CEO of the anti-aging stock and he learned some "shocking details" about what's coming next.
This includes some official documents from the FDA and confirmation of a major upcoming announcement.
A Rapidly Growing Market
According to a US Census Bureau survey, it was estimated that there were more than 55 million people aged 65 and over out of a total population of 331.8 million, or 17%, as of the end of 2021.
This figure is projected to reach 95 million by 2060, nearly doubling.
All of this means more brittle bones and a bigger market for this company's miracle drug.
It should be noted that the current incumbent in this market is AbbVie (NYSE: ABBV), which makes Humira, the world's best-selling rheumatoid arthritis and psoriasis medicine. The pharma giant has earned more than $200 billion and counting from this drug alone since it was first released in 2003.
Predictably, such large returns have inspired others to join the fray. Chief among these is the multinational biopharma company Amgen (Nasdaq: AMGN), which developed a biosimilar drug called AMJEVITA in 2016 and recently launched it.
Now, Ray's tiny micro-cap company is also attempting to treat arthritis by developing a solution that could possibly end it once and for all.
The Pitch
The name and ticker symbol of this tiny, early-stage stock is revealed exclusively in a special buy alert called 20x Your Money With This Breakthrough Arthritis Announcement.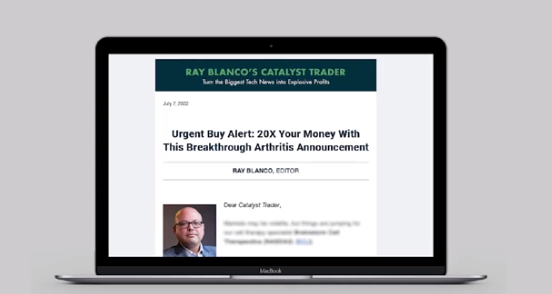 A subscription to the Catalyst Trader newsletter is needed to get our hands on it, which carries a cost of $1,995 for the first 290 people that sign up. This offer includes a 20x profit guarantee or we get the next year for free, urgent flash alerts on new opportunities that have catalysts already in place, and weekly updates on existing recommendations.
Three Catalysts About to Take This Tiny Stock Higher
True to his newsletter's namesake, Ray says three things are about to take shares of his tiny stock pick parabolic.
A Secured Patent
This is Patent 11,219,620, titled "Method of Treating Sarcopenia" that Ray briefly mentions at the beginning of his video presentation.
Upon closer look, this patent is not new, as it was awarded by the U.S. Patent and Trademark Office (USPTO) in January 2022. This was around the time the company launched its Phase 2 trial for a therapy that treats sarcopenia, frailty, and aging.
As I noted earlier, Humira already does this. But apparently, it doesn't do a good enough job, and this new patented treatment could be up to 70% more effective.
Best of all, clinical trials have also shown it to have fewer side effects.
Major Announcement in the Pipeline
The imminent announcement being teased here is this company's latest clinical trial results, which are due "any day now."
Clinical-stage drug developers live and die by these.
A single trial result can cause the stock to either soar or send it crashing back down to earth like a SpaceX rocket. Ray is confident that it's the former in this case and even says this will be the final step before being able to submit to the FDA for final approval.
A Picture of a Mouse!?
Yes, but not just any regular ol' mouse.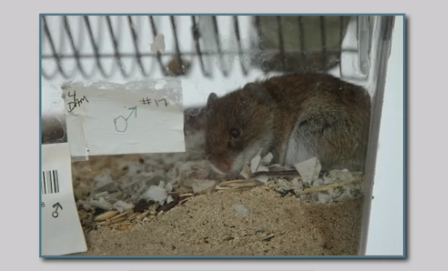 A 200-year-old mouse…in mouse years at least.
See, this is possible because this company's new drug fights what is believed to be a leading cause of age-related ailments – inflammation.
Something called Tumour Necrosis Factor (TNF) is a central factor in inflammatory reactions. The new drug currently undergoing trials helps reduce the TNF proteins in your body, which slows down inflammation.
During an early trial, the drug was given to a group of elderly mice, seniors if you will, and what happened next surprised everyone. Not only did the drug lower inflammation in the mice, but they all ended up exceeding their natural lifespans.
So, maybe this new drug can do the same for humans?
Revealing Ray Blanco's Anti-Aging Stock
What are some of the clues we have to work with?
Ray calls it a "$87 million stock flying under the radar."
The company is a clinical-stage pharmaceutical business that is the holder of Patent no. 11,219,620.
It is developing a TNF inhibitor drug that is currently in Phase 2 or 3 trials.
Based on these and the patent application, in particular, the stock Ray teases is MyMD Pharmaceuticals Inc. (Nasdaq: MYMD). The clues are a hand-in-glove fit.
MyMD's market cap as I write this is hovering around the $84 million dollar mark.
It describes itself as a clinical development stage pharmaceutical company, focused on developing therapies to treat aging and age-related diseases. The company is also the owner of Patent 11,219,620.
The primary drug in its pipeline is codenamed MYMD-1, which claims to help boost TNF inhibitors in the human body and is presently in Phase 2 clinical trials.
Miracle Drug or Mirage?
The jury is still out on MyMD's MYMD-1 therapy, but this early-stage pharma stock isn't likely to go anywhere for a long time.
I say this for two reasons:
First, all pharmaceutical companies without exception have really long timelines to market, like really long. How long are we talking here? According to Nature, the clinical development time of a typical innovative drug is 9-10 years.
This directly leads me to the second reason, dilution. What happens to a business that has little to no revenue coming in for a decade or more? If it manages to survive at all, it does so by diluting existing shareholders into near oblivion and possibly taking on some unsecured debt with a credit card-esque interest rate as well.
Add to these things the fact that chronic, high-prevalence disease therapies like MYMD-1 have an overall likelihood of approval (LOA) of only 6% and MyMD stock looks like it will be bad for my peace of mind and pockets.
Quick Recap & Conclusion
Momentum trader Ray Blanco says a "tiny ant-aging stock" with a major patent award could turn out to be the biggest story of the year.
In true momentum fashion, three catalysts are named that will take this stock higher – a secured patent, an announcement of a positive Phase 2 clinical trial, and the hope that the therapy being developed will help extend human life in addition to treating and curing arthritis. Some big claims.
The name and ticker symbol of this tiny, early-stage stock is exclusively revealed in a special buy alert called 20x Your Money With This Breakthrough Arthritis Announcement. It is ours with a subscription to the Catalyst Trader newsletter, which costs a not-so-low $1,995 for the first year.
If you made it to the end of this review, you don't have to fork over a single cent, as we were able to reveal Ray's pick as MyMD Pharmaceuticals Inc. (Nasdaq: MYMD).
MyMD is an early, clinical-stage microcap that still has a long way to go before it gets final FDA approval for its TNF inhibitor therapy…if it ever does.
Do you see something in MyMD stock that I don't? Let me know in the comments below.