Nick Hodge reveals that he's witnessed America's #1 biggest gold mine firsthand, and in the span of nearly 3.5 miles, it was hard to find anywhere gold was NOT.
All said this deposit could carry 10 million ounces of gold, and a tiny (sub-$1) Gold Mining Company is behind it all.
The Teaser
Nick says he's spent the last five years studying this deposit and the tiny company that owns it. 
Digest Publishing is all about actionable investment research and ideas for professional and self-directed investors. Nick Hodge is its co-founder and the author of Energy Investing For Dummies. We're no strangers to energy presentations either, having reviewed Nomi Prins' $4 "Liquid Energy" and Adam O'Dell's "Infinite Energy" Software Pick.
He's read the geologist reports, independent surveys, and studied the 150-year history of the mining district it's located in, which is one of the most well-endowed gold areas in the world. 
Nick has even made two fact-finding site visits and he's impressed, to say the least. 
"It could hand investors the biggest and fastest gains of 2023, or the entire decade."
Officially, there are 4 million ounces of gold at this site now.
Which alone makes it one of the biggest gold deposits in America. But that's just one part of the equation.
New Technology is the Key
This project has already produced gold. It was once the largest gold mine in Idaho.
But new technology has made it possible to unlock an entirely separate high-grade gold deposit near the old mine. And the market has yet to catch on.
This discovery has Nick believing that there's at least two times more gold at the deposit than the official reports say. It could carry as much as 10 million ounces of gold!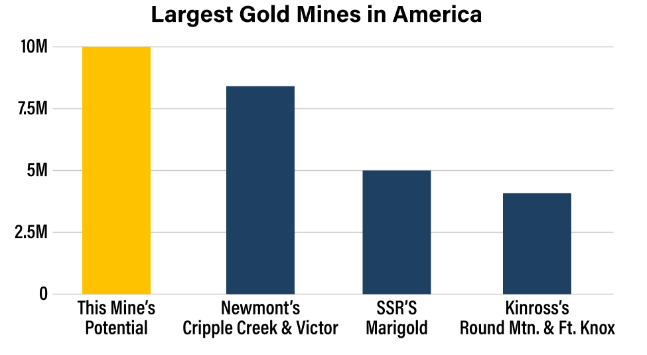 Even based on a conservative gold price of $1,500 per ounce, which is hundreds of dollars below where it's trading now, that would be a $15 BILLION gold jackpot.
The opportunity lies in the fact that instead of the gold mine being owned by giants like Barrick or Newmont, like almost every other big gold mine in America. It is actually owned by a tiny, virtually unknown miner whose shares trade for under a dollar.
The Pitch
Nick reveals the name and ticker symbol of the sub-$1.00 company with complete ownership of the mine in a special report called "Drilling Into A 20-Bagger: Exposing the Potential of America's Next Biggest Gold Discovery"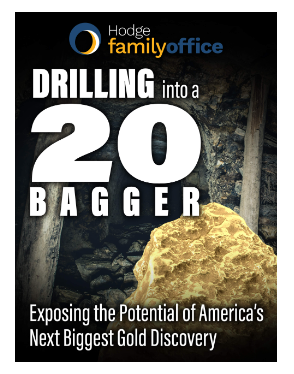 The report is available to subscribers of Nick's weekly newsletter called Hodge Family Office. A subscription costs $999 annually or $3,999 for a lifetime membership and with multiple perks. Among these are two additional special reports, 52 weekly issues of the newsletter, and regular investment alerts.
How or Why Has this Gold Miner Been Kept a Secret?
This project looks great on paper:
One of the top gold plays in America
Located in the 2nd largest gold-producing region in the world
A past producer with low technical and permitting risk
Not owned by a major gold company
But I keep harking back to one thing…
Why haven't I already heard of this major new gold discovery and why keep its true wealth potential under the radar?
Nick says that it's all rather simple. First, mines with 4 million ounces of gold are apparently much easier to get approved. Fewer "official" reserves mean fewer loopholes, less waiting time, and less regulatory hassle. Sounds legit.
But this still doesn't explain why it's not in the financial media. 
See, the mainstream financial press tends to talk about only two things:
Spectacular success stories
Crash and burn failures
Since this project is still at an early stage, it doesn't fit into either category at the moment.
A Short-Term Price Target
This could work out to our advantage, as once this mine becomes publicly known as America's next biggest. Investors and potential acquirers will jump over one another to buy it hand over fist.
Using previous buyouts as an indicator, Nick expects an acquisition for no less than $8.00 per share. Where does he get this number from?
Last year, gold miner B2Gold bought out Oklo Resources for $62 million. Oklo had gold resources of 669,000 ounces. So B2Gold paid just over $92 per ounce. 
At the same rate, the ten million ounces this project has would be worth $926 million, making every share worth at least $10.65. That would make this stock a 2,030% winner.
Revealing Nick Hodge's Tiny (sub -$1) Gold Company
Historically, few things have returned bigger and faster gains than a major gold mine discovery. Especially when the price of gold is moving higher like it is now.
In this respect, here is what we know about the major gold discovery unfolding now:
Its been called America's #1 developing gold mine
Located on 16,000 acres in a remote Idaho town
Officially, there are 4 million ounces of gold there now
Currently trading for under $1
The company behind this project is Perpetua Resources Corp. (Nasdaq: PPTA). Here is what makes us so sure:
Perpetua's gold project is located in Stibnite, Idaho. About 144 miles by road northeast of Boise, Idaho.
Estimated to be the 8th largest gold reserve in the U.S., with more than 4 million ounces of gold projected.
Perpetua's shares aren't selling for below $1, but they are still cheap at just over $3 per share.
A Surefire 10-Bagger?
It's true that major metal discoveries can mint new millionaires.
But it also rings true that handsome sums have been lost prospecting. Under what category does Perpetua fall?
The Stibnite Gold Project is 100%-owned by Perpetua and it has three deposits:
Yellow Pine
Hangar Flats
And West End
Combined, these deposits (officially) hold 4.04 million ounces (Moz) of gold and other by-products, including 2.07Moz of silver and 99.8Mlb of antimony.
On paper, this conservatively makes the project worth at least $6 billion ($1,500 per ounce x 4.04 million ounces). A long way up from Perpetua's current $220 million valuation. Why the discrepancy?
At present, the company continues to advance the project through the lengthy permitting process. Having just completed initial stream diversion activities, and progressing mediation discussions with relevant third parties.
Perpetua anticipates a Final Environmental Impact Statement (FEIS) and a permitting decision in mid-2023 based on the last schedule published by the US Forest Service.
As you can see, a stake in Perpetua at this stage is a long-term commitment with no guarantee of a return, given the current federal government administration's bias against such projects.
Quick Recap & Conclusion
Nick Hodge is here to tell us about a tiny gold mining company that owns America's next big gold deposit.
We learn that there are 4 million ounces of gold at this deposit now, with the potential for as much as 10 million ounces of gold.
Nick reveals all, including the name and ticker symbol of the company that owns the deposit in a special report called "Drilling Into A 20-Bagger: Exposing the Potential of America's Next Biggest Gold Discovery". The only way to get the report is with a $999 annual subscription to the Hodge Family Office weekly newsletter.
Fortunately, you can skip the hefty fee, as the company that owns 100% of this deposit is Perpetua Resources Corp. (Nasdaq: PPTA).
Perpetua is still knee-deep in red tape as we speak and trying to secure all the necessary permits to move the project forward. Mid-2023 looks like the earliest this will happen.
Is Perpetua a worthy speculation at this stage? Let us know your thoughts in the comments.