Financial author Martin Weiss has a shortlist of cryptocurrencies that he believes have the best potential to collectively create greater wealth for investors than Bitcoin ever has.
He calls these his "Next Bitcoins" and they're part of "The Greatest Money Revolution of All Time."
The Teaser
Cryptocurrency is perhaps the most significant wealth-creation engine of the 21st century.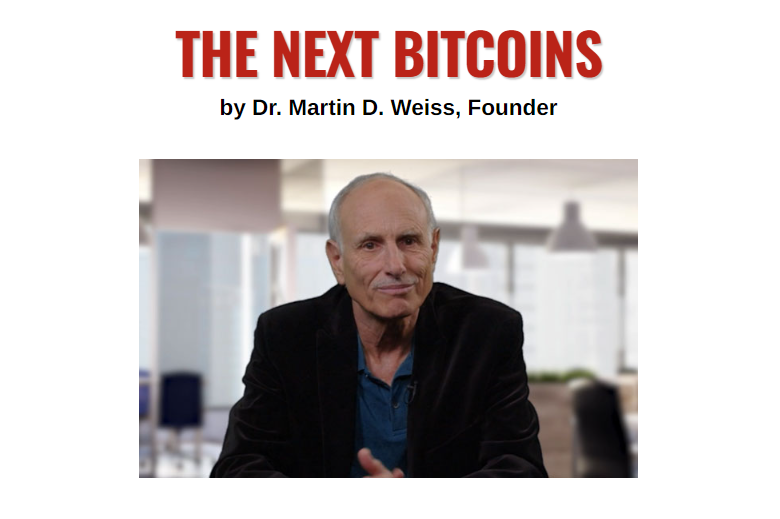 Dr. Martin D. Weiss (he has a Ph. D) is the founder of Weiss Ratings, the only recognized rating agency in the world that grades cryptocurrencies. We have done an in-depth review of Weiss Rating's newsletters here at Green Bull and also covered some of their previous crypto picks.
I don't think calling crypto the best investment of the century (so far) is an overstatement. Some might even say it's an understatement.
Cryptocurrency has delivered a whopping 1,576% average annual return and an 18,912% total return from 2010 to 2021. The following two best-performing asset classes – US stocks and real estate have returned around 200% since January 2010.
Sure, this has been by and large thanks to the largest cryptocurrency of them all – Bitcoin. But there's a new, transformative sector of the crypto world emerging called Decentralized Finance, or DeFi for short, that could be much bigger than Bitcoin.
This is because it's creating an entirely new kind of financial system that cuts out the middleman. One that lets people borrow and lend money directly from each other, that lets people buy and sell assets directly. Peer to peer. Without traditional banks, or brokers, and even without stock exchanges!
Banks Should be Scared
Billionaire Mark Cuban said this when asked about DeFi.
Brian Brooks, the former U.S. Comptroller of the Currency, says it is "one of the great forces reshaping financial services."
They recognize that the next wave of cryptos is beginning to thoroughly revolutionize the largest industry on earth…banking and finance. 
Consider this, the total assets in the financial system today add up to more than $400 trillion! That's 20 times bigger than the entire GDP of the United States. According to DeFi Pulse, a website that tracks this sector of the crypto world, back in 2020, Decentralized Finance had less than $1 billion in assets. Now, it's close to $100 billion in assets.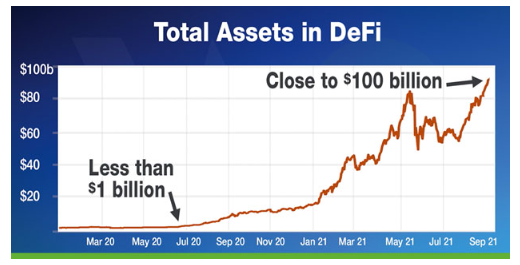 It has grown more than 100-fold in a very short period of time.
The cryptos Martin names in this presentation have already laid the groundwork for transforming nearly our entire world from a centralized system, controlled by so-called "elites", into a decentralized system, controlled by billions of people.
The Pitch
Getting in on Decentralized Finance (DeFi) and specifically one cryptocurrency that provides the infrastructure behind it is easy. Martin lays it all out in his Weiss Crypto Investor newsletter.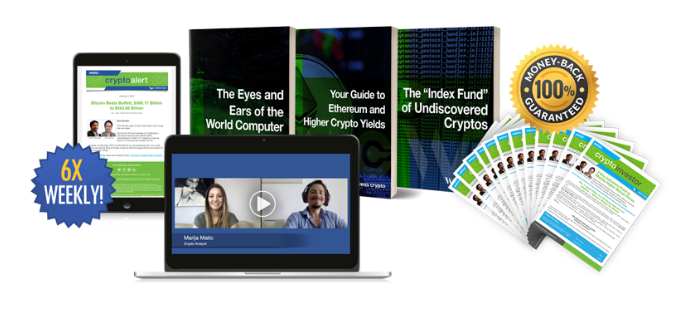 Included in a one-year $39 standard membership are 12 monthly issues plus six premium bonuses, including three special reports which unveil Martin's DeFi picks and a free subscription to the Weiss Crypto Daily service.
Three Ways to Buy into the DeFi Money Revolution
As I highlighted earlier, the traditional financial system has $400 trillion in assets. So, it's still about 4,000 times larger than Decentralized Finance.
But, if Decentralized Finance can compete with, or replace, just 10% of traditional finance, it will grow 400 times and it will be 40 times larger than Bitcoin is today. This is why the opportunity is so explosive.
Here are three ways Martin suggests we get in on the DeFi revolution:
#1 Own the Crypto Coin Providing the Infrastructure
Martin states that the basic building blocks of DeFi would not be possible without this coin.
In rising markets, it has also grown three times faster than Bitcoin, on average.
#2 Buy Three Small Crypto Coins
All three are already proven leaders in the world of DeFi.
They're also easy to buy and their growth during rising markets has been even faster. No word yet about what happens in down markets, but I think I know the answer.
#3 Pick up some Rare, Undiscovered Coins
This may be the most intriguing one of all, as we're talking about virtually unknown coins, that are not so easy to buy.
Martin likens these to having the chance to buy the next Facebook before its IPO. Like Peter Thiel did to score a nearly 200,000% gain.
Trouble is, investing in private companies just isn't possible for most people. Unless you're an accredited investor or know someone, that knows someone else. This isn't the case with crypto, as we all have the ability to buy these coins before most other investors.
So, what should we be buying? There are over 12,000 different cryptocurrencies after all, and most are absolutely worthless.
Revealing Marin Weiss' Next Bitcoins
Before getting into what we should buy, Marting lists off seven coins to avoid at all costs. These are:
Algorand
Holo
ICON
Wanchain
Skycoin
Kin
Electroneum
He believes we can cut our risk by a wide margin, simply by steering clear of these no matter what hype we may hear about them on the internet.
With this out of the way, the first coin we should buy, the absolutely essential building block of Decentralized Finance is:
Ethereum (ETH)
In every single rising market, since Ethereum was first launched, it has always gone up roughly three times more than Bitcoin. And that was before DeFi even existed.
As for the three small crypto coins and the rare, undiscovered coins? We're given clues about one from each category and nothing more. See for yourself:
Martin calls the first small crypto "The Eyes and Ears of the World Computer." It's a cryptocurrency that connects the Ethereum network to the traditional financial world.
The rare coin is the "Index Fund" of Undiscovered Cryptos. It's not a cryptocurrency we can buy on a crypto exchange and true to its name, it gives us a stake in a diversified portfolio of cryptos that are themselves undiscovered.
So, what are these pair of crypto coins?
"The Eyes and Ears of the World Computer" is Chainlink (LINK). It's the most widely used network for powering universally connected smart contracts.
The "Index Fund" of Undiscovered Cryptos is Yield Guild Games. YGG is a play-to-earn gaming community and it operates much like an index fund, but in the world of crypto. It owns a portfolio of other cryptos and NFTs.
The Best Time to Get Back into Crypto?
No one knows what's going to happen next in the wild, topsy-turvy world of crypto.
But what we do know is that, unlike crypto in general, DeFi has grown 100-fold just since 2020. Objectively, it could grow another 400-fold and still represent no more than 10% of the global financial system. This is a very realistic long-term projection.
Arguably, it's the largest opportunity in crypto since the birth of Bitcoin. Add to this the fact that it's also actively working to make central banking redundant (something we think is inevitable over a long enough timeframe) and we're all aboard the DeFi train. 
Quick Recap & Conclusion
Martin Weiss' "Next Bitcoins" is all about a shortlist of cryptocurrencies that have the most potential since Bitcoin.
These are all part of a transformative sector of the crypto world called Decentralized Finance, or DeFi for short, that could end up being much bigger than Bitcoin.
Martin reveals these coins in his Weiss Crypto Investor newsletter. A one-year standard membership costs $39 and nets us a series of special reports containing the info we are after.
We're given a freebie on Martin's top pick, which is Ethereum (ETH). As for his other small and rare coin picks, we're only given clues about two and we were able to reveal them both. They are Chainlink (LINK) and Yield Guild Games.
DeFi looks like it will be the biggest disruption to banking and finance in over a century. We're always happy to support a good cause and maybe even make some money while we're at it.
Is the hype about Decentralized Finance real? Let us know what you think in the comment section below.