While most investors and financial advisors bet on long established sectors of the economy, like technology. Some take a different approach and choose to tackle an emerging market sector, such as cannabis. With a legal history of just 24 years, the cannabis market in the United States generates has already reached close to $9 billion in annual revenues and is also rapidly growing, as more states are legalizing the consumption and cultivation of cannabis plants.
In one of his latest marketing pitches, John Burke teases a small, privately-owned "Wonder Plants" company that has developed a solution for one of the most dangerous problems cannabis crops are facing – an invasive microscopic species of pests, spreading across the country. The solution envisioned by this company is a bioengineered cannabis plant that is superior in its makeup and can kill spider mites and pass on healthier genes to children crops. 
There is apparently also a great investment opportunity lying behind this company, so here is everything we were able to find out about it.
The Teaser
According to Burke, this mystery cannabis startup's value could soar 11,113% within the next year, based on the company's bioengineering breakthrough that can make cannabis plants stronger and more potent.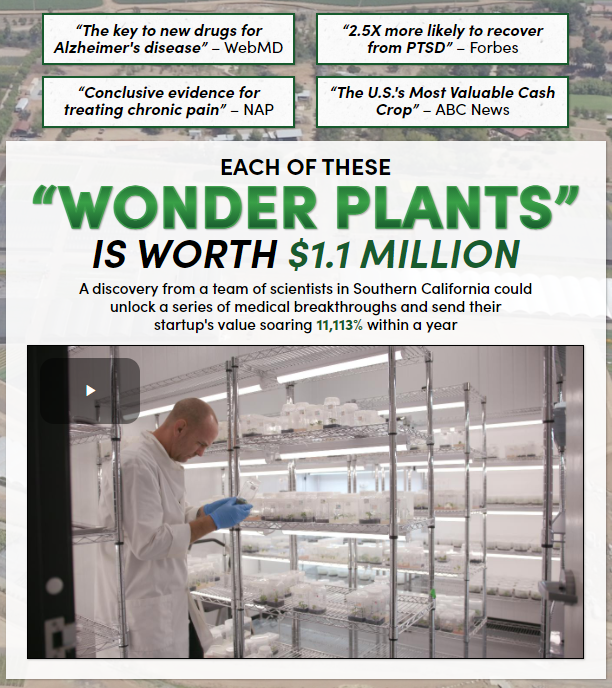 John Burke is a leading investigative journalist with the National Institute of Cannabis Investors (NICI). He provides research and content for a variety of NICI's newsletters, including the Cannabis Venture Syndicate letter being teased here, which he helped start. This time around he is sitting down with Mike, the founder & CEO of the "wonder plants" company in question. We have covered plenty of cannabis related teasers here in the past, including Don Yocham's Cannabis Venture Trusts and Jimmy Mengel's USA Cannabis Stock, to name but a few. However, this format with the company's founder is a bit different.
What Burke mainly focuses on is describing the dangers of the spider mites and how these new, bioengineered cannabis crops can not only pass on superior genes but are also stronger and more resilient as opposed to regular plants. According to him, "this invasive species is already terrorizing 33 states. But they're spreading like wildfire, with sightings reported as far away as Guam". Given the expansion of cannabis crops around the US, these pests could potentially destroy everything in their wake.
"They'll feast on over 200 types of crops – corn, strawberries, carrots, tomatoes, you name it", and now they have already spread to cannabis crops too, which is why they must be stopped before they become a national menace. So, what makes these bioengineered cannabis crops strong enough to kill pests? According to the author, "each of these mother plants is worth $1.1 million" and that "a discovery by a team of specialists in Southern California could unlock a series of medical breakthroughs and send their startup's value soaring by 11,113% within a year".
Burke sees a unique early investing opportunity in this company and wants to let you in on it…if you join his investment newsletter that is.
Before we move on to the actual sales pitch, it is important to understand that what is being pitched here is not a publicly traded stock, instead the company Burke talks about is still privately-held, meaning an IPO could be in the cards down the road. He reiterates this point by saying "we're projecting their valuation could soar 11,113% within a year" and "an IPO COULD be in their future".
The Sales Pitch
In order to gain access to this investment opportunity, you have to join the Cannabis Venture Syndicate, a newsletter Burke helped start together with other cannabis market investors. With this, "we're going to bring on the founders of the hottest cannabis startups to pitch their business straight to you in Live Hot Seat Sessions" and, a week before each Hot Seat Session, "you'll receive that startup's Due Diligence Package".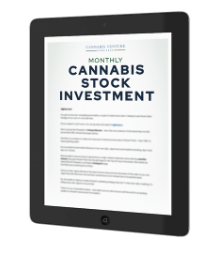 The program pitched by Burke costs $1,950 per year and, for that money, you will get all the Diligence Reports on all featured startups, so you can get an early glimpse into some promising early-stage companies. Moreover, "if the featured startup showcased in this teaser doesn't reach its valuation target of $5.94 billion within 12 months", you will be entitled to the second year of your subscription free of charge. 
What Is This "Wonder Plants" Company?
With the domestic US cannabis market growing by an above average 14% year over year, investing in companies that produce and prepare this plant into a myriad of products could prove extremely profitable. Although consumption or possession is still not legal in all 50 states (33 as of press time), legislation is already moving forward in some remaining states, especially after research was recently published about the positive effects of cannabis in treating and ailing hundreds of diseases, afflictions, and conditions. 
Unfortunately, not all cannabis plants are of "top shelf" quality and this affects their medicinal effects. 
As previously mentioned, the legal cannabis industry is only a little over two decades young, which hasn't given scientists and botanists much time to fully research the plant's natural pests and how to protect against them. Now there's a "tiny, privately held company" looking to change all this and promises to have "discovered a way to safely and naturally turn back the biological clock inside a cannabis plant and boost its immune system".
The results, according to the company's founder and CEO, Mike, can not only improve the life of cannabis plants and make them more resilient against natural pests, but can also potentially reverse the aging process of the plant, maintaining it in the perfect state to be harvested all year long. 
However, finding the right combination of THC, CBD and oils takes years of research and implies cross-breeding dozens of different cannabis plants, carefully testing and studying their effects. While "THC gives people that high feeling, it also has medical benefits". CBD offers some strong therapeutic effects and finding the perfect combination could potentially aid hundreds of neuronal and joint affections.
By crossbreeding several different strains, this "tiny startup from San Diego, California" has created the perfect entourage effect, "a plant with the ideal genetics for their brand" or, in other words, "the mother plant". Burke says that "you want to clone this mother plant as much as you possibly can" as each plant is potentially worth $1.1 million and could help growers from across the country. 
"Last year, the Denver Department of Health found 80% of the cannabis they tested from dispensaries had been infected" but the team of specialists behind this company "has developed a process that could destroy these pathogens for good" and most importantly, without using any chemicals or pesticides. They are, in fact, reversing the aging process of the plant and refreshing "her immune system, and eliminating all those viruses, molds, spider mites, and other predators with zero pesticides". Therefore, what they are creating is called an "elite mother". 
The main reason why people would want to harvest the leaves of an "elite mother" plant is that they can make sure each plant has the perfect combination of oils, CBD, and THC, which would make all other products derived from it accurate. 
According to statistics, over 80% of the products that are now found in dispensaries, including edibles, have inaccurate data about their THC level. This is possible because the cannabis strains used are not 100% healthy and if affected by insect predators such as spider mites, their efficiency could drop by 50%. Therefore, if the mother plant is affected by pests, it passes down these flaws from generation to generation, degrading not only the CBD levels of the strain but also the THC and the oils contained, which results in less than potent plants over time.
Revealing This "Wonder Plants" Company
Throughout the presentation, Burke drops several hints about the company he's teasing and even invites its CEO, "Mike", to chime in about their breakthrough technology and how it can increase the productivity of cannabis plants. 
The author starts his presentation by referring to a small, privately-owned company that has developed a solution to the problem of spider mites – via bioengineered cannabis plants that kill these predators with using any pesticides whatsoever. 

He then refers to "a discovery made by a team of specialists in Southern California that could unlock a series of medical breakthroughs". Later, the author reveals that the company is based in San Diego, California.
They "have discovered a way to safely and naturally turn back the biological clock inside a cannabis plant and boost its immune system" and that "without using any pesticides – these new wonder plants can quickly destroy the predators in this case and 1,000 other threats like them."
The "tiny, privately held company" is supposed to be valued at around $53 million but "altogether, this startup can partner with any cannabis cultivator and boost their annual revenue by up to 278%".
Ultimately, "this startup's breakthrough could create even more jobs". 

The therapeutic effects of cannabis cannot be ignored, with Burke mentioning that "it is literally saving tens of thousands of lives a year" by reducing the seizures in epilepsy patients by more than 50%, and treating other affections like insomnia, anxiety, depression, panic attacks, chronic joint, and bone pains.

Mike, the owner & CEO of the company in question claims that "our process gives dispensaries and their patients the peace of mind – that when they're buying cannabis that came from our elite mothers, they can count on the dosing being accurate." 
Furthermore, Burke states that "cultivators who partner with the company can grow 67% more cannabis in their existing facilities", without any additional costs on lighting systems, heat, ventilation, or investing in larger spaces.
Finally, it is revealed that the company's ultimate goal is "to raise $20 million from investors big and small" and "when complete, it could take them to $136 million a year in revenue".
Unfortunately, none of the clues provided by the author were really specific enough to help us pinpoint the exact startup being pitched, which is a privately held company at that.

Is "Wonder Plants" A Legitimate Opportunity?
One of the clues provides is telling: "the company's ultimate goal is "to raise $20 million from investors big and small". This tells us that the still privately-held company in question has or is in the midst of a private placement of shares to investors who are oftentimes also accredited. This process involves an offering memorandum being issued by a broker-dealer firm to interested investors, which will include either audited or un-audited financials along with other disclosures.
Evaluating such an opportunity involves being able to read financial statements and there is a simple way to learn how to do that with free investment excel spreadsheets from Value Spreadsheet.
Quick Recap & Conclusion
In one of his latest marketing newsletters and interviews, journalist John Burke focuses on the importance of one specific cannabis company that could potentially bring profits of over 11,000% in about a year. 

He is teasing a company that has created "elite mother" plants, with each strain worth more than $1.1 million, which could kill over 200 species of natural pests. 

Through unique engineering, cloning, and breed-crossing, this Californian-based company has managed to create the perfect strain with the highest-quality of therapeutical effects. According to the company's CEO, the plants produced have the perfect combination of oils, THC, and CBD substances, so they can be used to help and treat dozens of affections and conditions.

Burke teases that he is revealing the name of this closely-held private company if join the "

Cannabis Venture Syndicate

" for $1,950 per year.

Despite trying our darndest, we weren't able to identify the exact private company Burke is talking about in this teaser.

However, keep in mind that this "investment opportunity" has not publicly listed its shares as yet, meaning you would need to purchase their stock directly via a private placement of shares to investors.
Have you ever invested in a privately held company? What about any company in the cannabis space? Let us know your experience in the comments section below.