Silicon Valley insider Michael Robinson says the looming recession that's hanging over our heads and the news coverage about dirty Washington D.C. politics are all distractions.
A global reset is about to hit our society which he calls "PVAB" and a few companies involved in this trend could double, triple, or even soar 10 times in value.
The Teaser
By the sound of it, this is a crazy, far-off futuristic prediction, but Michael assures us it's not. In fact, PVAB has already started to roll out right here in America and across the world.
Michael Robinson has more credibility than your average newsletter promoter as a former Pulitzer Prize-nominated writer and reporter. We have reviewed more than a few of his teasers here on Green Bull, including his Bitcoin Master Class and #1 IRC Stock.
One thing many don't understand about technology is that the really big disruptions, the ones that can make people really rich, are almost never the result of a single invention.
Instead, it's often the convergence of several new technologies and perhaps a new business model too.
Take the internet for example, It's a combination of multiple breakthroughs, like the Department of Defense's Arpanet technology, which first linked four computers together in 1969 and the advent of "packet switching," Transmission Control Protocol, and HyperText Markup Language that made the Internet as we know it a reality.
The same thing happened decades later with smartphones.
They were made possible because of the convergence of technologies like high-speed modems, seamless roaming, GPS, digital imaging, and touchscreens.
Similarly, "PVAB" is here now because of the convergence of two key technologies.
The Biggest Reset of our Lives?
PVAB stands for PhotoVoltaics And Battery Technology.
PhotoVoltaics is simply the conversion of light into electricity using semiconducting materials that exhibit the photovoltaic effect. It has been described by some as "solar energy on steroids" due to its 50-fold increase in ability to capture the sun's energy.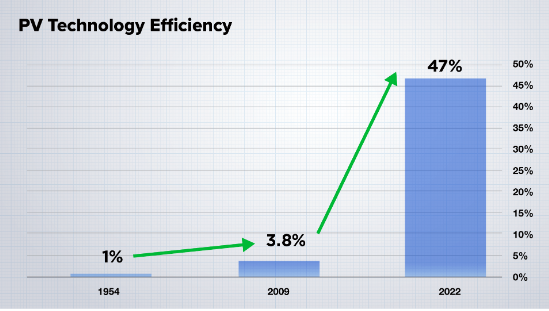 But it's not just the efficiency that's producing the tipping point, it's due to PV capturing the sun's energy in insanely cheap ways never before thought possible.
Combine this with new developments in battery technology, the '"B" part of PVAB, and "PVAB" could be the cheapest source of energy in the world when all is said and done.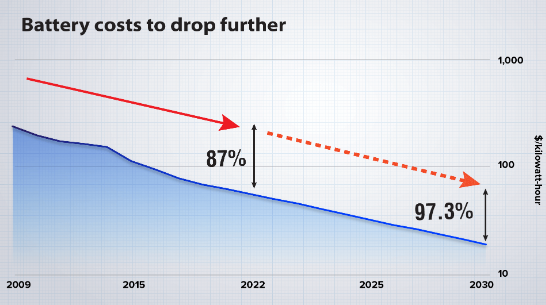 According to something called "Wright's Law," battery prices will continue to plummet for at least another 10 years, becoming so cheap that they will power everything from cars to homes, planes, and even locomotives. So Michael may be on to something here.
It is why he believes PVAB is going to completely disrupt the world of energy as we know it and we may be in the right place, at the right time (reading this) to capitalize on it.
The Pitch
Michael teases five separate investments which are only revealed in a series of three special reports, starting with The #1 Way to Profit from the PVAB Energy Boom.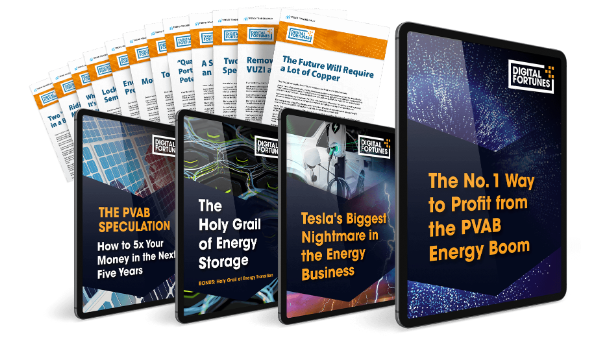 The other three special reports are Tesla's Biggest Nightmare in the Energy Business, The Holy Grail of Energy Storage, and The PVAB Speculation – How to 5X your money in the next five years.
To claim our free copies of all these special reports, we have to give Michael's newest newsletter called Digital Fortunes a try. The cost for a one-year subscription is just $99 and includes a 30-day money-back guarantee, and at least 12 new investment recommendations over the next year, in addition to the special reports.
Peak PVAB in 2023?
When solar cells were first discovered in 1954, they were made from silicon and could capture only 1% of the energy they were exposed to.
That means the remaining 99% of the sun's energy was wasted.
Fast forward nearly 50 years to 2003 and the efficiency moved up from 1% to just 3.8%. Progress at the speed of a three-wheel senior mobility scooter.
However, things have rapidly picked up over the last decade and the efficiency of PV cells has gone up to a much more respectable 50%.
This year, the efficiency could top 100%.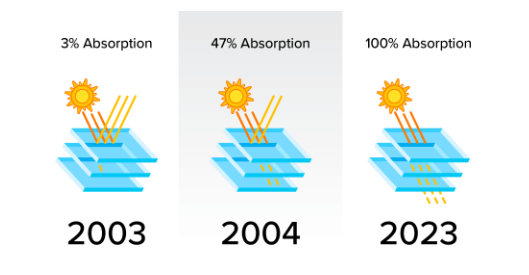 A Total Game-Changer
How did PV go from inefficient and expensive to one of the cheapest sources of energy in the world?
The same reason flat-screen TVs are now half an inch thick and we can get a 42-inch one for less than $200 – exponential advances in technology.
Thanks specifically to the development of artificial intelligence and nanotechnology, costs have been lowered, speed has turned up, and size has gotten smaller. The same thing happened with computers and cell phones, and the same thing is happening to PV energy today, making it viable for the very first time.
PVAB energy appears to have arrived, with the energy source accounting for more than 60% of the planned new U.S. electric generation capacity in 2023 and massive investment flowing into the space.
Yet the real growth is still ahead of us and Michael has a few suggestions to position our portfolios accordingly. Let's find out what they are.
Revealing Michael Robinson's "PVAB" Companies
Michael teases four different companies, so we have no time to waste.
Investment #1
The first investment is given to us right off the bat as Tesla Inc. (Nasdaq: TSLA).
The reasoning goes Tesla like this – besides being a leader in EVs, Tesla is also the leader in the most critical part of PVAB – utility-scale battery storage.
In fact, its energy storage business is growing faster than the car business, which makes Elon Musk believe "Tesla Could (Eventually) Be Worth More Than Apple And Saudi Aramco Combined."
Investment #2
This company's PVAB technology lasts over 30 years with minimal maintenance.
It lets us own the best PVAB technology and the components every PVAB system needs to be more efficient.
The stock is up over 270% since last spring.
No way to know for sure, but Michael's second pick could be First Solar Inc. (Nasdaq: FSLR).
First Solar makes and distributes PV solar panels that are the industry standard in terms of installation times, degradation rate, and warranted against power loss from cell cracking.
The company's stock was up over 100% at one point in the last 52 weeks.
Investment #3
This company makes the most technologically advanced "brain" and "nervous system" that makes any PVAB super-efficient.
The firm has already lent its "brain" to many of the leading companies including Google, Panasonic, IBM, AT&T, Sunnova, and even Tesla, just to name a few.
It is, without a doubt, the best energy stock of the last five years, growing by as much as 17,130%.
Michael could be teasing Enphase Energy Inc. (Nasdaq: ENPH) here.
The company provides semiconductors (brains) and control services (nervous system) to the photovoltaic solar industry.
It has collaborated with the likes of Panasonic, Sunnova, and AT&T.
Since 2018, the stock was up more than 8,000% at its peak.
Investment #4
This is the 'holy grail' of battery technology – a lithium battery that charges four times faster and lasts 10 times longer than traditional lithium-ion batteries.
The company has a claim to the most proven battery with this holy grail technology, and they have been scaling it up rapidly into a $4 billion-dollar company.
Bill Gates is one of the biggest investors in the company.
The last pick is without a doubt QuantumScape Corporation (NYSE: QS).
QuantumScape claims to have produced next-gen batteries that are faster charging and longer-lasting than anything currently on the market.
The company's market cap currently sits at around $3.3 billion, down from earlier this summer.
Bill Gates is a backer of the company.
Bonus: Investment #5
Michael's actual last pick is a small company that derives most of its revenue from a high-purity lithium metal that enables more storage and longer life in batteries.
The company has an industry-leading footprint with seven manufacturing and sourcing sites across four continents.
It is already profitable and has an ongoing supply relationship with the leading companies in battery storage – Tesla and General Motors.
This is definitely Livent Corp. (NYSE: LTHM).
The Best Way to Profit from Solar Energy?
Some sources claim solar energy could provide 45% of the electricity in the United States by 2050 if the energy system is fully decarbonized.
The last part about decarbonization is where solar loses me.
Full decarbonization in the next 27 or so years is unrealistic and when the market comes to grips with this reality, solar stock valuations will sink like a camel in quicksand. Clean energy is a long-term trend, I'm talking about decades here and better valuations will be had than those currently available today.
Quick Recap & Conclusion
Veteran tech journalist Michael Robinson says something he calls "PVAB" is about to disrupt the energy market and the entire world.
We come to learn that he is referring to PhotoVoltaics And Battery Technology (PVAB), which could finally capture 100% of the sun's energy and do so for a low absolute cost.
Michael teases four separate investments and a bonus pick to capitalize on this global energy reset and he reveals them in a series of three special reports, starting with The #1 Way to Profit from the PVAB Energy Boom. The only way to claim all three reports is to subscribe to his Digital Fortunes newsletter at a cost of $99 for the first year.
After Michael revealed his first pick as Tesla Inc. (Nasdaq: TSLA), we did the rest and locked in on First Solar Inc. (Nasdaq: FSLR), Enphase Energy Inc. (Nasdaq: ENPH), QuantumScape Corporation (NYSE: QS), and Livent Corp. (NYSE: LTHM) as his second, third, fourth, and fifth picks, respectively.
A fully decarbonized world is further off than the market currently believes and lower solar company valuations are sure to follow once this reality sets in over the next five years or so.
Should society even be aiming for a zero-carbon future? Tell us what you think in the comments