For better or worse, The Metaverse is one of the hottest topics in tech today. With the likes of Facebook, Amazon, Microsoft, Google (Alphabet), and Apple spending billions to develop the evolution of the internet, it seems like the next tech rush.
Money Morning's, Michael Robinson agrees and believes that investors stand to benefit from The Metaverse rush, with "three small players likely to be the real winners".
The Teaser
Michael says he wants to break the REAL story about the future of the Metaverse, as its not what the financial press is saying it is.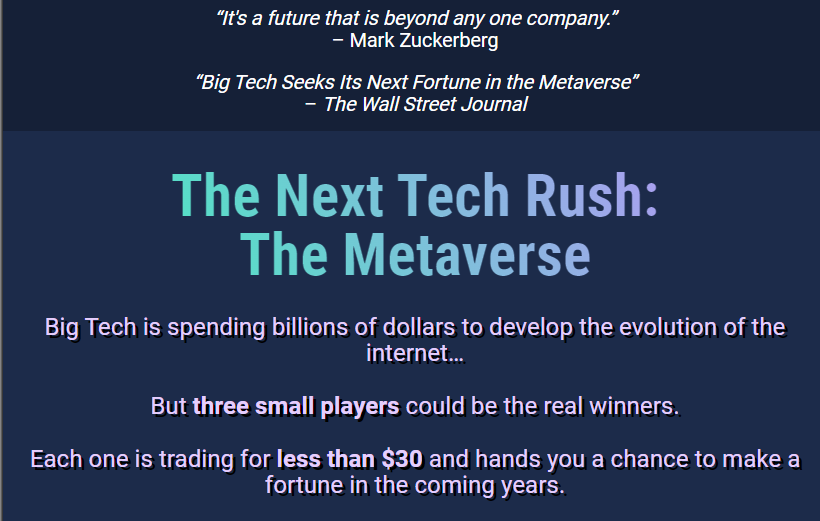 Michael Robinson is the author behind the Nova X-Report research service where he looks for the latest developments in the tech and crypto markets. Michael's been a fixture in tech space for more than 30 years. As a leading analyst and tech journalist, he's been on the forefront of just about every major emerging technology story of the last decade. He's even been nominated for a Pulitzer Prize. Metaverse-based presentations are proliferating and we have been keeping up, reviewing Jeff Brown's "M.T.A." Metaverse Company and Whitney Tilson's "Connexa Terra" Stocks, among others.
At the most fundamental level, this is the story about the evolution in the way that we use the internet. The Metaverse represents the next frontier of the internet (according to some), the place where people will live, work, buy, and play. Right now, people interact on the internet with each other via social media platforms or by using smartphone apps, but the Metaverse will create new online spaces in which people's interactions can be multidimensional, spaces where we will be able to fully immerse ourselves using a collection of new technologies.
We're talking about artificial intelligence, the Internet of Things, cryptocurrencies, virtual and augmented reality here. Despite this big talk, this is giving off plenty of The Sims and Second Life vibes, where people create a player and work their way through a virtual world. However, Michael insists this is about way more than cute avatars and fancy virtual reality headsets.
He says The Metaverse will be used to achieve unprecedented advances and the biggest returns will come from the much smaller companies whose sole businesses are providing the foundation for this $800 billion movement.
The Pitch
To find out more about these smaller companies, all we have to do is join Michael's Nova-X Report research service. The cost is a modest $39 for the first year and includes The Metaverse: The Next Chapter for the Internet special report with the stocks and crypto that he's telling us about in this presentation.
As part of the Nova-X Report, we will receive 12 monthly issues, access to Michael's exclusive Crypto Circle, monthly video briefings with the inside scoop on the latest opportunities, access to The Nova-X Connection forum, and more.
Is The Metaverse About to Change Everything?
Michael thinks the possibilities are endless when it comes to The Metaverse, from going to concerts and shows and next-gen gaming to unlocking new approaches in everything from medical training, fitness, physical therapy, telehealth, and virtual patient care. So our jump to this platform isn't a matter of "if", but rather a matter of "when".
This is why Facebook (Meta) is investing $10 billion this year alone to develop their Metaverse division and more than 160 companies are already racing to explore all the possibilities of the Metaverse.
Every major company is rushing in, but Michael says we should forget about these big tech stocks and instead "focus on plays that no one is talking about". Sure enough, he says he has two tiny tech stocks and one crypto that could soar 1,000% over the next few years. Let's find out what these are.
Revealing The Metaverse Stocks & Crypto
Here are details about the pair of stocks and crypto that could be about to soar.
Michael's #1 Stock to Watch
Michael talks about "a company focused on digitizing the real world with a groundbreaking tech that turns buildings into 3D images".

Companies in over 150 countries already use its tech, including Facebook, Marriott, Sotherby's, and Domino's, among many others.

One researcher from the Facebook AI Research center is saying that this company's technology "Has the potential to change the landscape of embodied AI and 3D computer vision".
Today, it's still trading at a bargain price of about $27 per share.
Based on this set of clues, we're inclined to think that the company being teased is Matterport Inc. (Nasdaq: MTTR). Here is what gave it away:
Michael states: "it's still trading at a bargain price of $27" which was the case back in November 2021, when this presentation was first released. Back then, it reached an all-time high of just over $33 per share, but now trades for less than $10 per share.

The company was founded in California in 2011 and it did

partner with Facebook

on creating realistic virtual training environments for AI.
Michael's #2 Stock to Watch
Michael mentions "a small-cap company with less than a $1 billion market cap, that is trading for around $7 per share".
This company

is on the cutting edge of making mind-boggling tech solutions for military, enterprise, industrial, medical, and everyday consumers, with its

portfolio including augmented reality, virtual reality, and mixed-reality systems.

It has come up with a lightweight optic system for the civilian world that can boost Metaverse adoption through a sleek and lightweight pair of glasses.
What Robinson may be teasing here is American multinational Vuzix Corp. (Nasdaq: VUZI).
For starters, i

t currently trades for under $7 per share.

It is packing well over 200 optical system patents and is widely recognized as one of the world leaders in waveguide optical technology.
Michael's #1 Cryptocurrency to Watch
The third investment opportunity Michael mentions is not exactly a cryptocurrency but rather an NFT (Non-Fungible Token), a type of digital asset that is based on the same technology that underlies cryptocurrencies – the blockchain.

"This NFT coin is on a mission to introduce blockchain technology into mainstream gaming".
It recently raised a $93 million investment round "led by a major conglomerate to help grow its virtual world based on NFTs".

It has partnered with the likes of Snoop Dogg, the Smurfs, and Atari.
What Michael is teasing here is The Sandbox (SAND), a virtual metaverse where players can build, own, and monetize their gaming experiences in the Ethereum blockchain using NFTs and $SAND, the platform's utility token.
The basis of their ecosystem is the $SAND token, built on the Ethereum (ETH) blockchain, like many other altcoins.

The Sandbox did raise $93 million back in November of last year, in a round led by Softbank.

On its website

, The Sandbox Game announces rapper Snoop Dogg's official launch in the metaverse by saying that he "is building his mansion inside The Sandbox, and you are invited to the party". Players can purchase different packages, including a private party pass that includes participating in the rapper's first metaverse concert.
A Tech Gold Mine?
Out of the three investment opportunities presented by Michael, only The Sandbox has appreciated in value. Both stock picks have lost more than 50% of their market value in a littler over two months, so whoever invested in them back in November would currently be in the red.
As far as the NFT market goes, projections from Jefferies show that we could be talking about a market worth north of $80 billion by 2025, as digital assets increase in popularity. However, SAND doesn't make it clear how its tokens can be used outside The Sandbox platform, which would severely hinder their potential upside. We are strictly talking about speculation on future growth here, rather than an investment based on intrinsic value.
Quick Recap & Conclusion
Michael Robinson teases two stocks and a cryptocurrency that can potentially return 1,000% profits over the next few years.

We come to learn that the basis of all these picks is The Metaverse, which Michael views as "the next frontier of the internet".

To find out the name and ticker symbols of Michael's picks, we will need to subscribe to his

Nova-X Report

research service at a cost

of $39 per year. This will grant us access to The Metaverse: The Next Chapter for the Internet special report with the stocks and crypto that he's telling us about in this presentation.

Luckily, we were able to identify all three of Robinson's picks –

Matterport (Nasdaq: MTTR)

,

Vuzix (Nasdaq: VUZI)

, and The

Sandbox (SAND) for free.

Both stock picks have seen massive drops in their prices over the last couple of months and SAND's upside may be limited by its lack of portability outside The Sandbox platform. These are a pass for us.
Is The Metaverse really the future of the internet or just the latest fad? Let us know in the comment section below.