The iPhone dominates the global smartphone market with a nearly 25% market share. But is Apple planning to kill off its greatest invention on purpose?
Michael Robinson believes such an act of creative destruction is a good probability and one way to profit big is with a tiny company making an indispensable part of the upcoming "iPhone Killer."
The Teaser
Renowned economist Joseph Schumpeter defined creative destruction as "deliberately killing a breakthrough product and replacing it with a better one."
Michael Robinson is no stranger to innovation, as a veteran Silicon Valley consultant and adviser for over 36 years. We have covered several of his previous predictions here at Green Bull like his "Quantum Infinity Chamber" Stock and Blockchain Stock to triple your money.
It's been rumored online for a while that the next "big thing" after the iPhone may be a set of Apple AR glasses. Although a release date is unknown as of yet.
Apart from this, there have only been grumblings about a potential iPhone replacement.
Michael says previously hyped products like the foldable iPhone, Apple Car, Air Tags, and Apple TV 4K, will churn sales for the company, at best. But they won't spark an obsession and frenzy to buy.
This is where the so-called "iPhone killer" comes in, as it's radically different and its sole purpose is to separate us from our iPhones.
Shrinking Smartphone Market
One potential reason for introducing an iPhone replacement product is the already-saturated market for smartphones.
See, global smartphone sales have been shrinking for years. As an example, Apple's iPhone 14 series sales hit 26 million units two months after its release. A figure that is similar to that of the iPhone 13 series amid a contracting smartphone market.
Herein lies the problem for Apple.
The market for smartphones is fully mature, with "peak innovation" having already been reached roughly a few years ago. Apple knows this, that's why it held a secretive internal meeting where its most ambitious product ever was announced.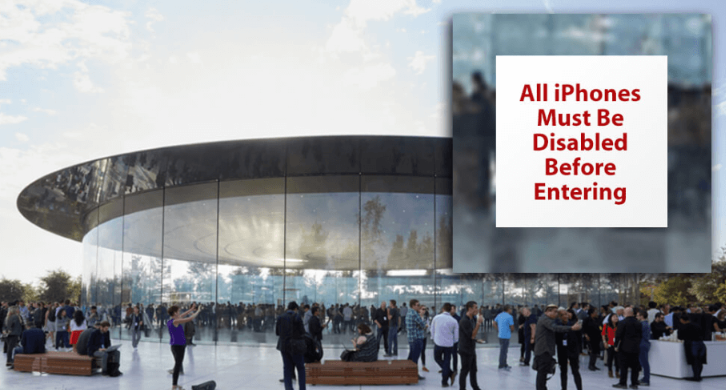 One person at this meeting said attendees were "required to wrap their iPhones in tamper-proof stickers with unique QR codes that blocked the front and back cameras, preventing them from photographing the event."
This is the 2020 event where a product codenamed "N421" was first mentioned, with credible sources believing the device's purpose is to ultimately replace the iPhone.
For investors, this is ripe with potential.
The Pitch
All the details about the iPhone Killer's main component are revealed in a special report called How to Profit from the iPhone Killer.
It's ours if we purchase a subscription to the Digital Fortunes investment newsletter, at a cost of only $49 for the first year. For this price, we will receive 12 monthly issues, a bonus special report called Creative Destruction — the Most Powerful Investment Force of the Last 100 Years, and access to a model portfolio with all of Michael's stock recommendations.
What is N421 and Why it will Replace The iPhone
A quick Google search of "N421" returns a number of results for Apple AR Glasses.
Apple appears to be developing three new headsets code-named N301, N602, and N421. These have been in development for years and will blend augmented reality with virtual reality.
The scheduled release date for the first headset is this year (we've heard that before) and considering the nascent adoption of Facebook's Metaverse, I wouldn't be surprised if the release date gets pushed back.
But Michael says Apple is only the tip of the spear.
If, and this is a very big "if" these glasses become a must-own device for consumers and other manufacturing giants like Samsung, Huawei, and LG seek to copycat them. Then the world will need thousands of new suppliers to help build these devices and tons of brand-new apps developed specifically for them.
April 26th Launch?
Michael thinks it's a real possibility that Apple will reveal its plan for the first set of AR Glasses on its April 26th earnings call.
If he's correct, Apple's act of creative destruction could be the largest on record, and something called "Holo-Core" technology is essential to making it happen.
Simply put, Holo-Core is one of the AR devices' seven main parts and it is also its only irreplaceable part. This is a mockup of the technology:
Basically, the Holo-Core component is required in order for these devices to function properly.
This is where the opportunity comes in, as the global leader in Holo-Core technology – an absolutely essential component in every "iPhone Killer", is a small company based in upstate New York. Let's find out the name of it together.
Revealing Michael Robinson's "iPhone Killer" N421 Stock
Some vital clues are dropped about our mystery company, which Michael calls life-changing information.
It starts off with this little company's technology being roughly three years ahead of Samsung's, and two years ahead of Apple's, while also being protected by over 180 patents.
The company currently trades on the Nasdaq for 0.10% the size of Apple.
Michael believes Apple is prepared to make an offer to buy this little company, thus eliminating it as a potential competitor, and gaining all of its Holo-Core intellectual property in the process. In his buyout scenario, Apple could offer over $100 per share.
Based on what I was able to find online since Michael's info only scratched the surface, the "iPhone Killer" stock is Vuzix Corp. (Nasdaq: VUZI). Here is what made me lean this way:
Vuzix now holds more than 275 patents, up substantially since this presentation was first released last year and they cover numerous facets of the video eyewear field.
At a current market cap of $248 million, as compared to Apple's monster $2.5 trillion market value. Vuzix is roughly 0.10% of its size.
Any buyout is pure speculation, but a large acquirer picking up Vuzix for its intellectual property portfolio is very plausible.
Legit Opportunity to Make 130x Your Money?
In order for AR/VR glasses to be as big as smartphones, they need some form of addictive feature.
Some believe this paradigm-smashing feature is spatial awareness, which gives us the ability to interface with everything happening around us for a fully immersive, visually-enhanced feedback loop.
While a powerful feature no doubt, I don't see myself walking down the street wearing AR glasses just to be fed ads from my local deli shop and coupons from the neighborhood strip club.
The technology for such an innovation is now here in terms of raw computing power and processing speed. I just don't know that adoption of a wearable tech device will ever reach 70% globally, as is the case with smartphones. And that is what is needed for the kind of return we're talking about here.
Vuzix could be a nice stock if you want exposure to the AR/VR industry, but I don't see it as a world-beater.
Quick Recap & Conclusion
Michael believes Apple could commit an act of creative destruction against itself by killing the iPhone and there's one tiny company making an indispensable part of its upcoming "iPhone Killer."
This "iPhone Killer" code-named "N421" is Apple's highly anticipated AR Glasses. The launch of which could be announced as early as April 26th.
All the details about the iPhone Killer's main component are revealed in a special report called How to Profit from the iPhone Killer. It's ours with a subscription to the Digital Fortunes investment newsletter, which costs only $49 for the first year.
We save you some time and a little bit of money by revealing Michael's N421 stock for free as Vuzix Corp. (Nasdaq: VUZI).
I see AR/VR technology growing and being included in more existing devices over time, but wearables such as glasses are unlikely to see the kind of mass adoption that smartphones enjoy.
Would you wear AR/VR Glasses on your daily errand run? Let us know why or why not in the comment section below.