Artificial Intelligence (AI) has been all over the news this year, as it's been growing faster than crypto, electric vehicles, and sports betting combined.
That's an eclectic mix of industries, but amid this frenzy big-shot former hedge fund manager Enrique Abeyta has discovered a #1 AI Stock for 2023 (aka his #1 ChatGPT stock), which could very well be the next Google.
The Teaser
Enrique is adamant that this stock has legitimate 10-bagger potential in the coming years. Yet perhaps not one in 100 investors even know this company exists.
Below we have a screenshot of his "Next $15 Trillion Technology" presentation, which has more recently been titled his "#1 ChatGPT Stock for 2023″… both of which tease the same AI company.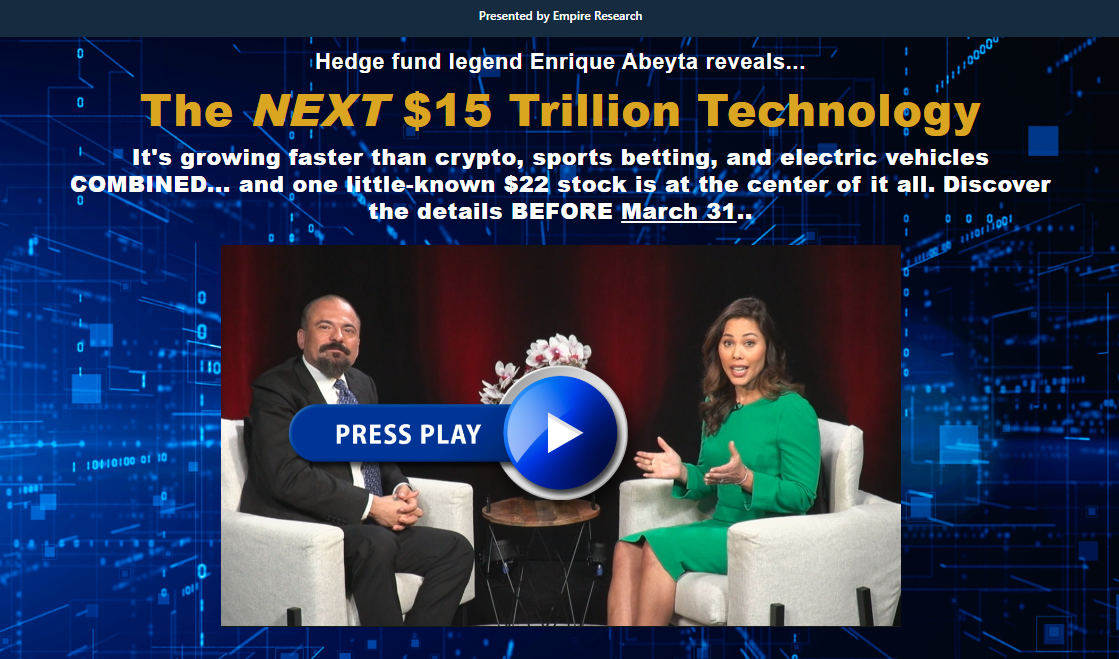 Enrique Abeyta has had a traditional career path – Wharton, Wall Street, and now digital media entrepreneur. His track record includes generating positive returns during multiple bear markets as a hedge fund manager, which gives him some added credibility. We have previously reviewed his Quick Cash System and a slew of presentations, including his #1 EV Stock.
This company, we're told, has it all. Huge revenue growth: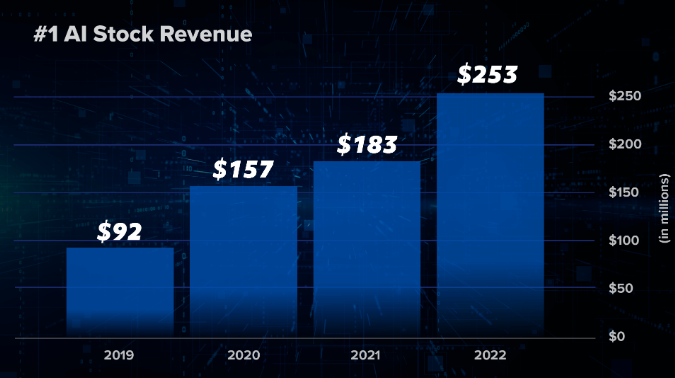 It is trading at a low absolute price of only $22 per share and also quietly dominating an explosive new $328 billion dollar market – Artificial Intelligence.
Dominating while flying completely under the radar may be a bit of a stretch, but some minor and sometimes LARGE exaggerations are parred for the course with such presentations, so bear with us.
One of the Great Transformational Technologies of the 21st Century
This is what Forbes is calling AI and for once, we agree with it.
In 2022, VC firms put more money into AI startups than in the previous five years COMBINED and the applications being developed with this cash promise to disrupt every industry under the sun. From manufacturing to healthcare and customer service to name just a few.
Enrique says there is an added catalyst at play here, as the company behind his #1 AI stock is about to release a brand new product by March 31st that could send its soaring.
Based on this description, I gather that this opportunity is more for those actively looking to grow, rather than just protect their wealth. If the stock is any good, we will get a bit of both.
So what is this stock that Enrique believes could be the crown jewel of his investment career?
The Pitch
The name and ticker symbol of the stock is packed inside a brand-new special report that explains everything we need to know to invest in this company. It is called "The #1 AI Stock for 2023."
This report is available right now to members of the "elite" investment research service, Empire Elite Growth. The cost of the service is $2,000 per year and includes one year of research and recommendations in Empire Elite Growth, a four-part Growth Investing Master Class Video Series, and two more special reports.
3 Rules for Finding Multi-bagger Stocks
Any seasoned investor will tell you, finding well-run, under-the-radar companies with fast-growing sales, that are available at a fair price is hard.
Enrique has a few loose rules to help us identify such businesses and they are as follows:
Rule #1: 5 Years of Revenue Growth
This one is rather simple and you can find a lot of companies with sales growth, but what makes the one he's recommending today stand out?
Rule #2: Competitive Edge in a Booming Market
Companies that have a competitive edge in markets with explosive growth potential are far fewer.
Think Virgin Galactic back in 2019, when it had more efficient technology than rivals like SpaceX and Blue Origin. Its stock went on to soar more than 215%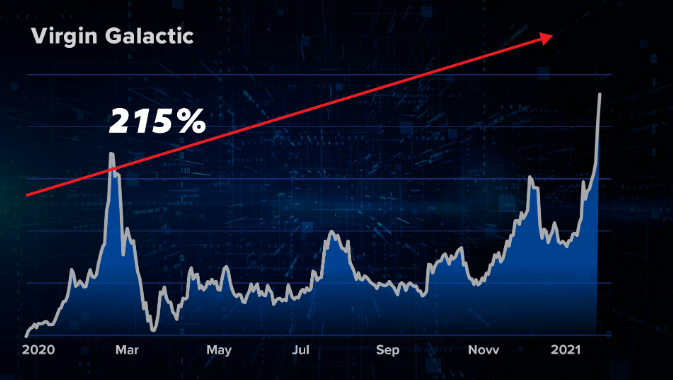 Rule #3: Operational Momentum
The last rule is a bit more obscure and requires some market timing.
Enrique explains that it involves comparing how a company performs versus analysts' expectations, as the best-performing stocks are companies that are growing revenue and earnings and beating analyst expectations, regardless of valuation.
Basically, if a stock has beaten analyst expectations for at least several quarters, it has operational momentum.
Enrique's #1 AI Stock for 2023 has all of this going for it and more, as it nearly tripled its revenue from 2019-2023. In terms of competitive edge, the company is at the forefront of the generative AI industry, which tech giants are now scrambling to capitalize on.
Finally, this AI stock has outperformed market expectations in each of the past four quarters, and not just by a bit. It has significantly beaten analyst expectations.
What is this fast-growing company with a competitive advantage, and tremendous future prospects?
Revealing Enrique Abeyta's #1 AI Stock (aka his #1 ChatGPT Stock)
This company could be a future household name and we are given plenty of info on it:
It just announced a line of products that takes ChatGPT and applies the full potential of this tech to aerospace, oil and gas, utilities, and more.
Enrique expects this product to come out by March 31st.
It's the second act for its CEO, who grew his last company by 5,697%.
Morgan Stanley, Renaissance Technologies, and BlackRock are all significant shareholders in this firm.
Based on this info and what is available on the interwebs, the pick is most likely C3.ai Inc. (NYSE: AI). Here is how the clues stack up:
C3.ai is an enterprise AI application development platform, which is used to create AI apps for a variety of industries.
On January 31st C3.ai announced the launch of a generative AI product suite, which is set for general release this month.
C3.ai CEO Tom Siebel previously founded application software provider Siebel Systems, which he grew to revenue in excess of $2 billion.
BlackRock owns a 5% equity stake in C3.ai, while Renaissance Technologies has a 1% stake.
Legitimate 10-Bagger Potential?
C3.ai stock is now just above $25 per share, as compared to $22 when Enrique first published this presentation, riding the popularity wave of AI.
It is also another unprofitable high-growth stock with lots of upside potential. Will this potential ever be realized?
This largely depends on two factors:
Will its new generative AI product suite be any good
Over what timeframe are we looking for a return
For the record, I think applying AI to the enterprise market is going to create some huge opportunities, and at the risk of sounding like an investment newsletter publisher, mint plenty of new millionaires. It is also a less crowded space than consumer AI, so hype and valuations will be more reasonable.
If we come back and re-visit C3.ai stock a year from now, its traction will largely depend on how the general market performs the rest of the year and if it beats analyst expectations or not. But if we take a multi-year view instead, C3.ai definitely has 10-bagger potential.
Quick Recap & Conclusion
Enrique Abeyta has discovered a #1 AI Stock for 2023 and he's convinced it has 10-bagger potential.
He used 3 rules to identify this stock: 5 years of revenue growth, a competitive edge in a booming market, and operational momentum (if is beating quarterly analyst expectations).
The name and ticker symbol of the stock is revealed only in a brand-new special report called "The #1 AI Stock for 2023." It is ours with a $2,000 annual subscription to Empire Financial Research's, Empire Elite Growth newsletter.
Fortunately, you can keep your hard-earned money, as we were able to reveal Enrique's #1 AI stock for free as C3.ai Inc. (NYSE: AI).
Enterprise AI is a lucrative market and C3.ai is run by a team with loads of experience in the enterprise space. Presenting it as the next Google isn't the right comparison, as it is a B2B play. But it definitely has multi-bagger potential over the long term.
What do you think C3.ai's potential ceiling is? Let us know in the comment section.