Mauldin Economics is purported to be "one of the most trusted investment advisories in America today." The author of the report is Robert Ross, a senior equities analyst, who talks about "The Big Cheat" or an alarming way of how the government can take your money away. Everyone knows that there are three sacred things for every American and you should never consider attacking them in any way – fundamental rights, guns, and money.
In his latest ad, Ross alerts people to what he calls "The Big Cheat" by telling them that their Social Security benefits are at risk, and that it is all part of a grand scheme put together by the Supreme Court and the government, as a way to diminish the country's deficit and get over the economic crisis caused by the current COVID-19 pandemic. What Ross is pitching us here is an investment newsletter subscription called Yield Shark, for $89 per year. By signing up, you will get two full years of membership, 24 monthly issues of the magazine, three additional free reports, 104 weeks of a private investment e-letter, and other bonuses. Apart from the three bonus reports, the same $89 also includes two reports, "Retirement Rescue and Protection Plan", a plan Ross teases in this ad, and the "Pandemic Profits: Triple Your Gains on the COVID Vaccine". For those of you who want to pass on this newsletter, here is what we were able to find out for you for free.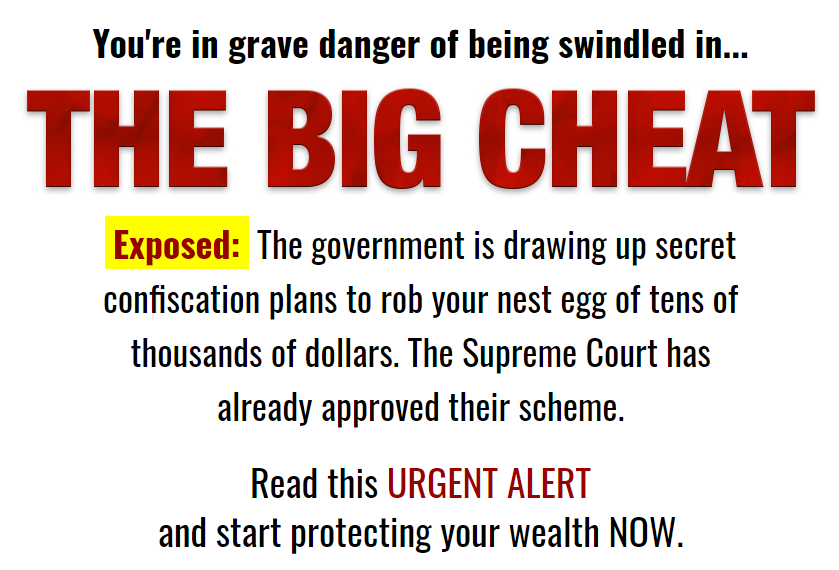 Robert Ross is the man behind the Yield Shark newsletter and a senior equity analyst at Mauldin Economics. He has been part of the team since 2011 and previously worked for the Pelican Institute for Public Policy. He is an avid traveler and tries to combine his passion for finding the best investment opportunities with his wanderlust, which took him from Los Angeles to Zurich, Switzerland, Colombia, and now back to LA.
The Opportunity
Ross's newsletter teases an investment opportunity that he calls the Retirement Rescue and Protection Plan, which he claims can bring you three times the gains of the DOW in one year. We have heard such claims of big gains before, both from Mauldin Economics, see Hard Assets Alliance Review and others, as it pertains to retirement protection – 1170 Account.
However, there isn't much information supplied at all about the particular investment opportunity or how it intends to bring you these returns. His newsletter is more of a call to action and works to create urgency by spurring you to act now "before it's too late"…to subscribe to the newsletter for only $89, as the price will be raised.
What is Being Teased?…Besides The Newsletter Subscription
Without any company to uncover, the "Big Cheat" marketing newsletter becomes nothing more than an elaborate ad to lock you into the Mauldin Economics fold for at least two years. Nevertheless, we took a closer look at what this "Big Cheat" might mean to see if it is worth your time and attention. 
Ross starts by claiming that "the promises made by the government and businesses alike may already have affected you", referring to the current socio-economic background caused by the Coronavirus pandemic. 
With attention grabbing claims like America being on the verge of a new economic crisis, Ross says that "the government plans to legally steal your retirement right out from underneath you", mentioning that his

Retirement Plan

may be the only solution for saving your hard-earned money.

The author fuels the urgency of acting now by claiming that wearing a mask and staying home as much as possible in the attempt to prevent the spread of the new coronavirus acts against your liberties guaranteed by the Constitution – "the government leaders are pummeling our civil liberties and freedoms in the name of the pandemic."
Another claim made by Ross in an attempt to justify the need for his retirement backup plan is that "this epic crisis is pushing the US to its breaking point".

He starts talking about Social Security but does mention that "The Big Cheat is NOT about Social Security running out of money and going under" but, instead, about the government looking for alternative ways to not pay out all the money gathered in the Social Security f

und

.

He then punctuates his claims by saying that "They sure are coming after your money… and your Social Security could be drastically cut or even eliminated."
So, what is the source of Ross' claims? Ross claims that "for decades, retirees over the age of 65 received their full 100% Social Security retirement benefit" but this has no longer been happening since 2002. According to him, the government is looking to raise the full retirement age to 70, starting in 2023, which would automatically mean less money in your retirement fund. 
In total, Ross estimates a loss of about $296,000 to your individual Social Security benefits, if this bill is ultimately passed into legislation. You could minimize the loss and even get all your foregone money back by joining his Retirement plan, which comes with the subscription to his newsletter – of course it does.
Ross also claims that his plan will bring you "3 times the Income… and 3 times the growth", as well as a guaranteed estimated monthly paycheck of $3,000. Ultimately, the author pitches an investment plan which he calls his Equity Evaluation System, "or EES for short".
According to the author, "EES acts like a strong beacon of light to identify the hottest, safest stocks riding a profitable trend all the way to 200% growth or more." To support his claims, Ross says that he analyzes over 75 quantitative and qualitative criteria to determine the stock's EES score from 1 to 10. Then he combines the stock's EES Score with its Dividend Sustainability Score to select the strongest stock for both income and growth.
Is The EES System Legit?
Although the newsletter isn't a scam, we cannot tell the accuracy of it since it vaguely mentions a system that analyzes dozens of stocks before deciding on which one could potentially bring the best profits. Ross doesn't mention any specific business or even a sector, so assume he is industry and sector agnostic and looking at all types of stocks, from 5G and bio stocks to blue chips, pot stocks, semiconductors, and everything in-between.
The approach Ross takes by drawing a connection between the government trying to strip you of your fundamental rights by telling you to stay inside and wear a mask during the current COVID-19 situation and the government planning to use Social Security to fund the state's deficit and bad spending practices that have been going on for decades, is unique and not something we have heard mentioned elsewhere thus far. However, the author does mention one indisputable fact to this end – according to a decision of the Supreme Court of the United States (SCOTUS) called Flemming v. Nestor, Congress has the full authority to interfere with the Social Security fund as it is not "an accrued property right". We will let you judge for yourself the likelihood of such an event, no matter the administration or which party has a majority in Congress. 
To put it simply, Ross' EES stock analysis system isn't able to be validated, due to its lack of publicly available back test results and lack of time (years) by which to judge such results. It is for these same reasons why it cannot be summarily invalidated either. In our humble opinion, we wouldn't place too much weight on a brand new stock-picking system. Especially one that based on the inputs we have seen isn't particularly good at deciphering a business' underlying value, which is the ultimate decider of a business' stock price over the long-term.
Quick Recap & Conclusion
Robert Ross is a senior contributor to

Mauldin Economics

and the author behind

Yield Shark

, a two-year investment subscription program. For $89, Ross promises to deliver five special reports, including the one in which he talks about "The Big Cheat" and how to protect your Social Security and retirement fund by investing in stocks selected with his proprietary equity evaluation system (EES).

According to Ross, this is the strategy he uses to identify the most potent stocks that can bring you twice your original investment or more.

Based on what we know about this proprietary EES stock-picking system, we wouldn't place too much weight on it. Least of all with no long-term back test results made publicly available.
Is anyone you know currently dependent on social security? Do you believe it will remain solvent long enough for the next generation to access it as well? Do you currently use any proprietary stock-picking system – either your own or another? Let us know in the comment section below.