Matthew Carr believes he's found the "Ultimate Growth Stock". Its products can be found everywhere, from our living room, to our car, and even on our wrist.
This tech company's products are all around us, but we've never heard of it. Despite this, it trades for less than $10 per share and it could change our portfolio forever. Let's find out what makes Matthew so certain.
The Teaser
If you're like most Americans, you might have an Apple iPhone, a Microsoft computer, Samsung television, perhaps even a Sony gaming console and LG Electronics washer and dryer. Some of these big-name tech stocks trade for hundreds or even thousands of dollars per share, but our $10 stock's net income is up more than 1,100% in the last 12 months compared with 2020, which is faster growth than most high-flying tech stocks, like Netflix, Tesla and even Amazon.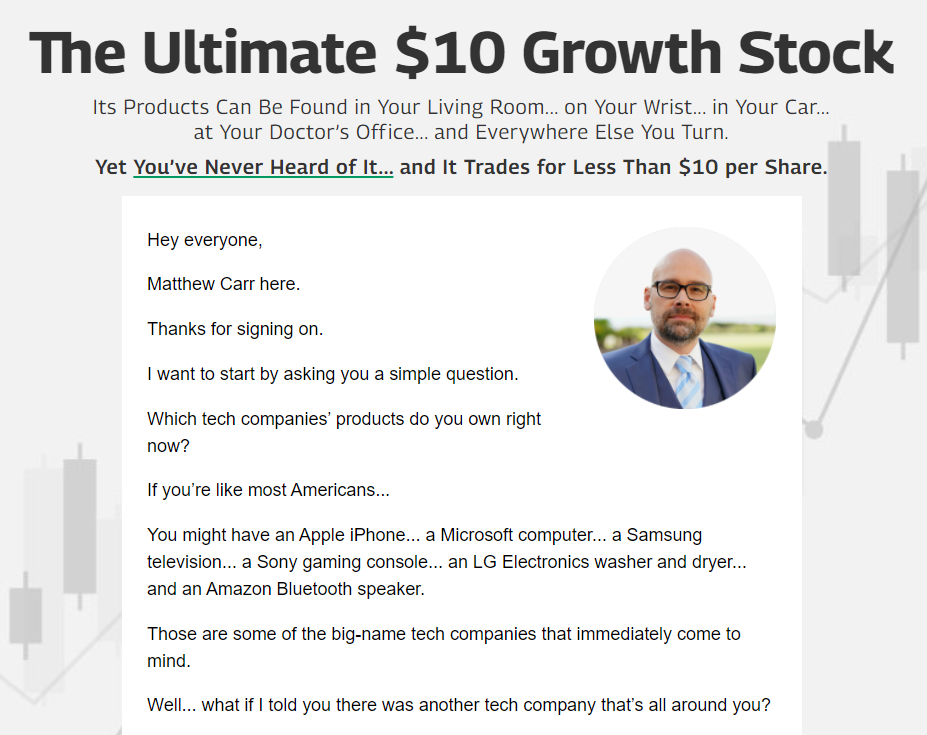 Matthew Carr is the Chief Trends Strategist of The Oxford Club. He cut his teeth as a writer for the energy trade publications Natural Gas Week, Gas Market Reconnaissance and Oil Daily, while also digging into exports and international trade finance for Business Credit magazine. Matthew describes himself as an expert in market-moving trends and disruptive industries. We have covered several Matthew Carr/Oxford Club presentations here in the past, including Matthew Carr's #1 Cannabis Stock and The Oxford Club's "Opecalypse" teaser.
This is definitely the type of stock I would like to know about and according to Matthew it exists and he is going to tell us all about it. Matthew is as confident about the company as he is, because he says "it might just be the most impressively run business he's found in his career".
First, it is at the forefront of cutting-edge technology, with some 20,900 granted patents, 99% of which are invention patents. The company is inventing scientific breakthroughs in fields as diverse as smart homes, retail, medical care, the Internet of Vehicles, human-machine interfaces and infotainment systems.
Second, it is working on some BIG deals. For example, Apple is reportedly collaborating with this company to build a $330 million facility to add its breakthrough technology into the iPhone and iPad. Question is, why? What exactly is the technology this company has, that so many others want? This is what we find out next.
The Pitch
Before we can get to that, it turns out that we have to subscribe to Matthew's Oxford Growth Investor research service, if we want to find out the name of this "Ultimate Growth Stock". The price we will pay for this as "charter members" would be $249.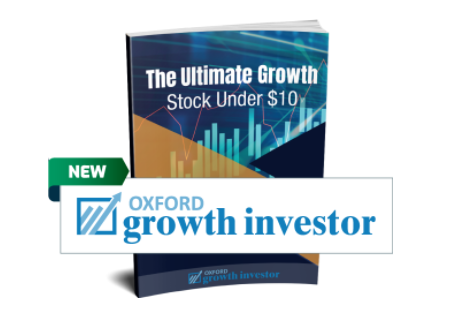 A subscription will get us the brand-new report: The Ultimate Growth Stock Under $10,which includes the name and ticker symbol of the company as well as 12 regular issues of the service, a second special report entitled "Two Tiny Tech Innovators Set to Take Off", access to a model portfolio and members-only website, among other perks.
The Game-Changing Ultra Growth Stock Technology
The driving force behind most of recent stock market fortunes has been amazing technology. Major stock market winners like Synaptics, Micron Technology, and Nvidia all had this in common and Matthew says the company he's telling us about today has one of the most exciting technologies yet.
Apparently this "secret company" is taking one of the most important electronic features to the next level. Think about this…what's the most obvious feature you see on your phone, tablet, computer, television and car display? The answer is: The screen!
Screens are the key feature in virtually every modern electronic device. Needless to say, the potential market is enormous with billions of devices out there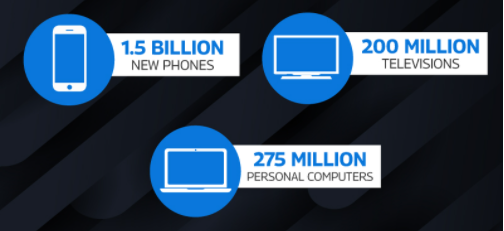 This doesn't even include the more than 150 million tablets and 70 million cars, most of which now feature state-of-the-art flat-screen displays. But this may be just scratching the surface, as screens are found in medical equipment, solar cells, refrigerators, cash registers, and airplane headrests.
Its this company's new breakthrough Micro LED technology that has the potential to revolutionize every screen on the face of the earth. The Wall Street Journal has even called it "better looking, more efficient and more versatile than any previous display tech". So what is Micro LED? And why is it such a big development?
Without getting too technical, Micro LED is the name of a new type of screen made up of tiny microscopic LED lights, just as the name suggests. These tiny Micro LED lights allow for brighter colors, ultra-high resolution and far greater reliability. This evolution is necessary because most electronic screens developed over the last few years, like plasma screens, liquid crystal display (LCD) screens or even the more recent LED screens, have a serious drawback, almost all of them require some sort of backlighting.
This backlighting is cumbersome for tech companies because it takes up a lot of space. All this leads to thicker electronics, higher shipping costs, and more complex production, which often leads to less reliability, as the backlights often wear out quickly. Micro LED solves these problems and one company could end up being the biggest supplier of new Micro LED screens to the major tech companies. Let's find out what it is.
Revealing the Ultra Growth Micro LED Stock
The $10 stock Matthew is teasing has a few distinct features:
First off, it holds 20,900 patents, which cover all kinds of amazing technologies, including new 4K "naked eye" 3D technology, medical-grade displays and X-ray sensors.
Second, it's revolutionizing virtual reality with ultra-high-resolution displays. It has a history of innovation, creating the world's first full-screen in-display fingerprint sensor for smartphones.
Third, in June of this year, the company partnered with Acer to create the world's highest-performance gaming display.
Lastly, the stock has a current market cap of around $7 billion, with nearly $10 billion in sales in the past fiscal year.
Based on the good number of clues dropped, we were able to identify the company in question as AUO Optronics Corp. (OTC: AUOTY). Here is what gave it away:
As of April 2021, AUO has submitted 27,900 patent applications and has been granted more than 20,900 patents globally, 99% of which are invention patents.
AUO describes itself as "an expert in optoelectronics", providing smart solutions backed by premium display technologies to a host of industries, such as retail, healthcare, transportation, education, among others.
The company partnered with Acer to introduce AmLED technology in gaming notebooks back in June.
AUO's current market cap is hovering around $7 billion as of press time.
Is it the game changer Matthew believes?
Next Level Returns?
When you strip-away the hype, AUO designs, develops, manufactures, and sells thin film transistor liquid crystal displays (TFT-LCDs) and other flat panel displays. This is to say that the company is a commodity producer.
Its multitude of patents does afford it a form of competitive advantage, but this is only temporary, as eventually all patents expire. The global manufacturer has put up a stellar showing this year, with its stock already up more than 50% and its sales revenue increasing from the year ago period.
However, this masks the fact that its revenue has been declining since 2017, before picking up slightly in fiscal year 2020. Its return on equity (ROE), a measure of management effectiveness is high, especially for a non-service based business at nearly 29% and its current price/earnings is low on an absolute basis at only 4x. Given this, buying a small stake at the current price may work out over the long-term.
Quick Recap & Conclusion
Matthew Carr is confident that he's found the "Ultimate Growth Stock" and he's going to tell us all about it in his latest presentation.
The company is at the forefront of cutting-edge Micro LED technology, with an established business, profits, and patents to its name.
Before we can learn its name and ticker symbol, we will need a subscription to Matthew's Oxford Growth Investor research service. This would cost us $249 and include the brand-new report: The Ultimate Growth Stock Under $10, which contains the info we are after.
Based on the clues Matthew sprinkles throughout his report, we were able to identify the company as AUO Optronics Corp. (OTC: AUOTY) for free.
The company is a commodity product producer, with some (temporary) competitive advantages. Its underlying business is stable and merits a closer look, given its low absolute valuation at this time.
Are there any producers out there that do the same thing as good or perhaps even better than AUO Optronics? Is this a commodity-based business destined for low returns or a hidden gem? Your thoughts are always appreciated in the comment section below.