Todd Skousen, Lead Researcher at the Oxford Club is joined by Bruce Linton – "the godfather of cannabis", and the founder of the biggest cannabis company in the world, Canopy Growth, and Matthew Carr, Chief Trends Specialist at the Oxford Club, for a presentation entitled Legalization 2021. The three talk about the opportunity of investing in the fourth cannabis wave as the national legalization of this plant throughout the United States is bound to happen "sooner rather than later".
Carr is the one who teases a cannabis stock that is a "trailblazer in pharmaceutical-grade cannabis", and promises to give us more details about it in a special report "The #1 Stock of the Cannabis Fourth Wave". If you like the green stuff (money), then keep reading.
The Teaser
Bruce Linton starts the presentation by talking about the legalization of cannabis back in 2017 in Canada and the process he went through to make his company thrive. He claims that upcoming "US legalization will transform the entire industry".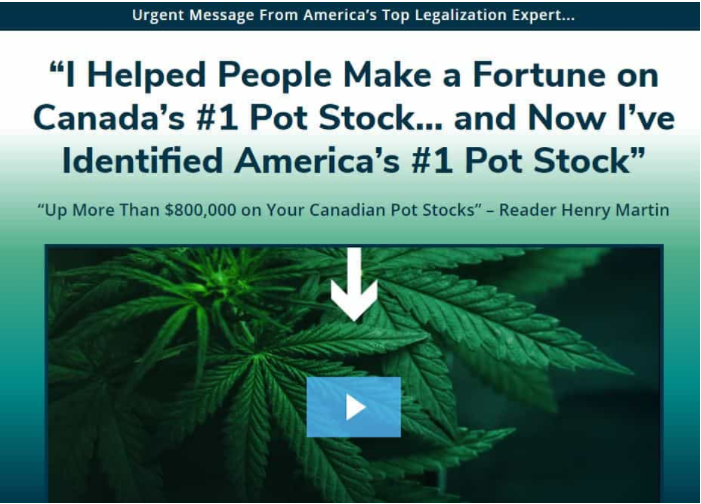 The Oxford Club is a private, international network of trustworthy and knowledgeable investors and entrepreneurs, whose aim is to help members grow and protect their wealth. It is also founded by William Bonner, the founder of Agora Publishing, which itself started as the Passport Club all the way back in 1989. Going back to the pot business, we have seen and covered plenty of cannabis related teasers here in the past, including Don Yocham's Cannabis "Venture Trusts" and Teeka Tiwari's Cannabis Stock Picks.
Although there are over 20 states that have already legalized the use of recreational cannabis to some degree, we are still looking at an illegal market worth more than $100 billion USD, which is the main reason why many states are rushing to open their borders to recreational users. New York is, perhaps, the most eloquent example as "all the world's markets are looking at New York", so governor Cuomo wants to cash in on that as soon as possible.
Bruce also mentions the state of Illinois, where 31% of all cannabis is coming from out of state, from tourists and every state would much rather keep that money inside their own state lines.
According to the cannabis entrepreneur, "fully 91% of Americans say marijuana should be legalized for medical or recreational use" and that the benefits – medical, recreational, and financial will be felt by the entire community. Bruce thinks we are rapidly approaching this moment where it's greenlit at the federal level and "that's why investors really must be prepared to act now, because it's one of the reasons why we're doing a special event like this". He's also a good salesman.
He also says that "what's missed by most, kind of lost in the haze of the legalization discussion, is cannabis's secret fourth-wave". He believes that "over the next few years, there's going to be an evolution of cannabis, as it shifts from just being a recreational, consumable product to a real medical commodity".
In this respect, Matthew Carr claims to have identified one pot stock that is slated to be the top performer as America's cannabis industry grows.
The Sales Pitch
All we have to do to find out the name and ticker symbol of this company, is subscribe to Matt Carr's monthly investment newsletter – Strategic Trends Investor. This will run you $129 for the first year and there is a 365 day money-back guarantee.
Additionally, if you subscribe you will also receive a new stock pick every single month, access to Strategic Trends Investor trade alerts, special reports, the members-only website, and a model portfolio.
The Business Behind America's #1 Cannabis Stock
Carr begins by talking up all the uses of cannabis and how it is one of the most dynamic plants on the planet. "We can eat it; we can smoke it, we can turn it into textiles, plastics, and make paper from it". Furthermore, it can also be used as a building material.
We are given an example of one such company in Curaleaf (OTC: CURLF), a business that "operates more than 100 dispensaries across 23 states" and fits the one-shot approach to benefit from federal legalization here in the US, with the author thinking that its a perfect play.
Matt continues by noting that, pot stocks have been exploding across America, as every single election brings more states into the fold as far as legalization is concerned, "adding millions of new buyers and creating new jolts of profits for marijuana investors".
As a first real clue, we learn that the company in question is "a trailblazer in pharmaceutical-grade cannabis, the kind used to treat common ailments, such as chronic pain, glaucoma, and even PTSD in veterans. Even cancer". Currently, "it is providing millions of doses to at least 40,000 patients".
Let's take a look at some other clues before revealing the name of the business that Matt "believes is his No. 1 Pot Stock in America, that has SO MUCH MORE upside than even Canopy Growth that it could be the best-performing stock he ever recommends".
Revealing The "#1 Cannabis Stock"
Here are some tangible clues left for us about a company that is still in the early stages of its development, but that could return up to 40x your money or so we are told:
He says it "is not only the most profitable legal cannabis company in Israel, but it's also the only profitable cannabis company outside of North America, according to one insider" with "revenue doubling in four of the last five quarters". It is also one of the global leaders in GMP medical cannabis.
GMP

stands for

good manufacturing practice

– "it's like a gold standard for safety and quality in the eyes of the FDA. To put it simply, it means they make high-quality stuff".
The company plans to expand the size of its cultivation and R&D sites by up to 467% and "is locking up key strategic partnerships with some of the biggest names in the industry".
It has

a long-term, exclusive strategic supply agreement with

OrganiGram, one of Canada's top producers of extract-based products" and they announced "another

long-term exclusivity deal with Charlotte's Web

, one of the most famous cannabis brands in the United States".
Based on these hints, we believe the company Carr is referring to is InterCure Ltd. (TSX: INCR.U) Here is why:
Based on the company's latest announcement, it will be also listed on the Nasdaq by the end of July or early August, under the symbol "INCR". So it fits with the #1 Cannabis Stock in America theme.

InterCure

is one of the leaders in the cannabis-based pharmaceutical market in Israel and is in the midst of expanding its business to the American market.

The company is focused on creating cannabis-based medicines that can be used for a lot of purposes, including treating PTSD, arthritis, and other conditions, so it does make "high-quality stuff" like the kind the FDA likes to see.
Opportunity to make 40x your money?
At first glance, it seems like InterCure has a lot going for it. Its high-margin, vertically integrated "seed-to-sale" model looks like it could be a source of differentiation and perhaps even a competitive advantage.
The consolidated financial statements seem to bear this point out, as the business enjoys close to 50% gross margins and is profitable on both an income and cash flow from operations basis. These are great signs and despite growing at a steady, rather than world-beating rate over the years and decades since its founding, the market price it currently commands seems to be a fair one to pay for such a business. In this respect, it may be worth waiting to see what kind of valuation it gets once its shares are finally publicly traded in the US, before emptying out the piggy bank to invest.
Quick Recap & Conclusions
In a market presentation called

Legalization 2021

,

Oxford Club

Chief Trends Specialist, Matthew Carr, talks about the fourth wave of cannabis stocks, once the Federal government will make the plant legal throughout all 50 states.

He claims there is a $100 billion market in waiting once this happens and those who invest accordingly head of time can even make up to 40x our money.

He talks about "a trailblazer in pharmaceutical-grade cannabis" but we can only get the one of this company if we sign up to his Strategic Trends Investor for $129 per year.
Fortunately, we were able to identify the name of this company for free as InterCure Ltd. (TSX: INCR.U).
From what we can see, the company has a below-average growth rate since it was first incorporated all the way back in 1994. But it remains to be seen what kind of valuation it lists with on the Nasdaq – chances are good it will be hefty.
Are you currently invested in any international cannabis-based stocks? Do you believe nationwide legalization is on the table and will happen over the short-term? Let us know what you think in the comment section below.