Stansberry Research's Matt McCall says a great shift has begun, one that will lead directly to the biggest tech breakthrough which he calls "V2G".
And the success of the electric vehicle industry could hinge on it. Let's find out more about this "world transforming technology" and the company behind it.
The Teaser
Matt is absolutely convinced that one simple mistake is consistently robbing people of the fortunes they should be making: The fear of getting in too late.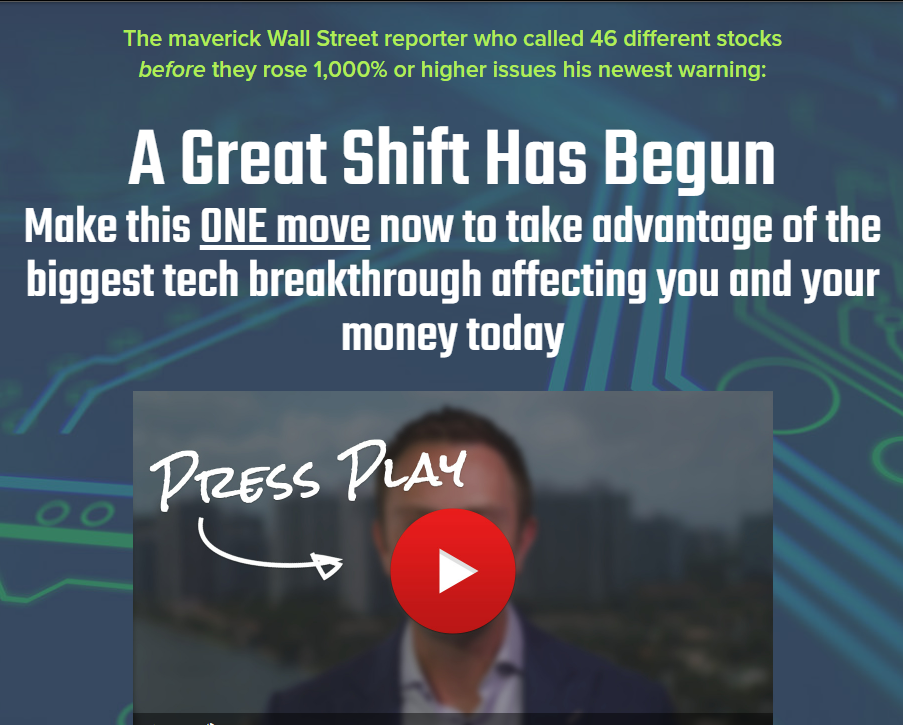 Matt McCall began his career at Charles Schwab, where he was a stockbroker before moving on to found several startups, including CrowdVest, one of the first equity crowdfunding platforms. He is now the lead analyst for The McCall Report and focused on educating and helping others achieve financial freedom. We have covered some of Matt's presentation's here in the past, including his Hollywood Blockbuster Opportunity and 5G Highway Stocks, among others.
McCall goes on to explain that if you're like most folks who were into stocks back in the late '90s, then you probably talked yourself out of buying a stock like Amazon after it hit that first 1,000% gain. Then perhaps again after it shot up by 5,000%, then another 20,000%. Of course its not just Amazon, but I will spare you the pain of having to relive your investing past. But what if you could avoid that pain – that frustration of missing out on the market's biggest success stories?
What if you had the ability to not just hope for, but expect gains like this? This is exactly what Matt is proposing, to show us a rare market phenomenon that allows us to pinpoint the EXACT moment a group of stocks could start to surge higher. He does have some credibility to back up such a bold claim, as he previously touted marijuana stocks, including Endexx Corp. (OTC: EDXC), which went on to appreciate by more than 800%. He also pounded the table in 2019 on several smaller cryptocurrencies no one had heard of at the time, like Cardano, which shot up as much as 8,211% and Binance Coin, another crypto, that went up as much as 3,800%.
Matt definitely wasn't the first in on any of those investments, but that's OK because each of those opportunities could've turned $1,000 into more than $10,000. So the point is, to stop worrying that we may have missed out on the biggest gains. Because we can still make a TON of money if we can spot the sweet spot, which comes down to the S-curve: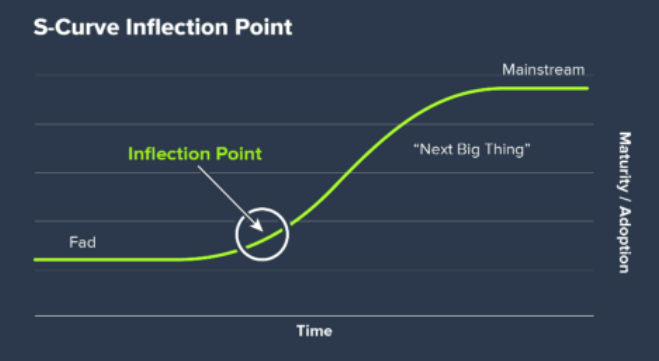 It's one of the most valuable tools in a tech investor's arsenal and the technology he's recommending we invest in right now is at that perfect inflection point in the S-curve.
The Pitch
To learn more about what Matt calls "V2G" technology and the name of the one company that has a stranglehold on the tech, we will need to get our hands on the special report: The 10X Hidden EV Play.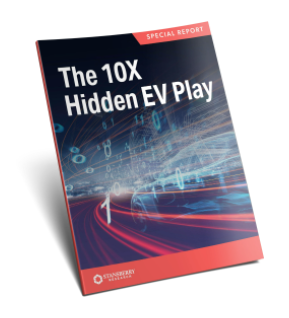 The only way to do this is with a no-risk trial subscription to Matt's new research service called The McCall Report. For a limited time, this would cost us only $49, which 75% off the normal $199 rate. Included in this price is 12 monthly investment research reports from The McCall Report, The 10X Hidden EV Play special report, and two other special reports.
What in the World is "V2G" Technology?
The true catalyst driving the steep slope on this S-curve, and the real reason Matt is reaching out to us about this big tech trend today is because something big happened back in December that has changed everything.
This 'thing' is Law 110-140, which mandates car manufacturers to keep their fleet of vehicles within a certain mile-per-gallon standard. This essentially legislates that every car manufacturer must now produce vehicles that average 55 miles per gallon (MPG) by December 2026. Should they miss that average by just a tenth of a percent, then they have to pay a fine for every single vehicle they manufacture that year.
This is significant because currently the average MPG for vehicle fleets is just 25.7. Meaning they will need to make a more than a 50% improvement in just four years or face hefty penalties. The only way car manufacturers like Toyota, Ford, Chevy, and others will be able to achieve this, is by selling way more electric vehicles than they ever have before.
This is our inflection point, where things come together to create the next market explosion. Some of the biggest automakers in the world now have a huge economic incentive to ramp up their electric vehicle (EV) sales, like never before in history. Thus their success could hinge on one brand-new tech innovation called "V2G".
What is "V2G"? It term stands for "Vehicle to Grid" and the state-of-the-art technology is used to sell energy stored in EVs back to the grid. Matt tells us that there is one company that now holds the exclusive blueprints to the most advanced energy-share platform on the planet. Let's see if we can find out the name of it.
The Company Behind the V2G Market Monopoly
Matt provides us with quite a bit of info to unpack, so let's get right into it.
The V2G technology company has four U.S. patents to its name, eight foreign patents, and has literally wrote the book on V2G technology – one that has been cited nearly 5,000 times.
Its tech is so advanced that competitors are faced with a choice of either spending decades and billions of dollars building their own versions, risking patent infringement in the process or they can strike a deal and license V2G tech from this company.
It may be the latter, as already some of the biggest EV manufactures in the word are pounding down their door for licensing deals. They've secured a partnership with Toyota and also recently signed a contract with the fourth largest battery maker in the world to produce 5,000 batteries with V2G tech built in.
Armed with this info, we can confidently say that the company in question here is: Nuvve Holding Corp. (Nasdaq:
NVVE
). How did we arrive at this clear cut conclusion?
Firstly, Nuvve's Chief Technology Officer, Willett Kempton pioneered the technology for vehicle-to-grid (V2G) vehicles. He has sold the international license to his intellectual property to one company – Nuvve. The book he authored, which has been cited nearly 5,000 times is Environmental Values in American Culture.
Toyota is a direct investor in Nuvve via its publicly-traded Toyota Tsusho Corp subsidiary. It participated in the San Diego-based Vehicle-to-Grid (V2G) technology firm's Series A financing round.
This past October, BYD and Levo Mobility announced a collaboration to integrate Nuvve's V2G technology with a variety of BYD battery electric vehicles.
Legit Opportunity to Make 1,000% or More?
Nuvve is currently about 1/7,000th the size of Tesla, meaning that the author of the presentation is likely right about it being right at the inflection point of the S-curve. It has established itself as more than just a fad, yet it is not already mainstream.
Over the next 20 years, 560 million electric vehicles are expected to hit the roads. If Nuvve becomes a market leader in the distributed energy and storage market and a fraction of these EVs hit the streets with its V2G tech installed, its easy to see future growth of 1,000% or much more.
Quick Recap & Conclusion
Stansberry Research's Matt McCall teases a huge technological breakthrough which he calls "V2G".
This stands for "Vehicle to Grid" technology and it is the process of bi-directional energy flow allowing energy stored in EVs to be sold back to the grid at peak times. Matt says there is one company that now holds the exclusive blueprints to the most advanced energy-share platform on the planet.
In order to find out the name and ticker symbol of this company, we will need an annual subscription to The McCall Report research service for only $49 for the first year. This gets us The 10X Hidden EV Play special report containing the coveted info we are after.
Thanks to the clues Matt dropped in his presentation, we can keep some extra money in our pockets, as we were able to reveal the company being teased for free. Its Nuvve Holding Corp. (Nasdaq: NVVE).
Based on the S-curve, Nuvve may just be in the right place, at the right time. The V2G technology firm is well positioned in an industry that appears to be at a major growth inflection point.
Is Vehicle to Grid technology the future of distributed energy? Let us know your thoughts in the comment section below.