Matt McCall is a self-anointed Elon Musk expert and his latest research shows Musk could be just days away from launching a brand-new project.
This project could change the auto industry forever and deliver a quick 10x gain.
The Teaser
Musk announced in Tesla's Q1 earnings that he's planning to take this project live by the end of this year and Matt is a firm believer in its potential.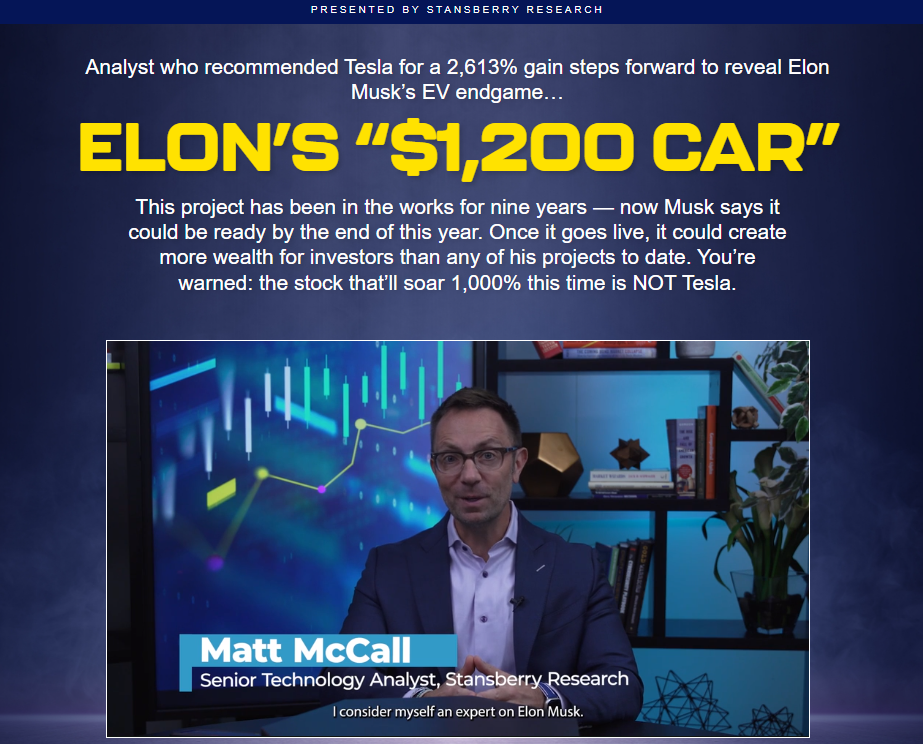 Matt McCall is a 20-year market veteran with a focus on trends and tech (speculative investments) as well as an investment newsletter editor. We have previously reviewed a few of his teasers here, like his "V-Toll" Air Taxi Company and Hollywood Blockbuster Opportunity, among others.
We quickly learn that Musk has slowly been building the foundation for his latest project for the last 20 years… long before Tesla ever went public.
It's the business he's always dreamed of creating, ever since he was a 12-year-old kid in South Africa designing computer games on his family's PC. What is it?
Matt gives us a clue by saying "It's the same thing Reed Hastings, CEO of Netflix, did before his company became one of the top-performing stocks of the decade."
Only Musk is doing it for the auto industry.
So, he's going to start selling vehicles online instead of through the mail? Not quite.
Tesla 2.0
Matt has been following this story since its inception and says Musk's endgame is designing what he calls the "$1,200 car."
To be clear, we're not talking about a cheap car made with cheap parts that will fall apart shortly after you drive it off the lot or ridesharing, leasing or even renting. All that has been done before.
Musk's vision is far more transformative than that.
By some estimates, over $500 billion is at stake and set to flow into the stocks of the small companies developing the technology behind the "$1,200 Car."
To put that number in perspective, it's larger than all the money made on smartphones or personal computers, so it's a mighty large claim.
Nevertheless, Matt believes it marks the birth of an entirely new investing trend. One that's about to take the world by storm and a few under-the-radar stocks working with the technology that will make Tesla's new project a reality are about to boom.
The Pitch
Matt says this stock has 10x potential and is one of several ways to profit as this plays out. He's compiled all the details on these stocks, ticker symbol, buy-up to price, and market forecast into a new report called Three 10X Stocks for Stage Two of the EV Revolution.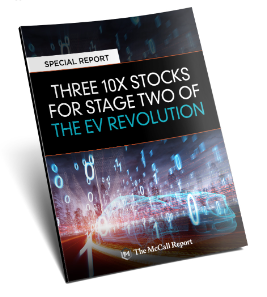 All we have to do to get the report is take a risk-free trial of Matt's research newsletter, The McCall Report. If we sign up today, we can get access to all the benefits of membership for just $49, which is 75% off the regular price.
Included in the offer are two bonus reports, 12 monthly issues of The McCall Report, and access to a model portfolio of 10x opportunities, all backed by a 30-day money-back guarantee. Not too shabby.
The Final Stage of the Auto Industry
Remember the teaser about a "$1,200 Car"?
Well, you can forget about it, as we won't be seeing it anytime soon.
However, what we will see instead is a way for every driver in America to upgrade their existing car through a monthly "subscription" of $100.
What Matt is getting at here is software for your car.
Not just any old roadside assistance or satellite radio software upgrades like in the past, but complete customization:
A new subscription feature would allow you to "electronically increase" the horsepower and torque of the car's motor.
If your car is electric, with just a push of a button, you can upgrade your battery and range by as much as 30%.
It could even allow your car to drive itself, with just a click of a button.
Solving the Revenue Problem
Every big automaker has pledged to be fully electric by 2035, which creates a significant revenue problem.
Firstly, not only are EVs more expensive to make, as they cost the average automaker around $12,000 more to build. But, they also don't require as much maintenance.
This means that as big automakers go electric, they will take two revenue hits.
That's why they are sprinting to monetize these upgrades and introduce subscription services.
It's easy to make a case for this as instead of bringing your vehicle to the dealer for regular maintenance, your car will just automatically be updated through your monthly subscription, like you do with your cell phone. The car company still gets paid and you interact with your dealership less and less – a win-win.
Given that everything seems to be going down the subscription model path – heck there is even a "Bacon of the Month" club, where each subscription costs $48 and you get 2 pounds of bacon delivered straight to your door. It seems inevitable.
Now I see what Matt meant earlier when he said "doing the same thing as Netflix."
From an investing standpoint, I think there is money to be made here. Let's find out what Matt's picks are to play this emerging trend.
Revealing Matt McCall's EV Stocks
Matt says all three stocks are 'pick and shovel' plays set to benefit from the auto industry's billion-dollar shift to a subscription model.
The First Pick
This is freely revealed to us in the presentation as BorgWarner Inc. (NYSE: BWA).
BorgWarner produces both hardware and software solutions for a range of electric vehicles and they already have partnerships in place with some of the biggest automakers on the planet, including Ford, General Motors, and Volkswagen.
Unfortunately, no other clues are provided about the second and third picks. But, following the auto industry software line of thinking, there are some names that may deserve a closer look. These include:
Onsemi (Nasdaq: ON), which supplies all-important semiconductors and all types of sensors to the automotive industry.
Luminar Technologies, Inc. (Nasdaq: LAZR), as it develops LiDar sensors and software for autonomous driving.
Ambarella Inc. (Nasdaq: AMBA) whose products are used in applications for advanced driver assistance systems.
I could keep going, but you get the idea. If it provides any kind of hardware or software that makes an add-on subscription service possible, it's a candidate.
Potential to 10x your Money?
The automotive software market is projected to more than double by 2030, according to McKinsey.
This means momentum is on our side, but will auto subscriptions go mainstream any time soon?
The fact that EVERY big automaker, from Ford to General Motors, is spending about 45% of their annual R&D budget on developing software, including for subscription models, ensures there will be a major push towards this model in the next few years to come. Tesla itself has already introduced this to a limited extent, with subscription self-driving capabilities for Model 3 owners in California.
I'm just not so sure EV's will ultimately win out over hybrids, which may not need as many add-on services as the former does.
There is definitely a big market for subscription add-ons, however seeing as how some of the companies mentioned in the last section are already multi-billion dollar concerns, like BorgWarner, a 10x gain would give it a market value of over $100 billion, which is asking a lot.
With that said, some of the names mentioned above as possible picks have reasonable valuations, and owning a small basket of them over the long term could yield some decent gains.
Quick Recap & Conclusion
Self-anointed Elon Musk expert Matt McCall is teasing three stocks that are building the tech behind Musk's latest venture and they could deliver a quick 10x gain.
We learn what Matt is getting at here is software for your car. Not just any old roadside assistance or satellite radio software upgrades like in the past, but complete customization, and his picks are helping make it a reality.
He's compiled all the details on these stocks in a new report called Three 10X Stocks for Stage Two of the EV Revolution. It is ours with a subscription to The McCall Report research newsletter, which costs just $49 for a limited time.
The first pick is freely revealed to us in the presentation as BorgWarner Inc. (NYSE: BWA), but not a single clue was provided on the second or third picks, leaving us guessing.
There is a growing market for subscription add-ons for your car, however, 10x growth in the months ahead is an aggressive target that is not likely to be met.
Would you pay for a monthly car subscription? Let us know in the comments.