If you want to grab a stake in the $100 trillion artificial intelligence (AI) boom, then you shouldn't waste your time and money buying Google, Amazon, and other megacaps, according to Louis Navallier.
Instead, he is going to show us how we can pocket a big six-figure return from one "AI Master Key" investment.
The Teaser
A this very moment, there are over 2,000 publicly traded AI companies in the U.S. and most of them are small, unproven stocks.
"King of Quants" Louis Navallier is one of the oldest financial newsletter editors in America, with his Growth Investor advisory service, established all the way back in 1998. This means we have had plenty of time to review some of his top picks, like "A New Oil Age" and "Big Bet" 5G picks.
The AI "Master Key" is all about potentially unlocking the AI industry's biggest, fastest gains, but with nowhere near the amount of risk of buying these upstart companies.
He likens it to the Master Key of a building that can be used to unlock any door on a property.
To me, this sounds like Louis is teasing a dedicated AI ETF or index fund, but let's see where it goes.
Bigger, Better, Faster
Just as I say this, Louis blows up my entire theory by admitting that this "key" has actually been around for decades.
In fact, it could have already multiplied our money many times over as per this chart: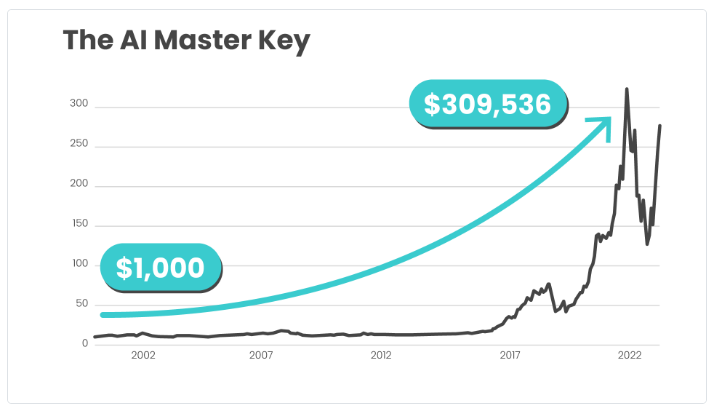 Louis first told readers to get in as early as May 2016.
But this was only the beginning.
So, if it's not an index fund or an ETF, what is it?
One early clue Louis gives us is that back in the 1990s, the internet had a "Master Key" too, much like the AI "Master Key" today.
It provided investors with an easy way to unlock the biggest and fastest stock market gains, with virtually none of the risk of holding flighty dot-com stocks.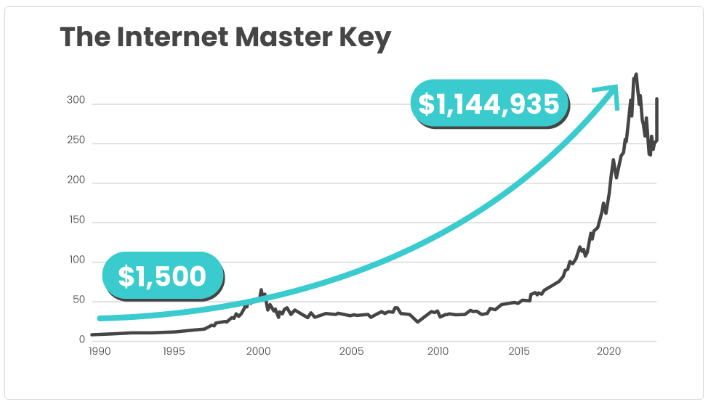 Some 76,229% worth of gains in the long run, if you got in early enough.
Given the rate at which AI is expanding is unparalleled in the history of humankind, it could be an exact replay of this situation.
The Pitch
Louis has developed a time-sensitive Special Investment Research Prospectus that reveals everything we need to know about this incredible opportunity. It's called "The AI Master Key"
In this special prospectus, we'll learn how to own the "Master Key," the only AI investment we will ever need to make. The catch is that it's only available to subscribers of Louis' longtime monthly advisory newsletter, called Growth Investor.
The regular price for a year's subscription to Growth Investor is $299. However, for a limited time, readers of this teaser can get access for just $49 for a full year. Included in the offer are a generous 90-day money-back guarantee, two additional special reports, and monthly investment recommendations.
The Secret of the AI "Master Key"
What is the one thing that AI needs in order to function?
If you said data, you would be correct.
All AI-based apps and services require huge amounts of data, computer networks, and high-speed internet servers without exception.
Well, the "Master Key," allows them to process and analyze the data. Thus, it's used by virtually every AI app in existence.
Think of it like owning a digital AI "toll road" whereby you take advantage of every new AI app going online. The more people use AI apps, regardless of who they're owned by, and the more popular and widespread they become, the more cash you stand to pocket.
This clearly spells out that the "AI Master Key" is a microchip stock, which makes AI functionality possible.
Since Louis says we can invest in "the master key" using any ordinary brokerage or retirement account in less than 5 minutes, this makes the most sense.
The "Backdoor" Into the Hottest AI Firms
Some of the hottest AI companies in the world right now, like OpenAI, Midjourney, and Tome AI are not publicly traded.
The "AI Master Key" is being touted as a backdoor way for everyday investors to get in on some of these names before they ever IPO (if they ever do), as they too run on this technology.
If AI stock market investors have lost upwards of 97% of their money so far as Louis says (could not confirm or deny this claim), then surely we can't do any worse.
Revealing Louis Navallier's "AI Master Key" Investment
Clues on this one are more scarce than a politician who tells the truth, but here is what we do know:
The "AI Maser Key" is what makes the AI revolution possible.
Some of the biggest companies are also its customers, including Google, Microsoft, Amazon, and Alibaba, among others.
More than a few billionaire investors have large stakes in it, including Ron Baron, Ken Fisher, and Mario Gabelli.
Produced 76,229% worth of gains since the turn of the century.
After some internet detective work, Louis' "master key" pick appears to be NVIDIA Corp. (Nasdaq: NVDA). This is why:
Sure Fire 1,900% Gain?
A 1,900% surge in NVIDIA shares from today's prevailing market price would give the cloud infrastructure provider a $24 trillion market valuation!
For some context, no other company in the entire world currently has a market cap of more than $3 trillion dollars.
Unrealistic, definitely. But not entirely delusional.
If AI capabilities and functions continue to progress, exponentially more data and storage will be needed. As a preferred data infrastructure provider to a roster of Fortune 500 companies, NVIDIA is who companies are likely to continue to turn to for all their needs in this area.
A high-switching cost and technological edge (at least for now), give NVIDIA a clear competitive advantage.
But at a giant $1.2 trillion market cap, a 1,900% gain is firmly off the table.
Quick Recap & Conclusion
Quant investor Louis Navallier is teasing an "AI Master Key" investment as the most sure-fire way to profit from the Artificial Intelligence boom.
After much frustration, we learned that the "AI Master Key" is a data infrastructure stock, which makes AI functionality possible.
The only place to get the name of "the only AI investment we will ever need to make" is in a Special Investment Research Prospectus called "The AI Master Key" It is only available to subscribers of Louis' monthly advisory newsletter, Growth Investor, for a special price of $49 for a full year.
Following some internet detective work, we were able to reveal Louis' "AI Master Key" pick for free as NVIDIA Corp. (Nasdaq: NVDA).
NVIDIA is already one of only nine companies in the world with a trillion-dollar valuation, but even if it wasn't, chasing its stock at nearly 120x earnings is a dangerous play.
Are there any other "AI Master Keys" out there? Let us know your favorite AI stock in the comments.